Did you know a select few pop lines are bobbleheads? 
Funko Pops are a vinyl toy that's grown in popularity and has many different series, which results in many different license deals. Thanks to licensing, Sony kept Spider-Man out of the MCU for the longest time (we're talking two decades). 20th Century Fox kept a tight grip on X-Men and The Fantastic Four — well, let's not even get started on them.
Licensing deals are quite something. Did you know licensing influences whether a Funko Pop is a bobblehead or not?  Seriously! Funko Pop Bobbleheads are determined by license agreements, even if the fans demand otherwise. 
Bobblehead funko pops are growing in popularity as these pop lines continue to get new designs. 
Is Every Funko Pop a BobbleHead?
Not every Funko Pop is a bobblehead. Only two Pop lines are bobbleheads. Every Star Wars Funko Pop is a bobblehead, and most Marvel figures are bobbleheads, too.
If you hadn't noticed that yet, check out the top 5 Star Wars Funko Pops under $100 by YouTuber (and fellow collector) Jedha Patrol and prepare to have your mind blown: 
Notice how each Star Wars Funko Pop he displays wobbles. You also get bonus points if you noticed the slight box variation, too! 

So what is it about licensing that determines whether a Funko Pop bobblehead is real, and why has it affected Star Wars and even other Pop Funko figures so — including Marvel? 
Well, enter Hasbro.
Licensing, Hasbro, and Funko Pop Bobbleheads.
Hasbro is a multinational conglomerate behind many toys, board games, and more. We're sure you've seen their names on family favorites such as Jenga — or even on the Family Game Night video game series.
But did you know Hasbro owns the rights to Star Wars and Marvel action figures?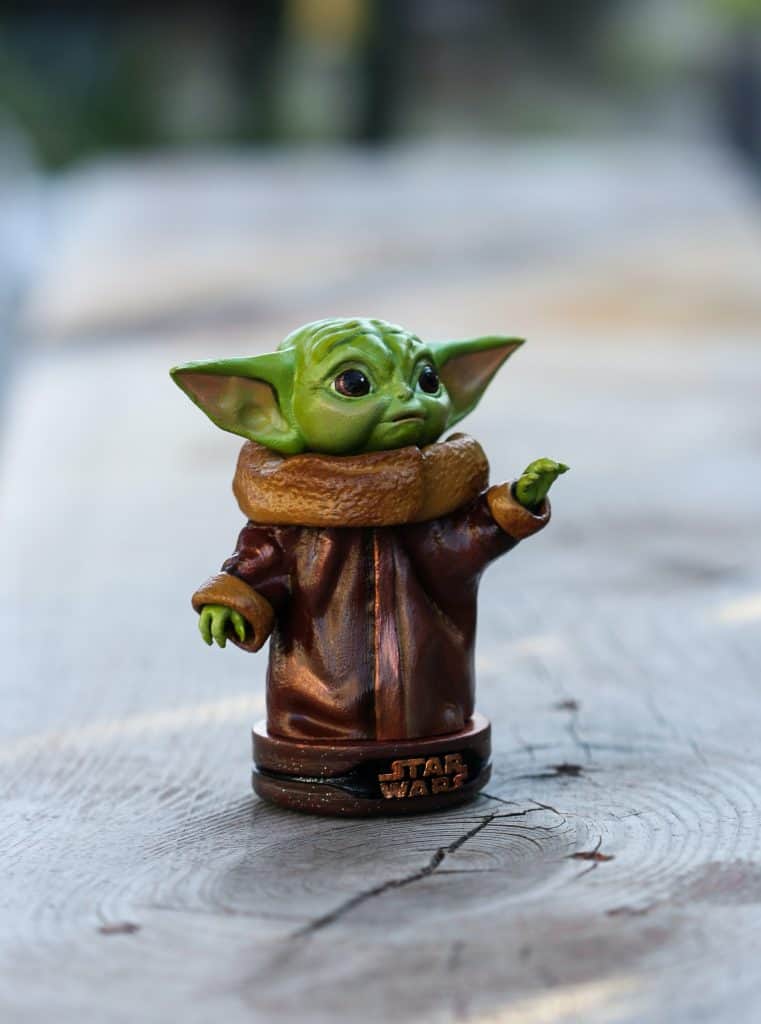 We're particularly fans of the Hasbro Black series; look at how beautiful the Black Series Darth Vader is! The same with Marvel. Check out the Marvel Legends 6 Inch Action Captain America toy. 
But we digress; the short answer is Hasbro: Funko.Inc isn't allowed to make Star Wars and Marvel action figures.
Now, here's the catch: a bobblehead isn't an action figure. If you look close enough, it even says so on the bottom of the bobblehead Funko box.
That's right; Pop Funko found a loophole. The figure variants of Pop Funko do not have the same message on their base.
Pop Funko has the license to make Marvel and Star Wars bobbleheads, and Hasbro, conversely, has the license to make Marvel and Star Wars action figures — toys, if you will. 
Is a Pop Funko Bobblehead Worth More Than a Standard Pop Funko Vinyl Figure? 
Whether a Funko Pop is a bobblehead or not doesn't significantly impact the selling price. 
To understand this, we looked at both bobblehead figures and their non-bobblehead counterparts on eBay and compared selling prices. First, we looked at Pop Funko's that hadn't been on the market for very long. Then, we looked at vaulted Pop Funkos.
Here are the results.
New Bobbleheads on eBay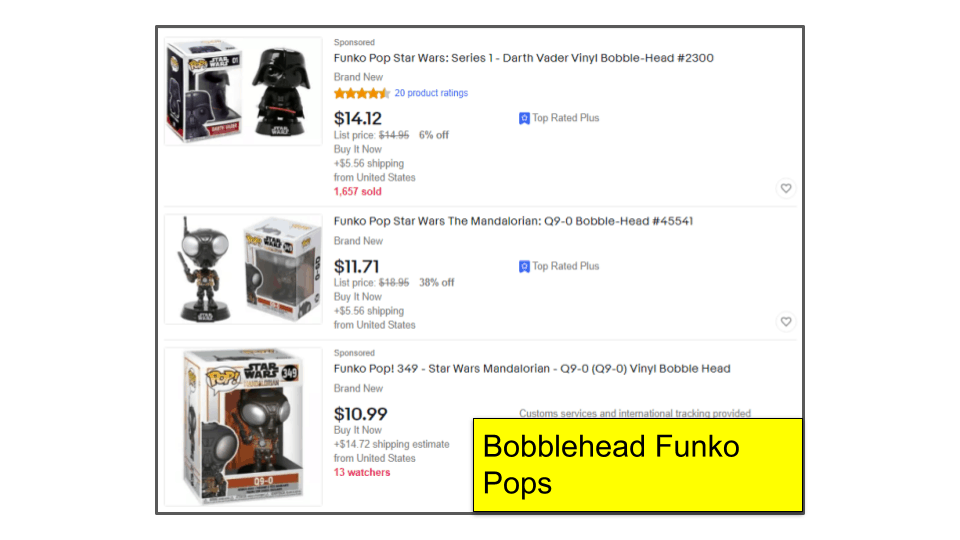 New Vinyl Figures on eBay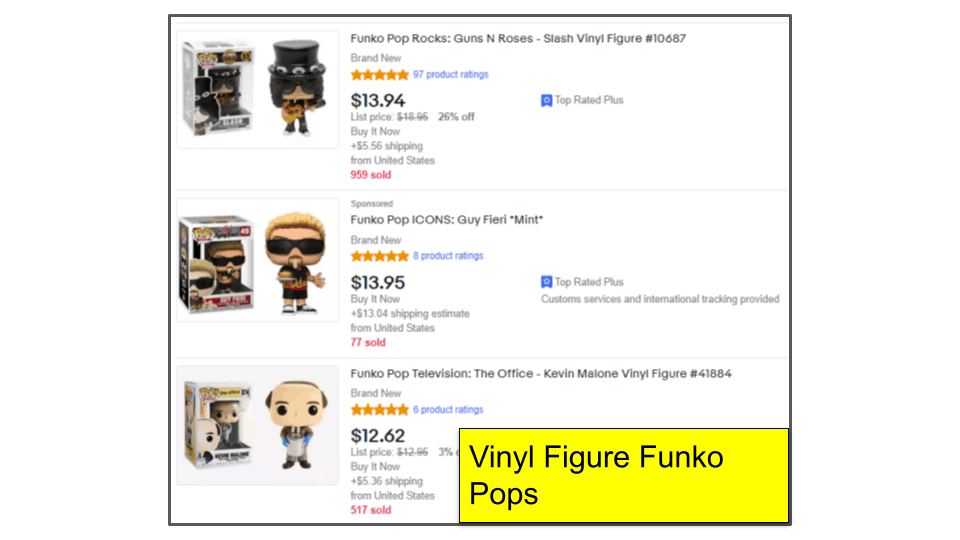 You'll see in the above comparison, eBay lists brand new "Buy it Now" Funko Pops at comparable prices whether they're bobbleheads or not. So if you've been collecting bobbleheads hoping a fortune comes with them: you're out of luck.
Whether their head bobbles or not, new figures will sell for the same price, meaning to make a profit from bobbleheads, you'll need to learn instead: How to Sell Funko Pops Online Quickly & Be Profitable.
But what about vaulted figures? Let's run the same test. 
Vaulted Bobbleheads on eBay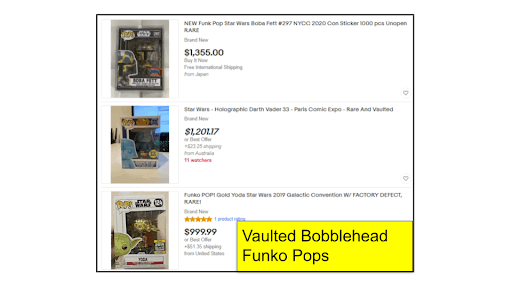 Vaulted Vinyl Figures on eBay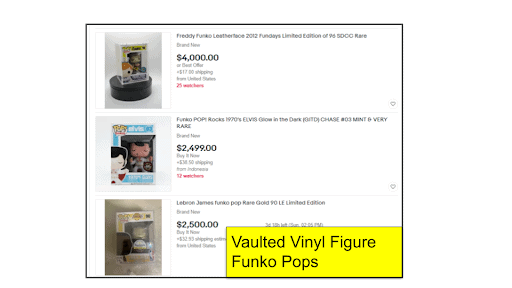 Interestingly, on average, the Funko Pops that weren't bobbleheads sold for more. Now, that's not because traditional figures are more popular than the bobbleheads (our 12 Rare Vaulted Star Wars Pops List for Collectors proves that). But simply because: there are more vinyl figures than there are bobbleheads on the market.
By default, there are rarer non-bobblehead figures that sell for a higher value than there are bobbleheads.
Though, while bobbleheads didn't prove to be of any more value, that doesn't mean they don't look great on your shelf — take a look at these Rise of Skywalker Funko Pops. 
As such, some collectors exclusively buy bobbleheads.
Collecting Bobbleheads is Popular and Originated in Japan and China 
We're going back in time — when Japan and China had string dolls, they are similar to bobbleheads. However, these string dolls were just precursors. Germany later adopted the Japanese style and turned them into the bobbleheads we know today, and it wasn't until beyond then, in the 70s, when the bobblehead craze went mad. In sports, teams would hand out bobbleheads to their adoring fans — kick-starting the fan's collection and getting them on board the high-speed figure collecting train, even if the fans weren't that into toys. 
Indeed, bobbleheads were primarily popular for sports figures but later came into fruition as pop culture characters — such as we see in our Funko Pops. They were a massive hit for collectors — especially those that started by receiving a free figure at a big game — and, in the sports world, the craze is still going strong in 2020. There's even a museum dedicated to bobbleheads in Milwaukee.
The bottom line? Bobbleheads, starting in Japan, slowly went worldwide. Many sports fans collect bobbleheads, and their collection has just expanded and expanded since then also to include Funko Pop.
So, if you're a massive fan of bobbleheads, you may be wondering: which Pop Funko bobbleheads are worth collecting. Let's take a look at some. 
Top 5 Funko Pop Bobbleheads
Here's the shortlist. 
#363 Star Wars — Training Luke with Yoda
#358 The Mandalorian — The Mandalorian on Blurring
#65 Guardians of the Galaxy — Dancing Groot Bobble Action Figure
#320 Funko Pop Movie Moments Star Wars Episode 9, Rise of Skywalker — First Order Tread Speeder
#390 Funko Pop! Moment Star Wars: The Mandalorian – Mandalorian and The Child, Multicolor
Let's explore each some more. 
#363 Star Wars — Training Luke with Yoda
In an iconic scene from Star Wars Episode V, Luke traveled to Dagobah to train with Master Yoda. The old Jedi master traveled on Luke's back as he made his way through the harsh swamps, learning the ways of the Jedi. Watch the scene here:
[Embed video]
Any Star Wars Battlefront II fans in the house? Did you know a popular PC mod adds this version of Luke into the game!
#358 The Mandalorian — The Mandalorian on Blurring
It's beautiful — and what's more, because of its size, there's a cost to manufacture. It may get vaulted down the line. Could you pick it up for a likely profit?
But onto the figure itself — let's talk more about Blurrgs. The Ryloth resistance made use of Blurrgs during The Clone Wars and in Star Wars: Rebels!
We think this one would look beautiful in your collection. Check out an unboxing below from The Collectors Hut and pick it up today. 
[Embed Video]
#65 Guardians of the Galaxy — Dancing Groot Bobble Action Figure
Enough of Star Wars! Let's take a look at Marvel and, with it, Dancing Groot. We think this one is the perfect bobblehead because, in a way, when it wobbles, it seems like Groot is dancing. Just put this one on your shelf and listen to your favorite tunes — it's the perfect mix. 
[Embed Video]
Of course, we only got to see Groot in a flower pot in the original Guardians of the Galaxy. In Guardians of the Galaxy II, he was a walking, talking baby, and in Infinity War — a teenager. He sure does age fast!
#320 Funko Pop Movie Moments Star Wars Episode 9, Rise of Skywalker — First Order Tread Speeder
Another selection that's likely to be vaulted in the future — so get it now! The First Order Tread Scene Movie moments bobblehead features not one but two bobblehead Stormtroopers. And while they'll need to be out of their box for their head bobbling to work, it's a tough one to let outlook at that backdrop!
Flipping Panda added this one to his collection. Check it out and get yours today!
#390 Funko Pop! Moment Star Wars: The Mandalorian – Mandalorian and The Child, Multicolor
And last on our list is The Mandalorian, but with Baby Yoda. Can you get more iconic than that? This one comes from Pop Figures television moments line, and like with the First Order tread speeder, you get that gorgeous backdrop in the box. However, if that isn't enough, look at that beautiful landscape the two figures are standing. 
Unbox these, and you could almost imagine the wind blowing as their head bobbles. 
Have a closer look with K&E Studios:
[Embed video]
Frequently Asked Questions
That's it for our top 5 bobblehead list, but if you still want to learn more — we now have two of our most frequently asked questions.
What's Inside a Funko Pop Head? 
The honest answer? Not much. Inside a Funko Pop head, you'll find more vinyl, and in a bobbleheads case — a spring, of course. We'll dive more into that in our next question, but if you want to know more about what's inside a Funko Pop head, as well as a video looking inside, check out What's Inside Funko Pop Heads?
How Are Bobbleheads Made?
Interestingly, Funko Pop hasn't revealed their manufacturing process to the public — so the exact magnification process of how Funko bobbleheads are unclear.
Bobbleheads are hollow, and inside, they have a spring that connects to the figure's body. This spring is loose, and so while it stands up straight (being attached on one end), it will move all around, bringing the Funko's head with it, giving the bobble effect.
If you've got an hour to kill, you can see the entire process of making a bobblehead from start to finish here:
[Embed Video]
While not quite Funko, you can get a good idea of what our favorite company does. So without further ado, let's get collecting.
Start Your Bobblehead Collection Today!
Check out What's, Are Funko Pop Grails? & Where to Buy Them to skyrocket your collection to a peak in profitability. Or, if you're looking to collect, take a look at the cheapest place to buy Funko Pops.
Otherwise, sign up for our mailing list to enjoy bi-weekly inspiration right in your inbox.
See you in the next one, collectors!