Dealing with funko pop addiction or any addiction can be difficult. Our guide helps you determine if collecting funko pops is addicting in an unhealthy way and provides solutions to prevent or fix your funko pop addiction. 
We all love to collect Funko Pops and want to create a massive collection that nobody has. However, sometimes we prioritize Funko Pops too much, which is a bad habit and can lead to significant problems.
Let's go over why funko pops are addictive and what you can do to prevent going overboard with this hobby. 
Why Are Funko Pops So Addicting? 
Collectors collect for a lot of different reasons. It's therapeutic or simply a lot of fun. They can make new friends with similar interests or find the thrill of discovering new collectibles never gets old.  Also, having a physical representation of your favorite literary character or sports figure might make you feel more connected to that person and their accomplishments.
Similar to why funko pops are so popular, they can be addicting as well.
However, too much of one thing can become a bad thing. 
Why are Funko Pops so Addicting
Funko Pops are addictive due to a large number of options available to choose from and how affordable they are, along with the nature of the hobby. Building and growing a funko collection means buying, selling, and trading. 
Collecting funko pops is similar to 'therapeutic shopping,' providing plenty of benefits to the collector, like a welcoming community who enjoys the hobby and in-person events where you can find new figures and make some deals. Additionally, you can become addicted to collecting things in general. 
Is Collecting Funko Pops a hobby?
Reminder: Collecting funko pops is a hobby. It's important to be practical, take breaks when it gets to be too much and be responsible financially. Hobbies is an activity you do for fun, pleasure and during your leisure time.
Three Benefits Funko Pops Bring To Collectors
Not to mention all the emotional dividends you'll gain simply from keeping your mind on your hobby and keeping yourself distracted with a healthy obsession. 
Here are a few additional reasons why collecting funko can be addicting: 
To complete the set:

 Getting all the funko pops within a pop line is similar to checking off a huge to-do list. 

For nostalgia: 

Remembering where you were when you bought a pop or how those characters made you feel. 

Because it's worth money: 

Understanding that these collectibles increase in value makes it exciting for the future.
You enjoy them in more ways than one, whether you keep them in the box or take them out.
Not to mention, the sheer joy of Funko POP! collecting attracts many people to the pastime. Also, Collectors are aware of Funko POP! vinyl figurines' enormous secondary market potential. So, where there's an opportunity to make money, it also brings a form of fun and desirability. 
Funko POPs! may fetch several hundred to several thousand dollars on the secondary market, depending on their edition, popularity, and rarity.
When Does Collecting Funko Pops Become Too Much?
Collecting funko pops is not something to be ashamed of or a bad habit. Instead, it's something you find joy in and value daily. However, knowing when collecting funko pops has become too much is essential. 
If you feel funko pops are ruining your life financially or personally, it's time to consider selling your collection. 
There's always an out, and it's entirely up to you if you want to leave the hobby. However, remembering funko pop collecting is only a hobby to enjoy in your spare time is vital. No one wants to lose relationships or friends over collectibles. 
Avoid Over Collecting As It's Unncessary
So many good things come with collectibles, especially if you love them. However, overdoing this can be destructive and result in dire consequences.
Here's what to do to prevent becoming addicted to funkos
Set a day of the week when you buy funkos: 

If it's not a 'Saturday,' you can't buy them. It allows you to participate still when you have the funds and prevents you from buying funkos daily. 

Determine a max number for your collection:

 Being a collector takes discipline as you need to know when to stop and determine if 100 or 200 pops is your max. Then, count every pop, and once you hit that max, start selling to turn over the pops you no longer want. 

Tell a friend about your potential addiction: 

Friends and family can help you by watching when enough has been enough. 
Remember, habits drive addictions, so you must replace your habit with a better one, like reading a book or watching a movie the next time you get the urge to buy a funko pop. 
Also, slowing down on addiction is worth celebrating. We often forget that addictions are hard to kick all at once. So instead, celebrate the small wins of being able to slow your purchases over time. 
Lastly, understand there's a vast difference between collecting Funko and hoarding them. A collector has logical reasons, as explained before. 
However, a hoarder is addicted to Funko Pops and can't stop occupying themselves with Funko-related activities.
How to differentiate between Collecting and Hoarding Addiction
Here are some of the visible signs that a person is not a Funko Collector but has Funko Pop Addiction (Hoarder):
A persistent problem getting rid of Funko, even if they aren't valuable or worthy.

If it is hard to let go of Funko because of the emotional pain they cause or the strong desire to keep them.

The severe clutter brought on by the symptoms makes the house and the office intolerable.

Clinically substantial discomfort or impairment in social, vocational, or other crucial areas of functioning experiences by the individual. Such as the ability to keep oneself safe at home or in the workplace.

The hoarding isn't the result of another illness, like dementia.

There is no evidence that the hoarding is due to another mental illness, such as depression or OCD.
Funko Pop Addiction vs. Funko Pop Collection
There have been many pieces of research on the differences between collectors and hoarders. This funko pop addiction meme explains it perfectly. It's often hard to know if you are collecting or if it's more than that.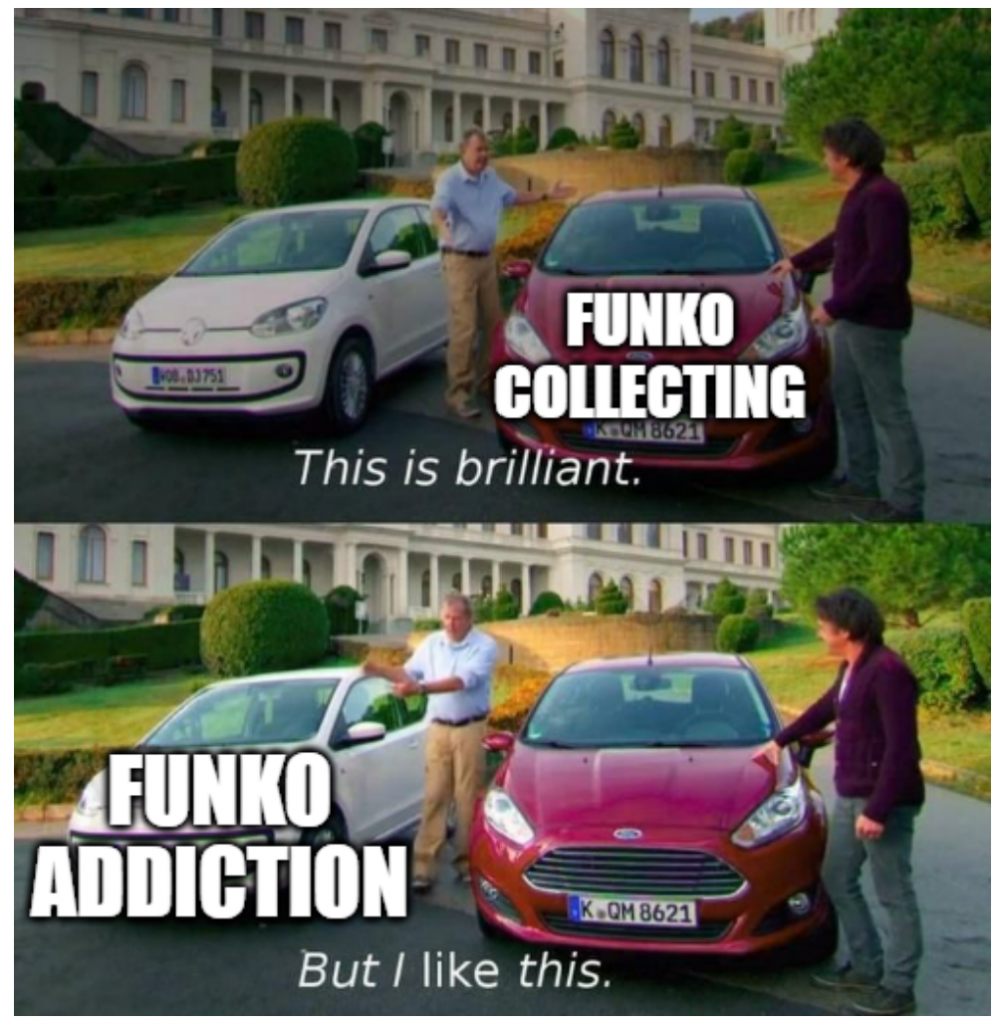 Let us see the significant differences between a Funko Collector and a Funko Pop addict.
1. Displaying and Showcase
Many Funko collectors do not take out Funko Pops because it reduces their value which is understandable, but they display them with their boxes. 
A person that stores their Funko Pop in a vault, so and doesn't display them is likelier to be a Funko Pop addict than a collector.
Even though their collections have taken over their homes, non-hoarders differ from hoarders in one fundamental respect. Most collectors like to exhibit their valuables rather than scatter them around their living spaces.
Unfortunately, hoarders sometimes accumulate so many Funko Pops that it becomes difficult to even move about in their homes. Also, unlike a collection, the hoarded Funko Pops aren't neatly organized. 
Of course, not all collectors keep their cherished possessions in neat and orderly displays, but they are significantly more likely to do so than hoarders.
If you find boxes of funko pops around your house, consider renting a storage unit to keep them there. 
2. Selling, Giving, or Throwing Out
In life there's ups, where you might want to gift a Funko Pop to your brother, who adores Funko Pops like you on his birthday. However, sometimes there's downs, you might want to sell your Funko collection to support yourself and your family. 
However, if a person can't do any of these, they probably are a hoarder. 
The fact that it's hard for them to get rid of a Funko even in dire situations is a sign of Funko Pop addiction.
How to Prevent Becoming Addicted to Funko Pops
To prevent becoming addicted to Funko Pops, you must first realize it can become a problem in the long run. You may not notice it at first, but as you build your collection, you'll see symptoms such as insufficient space, running out of money, and losing particular time with loved ones.
Start by asking yourself these critical questions:
Can you spend enough money on Funko Pops without endangering your and your family's future?

 Are the monthly bills paid for, or do you have enough in your monthly budget? 

Have you spent enough time with loved ones this month? 
Not all can afford huge collections, and that's okay. However, you don't need a 200+ collection if it means setting you back on bills, payments, and other dues. 
Take Breaks And Rules To Prevent Funko Addiction
However, you must change your habit if you prioritize a Funko Pop over your unpaid bills, everyday life, job, friends, and family. Always remember it's a hobby, and extensive collections are built over the years, not months or days. 
Here are the things you can do to stop from becoming addicted to Funko Pops:
Take a Break: Give more time to other activities like hanging out with friends and family, watching a new TV show, reading books, playing video games, or learning something new that would help you in life.
Takes Funko Pops Out of the Collection: Unfixable Funko? Could you get rid of it? Give Funko as a gift or to a friend. Consider selling them. 
Set a Specific Time for Funko Pops: Make sure it doesn't take away the time meant for your siblings, children, significant other, family, and friends.
Finally, Only get Funko Pops that you can afford comfortably.
Contact therapists and doctors if losing a Funko Pop causes too much stress. It is because they can surely help you out.
Lastly, keep Funko Pop for the enjoyment and not a full-time occupation of your time and money. There are more things to life than a Funko Pop, like your health, family, and more.
If you've enjoyed reading about this topic, you may also like:
Lastly, sign up for our bi-weekly funko pop newsletter to gain inspiration on how to sell funko pops, display and collect.