Marvel fans love the new Venomized funko pops, and the pop-line continues to impress. So we wanted to compile a list of the ever-growing best Venomized funko pops for collectors who need to know. 
The most incredible advantage Venom has is that it can bond with any host, and that's what you'll see here.
Venomized funko pops are a must-have for Marvel fans because of the detail in the paint and the cross-over characters. Venomized Pop of Captain America or Dr.Strange and more fantastic characters are in the venom series. It never ends, and they continue to get better and better. 
First, however, we want to explain it further for those unfamiliar with what 'Venomized' means. 
What Is the Venom Version of Funko Pop?
Venom is a sentient alien symbiote that survives by bonding with hosts. Moreover, as Venom can occupy anyone's body, it makes room to occupy any character. 
Hence, the Venomized funko series came into existence with Venom's hosts being Deadpool, Captain America, Iron Man, Hulk, Loki, and so much more. 
So without further ado, let's dive into the ten best Venomized Funko Pops worth having.
Why Are Venomized Funko Pops So Expensive?
Venomized Funko Pops are expensive because they are tough to make as compared to others. Firstly, the design follows the standard procedure, but then they have to add the Venom touch. Moreover, the creation of physical Funko Pops with two characters is more complicated. 
Usually, the details and attributes are single, but now they have to add two unique characters. Hence, these are the reasons why most Venomized Funko Pops are expensive.
List of the Top 10 Best Venomized Funko Pops
Venom bonds with Funko Pops and takes over many of our favorite characters. So let's take a look at the ten best Venomized funko Pops:
1. Venomized Green Goblin – Hot Topic #597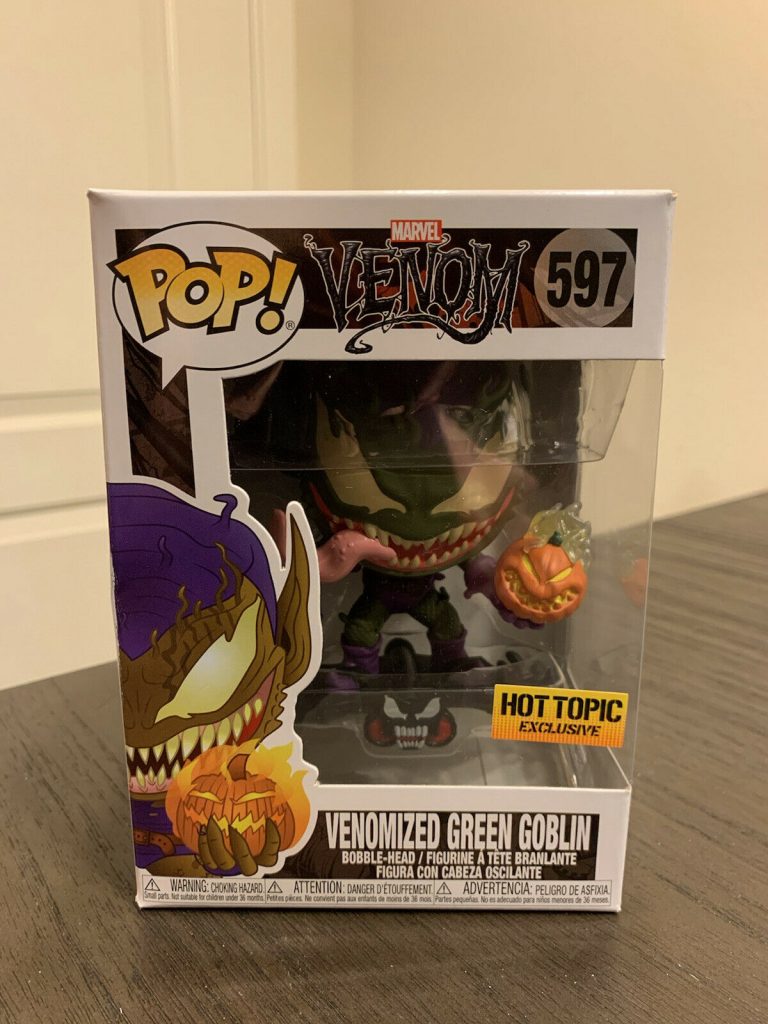 Green Goblin is already a menacing character but mixes it with Venom, and you get a jumbo pack of sinister, demonized, and a menacing character. They are holding a fire Pumpkin Bomb while riding on the Green Goblin board. 
An interesting thing to note here is that Venom bonded with the Goblin and also transformed his board into a Venom board. How cool is that!
2.  Mayhem (April Parker) –
#676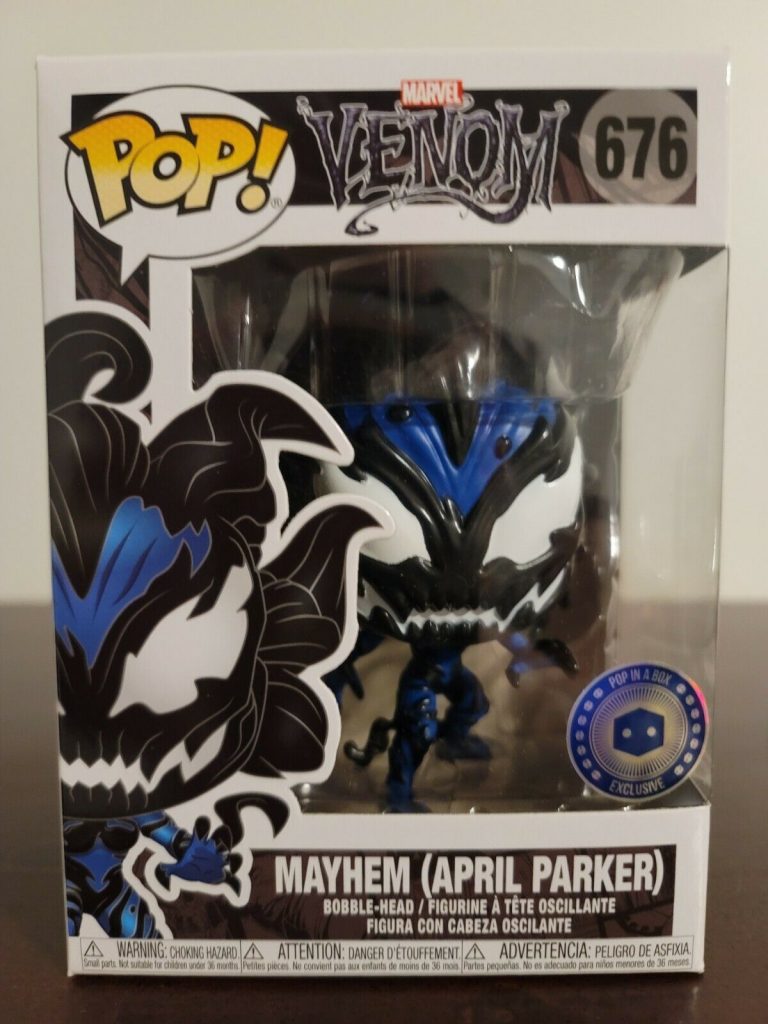 April Parker got cloned by Norman Osborn, and then he made a few alterations that made her a human symbiotic hybrid. It means that she is Spider-woman but with extra powers. But being a hybrid symbiote comes with a temperament of Venom. Like when asked to change her face, Venom angrily replied, "I HAPPEN TO LIKE MY FACE, THANK YOU VERY MUCH." 
It sounds uncontrollable, but that's what makes Venom.
3. Venomized Iron Man #365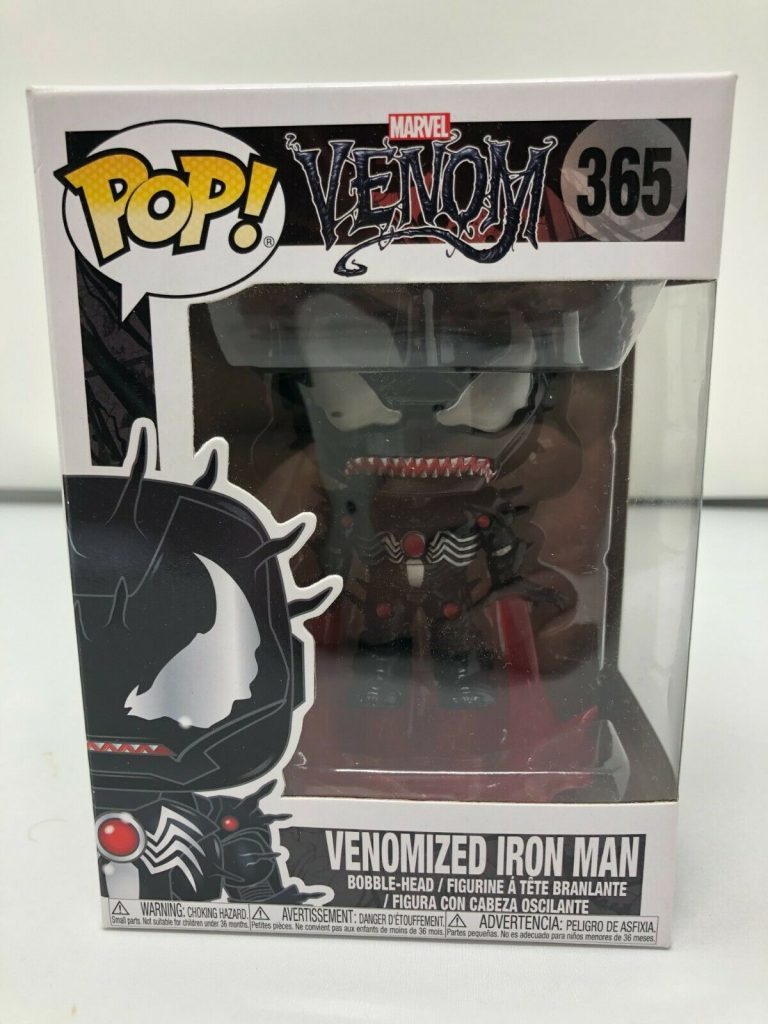 Iron man does not have superpowers, and Venom does not have the help of technology, but Venomized Iron Man has both. We have rarely seen better combinations like this one, and it feels satisfying to see this. Iron Man's suit gets a complete makeover and now looks more like what a devil would wear. Even the color of Iron Man's jets changes to dark red; it shows Venom's blood lust or something else. We will leave that for you to decide.
4. Venomized X-23 #514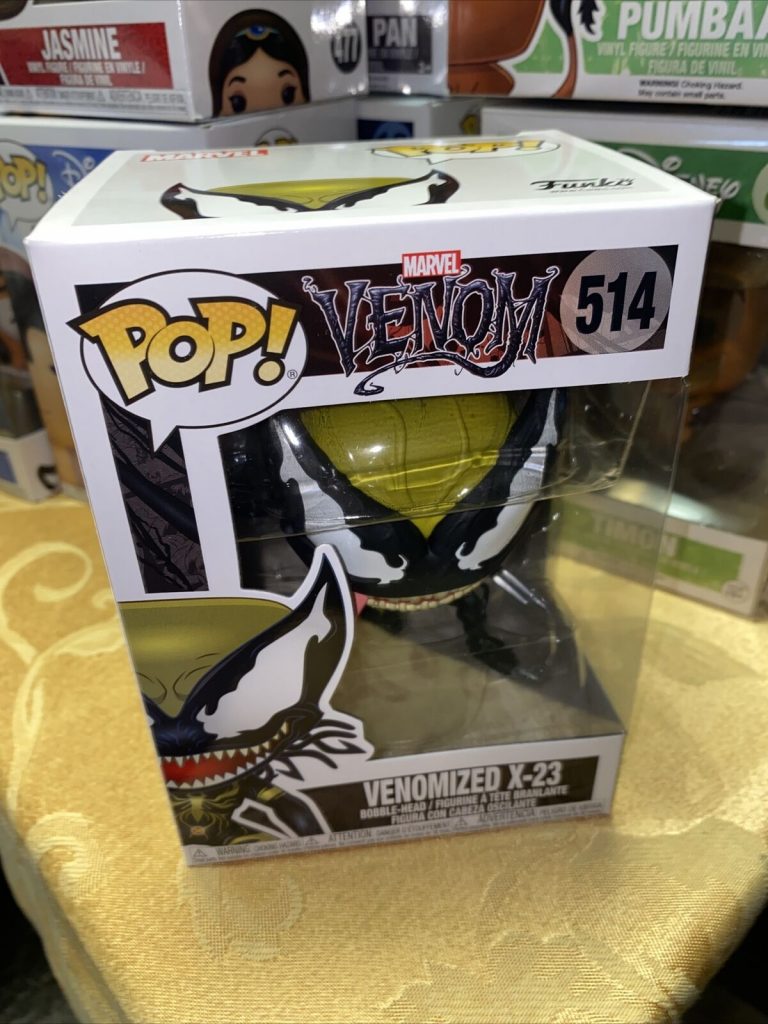 X-23 is the name of Laura Kinney and is also known as the female Wolverine. When Venom bonds with X-23, they fight against evil. Laura already has a tragic story where she gets sold to the highest bidder and does the dirty work. Her first task was at the age of 11. Venomized X-23 Funko Pop is a beautiful figure to have, and honestly, we can't praise this Pop enough!
5. Venom vs. Spider-Man Comic Moments –
#625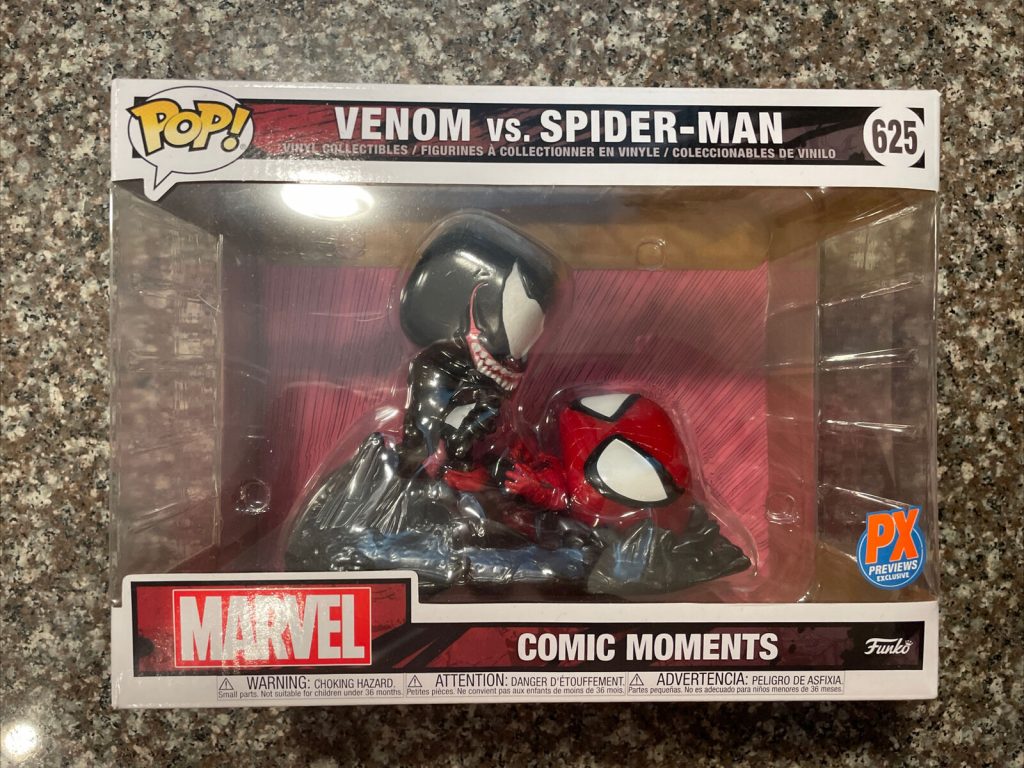 One of the most iconic moments where we see Venom as a bad guy is with Spiderman. The rivalry is intense, and Venom almost killed Peter Parker. Moreover, we always see Spiderman hurting badly, and that's what we get to see here. Venom has thrown Spidey to the ground, and the lines he mutters is, "Awwww, did we bweak the da iddy-biddy Spider!"
It shows that Venom is a force not to reckon with unless you have superpowers and save the world.
6.  Venomized Groot Hot Topic Exclusive GITD – #613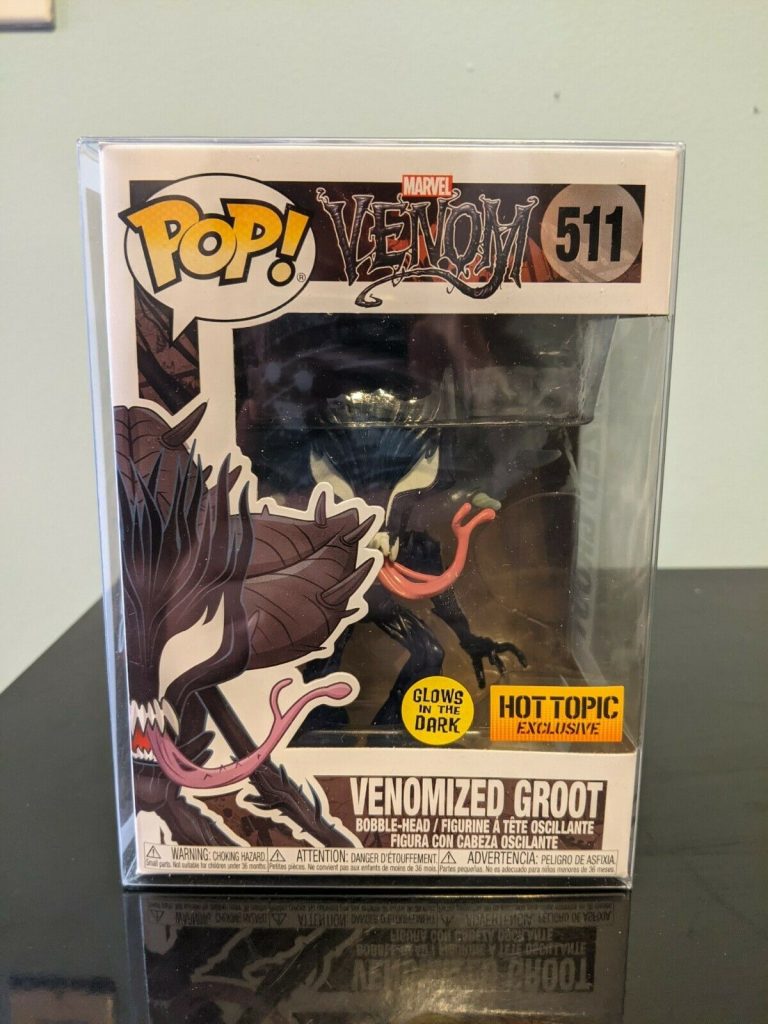 Groot is a super lovable character that all fans of the Marvel series adore. But when Venom takes over Groot, you get to see a menacing and devilish version! Groot can grow branches to help you, but Venomized Groot can grow plants that rip off your flesh, which sounds super dangerous. The complete form of Venomized Groot is Funko Pop #511, but it is not as good as in the comics and gives many creeps. But everyone has their taste, so be sure to check that out as well.
7. Venom Funko Pop! Venomized Thor – #703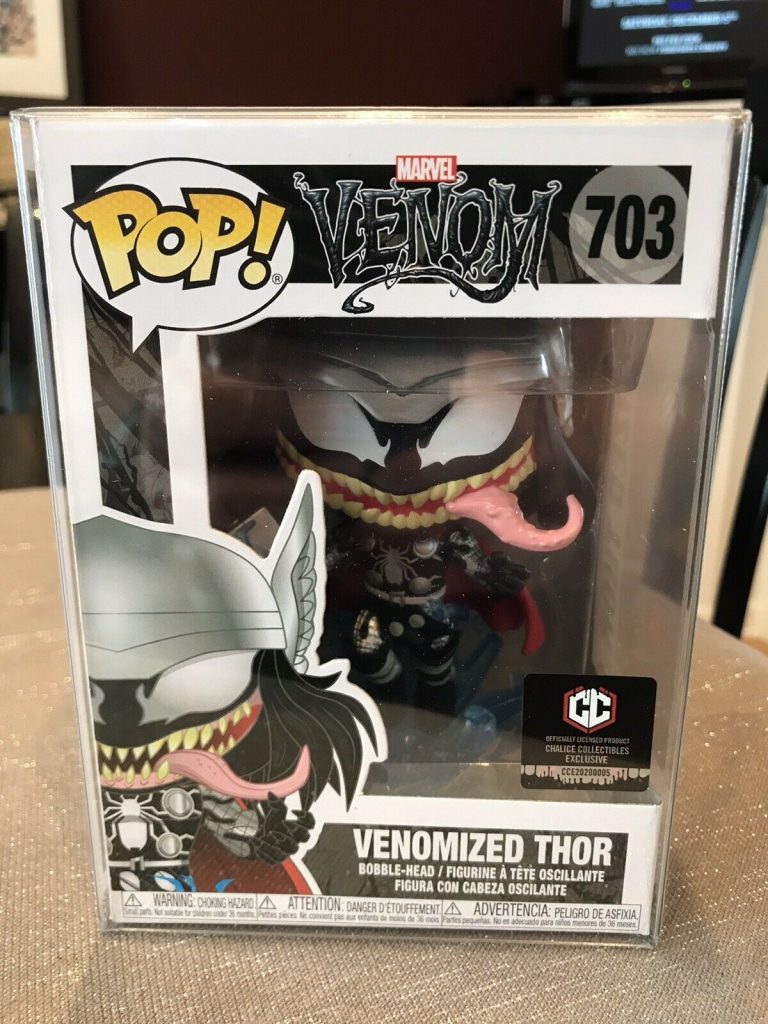 Thor, the mighty God, is a powerful and excellent choice for Venom to use as its host. To many people's surprise, Venom has already once bonded with Thor and controlled his body. Before this, Venom bonded with Hulk, but he needed more power — the power of a God! As Venom said when occupying Thor's body, "I needed more–Soon I shall possess the power of a God!" This Venom Funko Pop is a masterpiece where Venom has bonded with Thor and holds his hammer.
8. Funko Pop Marvel Venom with Wings (Exclusive) – #749 
This one is tough to get your hands on, but this is a masterpiece, and if you get the glow-in-the-dark chase version, people will pay you to double the price of the standard one, around 120$. Venom with wings is a more powerful version of its standard self. The reason is best to explain as, "We seem to have gained new strength from our connection to the God-host and its primordial symbiote. We are now capable of so much more." The wings emerged at a critical time when Spiderman and Venom were falling and saved them at the last moment.
9. Venomized Loki Target Exclusive –
#368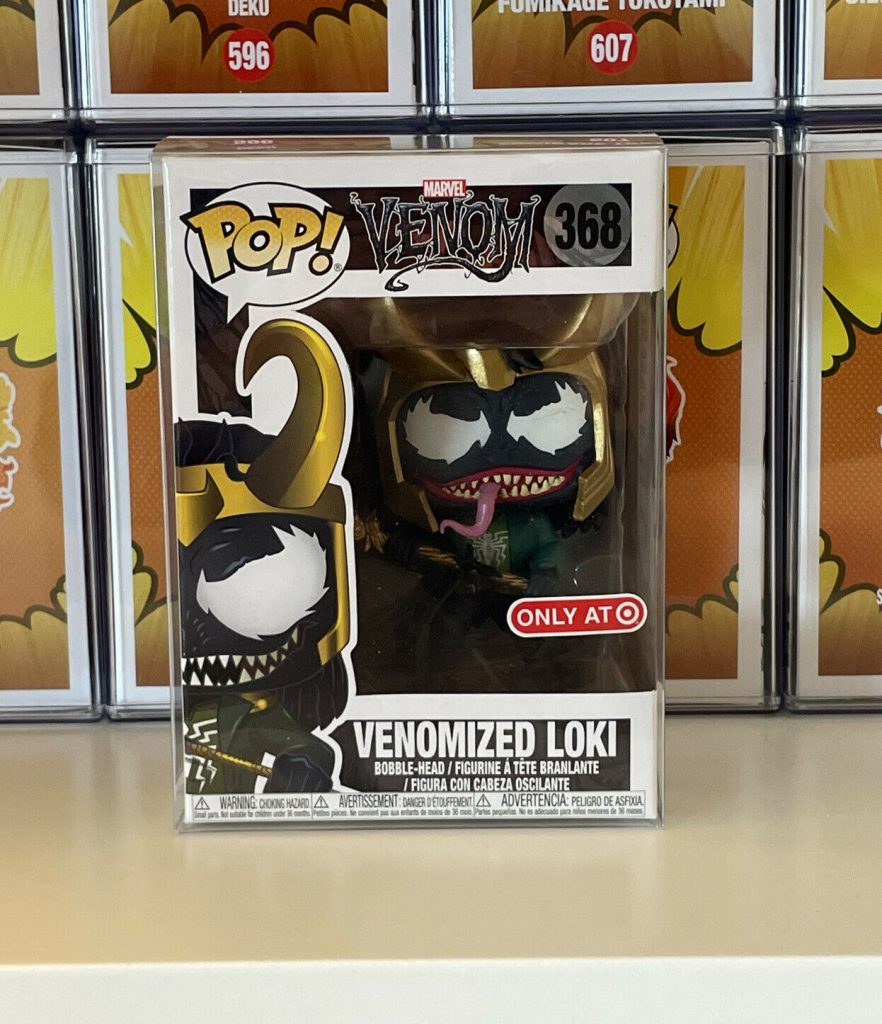 Loki, the God of Mischief, is already a fantastic character but combine him with Venom, and everyone's jaws dropped. This Funko Pop of Venomized Loki is a collector's favorite and one of the most in-demand items. The new take is even better than Thor's, and no one can get enough of it. We can praise it all day long, but it still would be less. Even the Scepter (Loki's stick) is venomized, and it is utterly unique.
10. Venomized Doctor Strange with Energy Glow in the Dark  – #750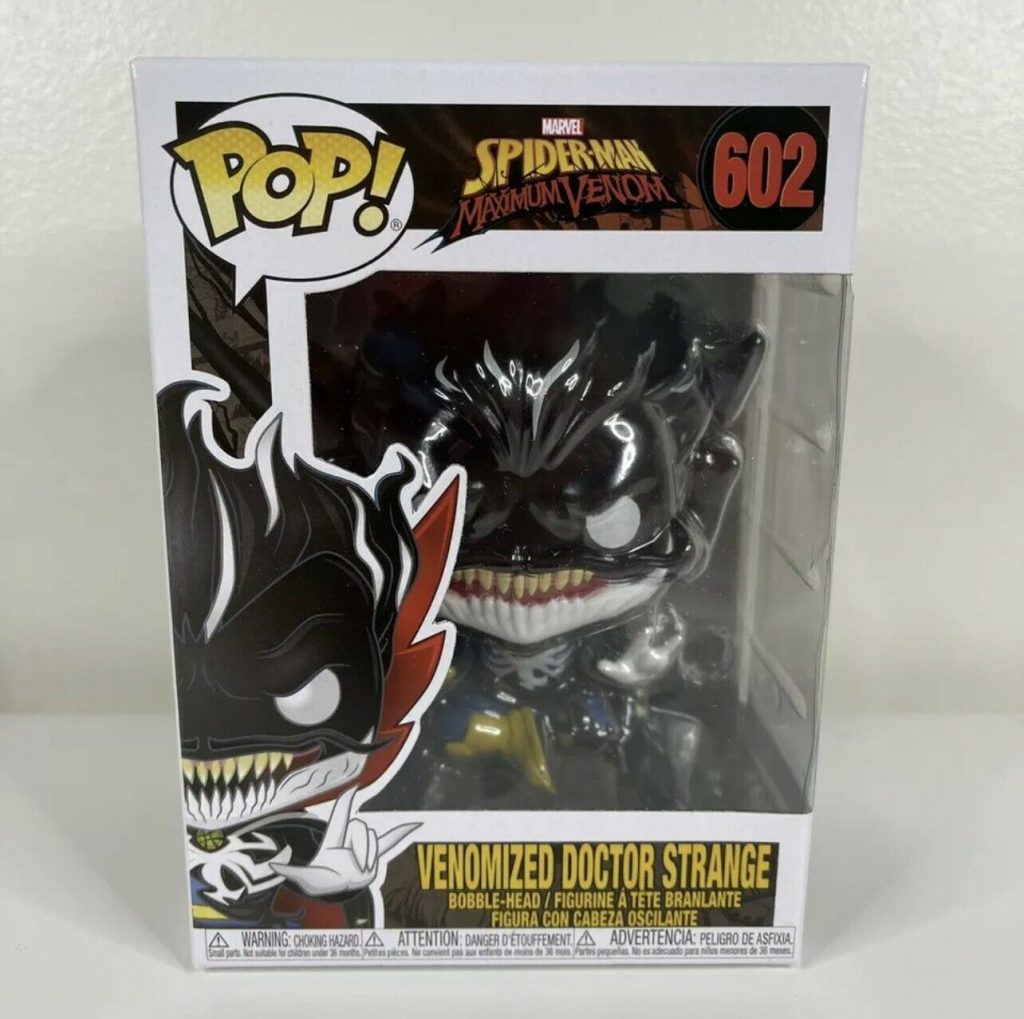 Doctor Strange is already a massive hit with Marvel fans because of his mystical powers and ability to view the future differently. Couple that with Venom, and you get nothing less than a demon with crazy powers. When Venomized Doctor Strange started "bonding" with people, Peter Parker worried about his Aunt May. 
But the reply of Venom stunned him "We do not damage, we improve. It is an honor to bond with us." It is how anyone would describe the glow in the dark Venomized Doctor Strange Funko Pop, a tremendous improvement that Pop collectors will treasure.
Get Excited for More Venomized Funko Pops In The Future 
These are our top ten Venomized Funko Pops list currently; however, we all know that the venomized pop-line will continue to grow. These Funko Pops are the best ones in the Venomized Pop series and are a must-have. 
Will we see a new venomized funko pop NFT collection? Although the first NFT funko pop release went successfully with Teenage Mutant Ninja Turtles, we wouldn't be surprised if they make a Venomized drop. 
The list shows what everyone wants, and you have to get. High demand vs. low supply is high valued funko pops.
If you've enjoyed reading about these best funko pops, you may like these vaulted funko pop lists as well: