A question most new collectors have is 'What's a diamond funko pop?', and is it considered rare? 
Diamond Funko pops are rare due to the high demand for these figures. As a result, they are difficult to obtain, and the Disney franchise tends to produce more of these types of variant pops than other franchises. 
Additionally, in most cases, diamond funko pops are only available in person at the retail store. So it's far and few when you can buy a diamond pop online. 
Let's dive into more about the diamond exclusive pops: 
What is a funko pop diamond collection?
Diamond edition Pops have glitter on them and released with the Diamond Collection sticker creating more exclusivity. 
Diamond Funkos are one-time-only items for a particular online shop or event. The resale value of Dimond pops on the popularity of the character and franchise. 
Diamond Pops is a variant of the standard ones.

A Funko pop diamond series has glitter on them.

These are generally worth more than the standard variants.

Diamond Funko Pops are also Glitter edition Funko Pops (more info below).
Diamond edition Pops vs. Glitter edition Pops
All Diamond edition Pops are Glitter edition Pops. However, some of the Glitter Pops are not Diamond edition pops like Prince (Purple Rain). Also, a Diamond Funko Pops is included in the Glitter edition but not every Glitter Pop is a Funko pop diamond series. 
So there can be a Diamond edition and Glitter edition of the same Funko Pop. Collectors love when there's a combination of variants. 
Are diamond-exclusive Funko Pops suitable? 
Now that you know all about Diamond Exclusive Funko Pops, it will be easier for you to understand the answer to the question is that the exclusive diamond Funko pops well.
All of the Diamond Funko Pops are rare because:
1. Because people love glitter and shiny objects
2. Diamond Pops are exclusive and not common
3. Some Diamond Pops are even Chase variants
4. They sell out faster than the standard variants
The price of the standard and Diamond variants varies a lot. Let's take the example of Selena Burgundy #205. The standard variant goes for around $16.99, but the Diamond variant has a hefty price tag of $49.99. The difference is a whopping $33.
5 Diamond Edition Funko Pops
If you are looking to get some Diamond edition Funko Pops then here is a list of some popular and rare Diamond Funko Pops:
1. Harley Quinn diamond collection (DC Comics) #45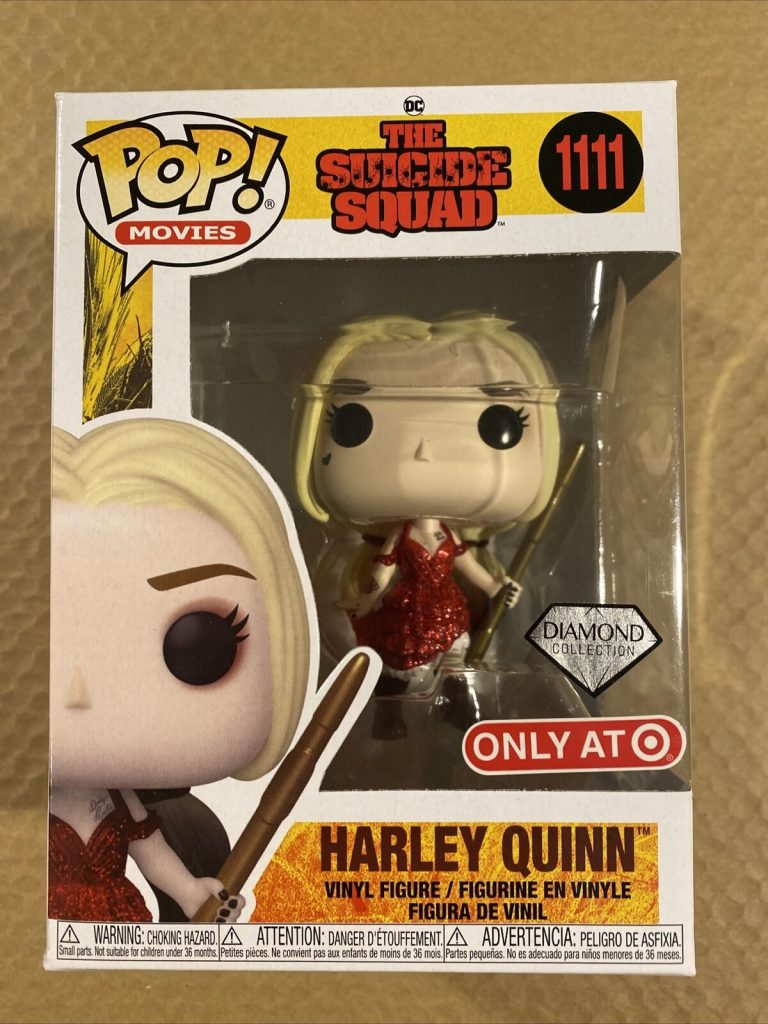 Harley Quinn is a superb character with multiple shows on her. In each show, we get to see a different backstory and characteristics. The most famous iterations are in the DC Multiverse, where the former Dr. Harleen Quinzel is the Clown Princess of Crime. 
The Doctor falls in love with the Clown Prince of Crime Joker and thus adopts a new identity. 
But soon, she realizes that Joker is holding her back and manipulating her. Then she goes on to make an all-girl gang and is now a completely independent supervillain. 
Just the way Harley says, "If you're going to go a little crazy, you may as well sit back and enjoy the ride!" Now that's a supervillain we all can get motivation from and get excited!
2. Minnie Mouse
Diamond Hot Topic Exclusive
 #23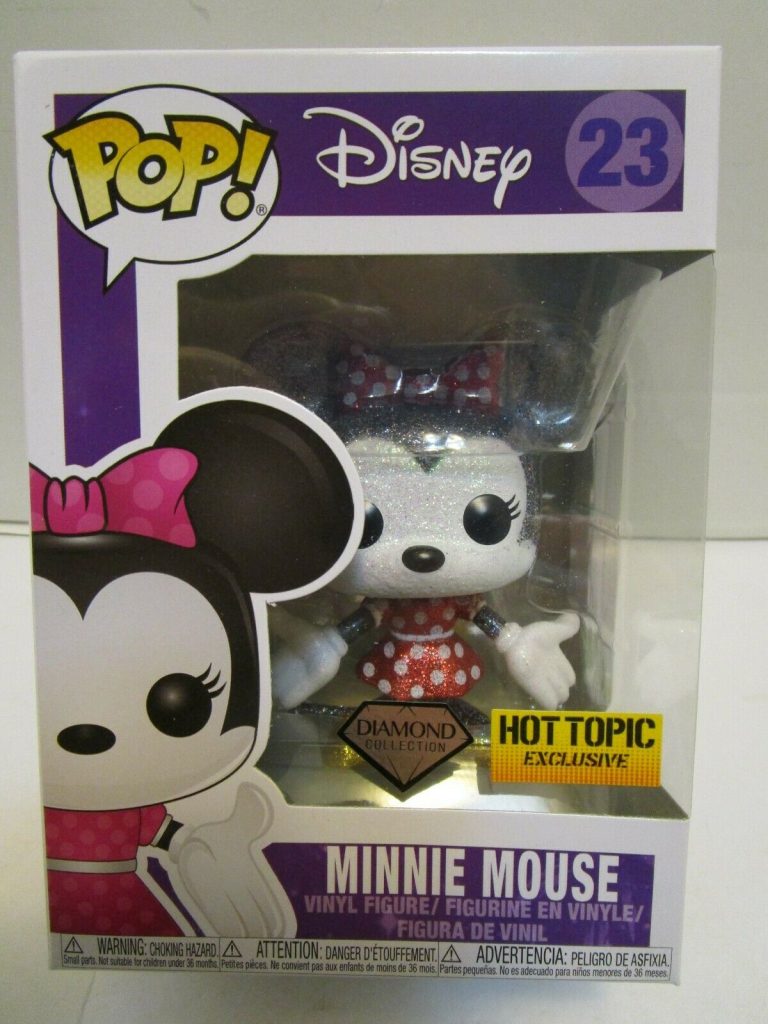 Minnie Mouse is by far one of the sweetest characters anyone will have seen. 
These characters are similar to/inspired by Flappers. 
Her contributions to animation are uncountable, and hence she received an official star on the Hollywood Walk of Fame.
3. Eeyore funko pop diamond collection #254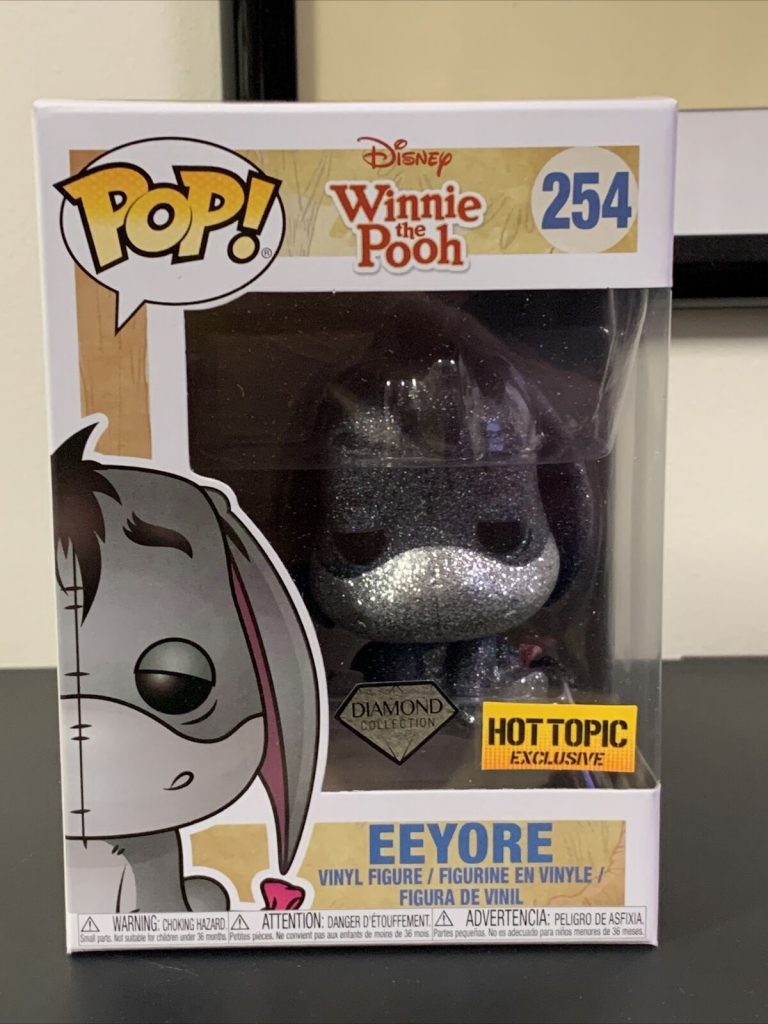 Eeyore is a pessimistic and sad old stuffed donkey. He is so gloomy that sometimes one wonders if he enjoys being like this. You can hardly ever see him happy, and even when he is happy, he is cynical about it. 
The only things he enjoys are eating thistles and sugar cubes. However, his sadistic and gloomy nature often undermines his wisdom. 
Nevertheless, in many episodes, he undoubtedly showed that he is among the smartest of his peers. Moreover, in trouble, you can always count on him.
The Eeyore Funko Pop Diamond collection #254 is on this list because they magnificently capture his sad expression, so much so that it makes many want to cry. 
The chase version of this Pop is multicolored, but the standard one doesn't lag because the single grey color makes him more gloomy. So no matter which one you get, you are in for a treat.
4. Stitch Diamond Collection Hot Topic Exclusive Funko POP! #159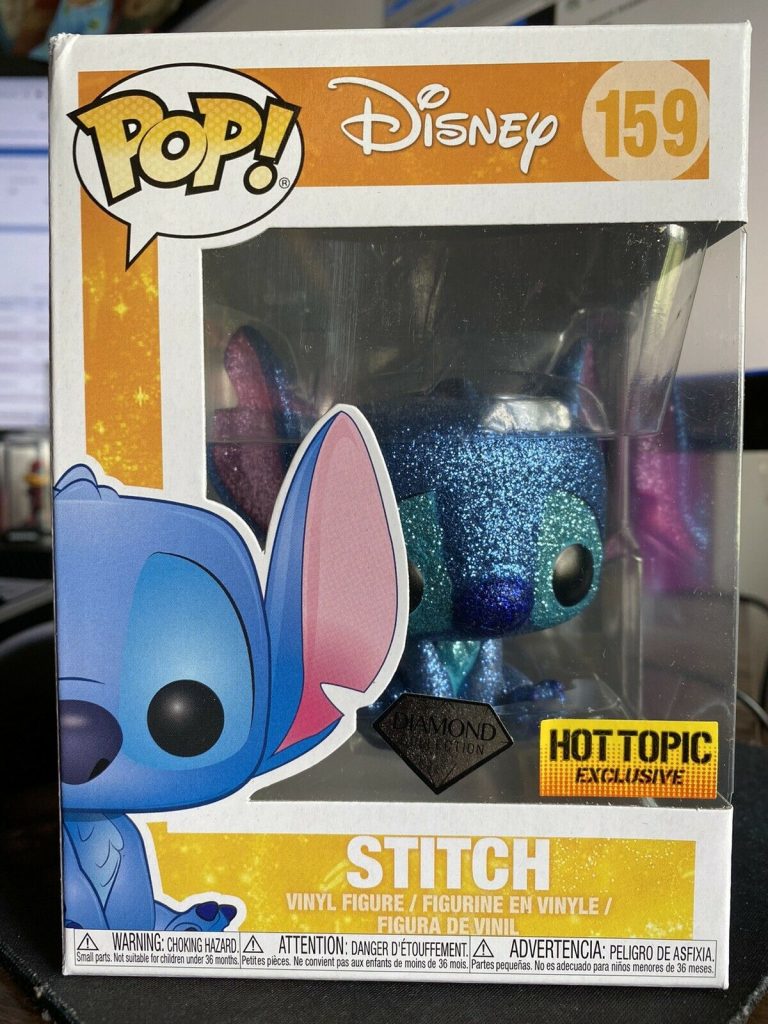 Stitch, also known as Experiment 626, is a loving character, but he wasn't always like this. He's supposed to destroy everything. However, Lilo's love and guidance changed him. 
But you can sometimes see him throwing tantrums and turning into a demon. 
The common misconception is that people believe he is dependent on Lilo, which is not valid. Stitch has his personality and is not reliant on Lilo, but he chooses to live with her because of her affection. 
Stitch has tons of powers that allow him to destroy anything quickly, so how can he be dependent on her. The only thing that stops him from doing that is Lilo's love and guidance.
5. Vaporeon Pokemon Diamond Spring Limited Convention Exclusive #627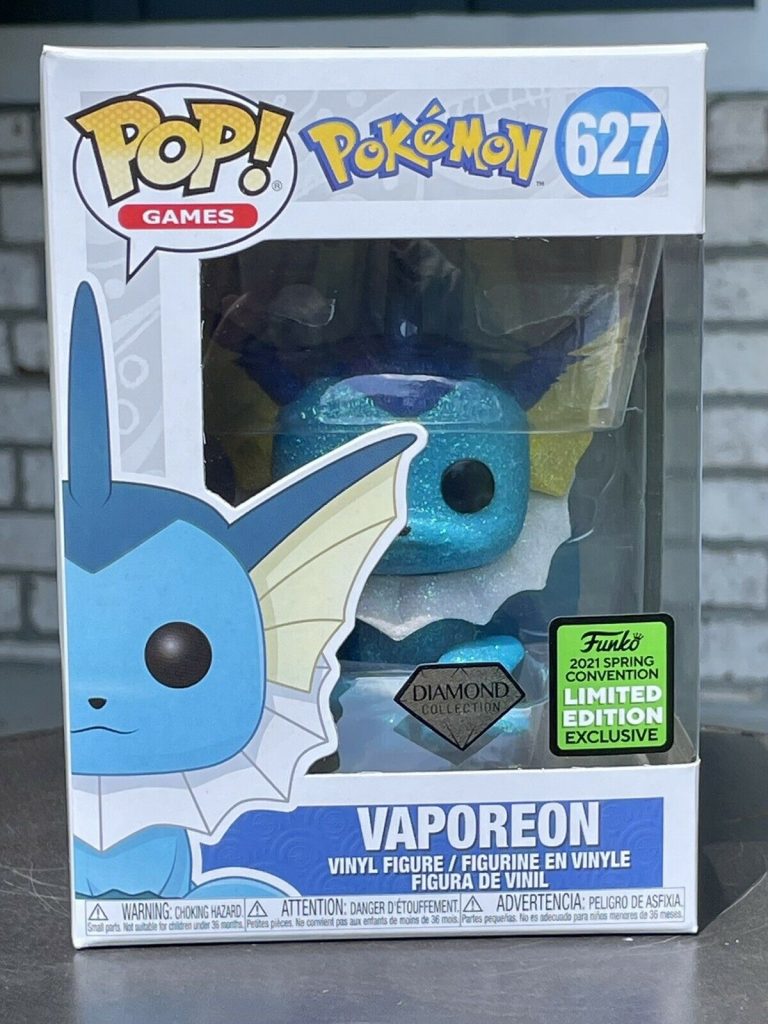 Eevee is a special Pokemon in the series because it can evolve in multiple forms, unlike others. 
One of the most popular evolutions of Eevee is Vaporeon caused by the Water Stone because it is one of the most common ones. However, unlike its pre-evolution, it can breathe underwater because it is a water-type Pokemon. 
An extraordinary power of this Pokemon is that it can melt in water and even manipulate water molecules.
Diamond Edition Funko Pops Sell Out Quickly 
Keep an eye out for upcoming diamond collection pops because they go quickly! The glitter adds to the design of the pop, and some collectors collect only diamond pops because they love them so much. 
Additionally, pokemon pops have turned into diamond pops because it adds to the fur design as an alternative to getting a flocked pop. 
If you've enjoyed reading this article, you may like these articles: 
Follow us @PopAndFigures on twitter for pop news, memes and to be notified when we have new articles like this one.