We often find it difficult to check the value of a funko pop and to do it quickly when you need it the most. So here's how you can find the next rare funko pop when you walk around in your favorite retail store like Hot Topic, quickly and without hesitation. 
We wanted to share different apps and ways to get the price of a funko pop. Understand what pops are worth and how to best use these apps to find rare pops. 
Our Collector Tips Will Help You Find Rare Pops In The Wild 
We all love to add unique Funko Pops to our collection, but one of the factors that affect our collection is the price of each one. It's always a little tricky to check the value of a funko pop because the market determines a price. Supply vs. Demand plays a role in how much a funko pop is worth. 
Questions like
How much is that pop worth right now, and should you buy it? 

Is the latest Funko Pop worth having, or should you buy a Flocked Funko Pop or Glow-in-the-dark one? 
So many questions come to mind regarding the price of each Pop. 
Hence, we make it simpler for you to know and check the value of a Funko Pop you will buy or currently have.
Before diving into checking Funko Pop value, we must know what makes them rare or worth their price. 
Why Funko Pop Prices Change And What Makes Them Rare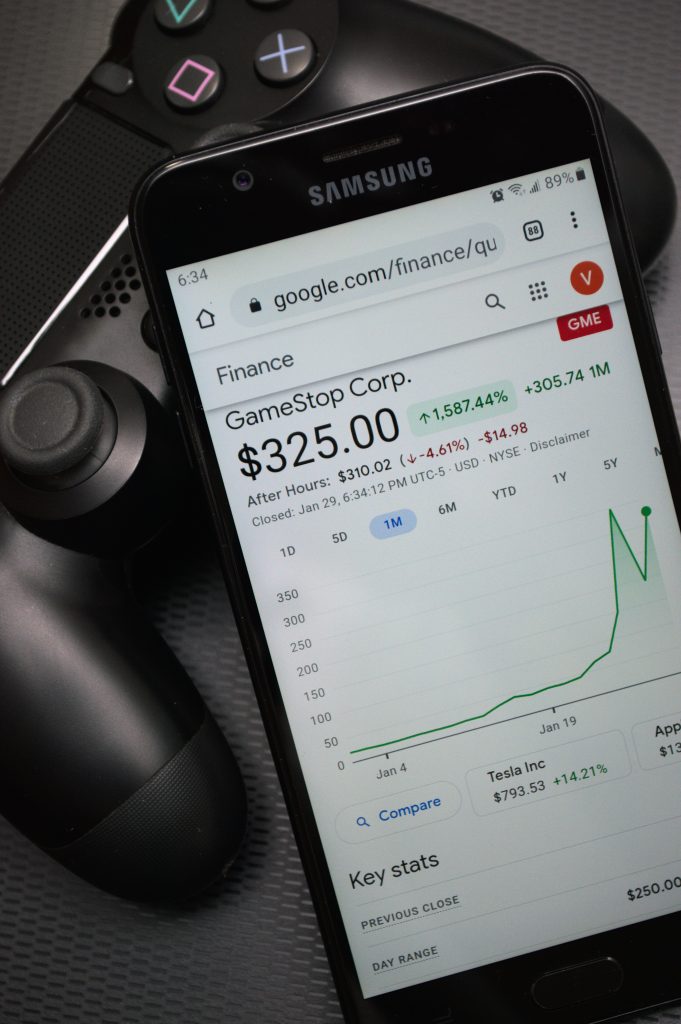 Funko pop prices are like the stock market as they go up and down, however, over time a funko pop can increase in value. Only invest money that you are willing to lose and remember to buy funko pops you want first.
Do Funko Pops Go Up In Value?
All collectibles experience ups and downs in value depending on market conditions; however, when buying funko pops at a low price, their value can go up over time. For example, NightWing from Funko's Batman series had a value of $12-$15 during pre-orders depending on where you got it. However, now it's valued at $40 to $50, depending on where you sell it (eBay, Mercari, etc.).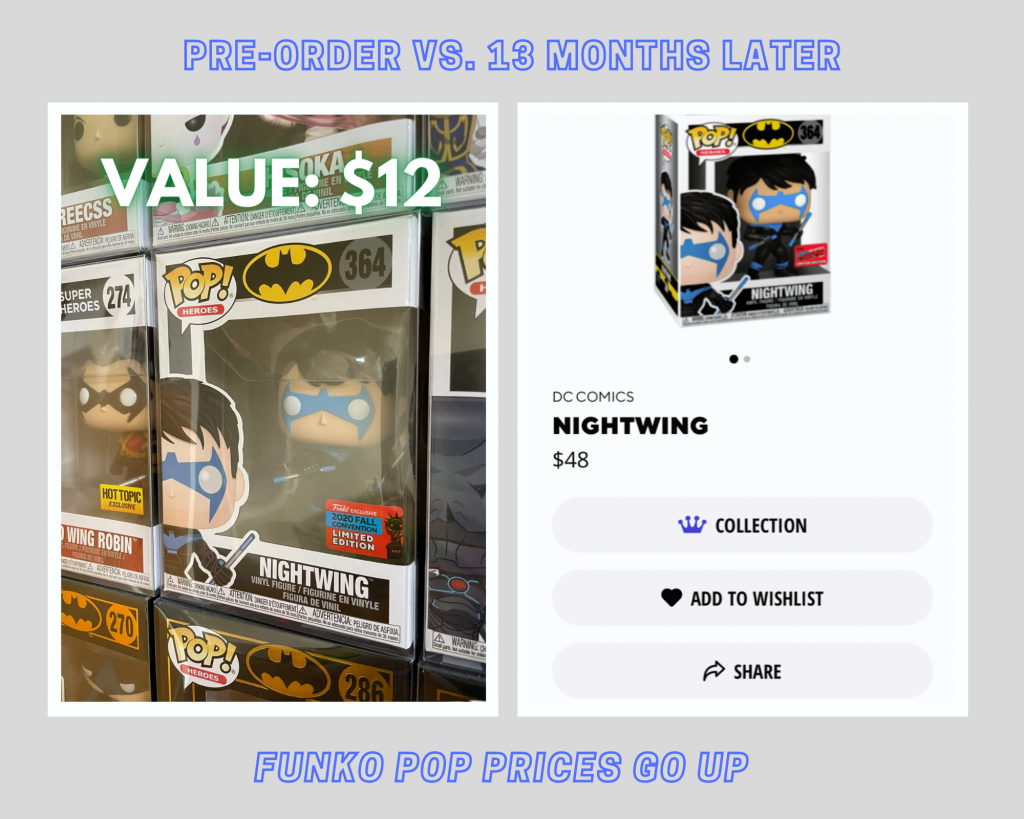 Determine the price of a funko pop by analyzing the following factors: 
Popularity

Exclusivity

Type
Somehow each of these factors is linked to each other. So, for example, a unique type/model can result in higher Demand, which is more popular.
1. Type/Variant
There are seven primary types/variants that you will usually see thrown around with Funko Pops:
Chase

Flocked

Diamond/Glitter

Glow in the dark

Metallic

Chrome

Black Light
Each of these variants adds value to the Funko Pop. In addition, sometimes a Funko Pop will have multiple attributes like a chase variant that is Glow in the dark one.
2. Exclusivity
Now, exclusivity can be of multiple types, like:
Event exclusive

Shop/Store exclusive

Total number of Funko Pops in the series

Series exclusive

Signed/Autographed Funko Pops
All of these will give you a general understanding of things that make up the value of a Funko Pop.
3. Popularity
How does popularity play a role in determining a funko pop's worth? 
It mainly depends on the general sentiment of the community. For example, if a character, pose, exclusivity or type gets the community buzzing about the upcoming pop, it'll likely be valuable in the future. 
Like the stock market, these funko pops have a market of their own, and during specific seasons, they can go up in price or down in price. A vaulted funko pop tends to increase in price. 
In short, a Funko Pop can have higher value just because people want it. Market conditions play a role in if the value goes up or down; however, most will increase in value if all factors make sense.

For more information on what makes Funko Pop rare, as we break out the supply and demand curve for pops. 
Best Places to Check The VAlue of a Funko Pop 
Here is the complete list of the best places to check Funko Pop prices quickly and for accurate numbers:
1. Pop Price Guide App (Mobile & Desktop)  

hobbyDB-led Pop Price Guide is the application that is home to hundreds of sellers and thousands of Pops from your favorite Funko franchises. 
In addition, the pop Price Guide App has unique features like UPC Scanner, QR Code, and a couple of other features that no other app provides. 
It is by far one of the most legit platforms for Funatics. The PPG app is a must-use because it also accounts for the price of each pop listed on the Funko database and eBay. 
This way, you can get an accurate idea of the actual prices and what people are demanding. Tips to enhance your search are mentioned below in the article.
Pros:
The app is straightforward to use.

The database is filled with information from the first-ever Funko Pop to the latest one

Allows you to view prices for sold pops on eBay

Displays the price trend of each Funko Pop

Coming soon feature keeps you updated

All the prices are the latest

Specifically for Funko Pops
Cons:
Extensive and arduous measures to list a Funko Pop for sale
2. Funko Official App (Mobile)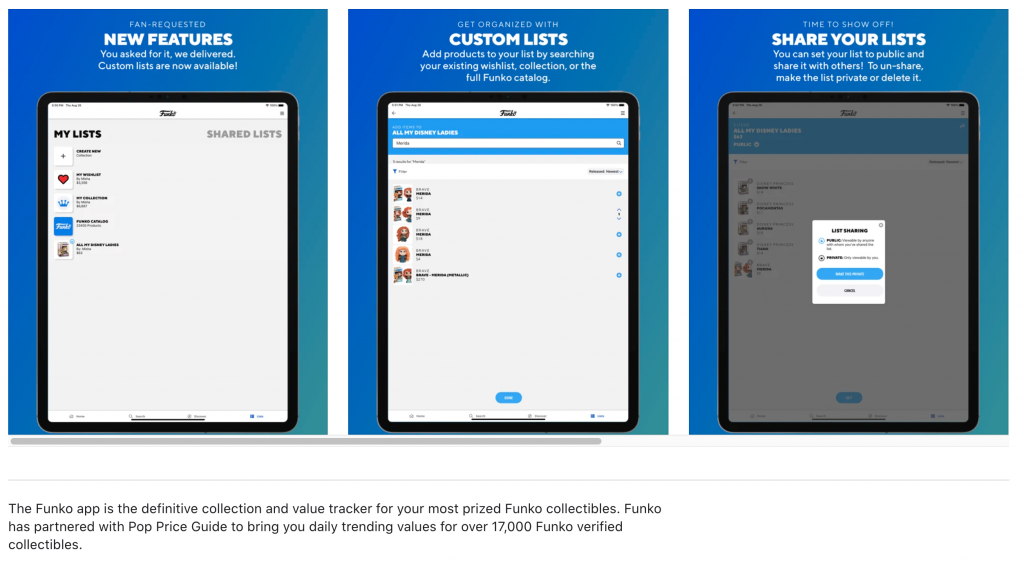 Funko App is the official place where you can check upcoming, recently released, and vaulted Funko Pops. It's updated constantly when new pops are come out.
Also has the complete database of their Pops produced, where you can scan their codes and get their relevant information. It is a brand new mobile experience with the most significant Funko collectible, verified, and certified.
It also enables collectors or enthusiasts to search or monitor their developing or old collections because it is difficult to follow the pursued versions, new releases, exclusive retailers, and restricted items nowadays.
Pros:
Fast loading times

Easy to navigate

Huge database

Tons of options

QR Scanner

Tracking option

Specifically for Funko Pops
Cons
:
3. eBay sold Items For Checking pop Prices 
eBay is a superb place to buy and sell items and one of the best places for the Funko Pop price check. As many people and businesses use eBay to sell their Funko Pops, you will get a good idea of their prices. 
Often old or vaulted Funko Pops show up here, but their price might be a little higher than usual. 
However, if you use the sold items option, you can strictly see the rate the Funko Pop is worth. The listings are what the seller demands but the sold items tab will show you what the buyers deemed the worth of a Pop.
Pros:
Easy to use

Fast loading times

Actual prices

First-hand insight into the prices of Pops

Large database
Cons:
· Some Funko Pops might be overpriced
4. Amazon Sold Items (Mobile & Desktop)
Amazon is the go-to place for anyone selling or buying items. In the sold items tab, you can view thousands of things that have been sold, in our case, Funko Pops. This list gives you an overview of the current price of the latest to vaulted Funko Pops.
Pros:
Easy to use

Fast loading times

Actual prices

First-hand insight into the prices of Pops

Decent database
Cons:
Some Funko Pops might be overpriced
5. WhatNot app (Mobile & Desktop) 
WhatNot app is an easy-to-use application to check out different items for sale where the option to go live is also available. For example, Funko Pops are quite a popular listing, and that is why you can use it to buy, sell or check out the prices of different Pops here.
Pros:
Regular updates

Easy to use interface

Great customer support
Cons:
6. StockX app (Mobile & Desktop)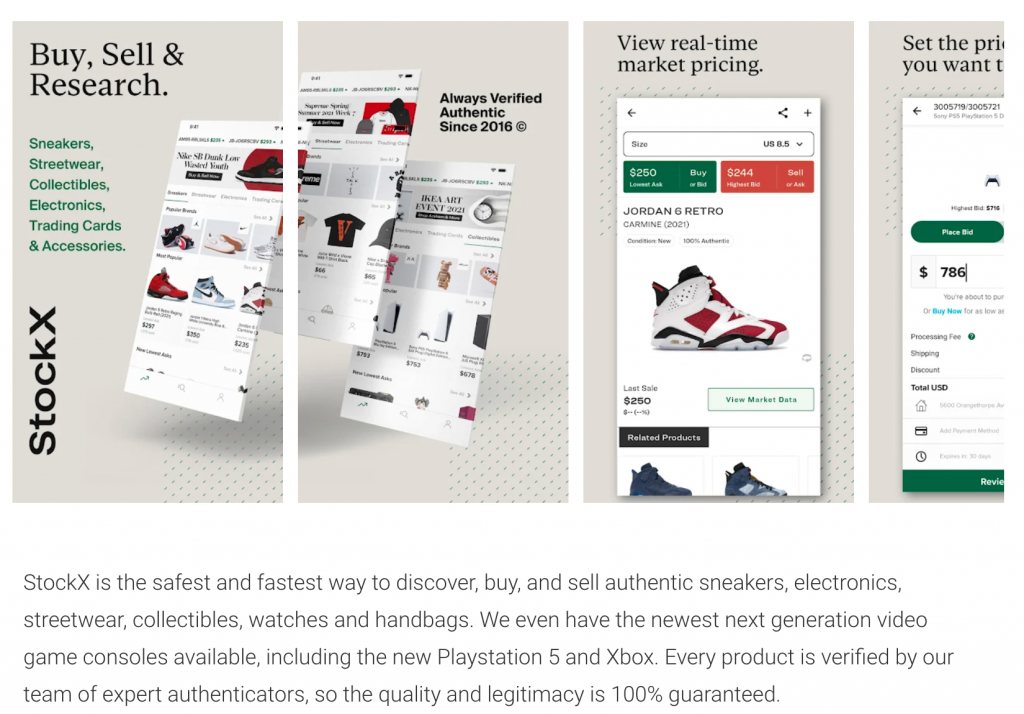 StockX is another great marketplace where you can view listings of Funko Pops. The application is easy to use, and the user interface is comfortable. You can see what other users are bidding for with real-time market pricing and influence what others pay for it. This way, you can know what and how others want to pay for each Funko Pop.
Pros:
Easy to use

Fast loading times

Real-time pricing

Shows hot items
Cons:
 We recommend using the Pop Price Guide for analyzing sales data and trends in pop prices. For those who aren't familiar with Pop Price Guide, here are some more details. 
What is a Pop Price Guide? 
Pop Price Guide aggregates data from eBay and other third-party selling platforms to understand how much specific funko pops are selling for on average over time. In addition, the website acted as a database sharing details on different pop types costs and sold online. 
Collectors can keep track of their funko pop collection using this database, and that data determines the prices of funko pops as well. 
We wrote about ways to track your funko pop collection as well. 
How can you use the Pop Price Guide efficiently? 
You can use whatever application you fancy or are comfortable with, but the recommendation is to use the Pop Price Guide app because it accounts for the official Funko app prices and eBay sold prices. 
Here are some different ways to filter/sort and use the pop price guide efficiently: 
Lookup a specific pop line name or pop name first in the search bar 

Use the 'Brand' filter for 'Funko Pops' 

Search by 'Release Date' 

Change 'Production Status' to 'Chase' 

Sort by 'Newest' or 'Oldest' added  or

'Estimated Value: High – Low'
This way, you can determine if you can make a quick profit by buying a Pop from Funko and then reselling it on eBay. 
Pop Price Guide also allows you to view the trending Funko Pop, which can help you know what Pops you can make money off now. 
It uses a line chart and table with averages to present the overall trend of the figure to collectors. 
 However, if you want to determine the value of your Funko Pop quickly, you should use the Funko app because it lets you scan the code under the box of that Funko. After which you will instantly see all the related information about it.
What is the best place to check funko pop prices? 
Pop Price Guide is the best place to check the value of a Funko Pop. The extensive database, along with the integration of eBay sold items and the Funko database gives you all you can ever want. 
They share great insights using the data available to them.
This application is the only one that can get you the real-time and official values of Funko Pops simultaneously. 
Pop Price Guide or Funko's Offical App Most Collectors Use 
Most pop collectors will mention in their funko listings that they'd only accept 'PPG' prices, which has become standard among the funko community. 
It's the most significant pop price guide available currently; however, other smaller sites are starting to show up to compete. By checking the value of the funko pop, you can ensure that you're getting what it's truly worth. 
Similar to the stock market, the value does change; however, this helps give you some data to look at to help determine the price.