Are you looking for a way to keep track of your Funko Pop collection? It's so easy to lose count of how many pops you've added and which ones you already have. We've analyzed the pros and cons of the best funko pop collection tracker apps out there and wanted to share which are the best. 
It takes time, money, and a lot of effort to complete your Funko Pop collection. Let us help find you the perfect way to track these pops before you have to restart your inventory check. It is nothing more frustrating than having to re-enter a list of 200+ pops into a new funko pop app because you found it has better features than the one you're currently using. 
What's the Best funko Tracker app? 
Funko Pop App or Pop Price Guide (PPG) are go-to collection trackers using a mobile app for those who want to see how much their current collection is worth per funko pop. These Funko Tracker App include a list of collectors' top 10 highest valued pops, making it easy to share on social media via a screenshot. 
Usually, the critical challenge is that most collectibles are not available or available for a minimal time. And since new pops are always coming out, that means the app you use has to be up to date with the current trends in the pop's value. 
As a result, collectors need a Funko tracker that can satisfy their collection needs. Using a simple excel sheet may work great initially; however, you lose out on being able to calculate how much your funko pop is worth starting that way. 
In this piece, you will discover mobile apps (convenient and quick) that will make it effortless for you to keep track of your Funko Pop collection. Please read through the entire review to get the best app for your specific needs. Let's dive in!
Best Funko Pop Collection Apps: Keep Track of Your Funkos
Platform: iOS and Android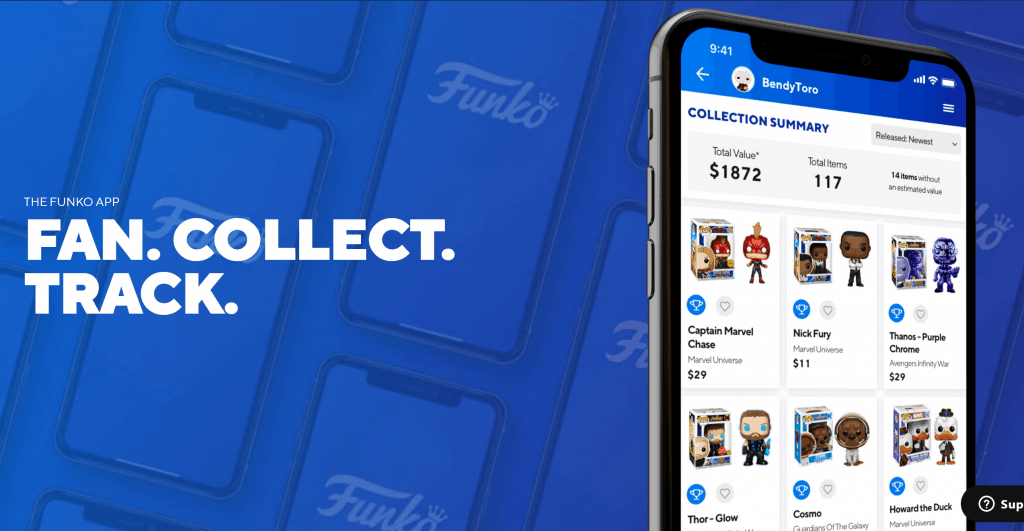 The Funko App is the official collection tracker for Funko products. It is arguably the best Funko Pop collection app. Funko collaborates with Pop Price Guide in this app to provide daily trending values for more than 17000 Funko verified collectibles. The app is a result of the merger between Funko and Stashpedia.
The app helps you keep track of your growing collection. It also makes it effortless for collectors to keep track of new releases, limited products, chased variants, and retailer exclusives.
Unique Features
Pop Price Guide

– this feature helps you check your entire collection's value based on the latest prices. The feature also supports multiple currencies.

Migrating your collection

– If you have a Stashpedia or the Funko Beta app account, you can migrate your collection without having to start from scratch.

Catalog exploring

– You can search, discover and scan to quickly find items you are interested in since new added daily. The catalog has over 17000 items you can keep track of through the app. To make your search quicker, you can search by categories, Exclusives, Licenses, Product brand, characteristics, or release year.

Collection and Wishlist management

– you can use the "Add to collection" and "Add to Wishlist" buttons to manage your collection. The app allows you to add new items to your collection. If you wish to have items but have not acquired yet, you can add them to your Wishlist. A collector can also sort the items in their collection alphabetically or based on their value.

Funko Blog

– the Funko blog will help you stay up-to-date with the latest news and feeds. You will also get the latest information on Funko products.
Pros for Funko Tracker App
You can easily find an item you want to add to your collection. The Funko app has the most extensive collection of Funko verified collectibles – more than 17000.

The app is simple and clutter-free. Moreover, it is easy to add an item to your collection using the barcode scanner.

You can also keep track of your collection and manage your information. The app can help you find one of the limited edition figures.

Having partnered with PPG, you will know the current value of your collection. You will also discover the trending items.

You can create your avatar using Pop! Yourself feature.
Cons For Funko Tracker App
The app does not allow users to share their profiles. Therefore, it is challenging to browse other user's collections.

There are complaints of some minor bugs.
Platform: iOS and Android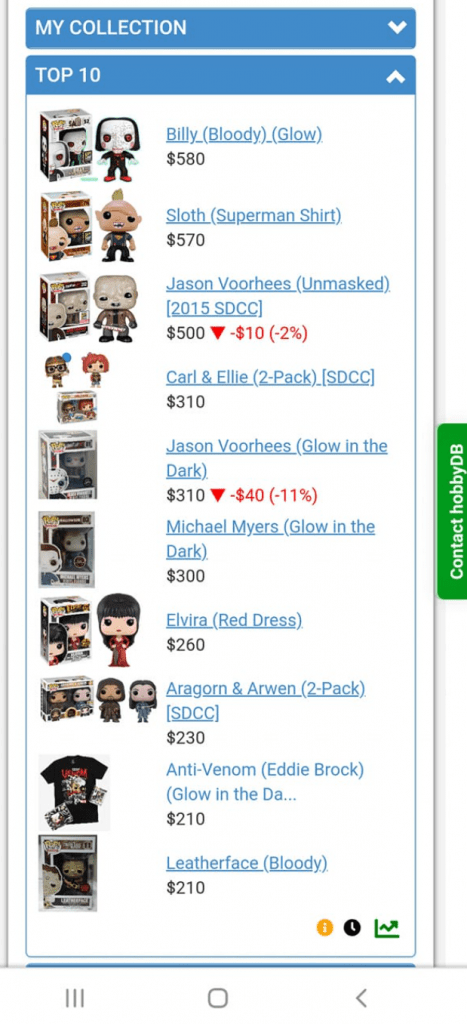 Pop Price Guide signed a deal with Funko to the official marketplace provider for the Funko App. The PPG Marketplace hosts numerous sellers and items from the Funko franchisers and characters. This app is undeniably the best Funko Pop price guide you can have today.
PPG is a must-have because you wouldn't want to pay more than you have when you want to buy a collectible from the secondary market. Moreover, the app is also essential when you want to sell one of your collectibles. It helps you ensure that you don't set your price too low.
Unique Features
UPC Scanner

– to use this feature, use your phone's camera to hover over the UPC on your collectible's package. If the item's UPC is in the PPC database, you will see the app's matching collectible. You can learn more about the item, its value and then add it to your collection.

HobbyDB blog

– you can also access the HobbyDB blog from the app. The blog will keep you updated with the latest news.

QR code

– the app also allows you to create your QR code to make it easy for you to share a custom URL from your Showcase.  

Showcase

– the showcase feature allows you to manage your collection and Wishlist. You can also track the values of the items in your collection and buy or sell.

Top 10 best-selling pops – PPG lets you know 10 of the best selling Pops and their current prices.
'Coming soon' feature

– Users will know items that are hitting the marketplace soon and keep track of them. If you find something, you like you can "+Collection" or "+Wishlist."
Pros for Funko Tracker App
Updates users on the latest prices of Pop figures; hence they cannot buy or sell at an undesirable price.

It makes it easy for users to track their collection by tracking their collection, orders, wishlists, and other relevant information.

The app has a forum that allows you to communicate with other collectors whether you are looking for something or selling.

The app is straightforward with a user-friendly interface.

It allows users to share their collection using the "Showcase" feature.

It has the coming soon feature, making it easy for you to keep track of soon-to-be-released Pops.
Cons for Funko Tracker App
It does not allow users to sort their collection from highest price to lowest.

The app still has several bugs to be sorted.
Platform: iOS and Android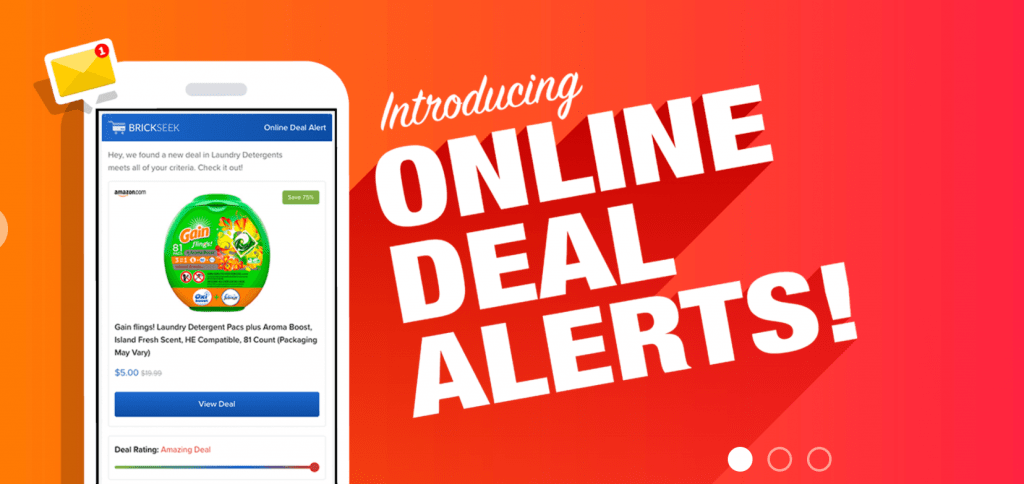 With this app, you will get your collection tracker, price monitor, and other collectors forum. If you have a product's number and zip code, you can get a specific pop. BrickSeek can help you locate the stores with the item you are hunting for and estimate their number.
If you are a collector that minds your collection, this is a powerful tool to have. You can access the basic features of the app for free. However, you will have to upgrade to a Premium or Extreme DealHunter plan to get the best out of the app.
Unique Features
Alerts

– the app offers its users daily local inventory alerts and online deals. The number of alerts you receive depends on the membership plan you are using. It allows you to set up email alerts for specific items then alerts you when they show up in the market locally or online.

Browse latest deals

– the app gives access to a feed containing the latest deals that have dropped. You can sort these deals by product category, retailer, and most significant discounts, among other features.

Inventory checker

– this feature enables users to lookup local store inventory and pricing of items. Premium members have an expanded radius that covers more stores. The stores will report the item you are searching for as "Out of Stock," "In Stock," or "Limited Quantity."

Markdown feeds

– the app lets you know the markdowns in stores near your location and nationwide. You can access "Today's Markdowns" or "Markdowns by Store."

Popular searches

– this feature lets you discover the most searched items on BreekSeek. On many occasions, it ties popular searches to excellent deals. If you act quickly, you might land a pop that many collectors are searching for and that you wanted.
Pros for Funko Tracker App
It has unique features that make it easy for users to find rare items.

The alerts feature allows you to set an alert for a particular item, and the app notifies you when it hits the market. Which makes it easy to keep track of an item you are after.

The markdown feeds feature enables users to get items at a bargain price.

The app is straightforward and clutter-free.

The premium membership plans are reasonably priced.
Cons for Funko Tracker App
Free users have minimal access.

Some app features need fine-tuning to cater to collectors' needs thoroughly.
Every Funko Pop Tracker is different; pick what works for you.
As a Funko Pop collector, having a solution to your searching, buying, selling, and inventory management needs will be a dream come true.  A funko tracker should be able to do all of that! If you have read this review to this point, you have discovered several solutions available for you. However, some solutions are not stand-alone. The Funko App seems like the more superior solution available for collectors right now. Which one works best for you?
It's possible you want to track funko pops old school using pen & paper. There's more control, you'll remember which funko pops you bought easier and it's fun when you see the list get larger each time you add a funko pop. We put together a funko pop inventory tracker printable template we use and think you'd like it as well.