You've decided. You're going to sell Funko Pops and your looking to make a nice profit from it. Yet, at the precipice of this decision, you must answer a straightforward question:
How do you sell Funko Pops? 
It might seem obvious — a simple use case of uploading a photo of the figure to a marketplace like eBay or Mercari and listing the Funko Pop for a reasonable price.
However, you want to see your beloved figure turn a decent profit— and the uncertainty of whether it will or not can be a source of anxiety. 
We're here to help you overcome that with the definitive guide on how to sell Funko Pops online and offline.
Let's explore.  
What's the Best Way to Sell Funko Pops?
Become a Reseller or Partner With an Existing One
Funko's official website has a great guide on how to become a reseller. 
However, being a reseller is more than selling a figure in your collection — so if you're looking to sell your pops, please do jump ahead to our next point. 
Becoming a reseller or partnering with an existing one is effectively the art of buying Pop Funko's in bulk — for example, through the Funko Wholesale Catalog — and, you guessed it: selling the figures on for a profit.
Now, this is relatively simple to get into if you live in the USA. However, you must meet the individual requirements. According to Funko's official website, these are:
You must be a retailer with a verifiable offline store or online retail location.

You must undergo the approval of a New Account and Business Credit Application with Funko.

You must meet the minimum order requirements (determined per application). 
In short, you need some prominence in the retail industry to sign up. 
So let's move onto something more accessible. 
Join a Marketplace of Your Choice
There are hundreds of marketplaces online where you can sell your Funko Pop. However, none will guarantee you a higher price than the other. How much you make for selling your Pop depends on its condition, and in fact, what Pop figure it is.
Want to know which Funko Pops might sell better than others? 
Check out: 12 Rare Vaulted Harry Potter Funko Pops List for Collectors and 12 Rare Vaulted Star Wars Pops List for Collectors.
Suppose you have any of the Funko Pops on those lists. You're in luck!
So What Marketplaces Can I Sell On?
Here's a shortlist of marketplaces where you can sell your Pop Funko figures:
Mercari

Pop Price Guide

Amazon

eBay

Facebook Marketplace
These are but a few of the most popular online options. All you have to do on these websites is make an account, upload a few photos of your Funko Pop — and you're good to go!
Conduct some price research before you sign up to a marketplace.  Collectors don't want to pay more than what they have to, so being within that range will help.  The chances are, someone else is already selling the same Pop figure as you — so look it up on your desired marketplace and see the value it already has!
Note: We talk about some more marketplaces below.
Sell Funko Pop Figures to Retailers or Vendors
Selling to retailers or vendors are often overlooked — there's no restriction to sell your Funko figures online. Many retailers will be more than happy to take an action figure off your hand. All you have to do is is ask.
However, in most cases, you want to avoid big corporations and try asking small businesses in the Funko niche.
That said, some larger corporations may advertise that they'll allow you to trade-in your Funko — but be aware this may only be for in-store credit. For example, GameStop once offered a Funko trade-in program. 
While that's been discontinued (as of November 2019), other stores may still offer similar programs. 
Ask around, look at your local retailers or look online, and see what turns up! 
How to Flip a Funko Pop
Flipping a Funko Pop for profit is relatively easy with the right know-how. Follow our short step-by-step guide to learn the best way to convert into cash.
Find the Most Popular Funko Pop Figures.
The first step is knowing which Funko Pops will flip for a profit. Buy a figure that is in mass-production, and you'll be waiting a long time before it's worth selling. 
So, before you make a purchase, ask yourself these questions: 
Are they exclusives?
Are they mint condition?
Are they limited in production?
Need a hand with that? Check out How to Pick the Best Funko Pop Gifts for Collectors (while we're not talking gifts today, you can follow the same principles from this lesson).
Hint: You can also identify upcoming movies, comics, and TV to speculate on trends. If you suspect a movement won't last, it's easy to assume Funko will stop producing a related Pop Figure. Get it while it's cheap, and when the trend is over, you can flip that Pop!
Sell Them!
We mean it. There are no secret hacks to this; once you've found a profitable Pop figure, you have to sell it. We've already answered the best way to sell Funko Pops above, but let's dive into some more places where you can sell them. 
The other two market places we want to look at here are: 
Pop Price Guide

WhatNot App
How Do You Sell Funko Pops on Pop Price Guide? 
It's super easy! Pop Price Guide themselves provide an excellent Get Ready To Sell Guide.
However, let's see if we can simplify it into four quick steps for a first-time seller.
Create a

hobbyDB

account via Pop Price Guide.

Once you've signed up, check your email inbox and validate your email address.

Log in to Pop Price Guide. Under the "Selling" drop-down list at the top of your home-page, click sell, and connect your Paypal account following the on-site instructions.

Once your Paypal account is connected, repeat the same steps, and enter your Funko Pop details to list your figure on the website. Easy!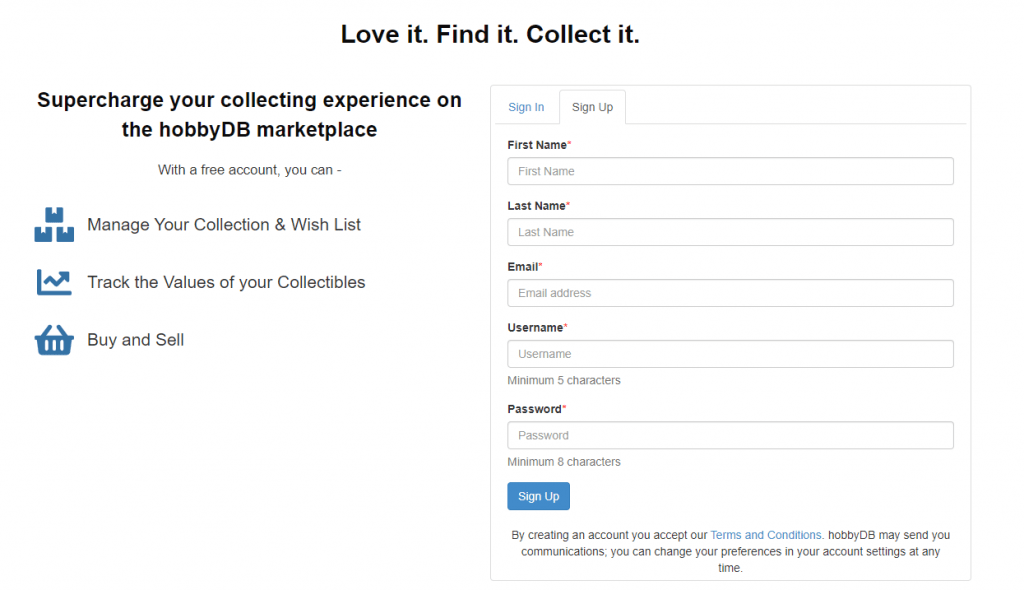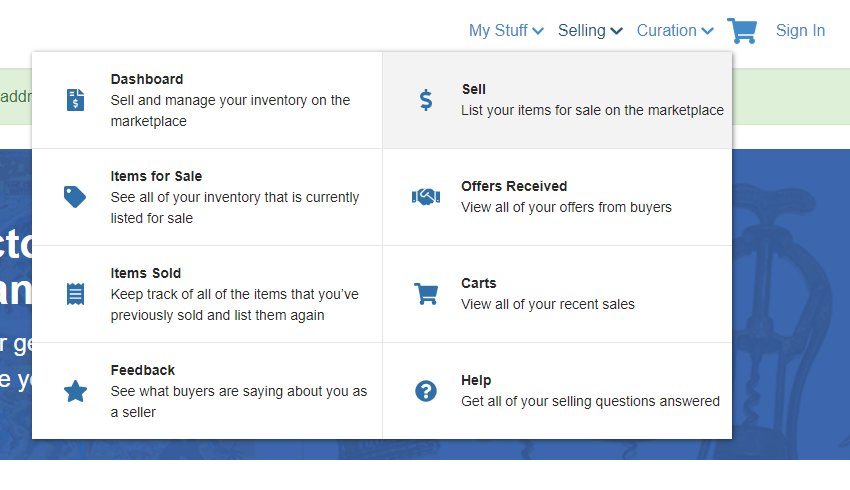 Remember to do your market research first, however. 
Difference Between Price of What Something Is Selling for vs. What It Sold for?'
You might notice as you're doing your market research, the cost at which Pop Figures sell varies. 
In these situations, you have to look a little closer. Perhaps there's more to the Funko figure that meets the eye. Primarily, if it's the same figure you have, you need to look out for two different things:
Does a celebrity sign the figure?

Is the figure in bad condition? Is it unboxed?
A signed figure will sell for almost three times the price of an unsigned one, and for information about its boxing, consider Should You Display Your Funko Pop in or Out of Its Box? It seriously affects the price the figure sells for and what margin you'll make on it. 
Not only that, the figure might sell better at different times. 
Use Google Trends to look up how popular your particular figure is. Here is an example trend of Harry Potter Funko Pops in December 2020.
As you can see, as we got closer to Christmas, the interest in the figure dropped. If the trend on the pop is low, wait until it increases before selling. 
Let's move onto WhatNot.
How Do You Sell Funko Pops on WhatNot App? 
The WhatNot app for iOS and Android are focused on becoming a go-to marketplace for Funko Pops. As such, it's an excellent place to sell your figures and make money.
Even better, you can list the figures on your phone.
Note: As of writing this, the app is only available in the US.
WhatNot has an excellent help center covering all the details to help you get started. In particular, do check out their listing guidelines.
Pro-Tip: If you're buying a Funko Pop from WhatNot instead of selling, they're very vigilant against fakes. Here's what WhatNot have to say about it on their listing guidelines:
We do not allow Funko Pops listings that do not have factory codes (the 3-letter code followed by numbers) on the bottom of the box (unless this was the way it was manufactured)
It's a great little trick to spot fakes. 
Once you've ensured your Funko Pop is legit, all you have to do is search for the Funko Pop figure you want to sell within the app, hit "Sell," and follow the on-screen instructions.
It's that simple!
Amazon, on the other hand, is a little harder. But if you manage to get through the process, you'll be selling your figures on one of the most popular marketplaces in the entire world. 
How Do You Sell Funko Pops on Amazon? 
Selling on Amazon comes with fees, and you need to present Amazon with your tax information and Government ID for the verification process.
That said, once you've signed up for an account, you can list your Pop Figures on their marketplace. 
However, be aware: Amazon will only allow you to sell licensed figures from a Funko Pop partner.
In other words, you need to buy the figures from the Funko Wholesale Catalog and prove you did.
As such, this choice isn't for everyone. However, if you can prove you fall into this category, follow Amazon's practical guide to selling today.
Though, if that's not your cup of tea, Mercari might be a little easier. 
How to Sell Funko Pops on Mercari
Selling Funko Pops on Mercari may be a little easier than selling on Amazon, but you're at more risk of selling at a loss since it's not as popular. 
Check out this excellent guide from Team Clark to learn how to post listings:
Let's surmise.
Create an account online or on the mobile app.

Click on your profile picture, and take a look at your trust bar. Be sure to provide at least three pieces of verifiable information to show potential buyers you're a trust-worthy source. 

Click the "Sell" button on your website or phone.

Take pictures of your Funko Pop, and enter the details about the figure.

Set your shipping preferences for your item. You can offer free shipping, but factor it into your sale price.

Set your price. Sometimes you'll get a pricing scale to help fix this to meet market demands.

List your item. Be aware, Mercari charges a 10% listing fee.
And that's about it!
Start Selling Your Funko Pops Today
Remember to consider all of the above options and upload a blurry picture of your figure onto a marketplace.
Keep your figures in good condition. 

Take clear photographs of them

Photograph the box barcode to show the Funko Pop is not fake (if possible)

Only sell when there's a high trend

Wait until a figure is vaulted before selling.
That said, if these marketplaces don't take your fancy, check out 5 Uncommon Ways to Sell Funko Pops for Collectors.
You'll learn selling Funko figures is a worthwhile experience. It's fun, and you'll join a great community of like-minded individuals who are happy to help you make a nice profit. We're all in this together, after all.
Don't just sell your Funko Pop and short-change yourself. Research the market first!