If you're a collector, 7-Eleven is the go-to place for  finding best exclusive Funko Pops. With Slurpee promotional figures to celebrate their famous drink and more than one pop to represent each day of the week, it's hard to choose just one.
Do you love Funko Pops and Slurpee's?  Funko combined these two, so now you can enjoy your favorite pops in Slurpee form. Slurpee funko pops continue to grow in popularity. 
Unfortunately, these funko pops are only available at 7-Eleven stores and will only be available for a limited time. They come in both "glitter" and exclusive non-glitter versions. 
We compiled a list of the best 7-Eleven exclusive funko pops you'll need to add to your collection. Before, we share the details on which ones we have to discuss some common questions collectors ask about these pops.
Why are 7-Eleven Exclusive Funko Pops so popular? 
The popularity of 7-11 exclusive funko pops is undeniable. Unfortunately, the figures themselves don't seem to be as high quality as other models – but that doesn't stop collectors from scooping them up in droves.
Collector Tip: Pricing for the same pops ranges from $13-$20 each. This price difference stems from several factors such as shipping and production costs (much higher north of the border), even wider distribution/ availability down south, and currency fluctuations (CAD has devalued markedly against USD in recent years).
Collect all of these funko pops before they sell out! There is no better way to start your collection than getting some new collectibles that you can show off at work or school. 
So head over to your local 7-Eleven store and get one of these exclusive Slurpee Funko Pops while supplies last!
Before we dive in completely, what makes a funko pop an exclusive? 
We categorize products as "exclusive" or not – We consider something exclusive if explicitly created for one company (such as 7 Eleven) rather than being sold. 
Now let's dive in: 
1. Glitter Blue Raspberry Slurpee (7-Eleven Exclusive)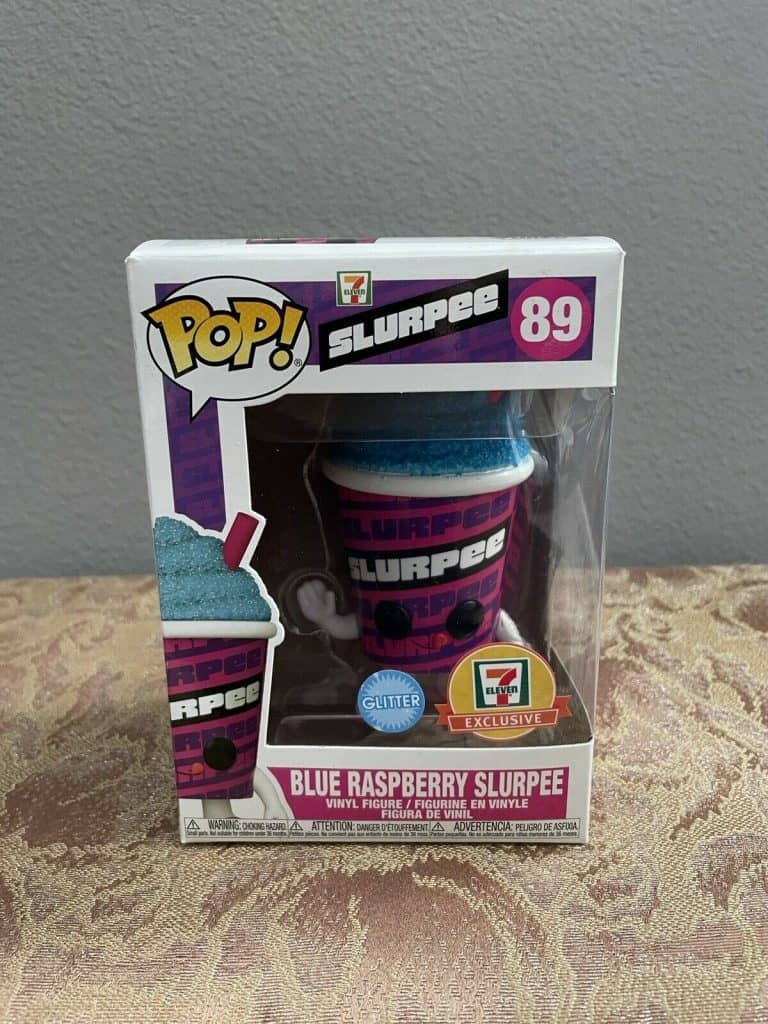 This exclusive glitter blue raspberry slushy funko pop figure features the iconic purple and yellow swirls with a large, rotating ice cream scoop on top of it—an eye-catching must-have for any collector and a funko pop worth adding to your collection.
It is a must-have for any toy collector due to its rarity and limited production. Unfortunately, only 500 of these funko pops exist, meaning they sell out quickly as soon as they hit the shelves!
The 7-11 exclusive Slurpee Funko Pop features an ice blue slushy for $89 on eBay on average. 
2. Deadpool in Cake Funko Pop (7-Eleven Exclusive)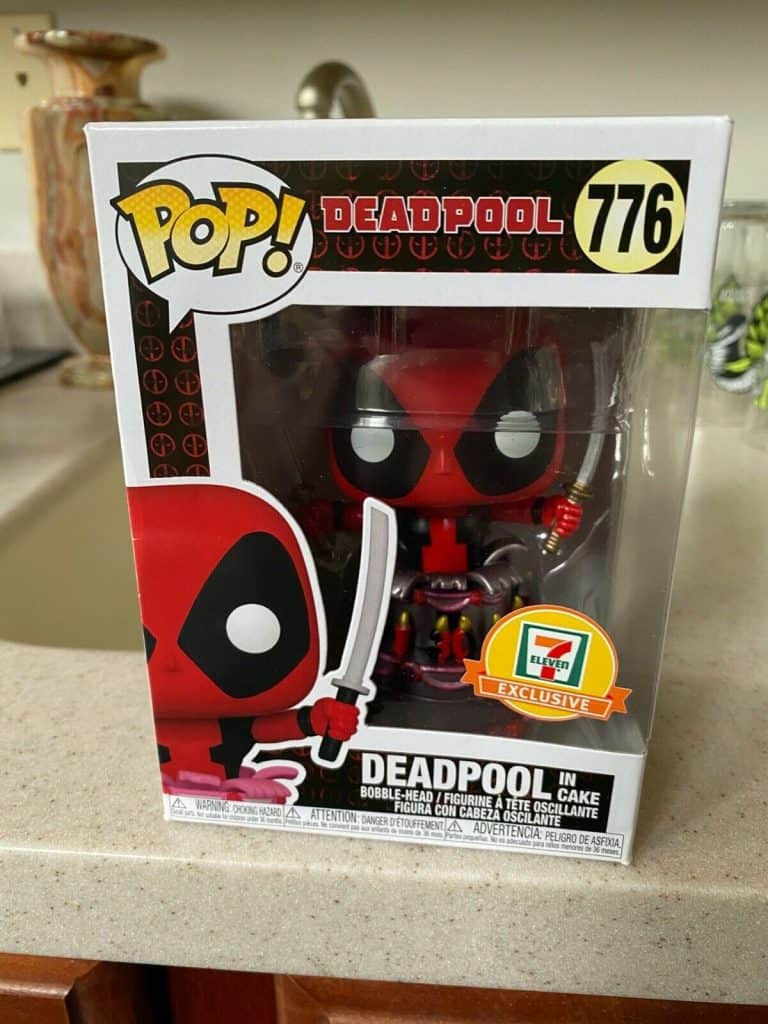 The 7-Eleven Exclusive Deadpool Funko Pop is perfect for any Marvel Collector!
It features the Merc with a Mouth as he wraps his hands around a delicious piece of birthday cake, and on top of it—an eye-catching must-have for any collector. But, of course, Deadpool is a Marvel Comic Book Character.
Deadpool, the Merc with a Mouth, has been one of Marvel's most popular characters for years, and if you're anything like us, then you can't wait to see him in his newest live-action movies.
This exclusive funko pop is perfect for any diehard fan who wants to collect their favorite character from all over the world because it features Wade Wilson wearing this fantastic red suit that he wears throughout the film as well!
Not to mention that he was the first X-Men character digitally rendered with CGI. Deadpool is constantly breaking of the fourth wall is a well-used gimmick in his films and comics.
He's from Canada but has been associated with America throughout most of the series for some reason. His last name is technically Wilson. 
Although he speaks English and French fluently, it appears that he does not speak Spanish or Italian. 
Since they are never seen on screen when speaking other languages, Wade Wilson/Deadpool did in earlier seasons of Wolverine & The X Men show on Cartoon Network.
3. WWE Stone Cold Steve Austin (7-Eleven Exclusive)
This Stone Cold Steve Austin 7-Eleven exclusive Slurpee Funko Pop is an homage to the legendary WWE Superstar and long-time supporter of Slurpee's.
He's the first-ever figure in the new line, and this pop pays tribute to his iconic entrance by including a removable wrestling mask he wore at WrestleMania XIV.
The WWE superstar is known for breaking beers over the head of any opposing wrestler and famously said, "I love to see somebody beat up, it's just me." So don't miss out on this Stone Cold Steve exclusive if you get the chance to see him at your local gas station/convenience store. 
4. Duck Dynasty Uncle Si (7-Eleven Exclusive)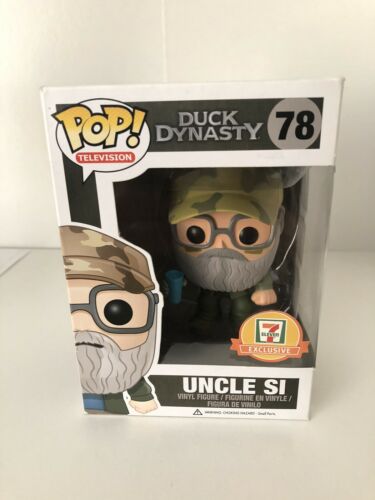 An authentic sculpt of Uncle Si himself with an  impressive paint job. Additionally, his excellent facial detailing revealing this grumpy older man who we all adore! 
Uncle Si has his signature camo outfit with a grin on his face, which captures his well-known characters and attitudes. 
He's excellent at making his family laugh and keeping them entertained. Uncle Si has a great sense of humor, he's funny, and everyone loves him (and we can't get enough). Apart from being a loving brother to Willie & Jase, he also has seven sons with 16 grandchildren!
5. Walking Dead Bloody Carl (7-Eleven Exclusive)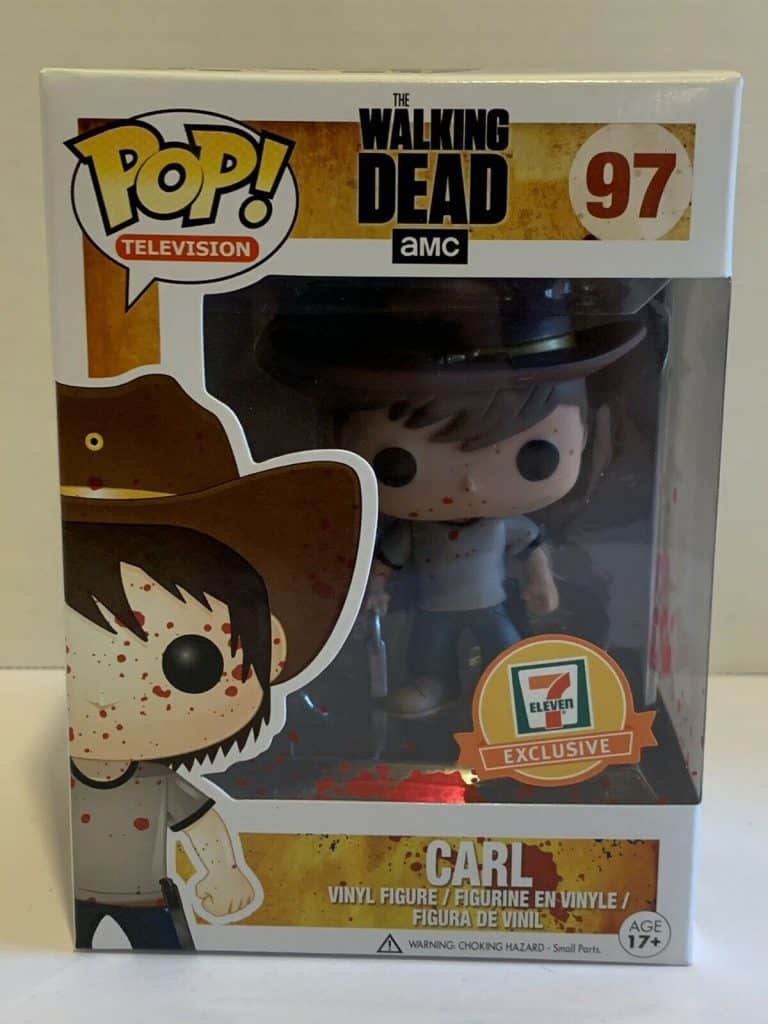 It's a perfect collectible for fans of AMC's "The Walking Dead" and horror cinema.  7-Eleven exclusive features a bloody and beaten up version of a little boy, Carl Grimes, who has been through hell and back throughout this zombie apocalypse. 
Originally released as an SDCC 2018 Exclusive, it is now available at your local 7-Eleven store! Fans can't get enough of this edition.
Why You Should Get 7-Eleven Exclusive Funko Pops
7-Eleven has a lot of exclusive funko pops that are perfect for collectors. They have the best selection and prices around! You will find something you like, guaranteed. We hope you find these pop figures from these convenience stores. 
After looking at our 7-Eleven funko pops list in more detail, what did you think? Of course, we know how exciting it is to get your favorite characters in the form of vinyl figures. 
If you're a Deadpool fan, 7-Eleven is the spot to pick up these pops. However, there is something for everyone, whether you're looking for classic Disney princesses or Marvel superheroes. 
We've written other exclusive funko pop lists that you may enjoy as well.  9 Star Wars Exclusive Funko Pops Worth Collecting for Star wars fans and our Top 10 Best Funko Convention Exclusives in 2020.