What funko pop should you get when first starting?
Of course, it's up to you on your tastes; however, we have a few tips on what you could do to know which to look for first. 
Most new pop collectors aren't sure how to get started collecting because there's pressure to buy the most valuable figures first, and they don't want to mess up. 
What you'll find is that the most valuable figures are hard to find and difficult to obtain. 
So instead, you should start collecting funko pops by looking at what you can control. First, look internally at your passions, interests, and personality. 
How To Determine What Funko Pop You Should Collect First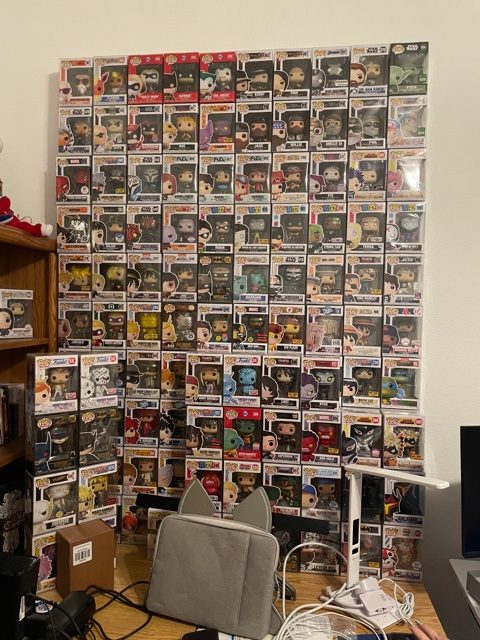 It starts by asking yourself some critical questions for finding which pops you should add to your collection. 
What genre do you find most interesting? Horror, Sports, Animation, Superhero's, etc. 
What size pops do you have space to display? 6 Inch pops, 10 Inch Pops, Super Size Pops, etc. 
How much money would you be considering spending? Under $5, Above $10, Max $30, $100 + 
You can find almost any pop you want if money isn't an option as everyone has a price. First, however, it's important to think practically about what makes these pops worth adding to your collection. 
Remember, a collection is like building Legos, and it happens one brick at a time. So make sure to take it slow or at a pace you will enjoy. 
There are so many first memorable funko moments when first starting to collect funko pops: 
 Get Your First Exclusive 
 Get Your First Glow in The Dark 
 Unbox a pop for the first time on camera 
 Find the first shelve the pop will go on 
Here's a great video of a youtuber's perspective on what it's like just starting out with collecting funko pops for the first time:
Additionally, we've wrote an entire collectors guide on How to Start Collecting Funko Pops: Step-by-Step Guide as well that you may enjoy as well.
Let's dive into more ways to determine what funko pop you should collect first: 
1. Find Your Perfect First Funko Pop By Looking At Your Interests 
Depending on what you like to do in your spare time, it's likely there's a funko pop for you. For example, if you are a sports fan and love watching your favorite football or baseball team. Then, there's a massive wave of football and baseball funko pops. 
Or maybe you enjoy watching tv – there are countless tv series pops like The 100, Star Girl, or Riverdale. Do you watch anime like Naruto or Dragon Ball Z? There are funko pops for everyone since they have multiple licenses. 
Have a favorite character from a popular movie? There's likely a funko pop of that character, and you have to search on eBay, Amazon, or Mercari.
For example, iron man Marvel movies are full of action and fun; over 20 variations of Iron Man funko pops to choose from when buying pops. 
Learn more about what different types of funko pops are and where pops are available for low prices: Where is the cheapest place to buy funko Pops?
2. Search Funko Pop Lists For Pops You Didn't Know Existed 
You may already have an idea of what genre of funko pops you'd like to start with when adding to your collection for the first time. For example, it could be Horror or Animation pops. 
But did you know there are Killer Clown funko pops? It's exciting when you learn that a funko pop line exists that you didn't know about beforehand. 
Take a moment to look through complied funko pop lists to see the inventory that's out there. If you come across a specific pop series, you may get more joy than randomly looking for funko pops at a retail store. 
3. Ask A Friend Who Collects To Give You Some Pop Ideas 
Pops have grown in popularity, and everyone knows someone who knows someone who has them. It may not be your direct friend, but a brother or sister's friend could collect them. 
It is like networking for a job, find a tribe that collects funko pops, and ask which pops are their favorite. 
You'll find that the funko community is a warm and welcoming group that will have plenty of advice on which pops are worth adding to your collection. 
4. Think Of Your Favorite Characters When Buying Your First Pop
Who do you wish you could meet in person? What's a famous person that you admire or aspire to be like in real life? What's a character from a story, movie, or tv-shirt you like? 
For example, if you like anime, maybe your favorite characters are Rock Lee and Gaara. That original fight scene between them during the chūnin exams is very memorable. 
Hot Topic has two exclusive Naruto funko pops of those characters: 
Enjoying those figures of those characters brings nostalgia back to when you were watching that scene in the first place. 
Now you think about which characters bring the most nostalgia and start there! 
5. Visit Stores Like Target, Walmart & Best Buy To See What's Available 
Have you ever walked around a retail store like Walmart for fun? Take a look at the clearance aisle or the toy section? Sometimes visiting a retail store with no purpose inspires a shopping spree like no other. 
Go to the funko pop aisle and see which pops are available. Are there any pops that stick out to you? Any characters that bring make some great memories as a child? 
You can find exclusive funko pops on the shelves if you go at the right time, and you'd be surprised what's available.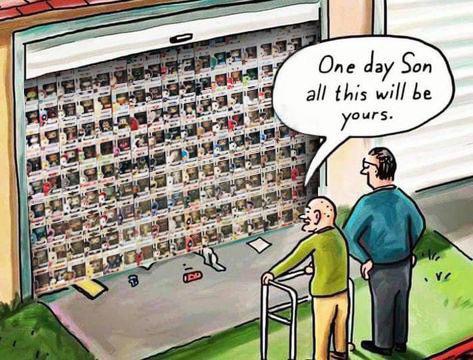 Join A Funko Facebook Community To Get Ideas 
Open up Facebook on your phone or via the computer and search for 'funko.' You'll find hundreds of communities with multiple purposes. 
Facebook groups can help you meet other new collectors, along with seasoned collectors as well. Additionally, a lot of the groups are focused on selling funko pops or trading them among members. 
Always be aware of fake funko pops when buying from Facebook communities; however, these groups will give plenty of ideas on which pops are worth adding to your collection.  
Here's a list of a few of the top Facebook communities for funko pops: 
What Funko Pop You Should Collect? What You Want
Take your time when picking your first funko pop. Good advice when starting is to 'buy what you like'. Most new collectors buy for value, and after a few months, they fall out of love with the pops they bought because it wasn't the ones they truly desired. 
Enjoy being 'new' at collecting and discovering pops that you didn't know existed. Take advantage of the fact that you are starting fresh because most collectors have 200+ pops in there rooms, with 150 of them being ones they didn't actually want.