What does it take to purchase funko NFTs? It's simple, and you do not need to know much about the crypto community to get started. 
We're going to share five steps on how to purchase funko NFTs without using crypto. Have you ever heard about funko NFTs before? 
We're going to explain everything you need to know for starting your NFT journey. 
For starters, let us explain why NFTs are growing in popularity and how Funko has introduced these digital collectibles to their fan base. 
What is Digital Pop?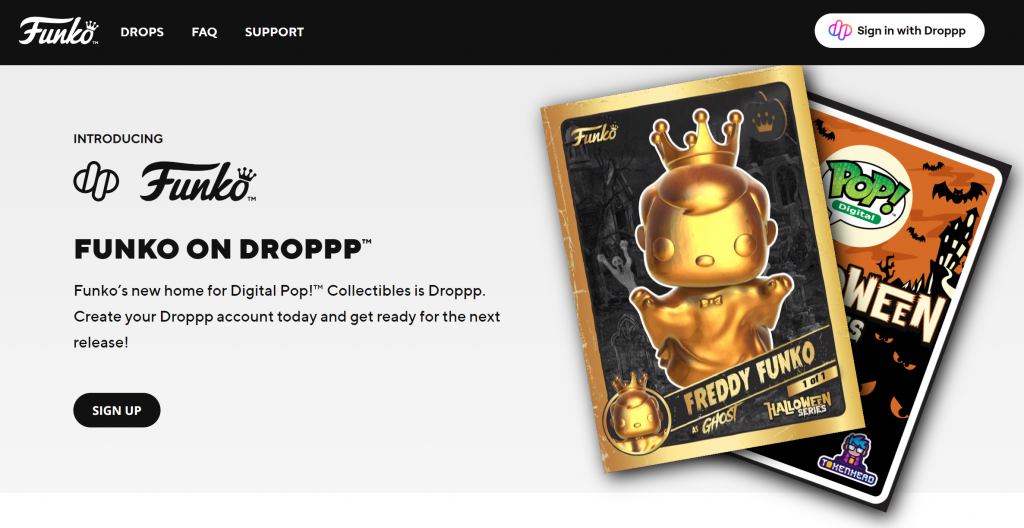 Digital pop is a digital wallet for keeping crypto funko pop digital collectibles on the blockchain. Like baseball cards or Pokemon cards, these non-fungible tokens are images shaped in the card form of funko pop figures. 
Digital Pop allows its users to collect these NFTs in a safe location online, which tracks the mint number and details about when the NFT was released. Also, this includes the number of non-fungible tokens released at that time. 
A mint number can range from 0 to 10,000+, depending on how many non-fungible tokens are available for that NFT project.  
Additionally, the mint number tells you the version you have out of the limited available supply. 
There are even projects with a mint number of 24. Meaning only 24 are available, and so if you have 1/24, that's an extremely rare NFT. 
Also, Digital Pop offers funko NFTs that turn into physical redemptions. Unfortunately, most collectors only collect them to get the exclusive physical funko pop that comes along once you've digitally collected the entire set of NFTs. 
Steps on How To Purchase Funko NFTs Using A Credit Card 
The first NFT you purchase is always exciting and a memorable experience. When buying a Funko NFT, you won't have to use any crypto coins unless you want to. 
Instead, they allow Visa, Discover, and other major credit card providers to make the initial purchase. 
If you wanted to purchase NFTs on the secondary market because you missed the drop, you'd then need to purchase the crypto coin WAX. 
However, we recommend you start with these five steps: 
Visit 'Digital Pop' – 

Home – Funko Digital Pop!™

Create a WAX or DROPPP™ account 

Stand in Virtual Line Waiting During the Drop 

Purchase Funko NFT Pack and Open When Available

Join a Discord Channel to Know About New NFT Drops 
Let's dive into each of them. 
1. Visit 'Digital Pop' To Buy Funko NFTs Quickly 
The digital pop website will inform you when the latest funko NFT drops are and which drops have become sold out. 
Mark your calendar when the next upcoming drop you'd like to attend and revisit the site at the time and day of that drop. 
Additionally, the digital pop will ask you to sign up for a 'DROPP™' account which will be used as the digital wallet to keep your NFT safe. Additionally, if you'd like to view your NFTs all in one place on your phone you can use the app Tokenhead. It's a popular digital collectibles app for collectors.
Learn more: 
How to Use TokenHead to Track Your Digital Collectibles. 
Sign up for that digital wallet before the drop because you won't be able to participate otherwise. 
2. Create a WAX or DROPPP™ digital wallet to store NFTs 
To store your NFTs, you need a digital wallet. The digital wallet becomes an address that's public on the blockchain. Remember, the address will show what you buy, which adds to the excitement because it keeps track of when you purchased your NFTs.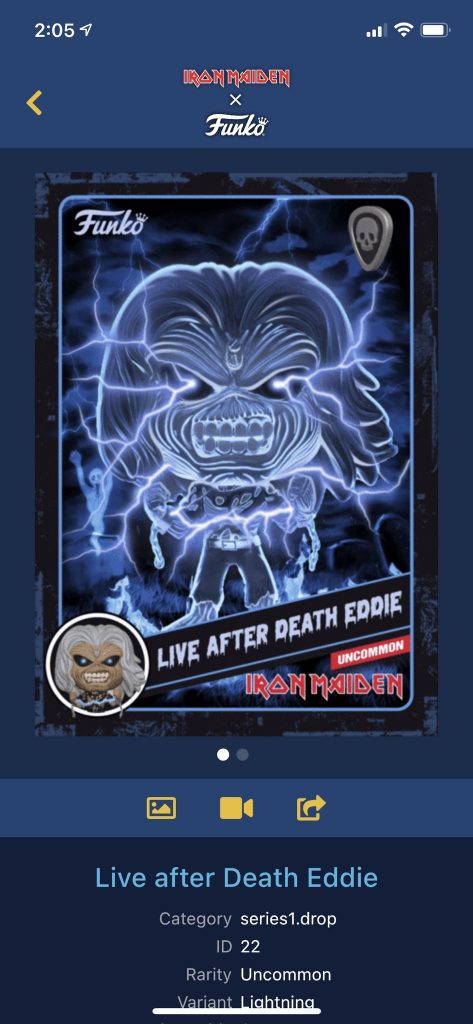 You'll be able to trade, sell or buy NFTs directly on the WAX secondary market called AtomicMarket. 
3. Stand in Virtual Line Waiting During The Drop 
Every funko pop NFT has a launch date. After that, any available NFT becomes available in a series.
And that usually requires waiting in line via their website to purchase at the time of the drop. 
When do NFT drops usually occur? Commonly known to drop at 9 am PT or 12 pm EST.
However, often it's at 2 pm EST on Tuesdays or during weekdays. Sometimes projects have multiple drops on different days of small batches, such as 200 here and 300, for a 500 limited edition drop. 
However, it largely depends on the project and can be advertised months in advance. 
Funko, Inc. lets its fans know about these upcoming NFT drops, usually through Twitter.
4. Purchase Funko NFT Pack and Open When Available
Once you've purchased your first NFT, it usually comes in a pack that can range from 1 to 10 digital collectible cards. Sometimes there are multiple tiers available that allow for more cards from 30 to 50. 
Consider which pack you'd like to purchase by analyzing the number of cards you'll get divided by price. 
Often, there are limits of two (2) of each pack type (Premium and Standard) per transaction.
5. Join a Discord Channel to Know About New NFT Drops 
Discord channels are becoming extremely popular and are essential for the NFT community. They allow you to connect with like-minded supportive individuals and learn about the latest NFT drops quicker than most collectors.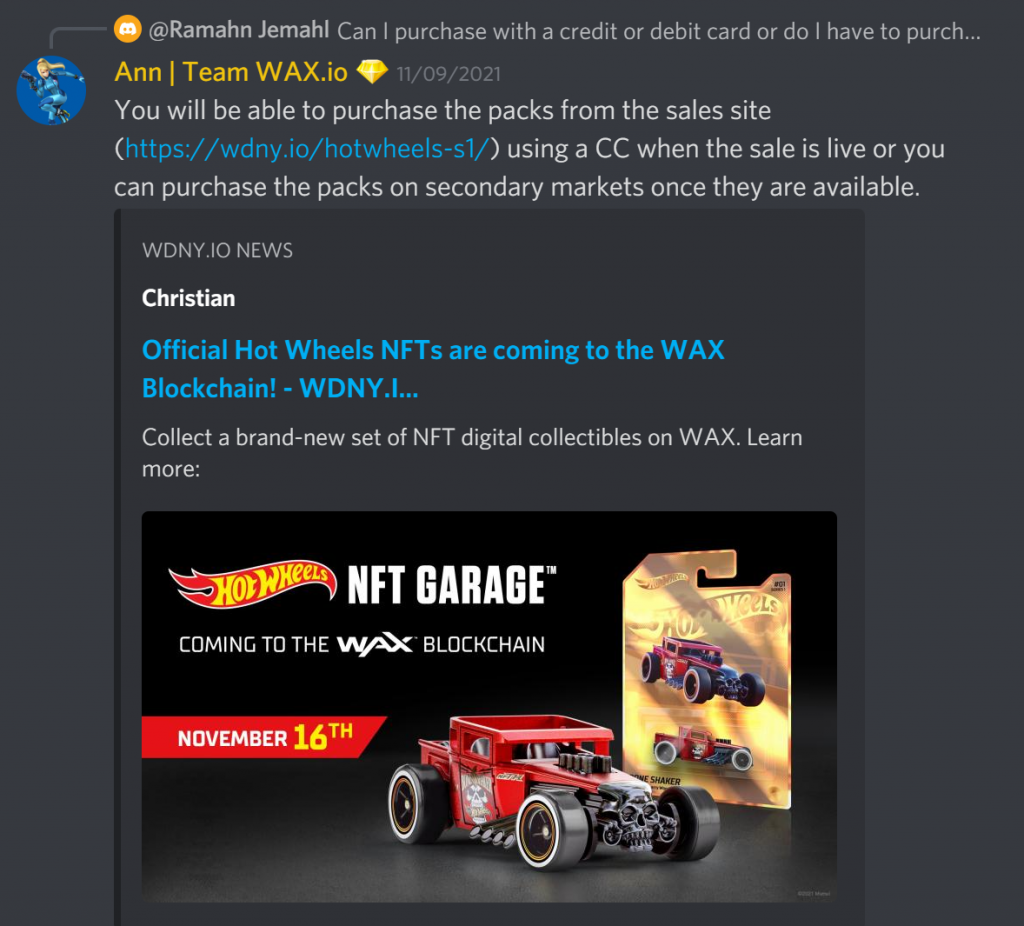 For example, Hot Wheels announced introducing their first NFT series on WAX blockchain, and the Discord community posted immediately after the announcement. 
What should you consider when finding a discord community? 
Is the community around your interest or passion? 

How big is the community, and are you comfortable with it? 

Is it reputable or well-known? 
Keep in mind that no one will ever ask you for your wallet address, and if they do, it's likely a scam. Stay away from communities where scammers are known to hang out. 
Here's a list of popular and safe NFT discord communities:
If you'd like to learn more about other discord communities' worth joining, we wrote about: Best Funko Pop Discord Server List For All Collectors
Why You Should Buy At Least One Funko NFT 
Funko has introduced physical redemptions along with the purchase of NFTs. That instantly makes these digital collectibles more desirable and exclusive, increasing their price. Take a moment to know when new funko pop NFT drops happen to purchase a pack that you can save for later. 
We've seen many collectors buy multiple funko NFT packs and hold off on opening them to relist them on the secondary market AtomicHub for 2x to 5x the price. 
Additionally, a pack of NFTs is usually cheap, around $10 to $30, and you can likely pull a rare NFT that can net you over that amount. 
If you've enjoyed reading this article, read more about the future Funko here: