Can you think of anything worse than a damaged Funko Pop box? It devalues your figure, it's much harder to sell, and it turns a beautiful Funko Pop display into a cluttered one.
That's why it's essential to invest in a Soft Funko Pop protector. Yet, like with the actual Funko Pop figures themselves, there are a ton of Soft Pop Protectors on the market. Therefore, finding the best Funko Pop Soft Protectors can be rugged.
Today, will share the best Funko Pop Soft Protectors available on the market, offer some tips on how you can use them, and give you all the information you need to buy the right one for your figures today!
Key Takeaways:
A soft Funko Pop protector is essential to protect your figures from dust and sun damage.
The Malko, Titan Shield, and PLAYOLY protectors are top choices, all with protective films and locking tab.
Only consider clear and scratch-free, thick, and reliable providers when picking a protector.
Large figures may require protectors up to 10″ in size.  The Malko has bigger sizes.
Ensure correct size and consider leaving the protective film on for added clarity and protection
Picking a Good Soft Pop Protector
To pick the right Soft Pop Protector — a good one — one must first know what makes a Funko Pop Protector suitable. There are three major areas to consider you should keep an eye on.
These are:
They need to be clear with no scratches —

This one is a given. A Pop Protector won't be any good if you can't see your figure!

They should be thick —

The thicker the protector, the stronger the protection.

They should be from a reliable provider —

sites like Amazon and 7 Bucks a Pop are less likely to let you down than third-party websites.
Here's a tip: It's difficult to know if the Pop Protector will have scratches when looking online, so read reviews. If many consumers complain about the product's quality, you'll know it's a lousy protector.
Consider buying pop protectors in bulk as you'll spend less overall.
It's better to think long term when buying funko pop protectors because as your collection grows, the more you'll want to keep them safe and secure using pop protectors.
For example, 10 pop protectors can cost you $11 that's about $1.10 per each pop protector. However, if you buy 100 pop protectors (even if you don't need them) at $59 that's about $0.56 per each. You'll have more pop protectors at a cheaper price point. 
Best Soft Pop Protectors list (top 5) in 2023
1. Malko Pop Protector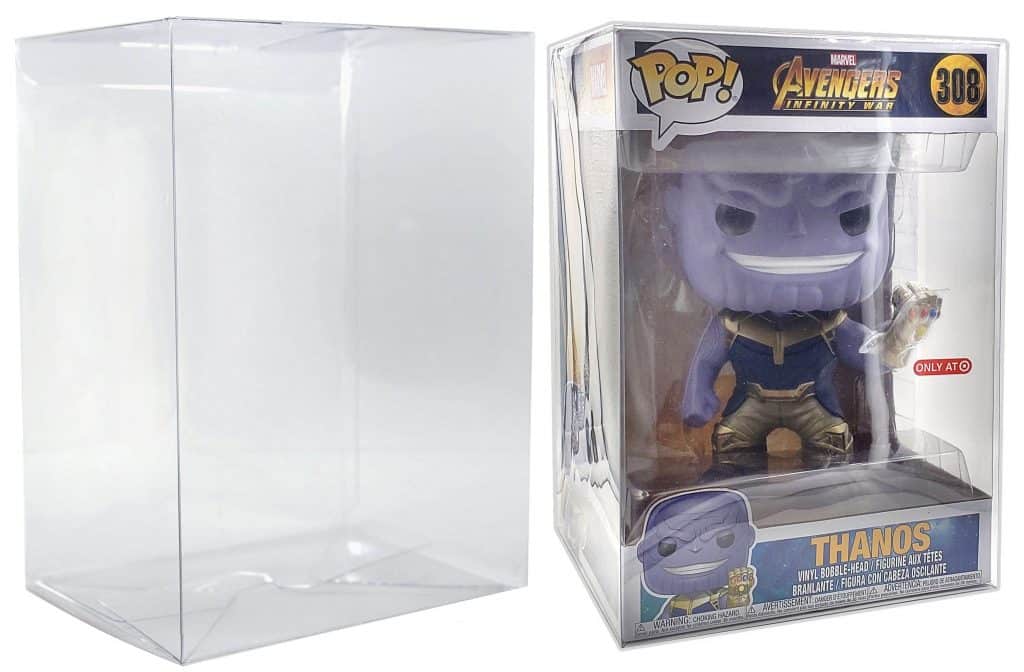 The Malko Pop Protector tops our list as the best Soft Pop Protector of 2020.  At 0.5mm thick, it's an excellent protector that doesn't deteriorate over time!
It ships with an easy to peel protective film to help ensure the case is crystal clear.  It makes for a snug fit for your standard-sized Pop Figures! If you have bigger figures, you can even get this Pop Protector in sizes up to 10″!
Don't just take our word for it; here's what others say about it. 
"Wow! These are some high-quality pop protectors. Forget the competition; this is what you should buy! These protectors are very easy to set up, and they look and feel amazing. They may cost slightly more than other brands, but if you're protecting an investment and want your pops to look great, this is the pop protector you want, and they are certainly worth the extra pennies."
2. Titan Shield POP Protector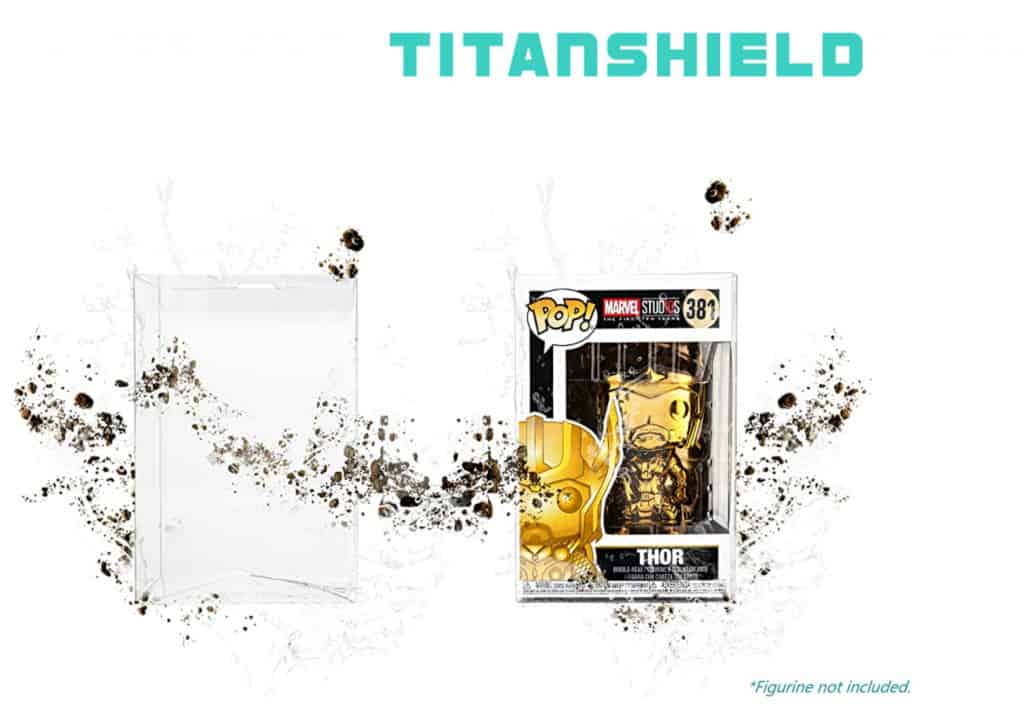 Titan shield's Pop Protector came as a close second to Malko (It only lost the top spot because I couldn't find any sizing options).
Like Malko, Titan Shield offers Funko Pop Cases at a substantial 0.5mm thickness, allowing for sturdy protection.
They ship the protectors with a protective film, too. One feature we like about the Titan Shield Pop protector is that it comes with a push-lock tab, so once you've sealed your figure, there's no chance of that lid popping up!
Don't just take our word for it; here's what others say about it. 
"First time buying FP protectors and I'm beyond pleased with Titanshield. The protectors came nicely packaged, with easy instructions. The quality is incredible. Easily assembled, open it up, and ensure the bottom expands and locks in place. That's it! I chose(sic) to leave the protective film on the shield. I think this is a steal."
3. PLAYOLY Pop Protector Case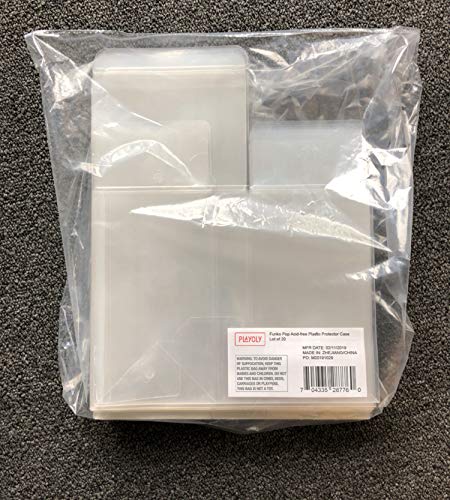 The PLAYOLY Pop Protector case is yet another excellent choice for your Soft Pop Protectors.
What we love about the PLAYOLY cases are made from PET plastic. Thus, they're environmentally safe, durable, and lightweight.
Like the competition, PLAYOLY cases ship with a protective film to keep the protector clear of any scratches, and they have a locking tab on their lid, too. I found the locking tap on this Pop Protector wasn't as effective as the one on the Titan Shield Protector, pushing it into third place. 
Fret not, though, and it still got the job done! One aspect of being aware is that you need to watch out for bowing on these PLAYOLY protectors, so don't stack them too high.
 For individually lined Funko's, PLAYOLY is an excellent choice!
Here's what others say about it. 
"This is the first time I've bought protectors for my Funko Pops. I've thought of getting the hard case ones, but the cost of those adds up fast when you got nearly a hundred Pops. I wanted something affordable but sturdy.
These came out great. I love that they each had a film cover over them when packaged, so you don't have to worry about the cases being scratched or dirty when they arrive."
4. GosuToys Clear Plastic Protectors Case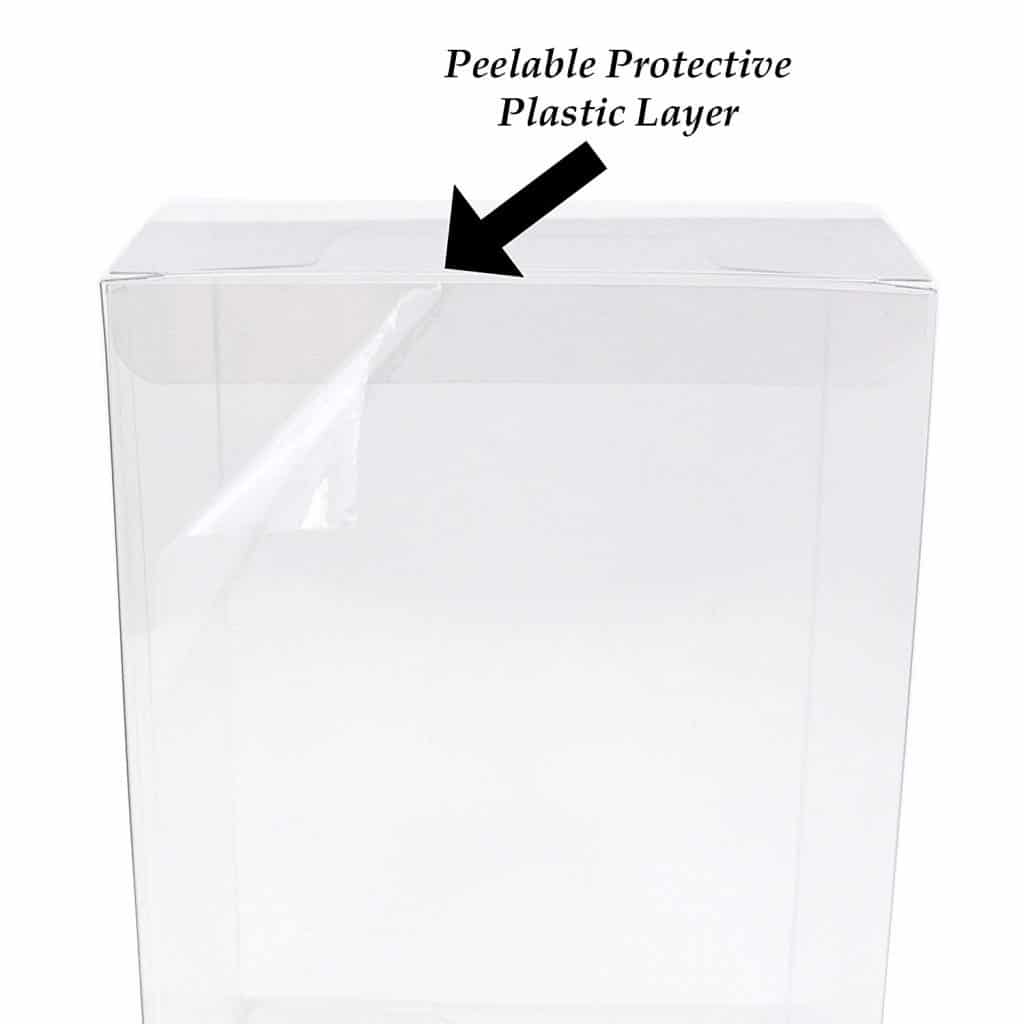 Another great Pop Protector is measuring 3.75 x 4.75 x 6.4 inches.
One great advantage with GossuToys' Pop Protectors is that they're available in packs of up to 100! Like the other top competitors, they're sturdy and come with a peelable plastic layer for extra protection. You can stack them, and like PLAYOLY, GosuToys protectors made from PET plastic.
While it'd be better to have a lock on the lid, if you plan to stack your figures, these will still work for you. 
Don't just take our word for it; here's what others say about it. 
"These are my absolute favorite soft POP! Protectors. Not too thick and not too thin. The film is super easy to remove on these. These were the first soft protectors I ever purchased, but bought another brand afterward. The other brand was terrible. They were too thin, and the film was near impossible to remove. I broke several of those protectors just trying to remove the film. I'll never repurchase another brand."
5. EVORETRO Display CASE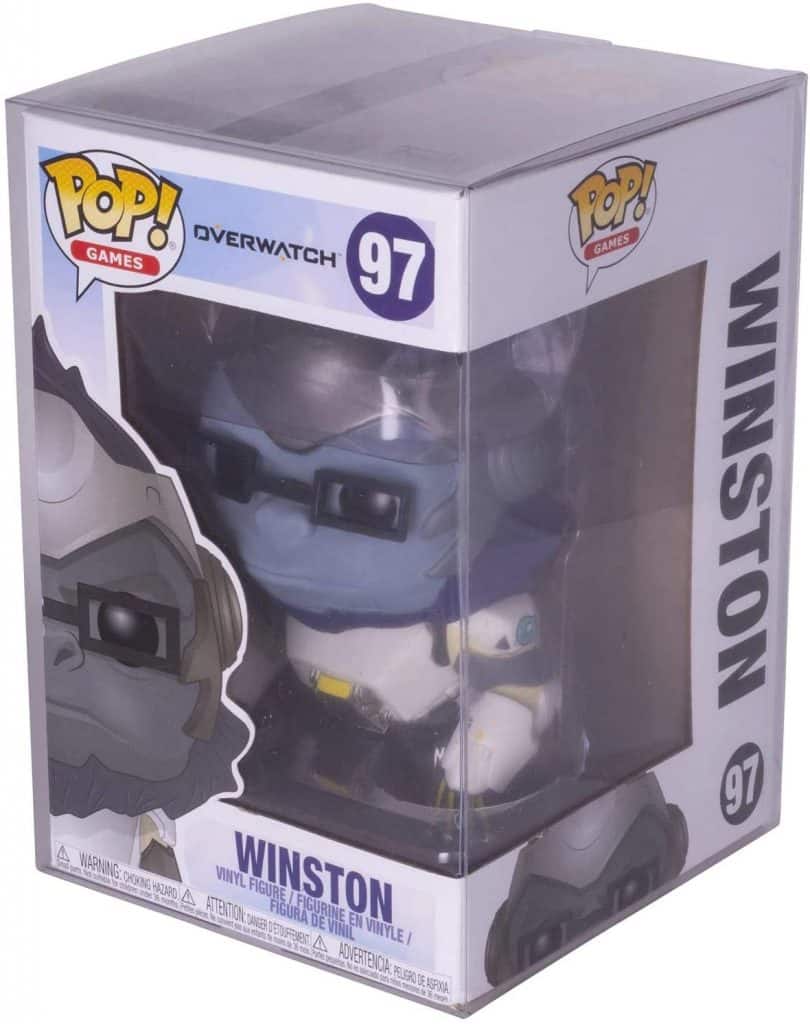 The last Soft Pop Protector on this list, EvoRetro, comes in with 0.035mm thick plastic.
It's not as sturdy as the competition, but EvoRetro has the protective film we expect and is stackable too!
What we like with this display case is the fact that it comes with a 30-day money-back guarantee. That means if you're not satisfied with the display case, you can get a full refund with no questions asked.
In other words: There's no risk in trying the EvoRetro Display Case 
Don't just take our word for it; here's what others say about it. 
"Very happy with the quick delivery and excellent quality of the protectors. All now in use, and I can stack without worry!"
And there you have it!
You now know the best stackable pop protectors for your collection, but don't go quite yet. 
We've got some frequently asked questions for you next.
Remember to grab a pop protector before it's too late:
Image
Product
Feature
Price

Top Pick

MALKO POP PROTECTOR

 

Pop Protector in sizes up to 10 – At 0.5mm thick, it's an excellent protector that doesn't deteriorate over time!
Check On Amazon

Frequently Asked Questions.
What Are the Benefits of Buying a Soft Pop Protector?
The benefits of buying a soft pop protector is dust-free protection and mint condition figures which you can get graded at PSA and not have to worry about it not gem-minting. Ultimately increasing the value of your funkos because they'll seem brand new.
In buying a soft pop protector, you'll enjoy many benefits.
We've already touched upon some above, but for a full list, the benefits are:
They keep your Pop figure Dust-Free —

The containers are locked and sealed; no dust can get in.

They keep your figures in mint condition. —

And protect them should you drop them.

They help to keep your collection consistent looking. —

All the figures will be level.

Putting them in the protector keeps the Funko Pop fresh and safe for the future. —

This is critical if you plan to resell.

They help keep your figure's value. —

When Funko vault the pop and it goes up in price, don't let it catch you short because you have a damaged box.
How Much Soft Funko Pop Protectors Should You Buy at Once?
Buy more than you need. 
A lesson I've learned from my own experience is buying Funko Pop box protectors in bulk works to your advantage. It's cheaper and keeps you well prepared. 
Our Recommendation for the best pop protector:
We recommend the GosuToys Clear Plastic Protector Case 100 pack!
Collectors are always buying Funko Pops and since your collection is growing, you need to go big by buying in bulk. 
As a serious collector, you should spend the extra money and buy additional protectors. That way, it gives you some time to build a collection without continually having to find protectors.
Here's the significant bit: You can save money by buying Pop Protectors, and it will save you from having to repurchase the same figure because you damaged it.
How to Open A Soft Funko Pop Protector
It can vary depending on your Soft Funko Pop Protector's brand, but take a look at this video for a clear breakdown and assembly guide.
Remove thin plastic first
Open from top
Fold corners
Put funko pop box into it, make sure the top cover flap closing the back
If you enjoyed learning about these funko pop protectors you may find our additional collector tips useful.
Saving money on your Funko Pops comes with fantastic benefits.  How to Find Cheap Funko Pops and Save Money When Buying Them
It allows you to buy more, and it's just a great feeling!