Our top 5 list shares the best Disney Villain Funko Pops based on popularity, how much are they an opposing force against the hero, and their evil abilities. Every hero has a villain, and we go in-depth on how the villains are the way they are and why. 
We look at which Disney villain funko pops are highly sought-after and the pros or cons of the funko pop design. Since every villain is different and has various powerful abilities, we hone in on villains with deep backstories. 
Let's dive in: 
Top 5 Vaulted Disney Villain Funko Pops 
Not all villains are evil. However, most become evil over time. Our list shows examples of evil villain funkos you must add to your collection. 
1. Scar From 'The Lion King' Funko Pop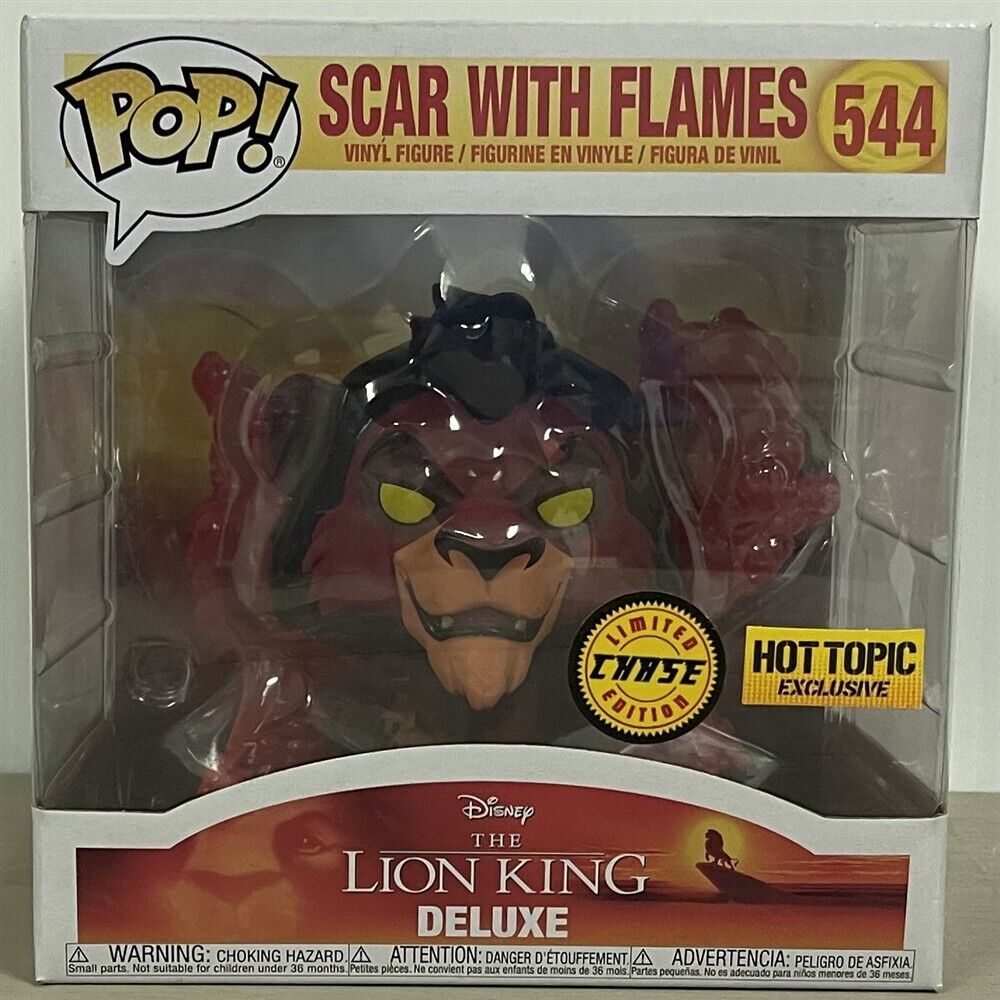 Scar 'Taka' was known as an antagonist in the movie 'The Lion King,' mainly due to his appearance, hatred towards his brother Mufasa and the scary Scar over his left eye. The funko pop captures his glowing yellow eyes and unamused facial expressions. Scar's a Disney villain due to his attempts to overthrow the king and corrupt others around him like Simba. 
Why Did Scar Hate Mufasa 
Scar envied his brother Mufasa since he was superior at everything and even became king. Scar despised himself for not being able to be like his brother, making him despise himself even more. His objectives were simple: he wanted to repair his lack of self-worth while gaining power.
Pros and Cons of the Scar Lion King Funko
Pros 
Scar's lion king funko pop has multiple variations, all of which are different. For example, the newer figures have Scar laying down horizontally, whereas the original was the traditional size figure. 
The Scar Lion King Funko Pop also has a Specialty Series Exclusive funko pop variant. 
Cons 
The original Scar Lion King Funko is no longer in production due to being vaulted; however, Funko continues to come out with new waves of Disney villain funkos. 
2. Ursula (The Little Mermaid)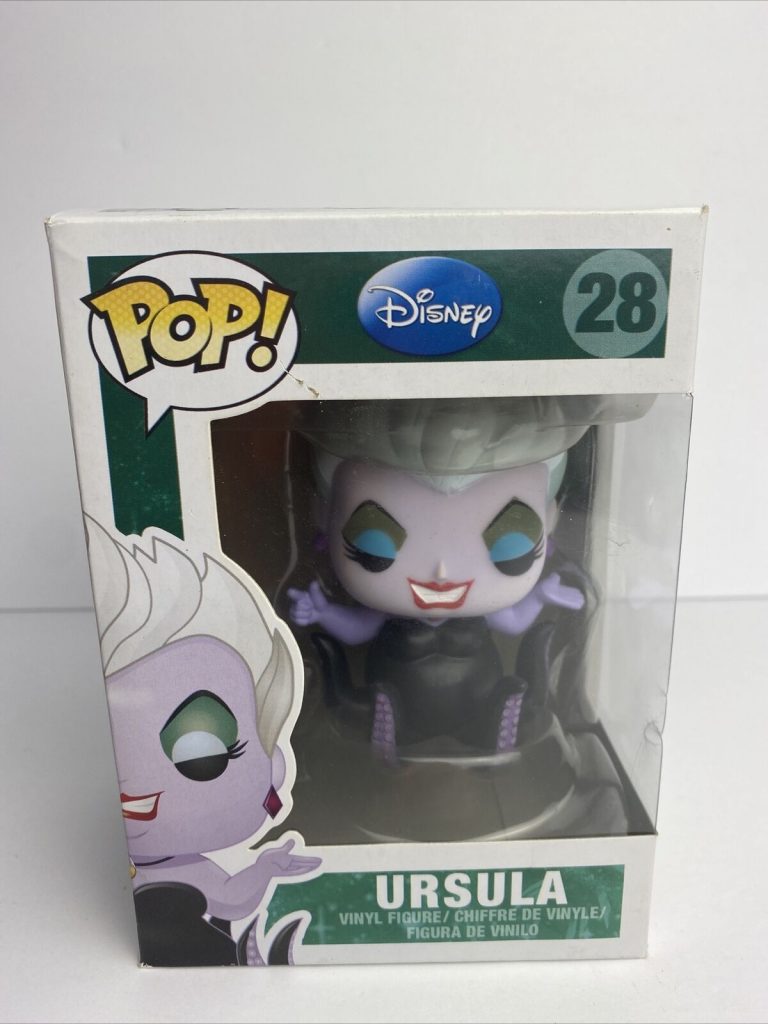 Ursula was an evil sea witch full of greed and unkind tendencies in the movie 'The Little Mermaid,' primarily due to her history of being banished. Ursula was not only trying to mislead Ariel but also to get rid of her so she could replace King Triton and rule over the great blue sea. 
The funko pop has her sitting on the throne, showcasing her power and manipulation through intimidation. 
Why Was Ursula Banished
The reason behind her banishment has been a mystery; however, speculation from a staged musical based on the movie shows differently. They explain that Ursula murdered their elder siblings until she became Queen, but she failed to eliminate Triton, preventing her from becoming Queen. 
Pros and Cons of Ursula (The Little Mermaid)
Pros 
Excellent use of blue bubbles similar to smoke acting as a throne for her. 
Cons
I would like to have seen more of Ursula's octopus tentacles like in the movies, as they show a sense of eeriness that others can't reproduce quickly. 
3. Captain Hook From The Neverlands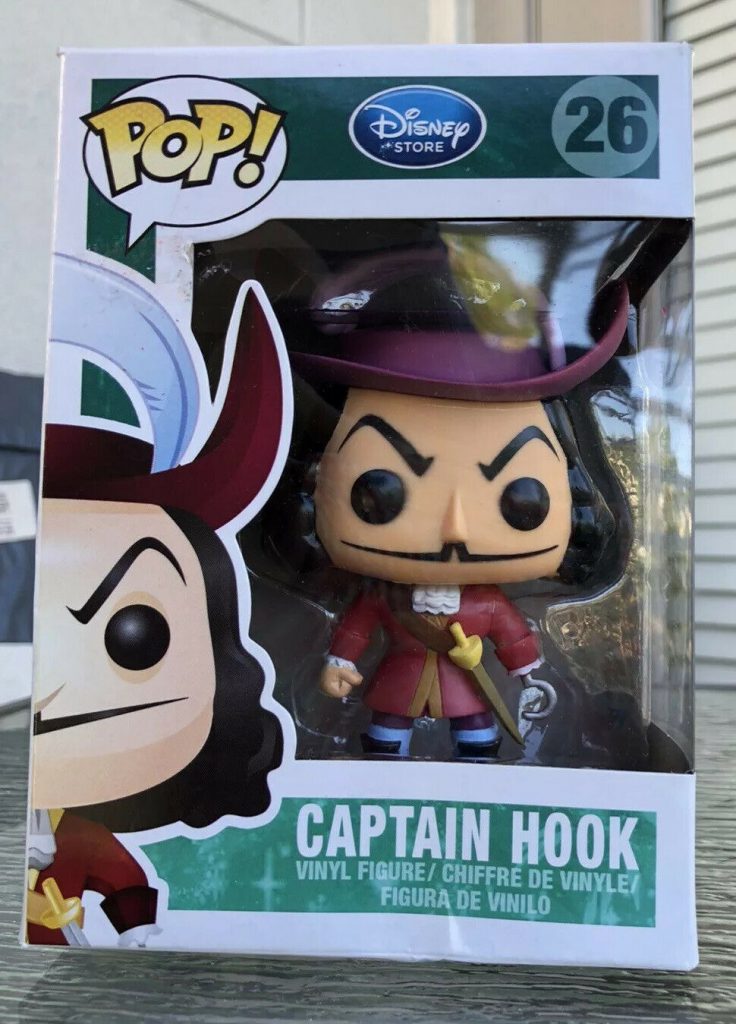 Captain Hook is an infamous pirate who remains a crafty criminal who's seeing revenge on Peter Pan using his crew of misfits to make dangerous attempts at his life. 
He's consistent and never gives up on pursuing what he wants, even if that means pointless violence like murdering one of his crew members because of his obnoxious singing at one point in the film. 
This funko pop showcases his Hook perfectly and the determined look on his face. 
Why Captain Hook Hates Peter Pan 
As Hook grows up to become an aged and experience pirate, he has trouble with fairies. Hook swears vengeance on Peter Pan for feeding the crocodile his left hand and refuses to leave Neverland until he has exacted his retribution. 
Pros and Cons of Captain Hook 
Pros 
It has a Blacklight variant making this pop figure more valuable. 
Cons 
Captain Hooks's Pirate hat is significant compared to his body portions. 
4. Maleficent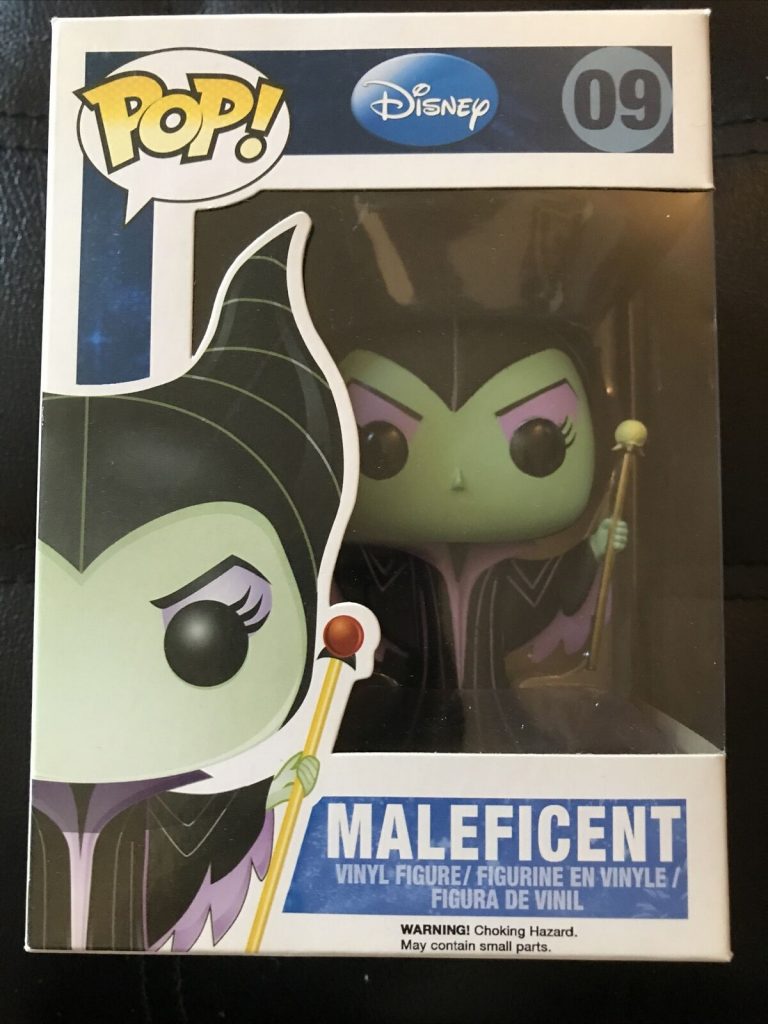 Maleficent can turn into a massive fire-breathing dragon with little warning. She's an evil fairy and self-professed "Mistress of All Evil" with abilities that are all based on magic. Maleficent can cast spells such as projection, divination, telepathy, superhuman strength, charms, and teleportation with her staff. 
Her funko pop shows how she can control and command fire with the green flames never getting extinguished. 
Why Does Maleficent Have Horns
Maleficent is notorious for having large tall horns coming out of her head throughout the films due to the symbolism of the devil. It's meant to scare their prey and could reach up to 11 inches tall. 
Additionally, her wings are modest, especially in comparison to her full size, yet they appear to allow her to fly to some extent.
Pros and Cons of Maleficent 
Pros 
The Maleficent funko pop captures the perfect curves of her long tall horns. 

There are multiple variants of the Maleficent funko pop, including once's with and without wings. 

There's a dragon form of the Maleficent funko pop with green flames. 
Cons 
Smallmouth compared to other Disney funko pops. 
5. Queen Grimhilde From Descendants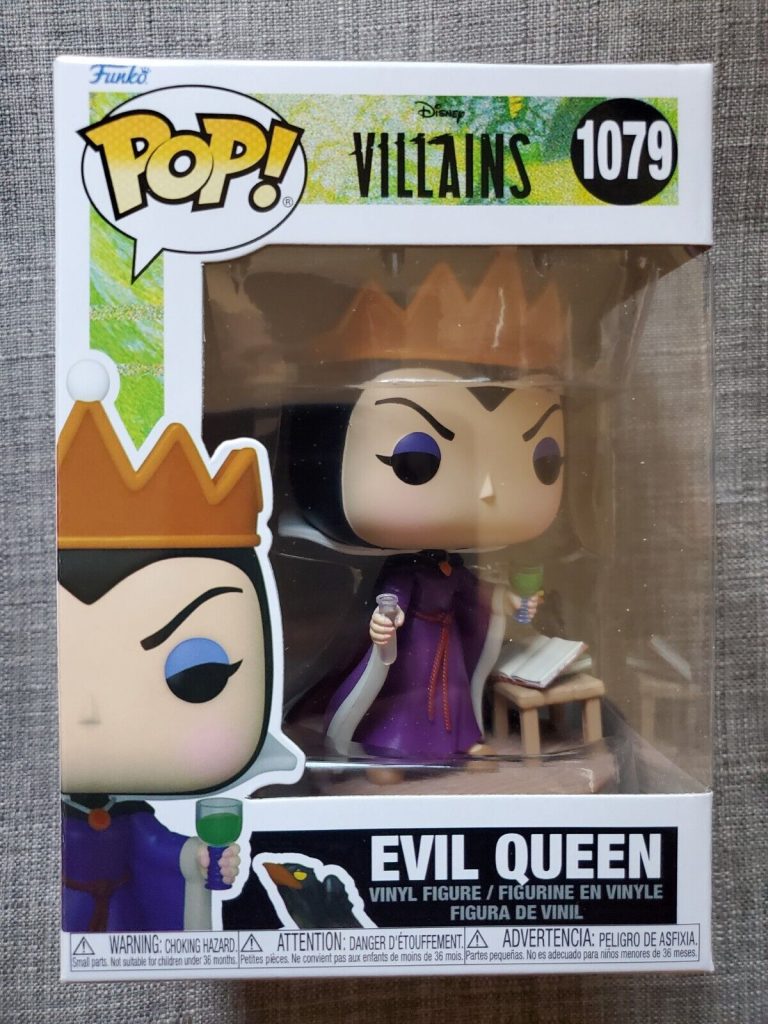 Queen Grimhilde wants to be the most well-known fairy among all kingdoms, which leads her to envy Snow White's incomparable beauty and the Prince's affections, which becomes a reason for why she became a villainous ruler and insane compared to others. 
Why Evil Queen Is Evil 
She planned to give Snow White a poison apple in an attempt to kill her due to her jealousy. Unfortunately, it also makes her the first Disney villain that dies at the film's end. 
Pros and Cons of Queen Grimhilde 
Pros 
The original Evil Queen Grimhilde figure makes the apple the focus. 
Cons 
Her infamous crown is orange when it should have been a brighter yellow color to depict the film accurately. 
Why Disney Villain Funko Pops Continue To Increase In Value 
As new Disney villain funko pop waves emerge over the years, the originals become harder to find in good condition. Ultimately, it increases those funko pops' value due to their limited scarcity. 
Additionally, as new villain movies come out in theaters, the demand for these Disney villain pops will increase over time. 
Keep an eye out for retailers like Hot Topic as they drop Disney Villain funko pops the most often. Their recent villain wave includes Scar and Ursula, both notorious for being the best Disney villains. 
Which unforgettable villain do you plan to add to your collection? 
If you've enjoyed reading about Disney villain funko pops, you may also like: 
Lastly, sign up for our bi-weekly funko pop newsletter to gain inspiration on how to sell funko pops, display and collect.