The video game industry is one of the world's largest, so it's hardly surprising Funko is capitalizing on it with video game Funko Pops. Did you know there's over 600+ gaming Funko Pops? That's a lot. 
We've compiled a list of the 12 Best Video Games Funko Pop to help narrow it down for you. We wanted to share Funko Pops that are popular and highly sought-after, since the gaming space continues to grow. 
Halo — Master Chief with Active Camo #12 (E3 2018 Limited Edition Exclusive)
Halo Infinite — Spartan Mark VII with VK78, Blue & Yellow #15
Fortnite — P.A.N.D.A. Team Leader #515
Sonic The Hedgehog — 30th Anniversary Classic Sonic #632
Sonic The Hedgehog — 30th Anniversary Silver the Hedgehog #633
Street Fighter — Ken #138
Street Fighter — Dan #142
League of Legends — Miss Fortune #09
League of Legends — Jinx #05
Overwatch — Zenyatta #305
Overwatch — Junkrat #308
Borderlands 3 — Claptrap #526
It wasn't easy compiling this list. However, we know that a lot of collectors are asking one question 'what video games have Funko Pops? and we wanted to help answer that. 
What games have funko Pops?
Best video game Funko Pops 
Funko has produced a wide-range of Leagues of Legends and Fortnite  video game Funko Pops and they do not seem to be slowing down. While companies are constantly improving on video games and producing more such as CyberPunk 2077, Funko produces more as well.
Popular video games Funko Pops are from Halo, OverWatch,  Sonic the Hedgehog, Borderlands, Mindcraft and Resident Evil. 
Ready to dive in and show you the best of the best video game Funko Pops. 
Halo — Master Chief with Active Camo #12 (E3 2018 Limited Edition Exclusive)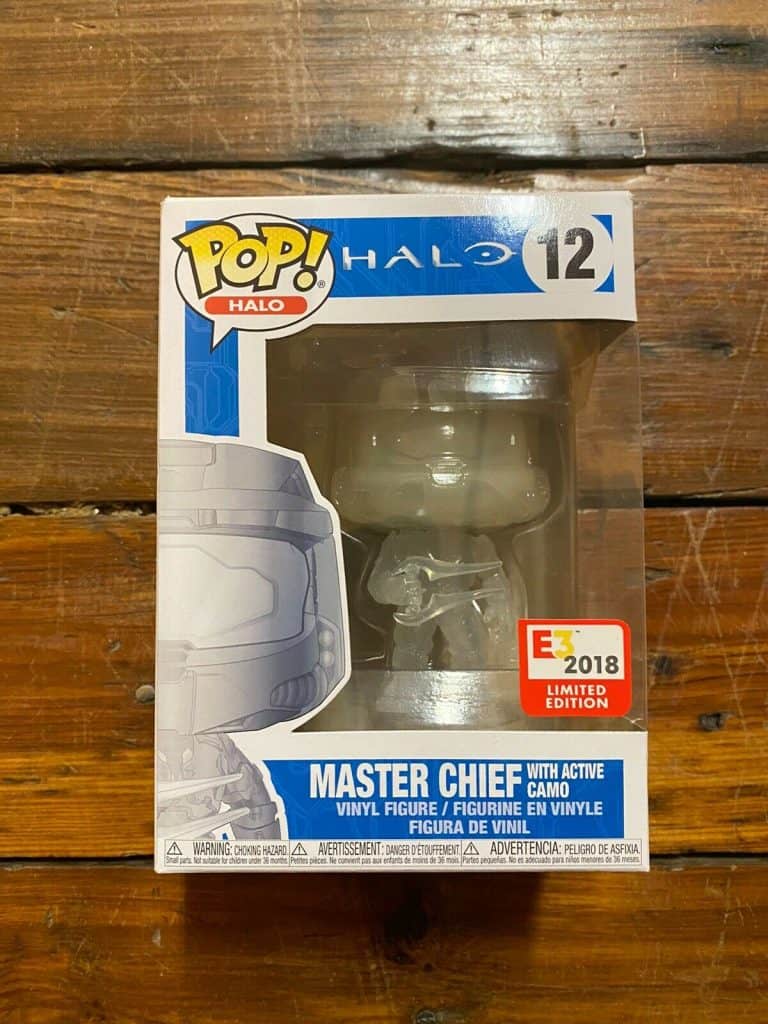 "Thought I'd try shooting my way out—mix things up a little." — Master Chief.
Everyone's heard of Master Chief, both in and out of the Halo universe. Born on March 7th, 2511 — there's a lot more to him than meets the eye. Even without his armor, our top sentinel, John-177, has been known to deadlift up to 500 kilograms. 
Imagine that?
Though that's not the only trick up the chief's sleeve, did you know he destroyed 500 covenants ships in a single mission? We mean it!
 If you don't believe us, be sure to check out the excellent tie-in novel: Halo First Strike.
The chief is an excellent all-around character, and with active camo — one of the most sought after in-game abilities — he's even better. 
Add this master chief pop toy to your collection today.
And if you need a reminder of just how epic the chief is, think back to that fantastic scene in Halo 2, where he returns the Covenant's bomb. Simply epic
Halo Infinite — Spartan Mark VII with VK78, Blue & Yellow #15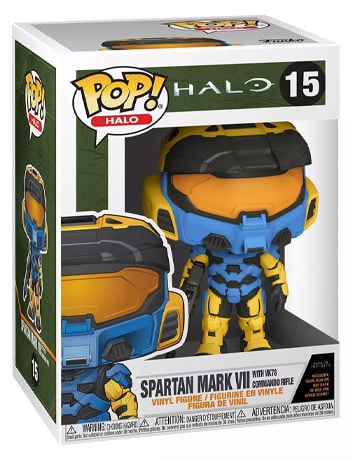 "Oohrah" — U.N.S.C. Marine Corps before combat
Still, Master Chief isn't the only super soldier in the business, and we can't forget the many members of the U.N.S.C. who donned the Spartan Mark VII. 
The excellent armor is a solution to the covenant threat by Doctor Catherine Halsey. The Powered Assault Armor marked the fourth iteration of M.J.O.L.N.I.R. Powered Assault Armor. The last armor in generation 1 before development moved forward.
But what's interesting about this armor? 
 It's more lightweight than prior versions. Which we sure come as a welcome relief to the many men and women who had to wear it into battle.
Aesthetically, this armor is beautiful. We see it in blue and yellow as with this Funko Pop: even better. We haven't a memorable scene of it to share with you today, but remembering the many Covenant that fell before those wearing the armor — we're sure you recognize just how excellent it looks. And that's what earns it a spot on our top 12 list today.
Keep an eye out for this master chief funko pop as it's worth collecting! 
Fortnite — P.A.N.D.A. Team Leader #515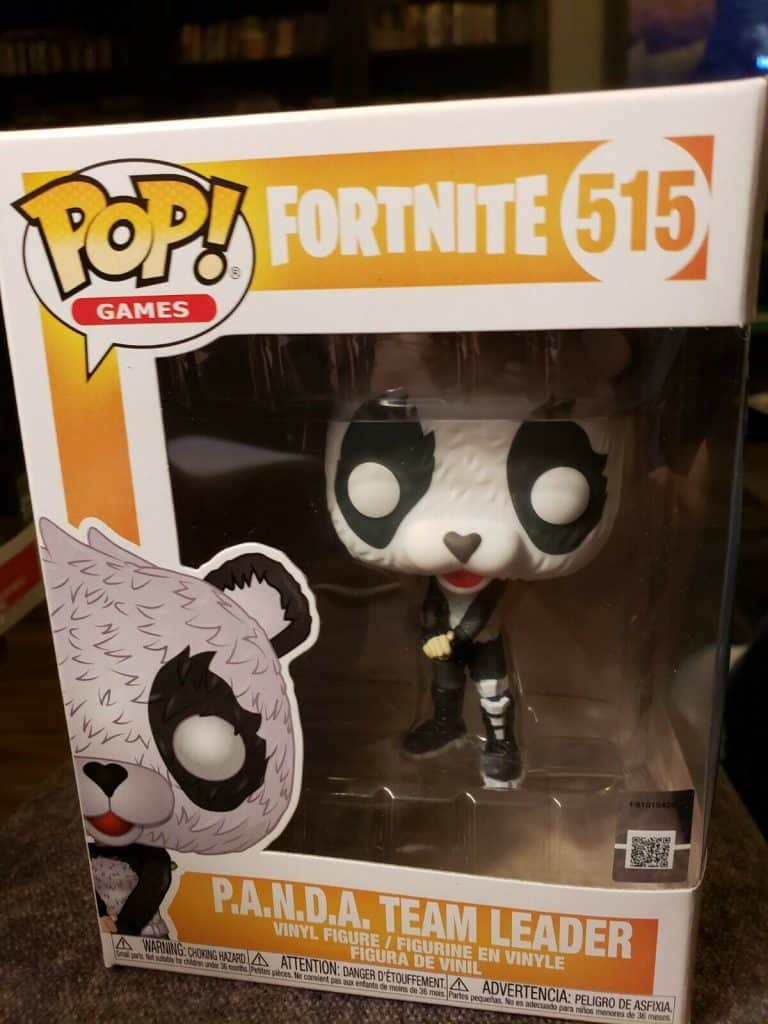 "Fortnite' really is just the perfect storm of a game. You have the fact that it's free to play on almost every platform, and everything about the game is enjoyable." — Ninja.
That's right. We quoted a streamer. Why? Because the P.A.N.D.A. Team Leader is a Legendary Fortnite Outfit. There are no facts about it, and how it works in-game is entirely up to you as a player. 
For the right amount of V-Bucks, of course. 
First released on August 19th, 2018 — also known as Season 5 of Fortnite — this legendary outfit appears on the shop every 54 days or so. 
That said, Funko Pop isn't going everywhere. If you don't want to wait 54 days for this costume, add it to your Funko Pop collection today and permanently keep it there. With it, you can impress all of your friends and family with your excellent skills in-game and your ideal Funko Pops on the shelf. 
Speaking of skills, how can we show off the most memorable scene of a player character? We've got your back.
Check out the top 50 Fortnite kills, and add this Pop Funko to your collection now. 
Sonic The Hedgehog — 30th Anniversary Classic Sonic #632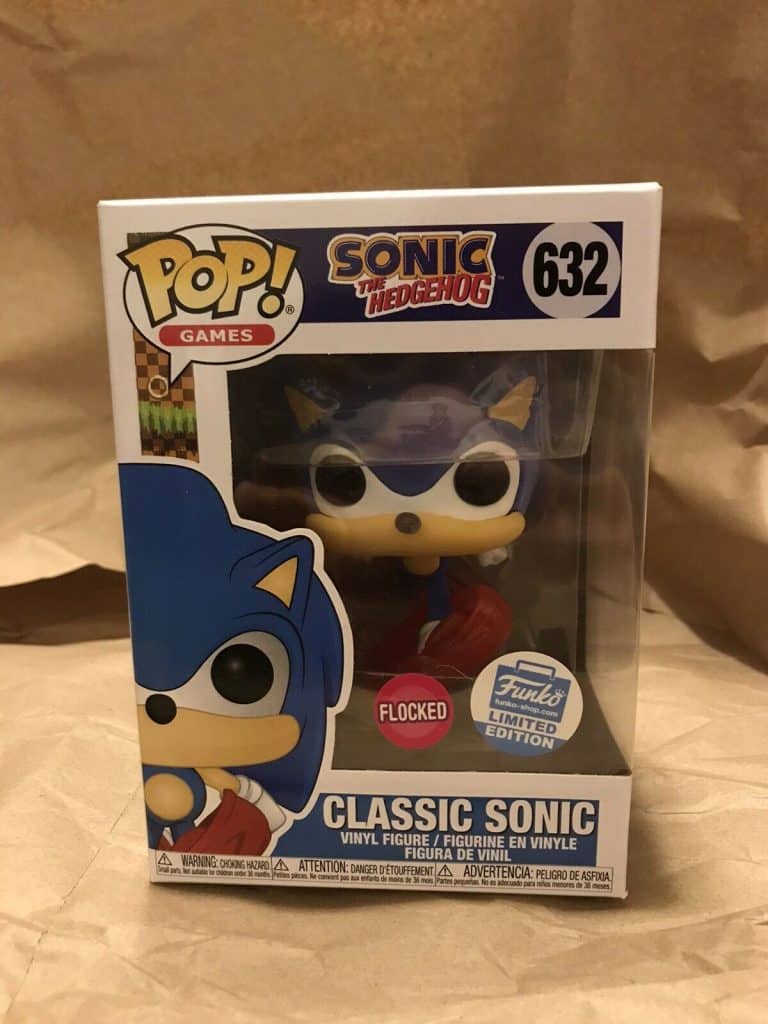 "Don't be afraid to accomplish your dreams." — Sonic. 
Wouldn't you agree with us when we say Sonic is the most memorable video game character of all time?
He is one of the few video game characters to transcend the video game scene entirely, and very recently starred in his movie with the legendary Jim Carrey.
He even had his comic series, where it which revealed his middle name is Maurice!
Did you know the first Sonic game's soundtrack on the Sega Genesis was composed by the Japanese band Dreams Come True? They're a big band in Japan — so you can guarantee it gave Sonic a healthy head start in his early Sega days.
And here's a funny little fact. Remember the Water Zone levels? Where Sonic would always sink to the bottom like a rock. That's because Yuji Naka — the game's programmer — didn't think hedgehogs could swim! 
With the new release of the film, let's take a look at Sonic's Top 10 Movie Moments: 
We've discussed Sonic, but he wasn't the only Hedgehog to grace our gaming screens. Let's move on to Silver the Hedgehog. A character with a strong sense of justice and the incredible ability to manipulate objects around him with no but mind.
That's right: we're talking psychokinesis. 
Silver the Hedgehog first appeared in Sonic 06, which wasn't that great. But that was down to its gameplay. Not the characters. 
Silver the Hedgehog remains to this day a well-recognized and loved the character of the Sonic franchise. 
Silver always knew what was right, and we do see that in Sonic the Hedgehog 06. Silver fought Shadow the Hedgehog to a stalemate in an epic scene — showing raw power and commitment to his belief in injustice.
Street Fighter — Ken #138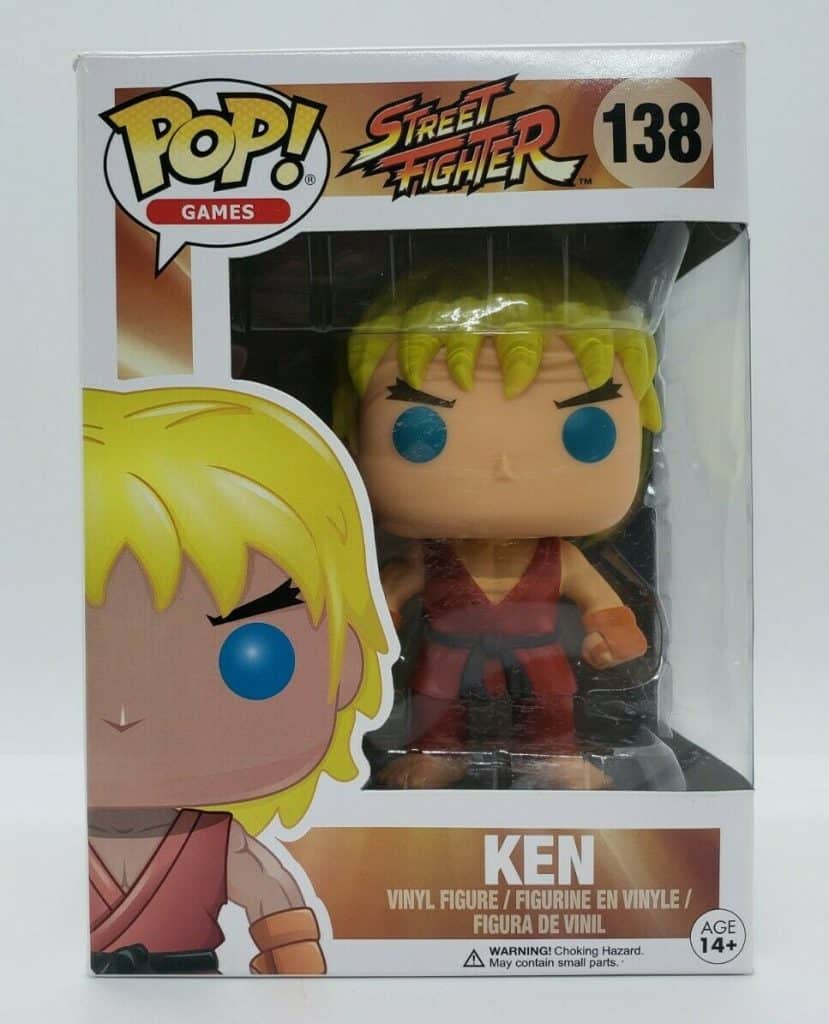 "Attack me if you dare, I will crush you!" — Ken.
Everyone from the 80s, and even the early 90s, has played a Street Fighter game. It's remembered as one of the best fighting games ever to grace the arcade, and it remains strong today.
That's because of the characters that made the game.
 Let's talk, Ken.
Ken's more than just a fighter. He's, in fact, a father, too. Married to his lovely wife Eliza, he always sees to it that she's looked after no matter his escapades.
That's right; there's more to Street Fighter than just kicking in punching. There's a deep story, too. Ken — based on Joe Lewis (an American kickboxer and actor) — even gave Ryu his iconic red bandana. Every time you see Street Fighter's mascot fighting, a part of Ken is there.
So what better honor is there than to include Ken in your Pop Funko collection. Such a legendary character, which influenced those of even more legend — well, that would look great on your shelf. 
Check out Ken in all of his glory:
Street Fighter — Dan #142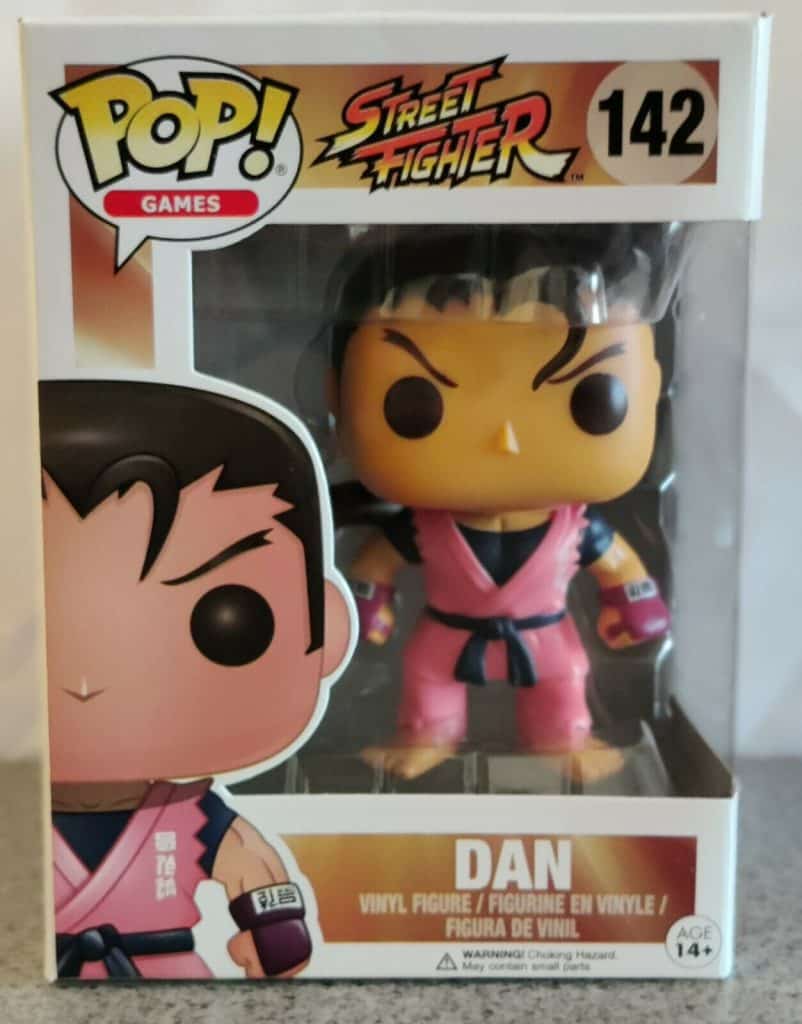 "For a loser, you did pretty well." — Dan.
Speaking of Street Fighter, let's not forget about Dan. Another legendary character of the series. And a very overconfident one, too. He never backs down from a fight, which has got him into his share of sticky situations. 
What situations, you may ask?
Another Street Fighter character — Sagat — killed Dan's father. Now, Dan will stop at nothing to get his revenge, even if it means making mistakes along the way. 
Could this clumsy arrogance be seen in Dan's fighting style? That style, the Saikyō-ryū, is nothing more than a parody of Kyokugenryu Karate, after all. A fictitious style used in other game series, such as the Art of Fighting and the King of Fighters.
Parody or not, Dan's a character you don't want to get on the wrong side of him. So, add him to your Pop collection today. We haven't seen a Sagat Pop yet, so he'll stand as a guardian protecting all of your group.
(Let's hope a Sagat Pop doesn't hit the market, else chaos will ensue!) 
Check out some of the best Dan combos now:
https://www.youtube.com/watch?v=VOAEGBgnAts
League of Legends — Miss Fortune #09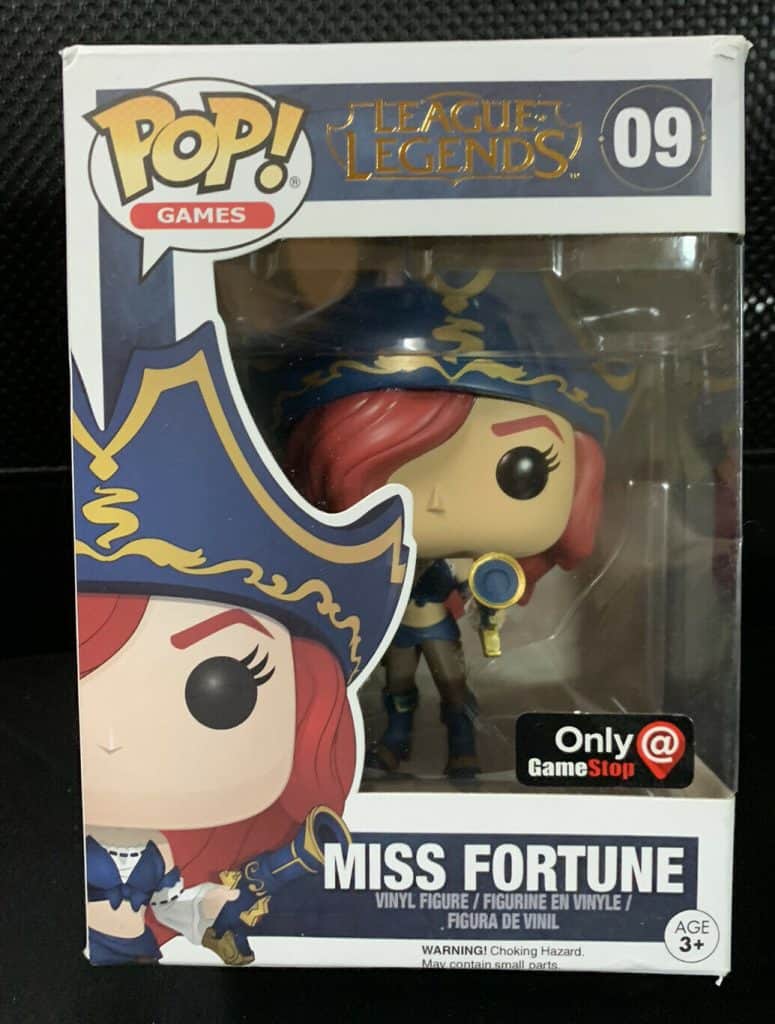 "Fortune doesn't favor fools." — Miss Fortune.
You'd think somebody whose real name is Sarah would be sweet and innocent. Not quite so.
Miss Fortune is a bounty hunter through and through, and you don't want to get on her wrong side. She's famous for her looks but also for her cruelty too.
So what can you do to stop one so dangerous?
Well, it certainly stops her moving so fast. That's Miss Fortune's secret, after all. She's a fast player character, and the longer she goes without getting hit, the faster she goes.
We can't talk about Miss Fortune's best moments since they're in the hand of you: the player. But if you find yourselves on opposite sides of the battlefield, make sure to dish out some pain before she goes as fast as Sonic the Hedgehog. 
Speaking of Sonic, how about combining two universes on your Pop shelf? A character naturally fast, and a name with a significant speed boost, too. 
Not a bad idea!
League of Legends — Jinx #05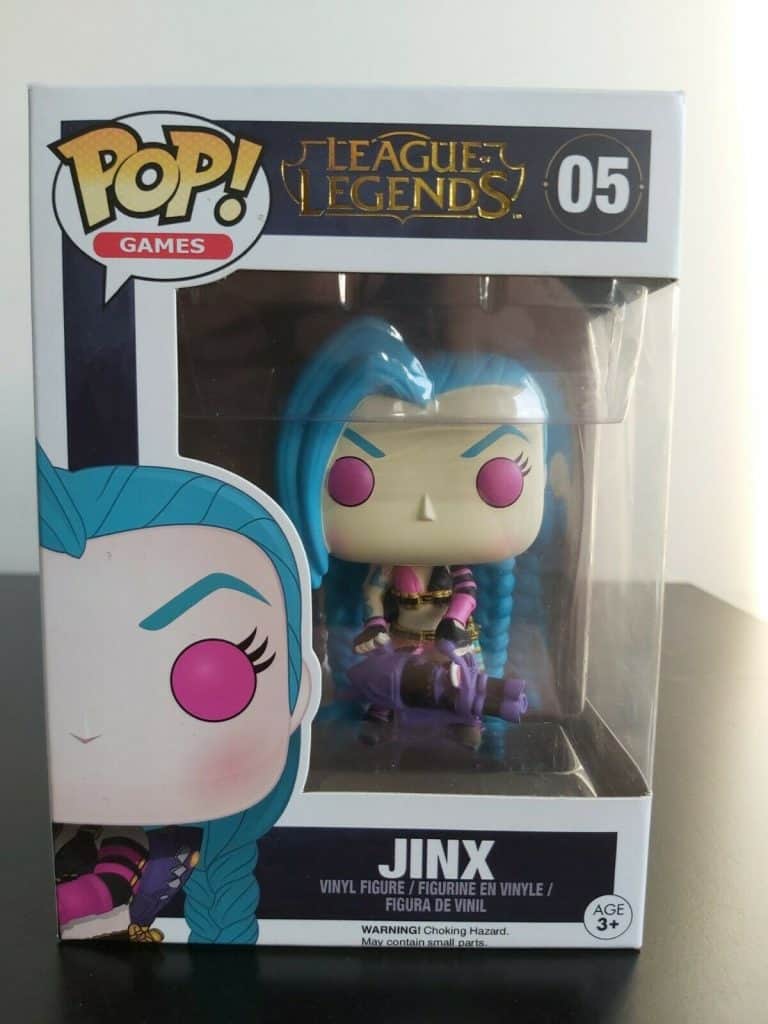 "No need to be scared – or alive." — Jinx
What better way to follow a bounty hunter than with a criminal from the same universe? Jinx is not only armed and dangerous but completely mad too.
Of course, that wasn't always the case.
Once, a long, long time ago, Jinx was a tinkerer living in Piltover. Few remember her as such. Few, except those she played pranks on. They gained her notoriety and soon got her to the point of criminalization. 
So, once more, we can't give a memorable moment for Jinx. We're sure you as players have many of your own. Instead, let's ask the question — like with Miss Fortune, how do we beat Jinx?
It's simple. Watch out for Jinx's powerful minigun, which is nearly unstoppable when fully ramped up. It can be deadly up close, so keep your distance and fight while she's wielding rockets. 
That aside, what makes Jinx so good on your shelf?
She's a prankster, so how about we play the ultimate prank on Miss Fortune. Keep Jinx on the shelf as far from her as possible. The criminal Miss Fortune could never catch.
Overwatch — Zenyatta #305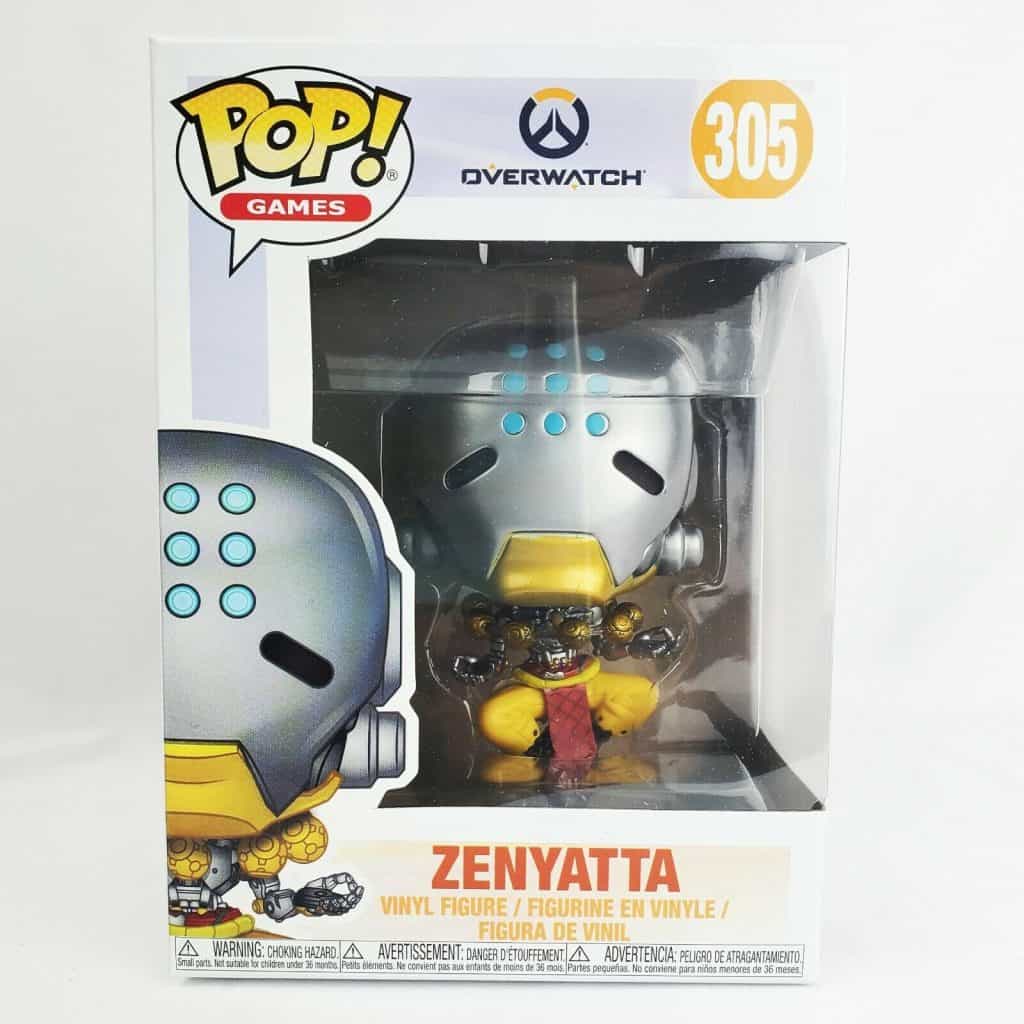 "Walk in harmony." — Zenyatta.
Moving away from League of Legends, let's discuss the land of Overwatch and talking monks. Those who walk the earth in a never-ending quest for spiritual enlightenment.
Meet Zenyatta, and you'll never be the same again.
He knew the spiritual energy in humans and sought to heal their wounds. But of course, for peace and healing — one must do battle. 
With the battle in mind, let's talk about two things.
How to play as Zenyatta

How to beat Zenyatta.
Zenyatta can jump, crouch, reload and perform what is called a Quick Melee. Sounds helpful, right? Not quite. He also has an ultimate ability that stops all of that, so try not to get complacent. 
However, if you're on the other side of the fence and want to beat Zenyatta — play as Ana. Her Biotic Grenade can negate any healing Zenyatta does. 
Isn't that awful?
Of course, if you don't have an Ana Pop Figure on your shelf, you can keep Zenyatta safe and sound as he heals all of your other Funko figures. 
Overwatch — Junkrat #308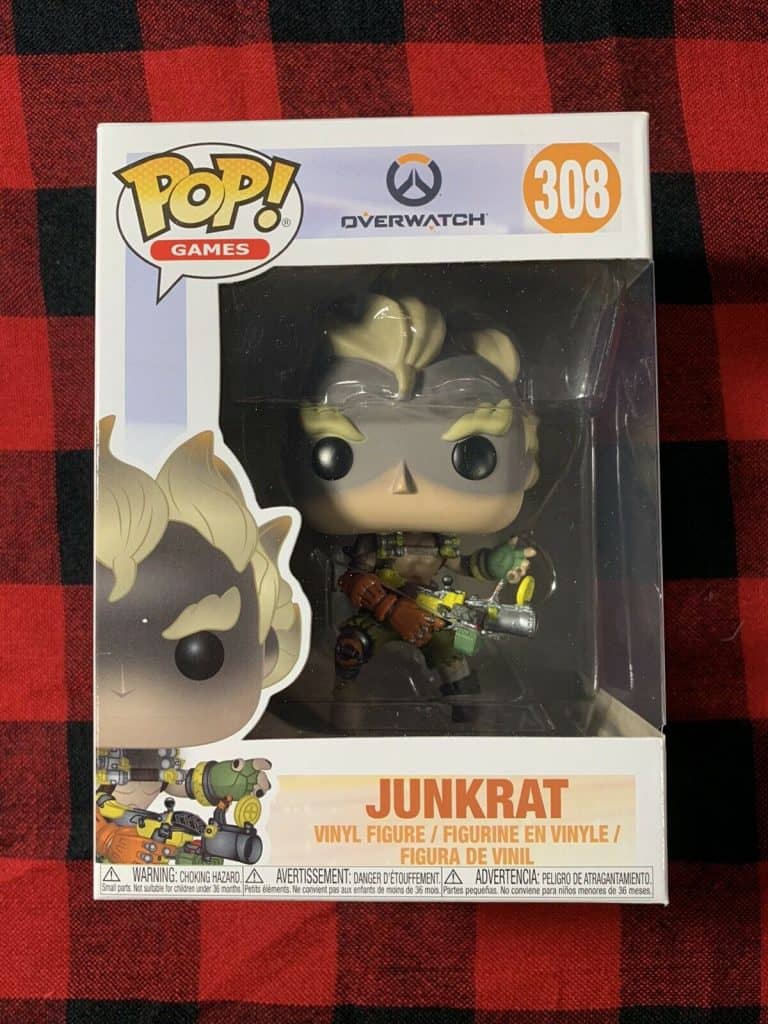 "It's a perfect day for some mayhem." — Junkrat.
Sticking with Overwatch, we're moving away from monks and have another criminal on our hands. Though this time, not a prankster.
Meet Junkrat — a demolitionist and criminal on the run for the glorious treasure he holds. Though don't get too close because he is obsessed with explosives.
However, that aside. We have a glorious treasure, so you must be wondering now what that treasure chest is?
Here's a fun fact: Nobody knows. Overwatch's developers themselves never said.
We know who has the treasure found in the bones of the omnium, and ever since then, everyone — bounty hunters and gangs alike — have wanted it. But nobody knows what it is.
Isn't that an interesting fact? 
Let's talk about strategy.
Junkrat likes to send grenade after grenade into choke points. So if you're playing as him, that's what you should do. If you're against him, then stay well away from those choke points.
That said, if he's in a Pop Funko box on your shelf, not only can he no longer fire grenades, but his treasure will be safe always. It's a win-win. 
Borderlands 3 — Claptrap #526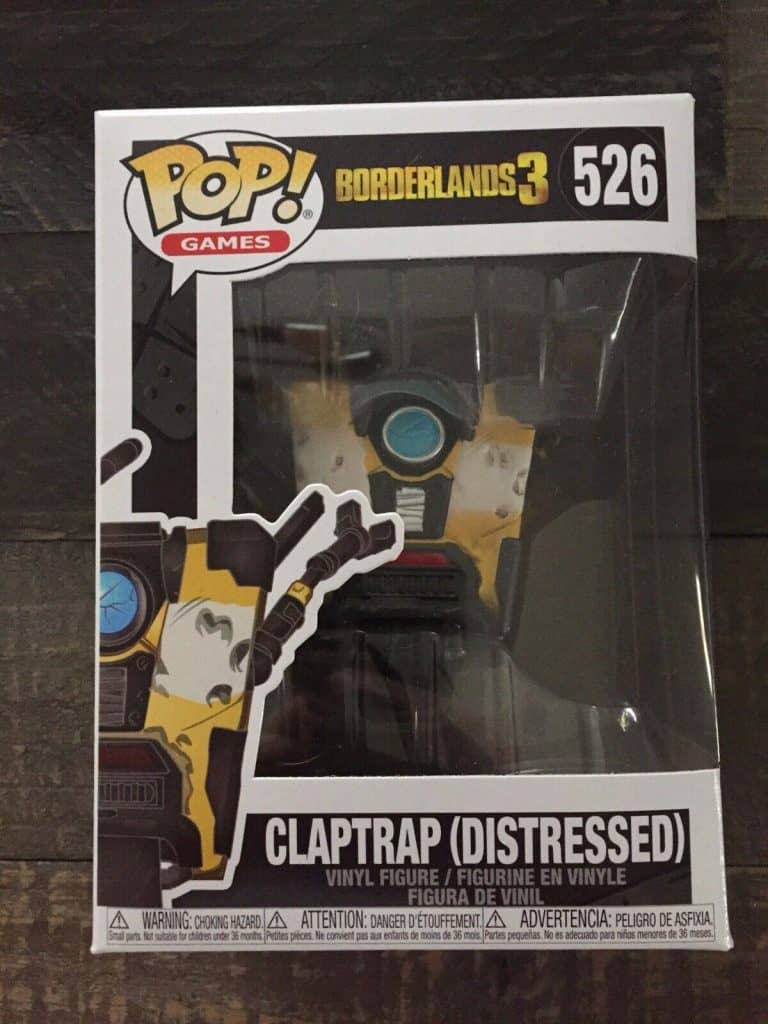 "Success! My spell to make you want to hang out with me worked!" — Claptrap
And to finish this list, we have Claptrap.
We bet even if you haven't played Borderlands 3, you've heard that name. Let's get scientific.
CL4P-TP is a general-purpose robot. Hyperion manufactures it, and as you're very much well aware, it is very enthusiastic. 
Okay, okay. Let's not get too down in the dumps. 
Did you know? Claptrap is so popular, it has transcended the video game universe, just like Sonic? Claptrap is also in the Telltale Games' Poker Night at the Inventory 2 and the film. Ready Player One. 
It's a bit of a trend for famous video characters to end up in movies, eh?
But Claptrap deserves it, and we know you'll agree after watching his best scenes below. 
Honor our overly lonely, overly cowardly, and too lovable friend with a place on your shelf today. 
how did our video games funko pop list do? Here's another
If you're still not convinced about our video games Funko Pops list then watch this Youtuber explain their top picks. It's a detailed video on additional pops worth collecting when it comes to the gaming space. 
You've seen our best gaming Funko Pops. Now, add them to your epic collection today.
Still undecided? or unsure on where to find video game Funko Pops? 
Here's a list of 10 reliable Funko Pop retailers outside of the big box stores that can help you find some exclusives!
 You won't regret it — and we are looking forward to seeing you there! 
For now — Pop and Figures out.
We've got video games to play.