Are you looking for an alternative to collecting funko pops? Or maybe, you've come across Nendoroid figures and wanted to learn more about them. A common question that's asked in the toy collector community is 'W
hich is better, collecting a Funko Pop vs Nendoroid?' E
ach type of figure has its strengths and weaknesses in design, quality, appeal, and cost. We wanted to provide an in-depth analysis of each. When asking around in the collector community, there's always a passionate debate.
Have you experienced this tangle? Well, it's time to have a discussion about these two.
What is the difference between Funko Pops and Nendoroid?
To determine the differences, we need to define the specific criteria first. 
Design – Does the figure illustrate the character? 

Quality – Does the figure material made to create it seem reliable or durable? 

Appeal – How popular are these figures? Do they have a broad audience interested in it? 

Cost – What is the average price of the figure? Is it expensive or affordable?  
Let's discuss in more detail a comparison between these specifics! 
1. Design: Nendoroids Have More DEtail 
Pop figures made of polyvinyl chloride are mass-produced in factories. Each shipped to fans worldwide.
But, when it comes to Nendoroids, these chibi-style figures are handmade. Each hand-painted, making them unique. You will also notice Funko Pops come with black eyes., while Nendoroids have different eye colors.
Funko has many variations for one character. For example, if you are Batman's fan, many of his figures you can collect. Funko Pop Batman is available in multiple options bearing the #01 box numbering. Yet, whether it is an exclusive or limited chase, the figures are released at different times.  Batman Metallic Chase Variant, Batman (DC Universe), Batman Gold – GameStop, among others.
Nendoroids have one character with many accessories. In addition, these figures have extra accessories, such as faceplates, legs, arms, hands, and special effects. Link from Nintendo Switch's Legend of Zelda: Breath to The Wild comes standing ready for action. In addition, the figure comes with various miniature weapons and tools from the game. You can also mount the little guy in a chibi stallion for him to ride to action.
Funko Pops are not poseable but, Nendoroids figures are fully poseable.

Also, Nendoroids come with removable parts, which you can switch with other Nendoroids figures.
Therefore, if you prefer to keep tweaking your display, you will find Nendoroids more appealing. On the flip side, Funko Pops' parts are not removable neither are they interchangeable, meaning you cannot pose them or do much to change their display.
2. Quality: Nendoroids Are Hand Crafted vs. Machine Produced
There is a consensus in the collector's world that Nendoroids have better quality than Funko Pops. Moreover, it takes more time and skill to create a Nendoroid because they are crafted and painted by hand.  
3. Appeal: Funkos Has Wider Range of Characters Due to License(S)
Funko Pops appeal to a broader fan base than Nendoroids, while Funko has Set featured image multiple licenses, allowing the company to produce new pops faster than Nendoroids. Therefore, there are more Funko Pop figures than Nendoroids appealing to a bigger audience. Nendoroids are particularly popular amongst anime fans.
Nendoroids are easier to complete a set, but it is challenging for Funko Pop fans to complete a set. Perhaps Funko releases new Pop figures more often and has a broader Pop line than Nendoroids.
4. Cost: Funkos Are Cheaper While Nendoroids Are More Expensive 
Because of the nature of their production processes, Funko Pops are relatively cheaper than Nendoroids. For instance, Funko Pop figures retail for as low as 10 dollars, whereas to get a Nendoroid figure, you must part with at least 40 dollars. However, what makes Funko Pops more interesting is that they have exclusives whose value increases over time.
Similarities between Funko Pops and Nendoroids
Despite the glaring differences discussed in the previous section, Funko Pops and Nendoroids also have some similarities. For example, both companies add details related to the series or TV shows from where the figure is based.
For example, Nendoroid's Iron Man Mark 45 attire has inspiration from the armor in 2015's Avengers: Age of Ultron. Moreover, the figure comes with a unique display stand that resembles the setting of the ultimate battle in the movie. On the other hand, Funko Pop figure Space Jam Lebron Leap depicts the basketball star in full action, raring to go with the basketball in his hands.
Additionally, they both represent a particular fandom.
Nendoroids mainly produce characters from several lines, including anime, video games, and live-action franchises. On the other hand, Funko Pop also covers multiple fandoms, including movies, sports, and series.
Another similarity is the size of the figures. The Funko Pop figures stand around 3.75 inches tall, while Nendoroids are around 4 inches tall. 
Which is better: Funko Pop vs Nendoroid?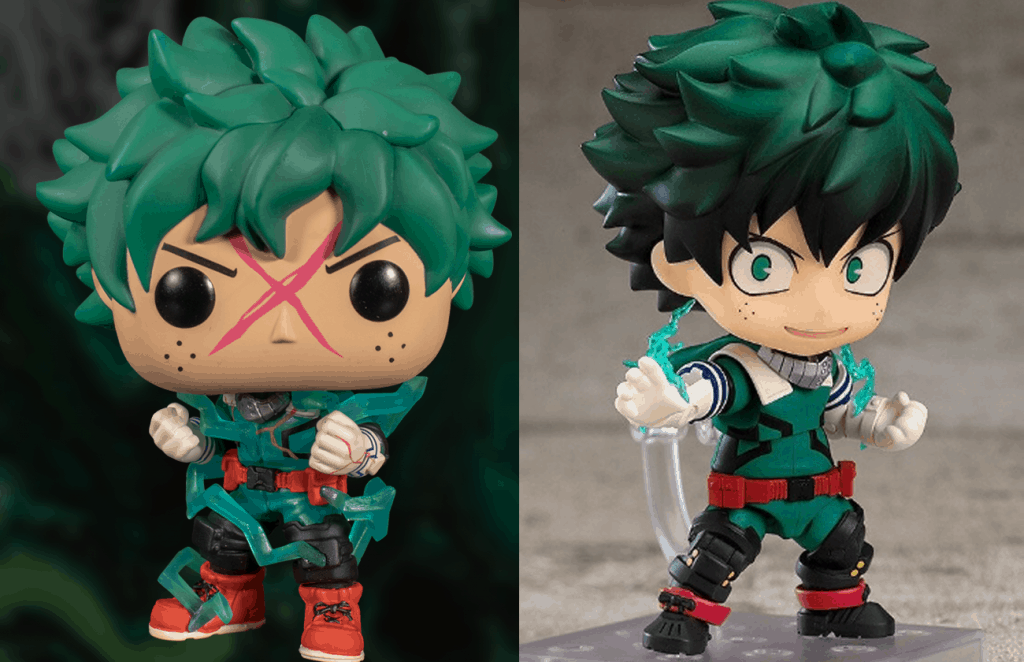 Funko Pops have a wider range of character selection, while Nendoroids have fewer characters with more accessories. Nendoriods have the ability to pose multiple different ways re-enacting different memorable scenes, while Funko pops heads and legs do not move.
Additionally, the Funko Pop size vs. Nendoroid size differ as well.
| Avg. Funko Pop Size | Avg. Nendoroid Size | Avg. Funko Pop Cost | Avg. Nendoroid Cost |
| --- | --- | --- | --- |
| 6.5 cm | 6.5 cm | $10.99 | $39.99 |
While the real answer to this common question is subjective. If you are an anime fan, then you will definitely find Nendoroids more appealing. On the other hand, if you belong to other non-anime fandoms, you will prefer Funko Pops.
Nevertheless, Funko Pops are relatively better than Nendoroids. In addition, Funko Pops are relatively cheaper, and there is a broader selection of characters to choose from, making them the popular choice.
Why Funko Pops ARE better than Nendoroid
There are several reasons why Funko Pops are way better than Nendoroids. Here are the most important ones:
Are cheaper than Nendoroids.

Hold more licenses meaning you can get your favorite character as a Pop.

Have a massive online community making it more interesting to find and sell figurines.

You can land an exclusive figure at a reasonable price and sell it for a fortune several years later.
Based on this and many other reasons, whether one is better between a Funko Pop vs Nendoroid is the better collectible.  
Also items to consider when comparing the pros vs cons of buying funko pops:
Pros
Characters availability
Widely Popular
Affordable + Tradable
Cons
Lack of Design
Missing details
Has multiple poses
Is switching from Nendoroid to Funko Pops worth it?
It is worth it to switch from Nendoroid to Funko Pops:
You will get access to more Pop figures.

You can get more Pop figures because Funko Pops are relatively cheaper and have a greater variety.

If you are patient, should one of your figure's prices shoot and you are willing to sell, you can make some good money.
Funko Pop vs Nendoroid, Both Are Worth Collecting
Which figures should you buy, Nendoroids or Funko Pops?  Are Nendoroids worth it? 
Well, if you are an anime fan, you will find Nendoroids a better option. Moreover, they are of superior quality.
Are Funko Pops worth it? 
Funko Pops seems to offer its collectors more than Nendoroids. If you want various figurines at an affordable price that could become more expensive in a few years, Funko Pops is your best bet.