Many collectors in the Funko Community have questions about what a specialty series funko pop is and why they are so exclusive. We wanted to compile a list of the best pops apart from them. 
 What is a Specialty Series Funko Pop? Funko launched the Specialty Series to recognize its most special accounts. Also, to support its most loyal online and offline retailers. Every month Funko releases two significant exclusives – a Pop! Vinyl and one Dorbz. You can use only these exclusive figures through the Specialty Series.
Specialty Series Funko Pop! are exclusives made available to local retailers and international retailers. Collectors love these figures because they are rare and are worth good money. Especially when trading these pops with other collectors.
Where to buy a specialty series funko pop?
Specialty Series exclusive funko pops are unique. Since you can only find them at local comic book shops and boutique retails. As well as qualified online retailers, you can help and support smaller retailers and businesses' locality. 
The first two exclusives were the Dorbz version of Howard The Duck and the Cosmo Pop! Vinyl from Marvel's Guardians of the Galaxy. These two were released in May 2016 when the program started. 
You can spot a Funko Specialty Series pop due to their blue and brown "Specialty Series" label.
Let's dive into the top 10 funko pops we've found and are worth adding to your collection. 
1. Fruits Basket YUKI with RAT  #891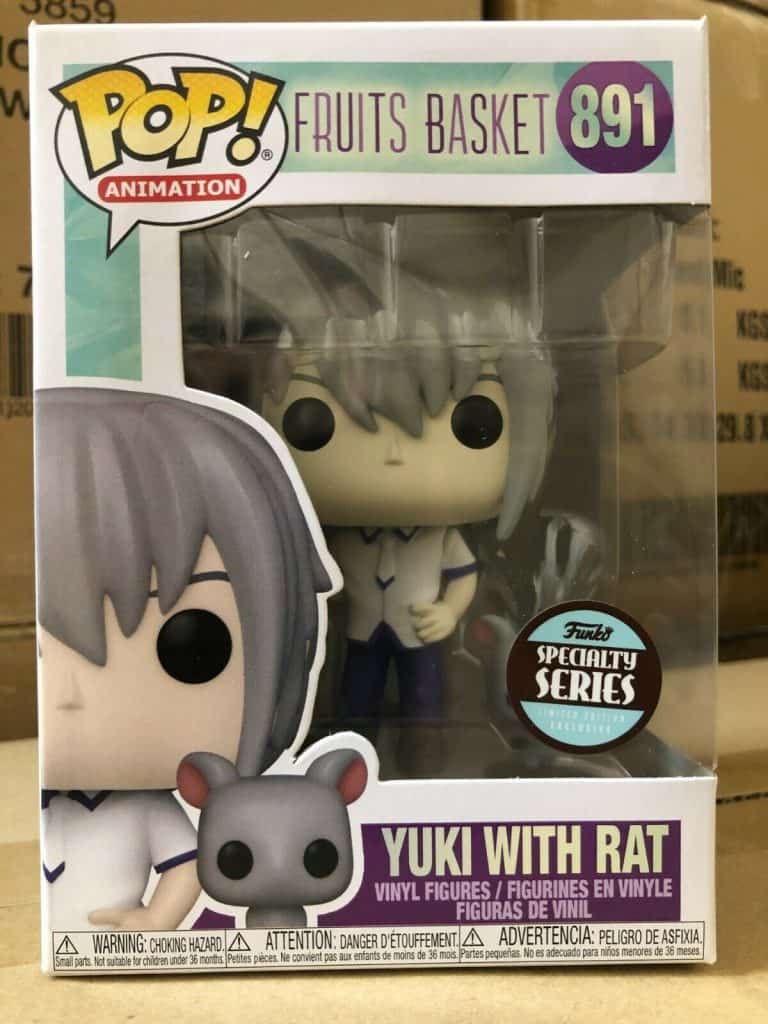 "They say that we should love ourselves first, before other people learn to love us, but it is not as easy as it seems. Sometimes, we need someone to accept us and love us first; then we would learn to see ourselves through that person's eyes and learn to love our-self." – Sohma Yuki (Fruits Basket)
Yuki Sohma is one of the second main characters of the Fruits Basket series. He has an elder brother- Ayame Sohma. He is a Rat of the Chinese Zodiac, and his classmates call him "Prince Charming." He is attractive, laid back, and accomplished. Yet, he suffers self-esteem issues due to his abusive childhood and the effects of the curse. 
The Pop! Stands 3.75 inches.

Vinyl Pop Figure

Has urban, stylized design

It comes in window-box packaging.
While attending private school, Yuki makes new friends and invites him to play soccer. One day, as he played tag with his friends, a girl bumps into him, and he transforms into a Rat. Hatori Sohma had to erase his friends' memories, which meant Yuki would lose his friends because they wouldn't remember him anymore!
2. Sixth Path Sage Naruto Shippuden Jump #932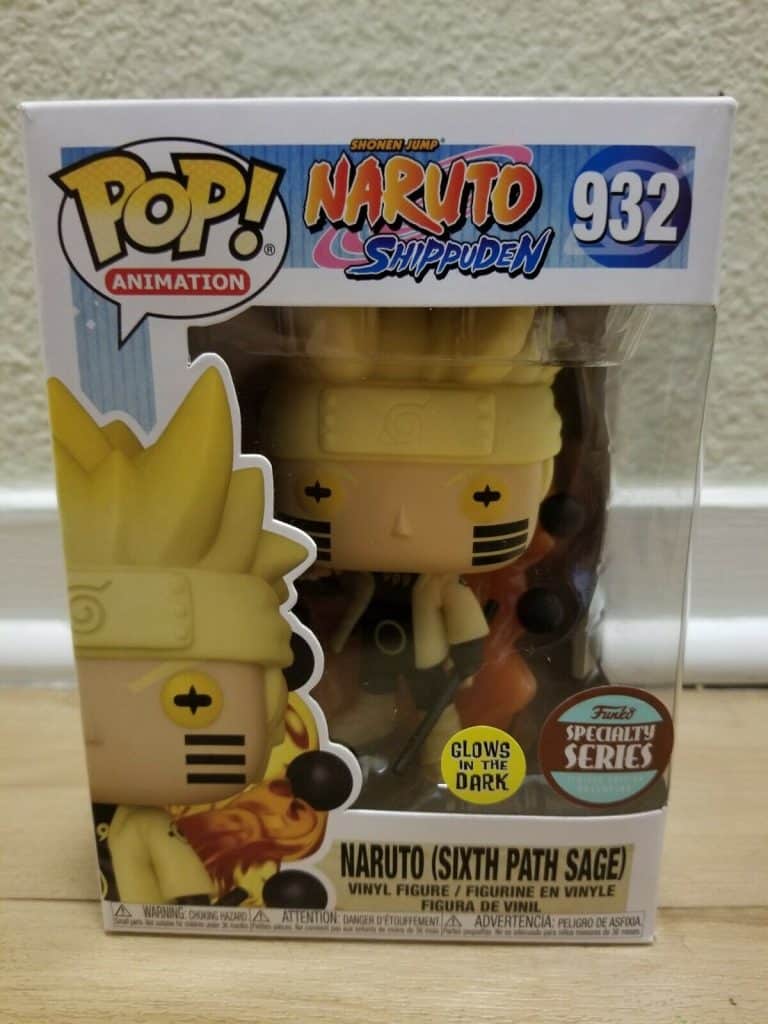 "Those who do not understand true pain can never understand true peace." – Naruto.
Naruto Shippuden launched in 2007 and came from the second part of the Naruto Manga series. It continues the same plot after two and a half years elapsed in the Naruto Universe. Naruto strived for acknowledgement since birth. He was pursuing his ambition to be a Hokage. Also, Naruto overcame trials and adversities to become a capable ninja known in the village. Later, he becomes a worldwide hero of the hidden leaf. He proved his value when he played a crucial role in winning the Fourth Shinobi World War.
The Pop! Stands 3.75 inches.

Vinyl Pop Figure

Has urban, stylized design

It comes in window-box packaging.

It's a glow-in-the-dark funko pop. 

It's an exclusive pop. 
Konoha's filled with pain, and everything seems hopeless. Yet, Naruto makes a grand entrance in Sage Mode. He is standing on the vast toad and looks prepared to handle anything. A moment even more thrilling when Naruto trains under Jiraiya to learn the technique.
Naruto funko pops continue to increase in value, and this one is worth adding to your collection. 
3. Garou #720  One Punch Man-Flowing Water Limited Edition Funko POp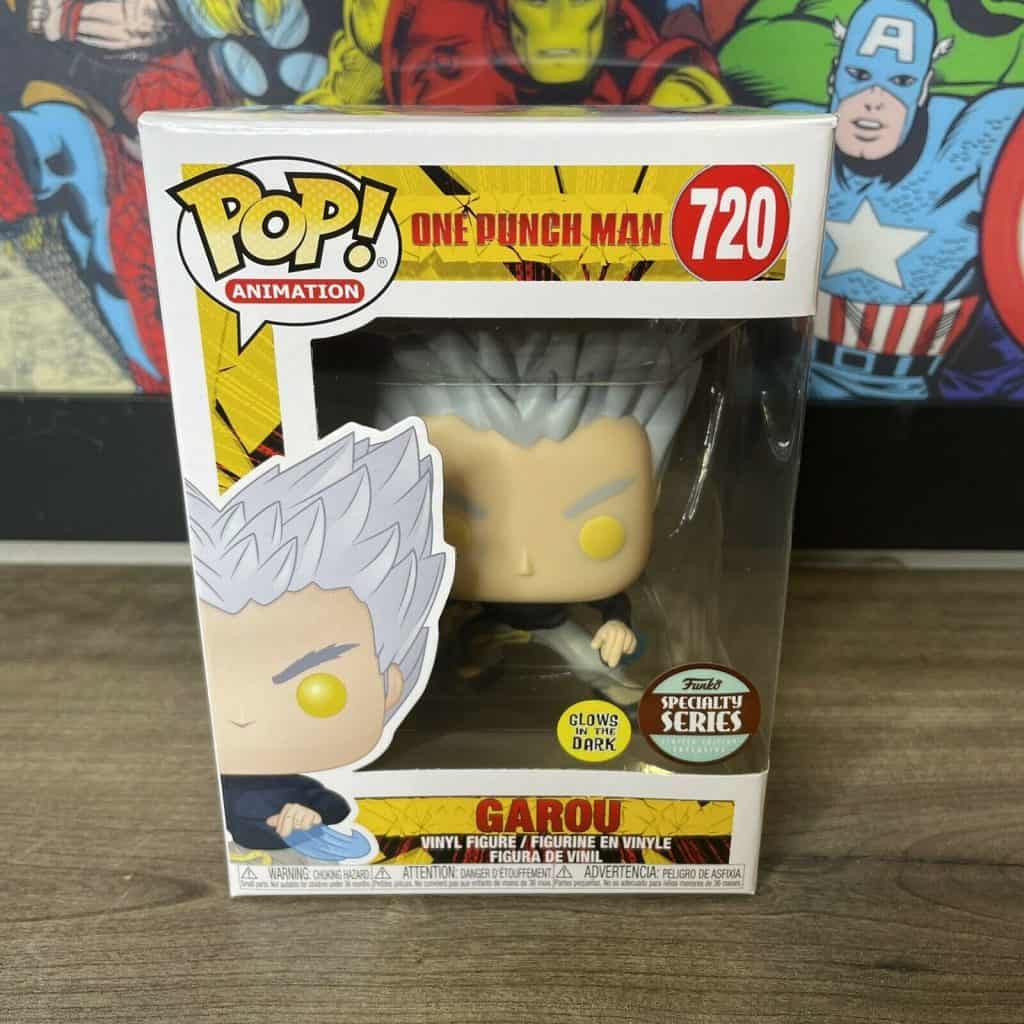 "Stop me if you can. Until then, I'll stay this cocky!" – Garou.
Garou is a criminal, martial arts genius, confessed "Hero Hunter," and a severe enemy of the Monster and Hero Associations. He was a disciple of Bang; yet, he debarred from his dojo for running riot. He is the "Human Hunter" because he becomes fascinated with monsters.
The Pop! Stands 3.75 inches.

Vinyl Pop Figure

Has urban, stylized design

It comes in window-box packaging.

It's a glow-in-the-dark funko pop. 

It's an exclusive pop. 
Saitama and Garou's battle is such an epic scene that involves a clash of two different ideas. The contest is exhilarating as it is philosophical. The peak of it all is when Saitama destroys Garou with words by telling him that he could never defeat him.
4. Green Lantern #317 Limited Edition Funko POp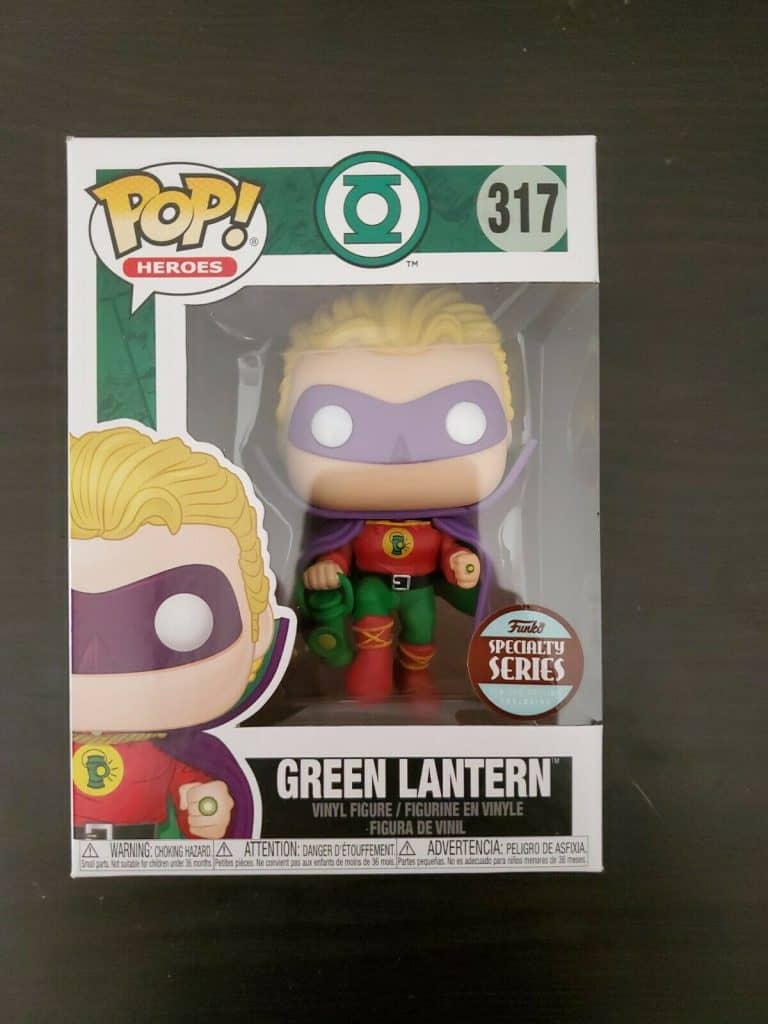 "In brightest day, in blackest night, no evil will escape my sight." – Green Lantern.
The Green Lantern chronicle began in the 1940s. Alan Scott, an engineer, had his life changed after a saboteur caused his train to crush. Yet, he survived the accident and gained new strengths thanks to a mysterious force known as the Green Flame of Life. The force was a green train lantern and had made its way into Alan's train. He cut a piece from the weird green lantern, made the first Green Lantern ring, and looked for the saboteur. And that's how the Legend of Green Lantern began.
The Pop! Stands 3.75 inches.

Vinyl Pop Figure

Has modern, stylized design

It comes in window-box packaging.

It's a glow-in-the-dark funko pop. 

Allan Scott as Green Lantern 
The most memorable scene is when Alan lit the Green Lantern for the first time. As he prepares to search for the saboteur, Alan's power ring touches the Green Lamp. It is overwhelmed with alien power crackles through an agile limbed figure.
5. Masked Predator #482 Limited Edition Funko POp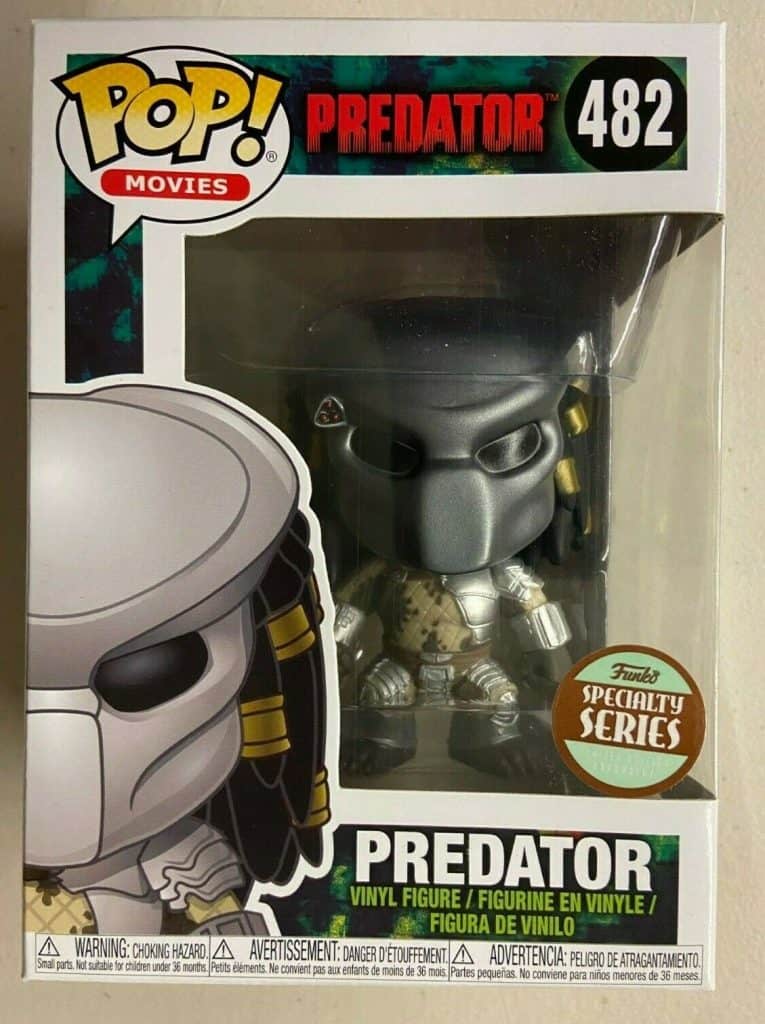 "My men are not expendable. And I don't do this kind of work." – Schaefer.
Major Alan Schaefer is the leader of an elite special forces team on a mission to rescue hostages held in a guerrilla territory in Val Verde, Central America, in the Northern Triangle. The unit comes up against an enhanced form of extraterrestrial life, stalking and hunting them.
The figure is 3.75 inches tall.

Vinyl Pop Figure

It comes in window-box packaging.

It has extraterrestrial looks, and the mask does not come off.
Dutch is the last man standing.
Dutch's team has stalkers. They improvise ways to kill it, but he loses his entire team save for Dutch and Anna. Anna survived because she became unarmed. Dutch covers himself in mud and renders himself invisible to the Predator's thermal vision. He learns a critical trick. The duel ends in the Predator self–destructing.
6. TV DWIGHT SCHRUTE as DARK LORD  #1010 Limited Edition Funko POp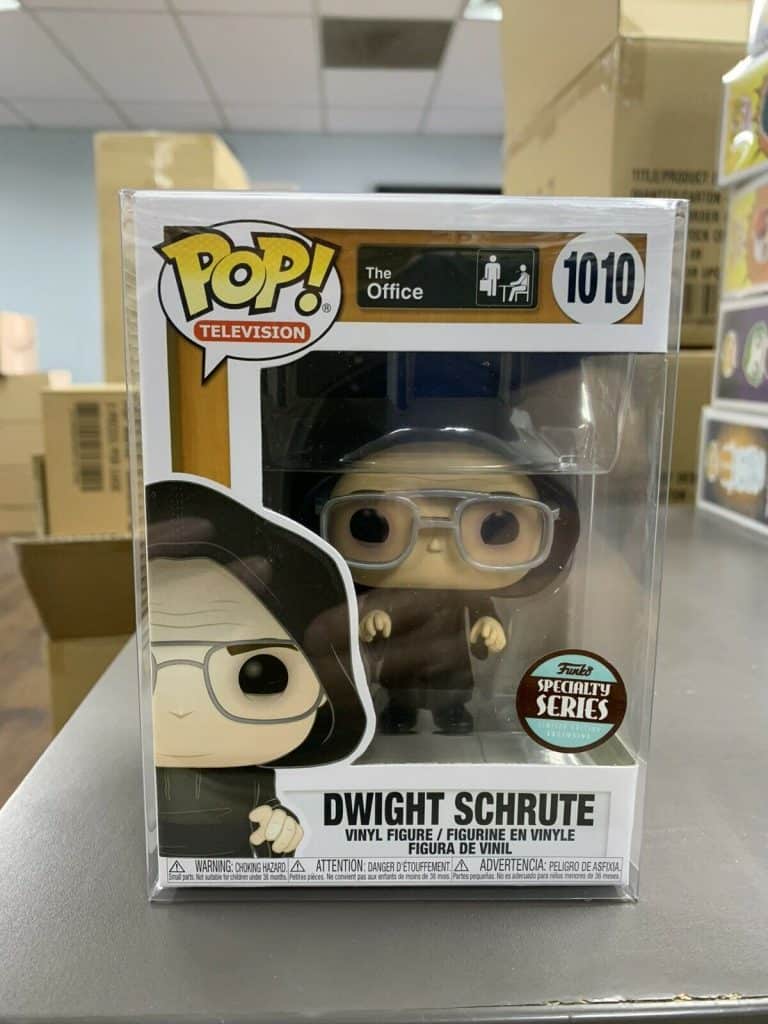 "I am in a Halloween mood by dressing as the Sith Lord. Others don't understand his costume, and some even mistake him for a monk. with the Lord!" – Dwight
Dwight is a sought-after funko pop, and since he's known for playing Dark Lord. 
The Pop! stands 3.75 inches tall.

Vinyl Pop Figure

It comes in a window display box.

It also has an urban, stylized design.
In The Office Season 2, the 5th Episode, Dwight dresses as Sith Lord or Emperor Palpatine, but the others don't seem to understand. It's ironic and funny to The Office fans. 
7. Aladdin: Genie with Lamp #476 Limited Edition Funko POp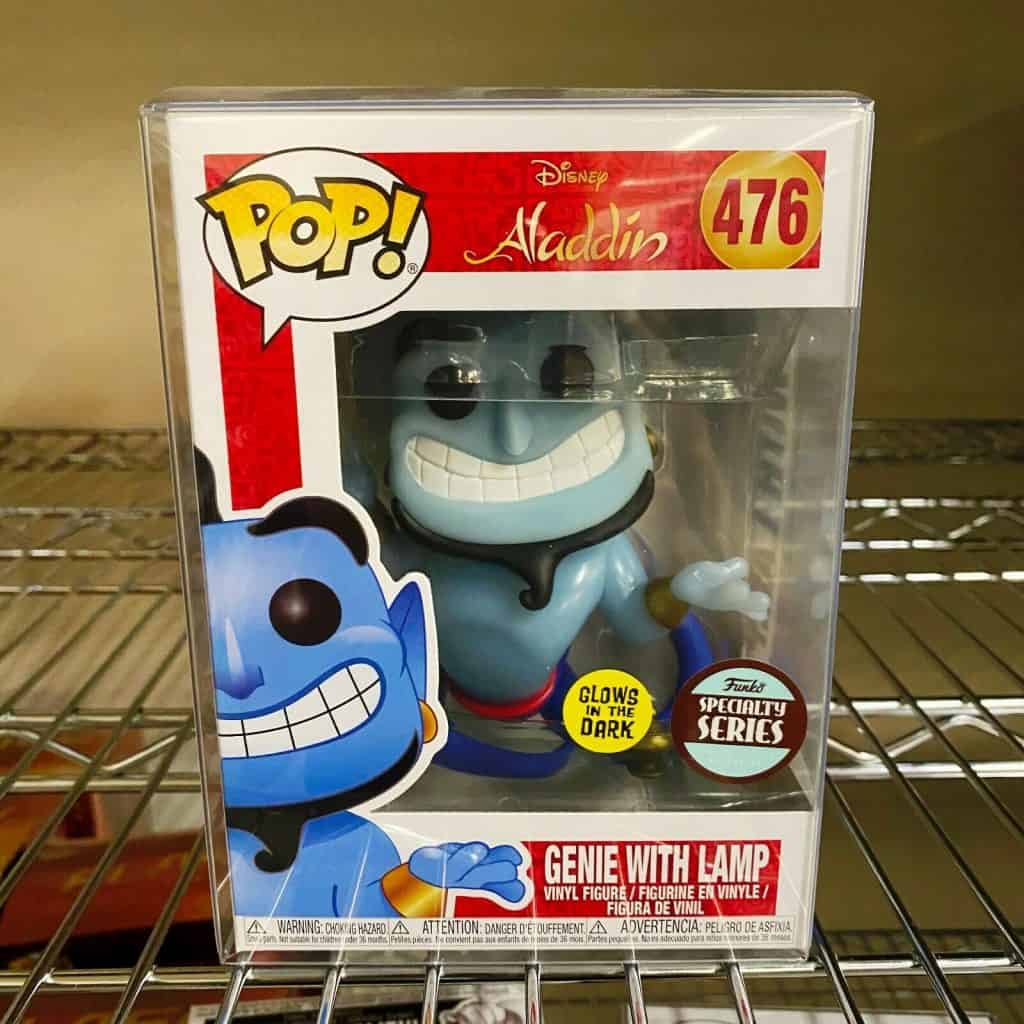 Aladdin was the most loved film of the 90s, and many audiences still love Aladdin today. The film is a story of Aladdin and his journey from a typical "street rat" to Prince of Agrabah. In his rise, he took down the wicked Jafar in the process with support from his buddies Abu, Genie, Jasmine, and others. 
Funko Pop! The Specialty Series figure features the adorable Genie that grants Aladdin three wishes after he unveils the magic lamp.
"Ten thousand years will give you such a crick in the neck!" – Genie.
The figure is 3.75 inches.

Vinyl Pop Figure

It comes in a window display box.

It glows in the dark. 
When the Genie first appears in Aladdin and is released from a magical oil lamp. He offers Aladdin three wishes but is later shocked to learn that Aladdin did not use his first wish to escape the cave. Aladin asks him what he would wish for, and Genie admits he wishes for freedom. 
8. Krypto The Superdog #235 Limited Edition Funko POp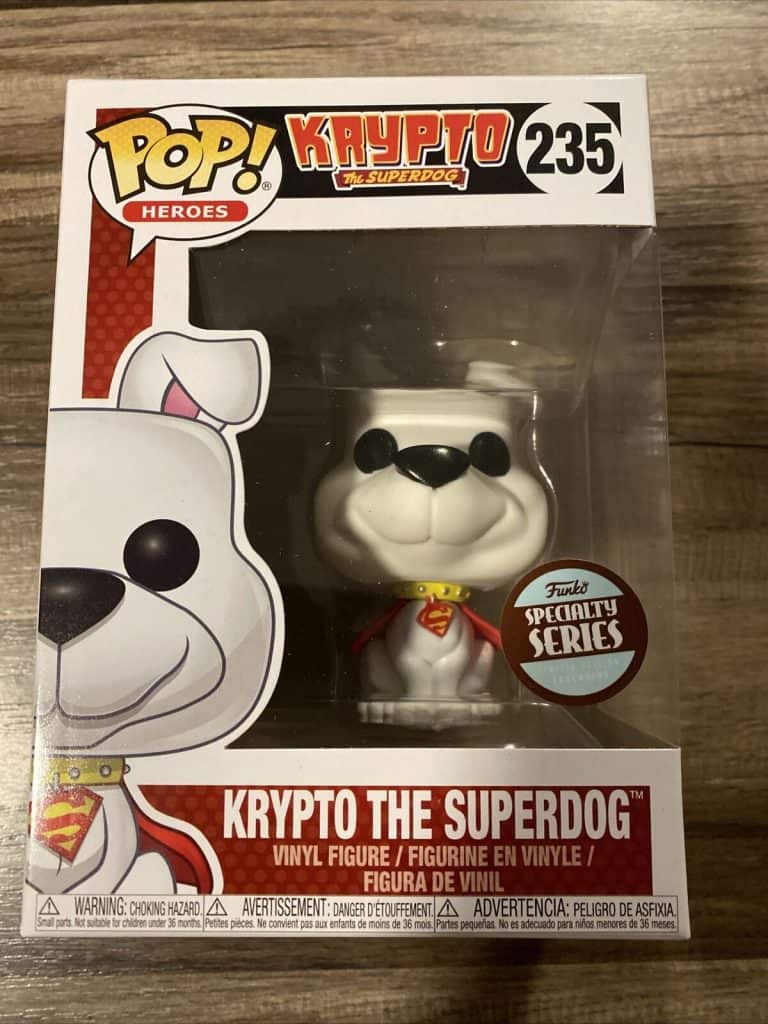 Krypto is a dog from a white dog from Superman's home planet, Krypton. He also has superpowers like the Man of Steel. Superman makes plans for Krypto to get adopted by a young boy called Kevin. Kargo stays with Kevin disguised as a house dog until the time to use his superpowers for good comes. 
"That's me, the real me, Krypto, space puppy extraordinaire!" – Krypto The Superdog.
The figure is 3.75 inches tall.

Window display box.

Vinyl Pop Figure

It's exclusive to the Specialty Series.
When Krypto lands on earth, he awakens to find a fully grown dog with superpowers like Superman. He later meets Kevin Whitney, a young boy, and they become buddies.
9. Superman #251 Limited Edition Funko POp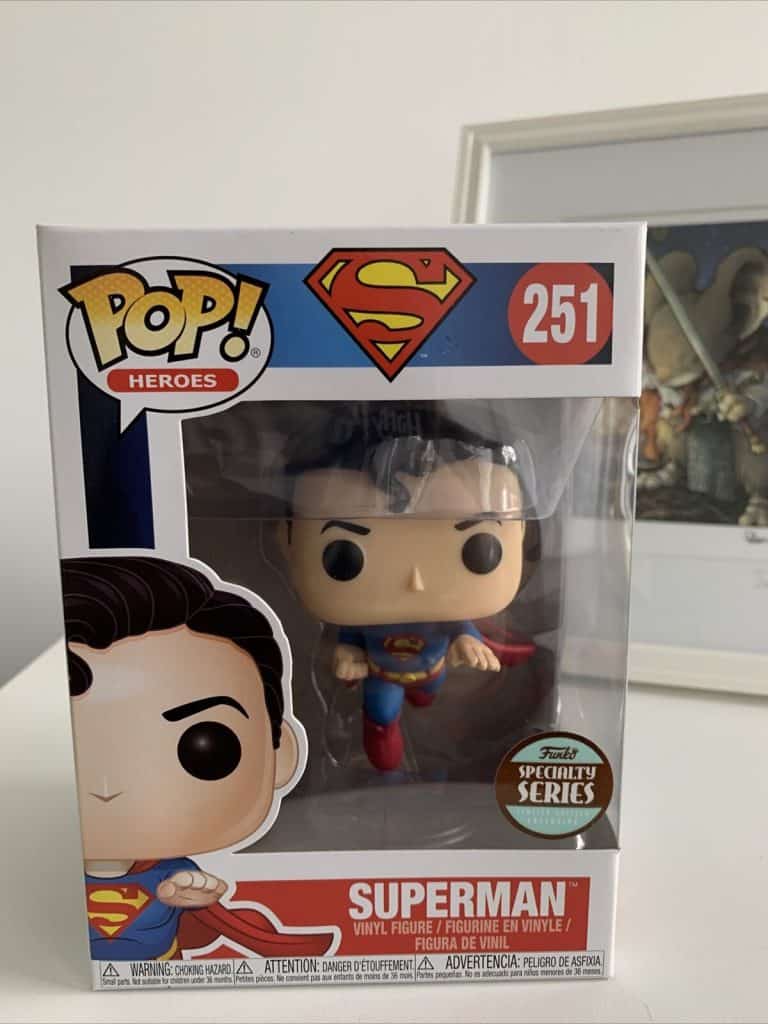 "Once you choose hope, anything is possible" – Superman.
This figure is a Funko Pop! Flying Superman 80th Anniversary Specialty Series Exclusive. He goes by many names, Clark Kent, Kal-El, or Superman. Moreover, he remains the most famous superhero of all time. You can get this Pop! to celebrate 80 years of the hero from Krypton by getting this exclusive Pop!
The figure is 4.5 inches tall.

It comes with a 2-inch diameter display base.

Vinyl Pop Figure

It comes in a window display box. 
Superman can move faster than a bullet, and he demonstrates that in a scene from Superman Returns. He is mighty and a hero when in gunfire between the police and a crazy gunman in the Metropolis. He stands between the gunman and the police, and thousands of bullets bounce off him like paper clips.
 10. Popeye #369 Limited Edition  Funko POp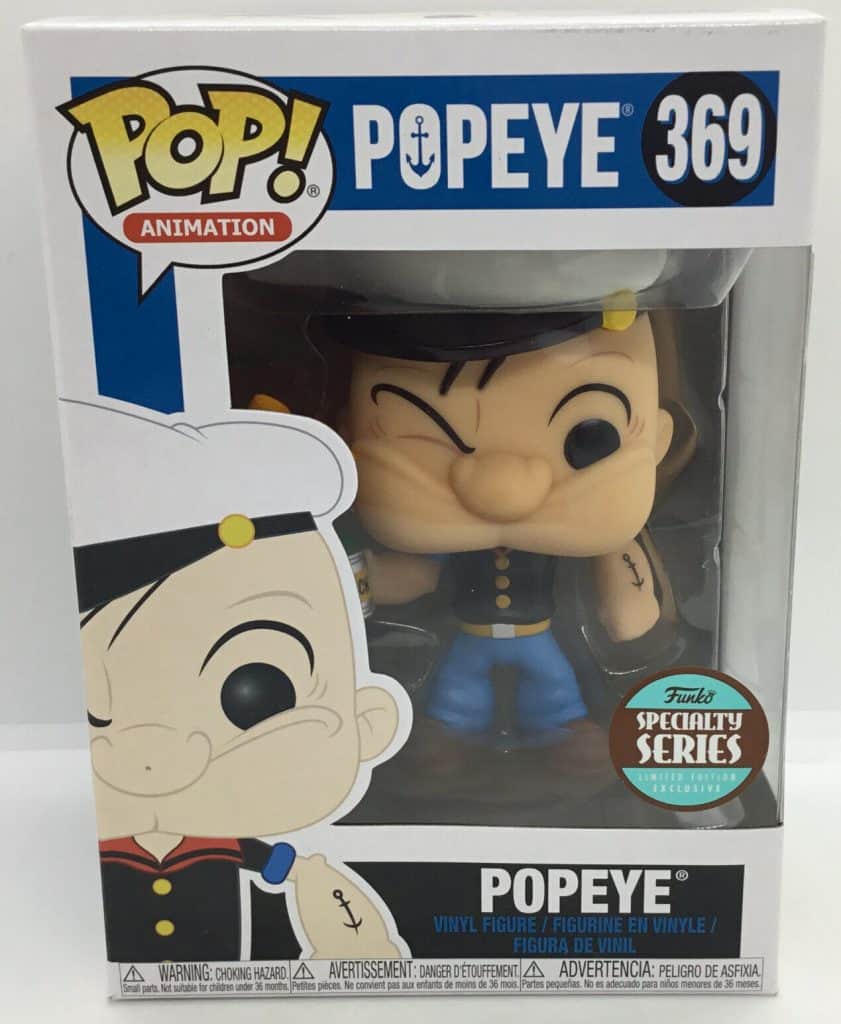 "I'm strong to the finish, 'cause I eat spinach. I'm Popeye the Sailor Man!" – Popeye
The Pop! features everyone's favorite sailor donning his awe-inspiring sailor uniform, complete with vest and cap. This Pop also has him sporting the anchor tattoo with a can of luscious spinach on his hand. He is even smoking a pipe!
The Pop! The figure is 3.75 inches tall.

Vinyl Pop Figure

It comes in a window display box.

It is a limited edition.
In season 1956, the 7th episode, Popeye beats Bluto to date with the lovely Olive. Bluto sees that Olive is superstitious and changes the date to Friday 13th. He also goes on to rig several proofs that awful things would happen if she went out. 
Funko Pops Support Local Retailers
It would help your collection's worth if you considered collecting figures from the Specialty Series Funko Pops and started to look for those stickers. It's a win-win since every funko pop part of that series directly supports or promotes a local comic book store or retailer. 
We've compiled a list of some of the great online funko pop retailers that provide good packaging and shipping of funko pops at affordable prices as well. 
Now the question is, which Pop! Are you going for first? There's a lot to choose from, and we hope this helped you narrow that down.