Collectors damage their funko pops if they stack them incorrectly, and there's nothing worse than damaging a funko box. This article will share how to stack funko pops with pop protectors in both soft and hard cases. 
We will share what you should do and shouldn't do when it comes to stacking funko pops. Then, let us help you display your pops correctly and make them secure enough so that they do not fall. 
What are Funko Pop Stacks? 
Funko pop Stacks are hard plastic protector cases made for Funko POP boxed figures (3 3/4″). These cases for funko figures can stack against a wall using each weight from each to secure them. 
For example, you can fit funko pops within a bookcase and stack up to 3 to 4 tall. 
How High Can You Stack Funko Pops?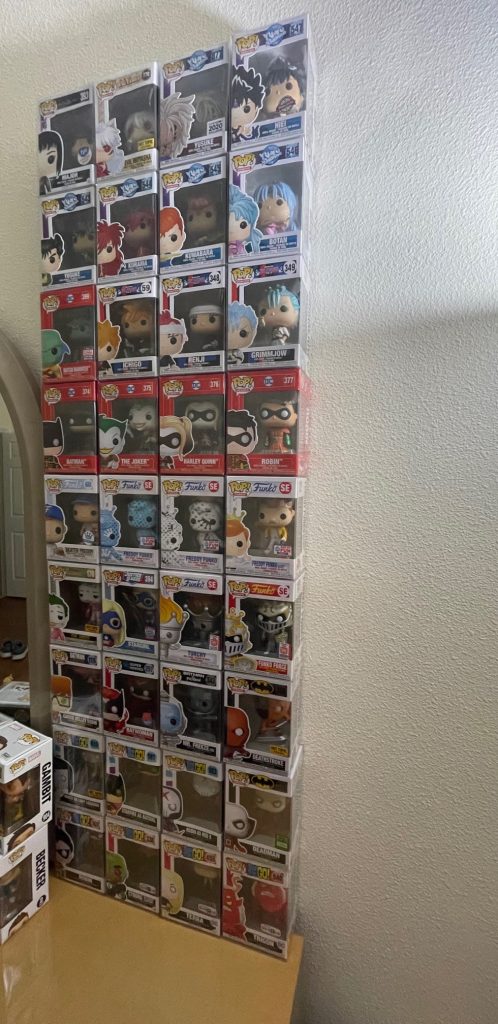 You can stack funko pops higher than you think. Most collectors recommend 5 to 6 with pop protectors; however, if you have a tall wall, you can securely stack up to 8 or 10, resulting in between 32 to 40 funko pops that can fit on 3 feet worth of wall. If you do not have a pop protector on the figures, we recommend not stacking above 4. 
Two Easily Steps For Stacking Funko Pop Securely
Put in a soft or hard case pop protector first. 

Determine which funko pops are heaviest and put them on the bottom of the stack. 
What To Consider When Stacking Funko Pops 
We wanted to provide a few guidelines to follow when stacking pop figures on your wall or shelving.
Using soft pop protectors will be far more effective than not using any pop protectors at all. When buying pop protectors, consider buying them in bulk upfront. Funko is constantly releasing new pops, and you'll find yourself buying pop pretty often. We share 5 Best Soft Pop Protectors For Collectors in more details.
Having them ahead of time so when they come in from being delivered, you'll be able to get that mint box into a protector insert quickly.
We once asked collectors how often they collect funko pops, and here were the results: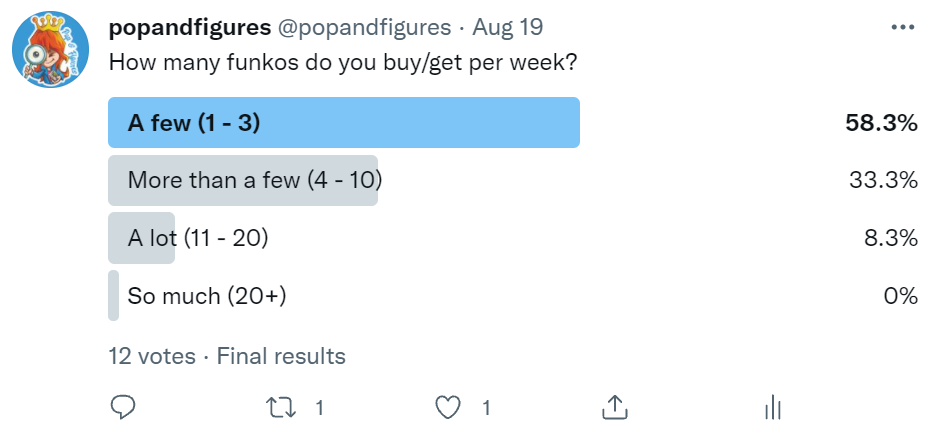 Keep these in mind to keep your figures safe, and remember to be careful as you go to those higher levels.
Make sure the wall you pick doesn't move 

Surprisingly enough, some building walls will shake if a door is closed or opened too hard. 

If you have pets make sure that they aren't on a wall that pets can access. 

Remember to put your favorite pops at the top because they will be the first you see. 

Organize each funko according to their pop line.
Which Funko Pop Protectors Stack Best? 
Malko Pop Protectors –

1 MM Thick Plastic. 

Funko Shop Pop Protectors – 

Acid-free PET Plastic, and are .3 MM thick.

PopShield Armor Hard Protectors – 

PopShield Armor Hard Protectors | 7 Bucks a Pop

, which has a 

Magnetic lid for a strong seal and easy access. 

EcoTek Pop Protectors – 

EcoTEK Protectors® – Quality Protection For Funko Pops

, which are 

Scratch Resistant Crystal-Clear PET Plastic. 
Consider size when protecting your pops as well. Some funko pops require special pop protectors because of their size. For example, 10 Inch pop protectors are also considered JUMBO size pop protectors. 
Make sure your Protector Case is Compatible with Funko POP 10 Inch. Here are the dimensions you should consider: 8.5 x 6.63 x 11.63 inches. 
You'll want 1 MM thick plastic to ensure maximum protection.
Which Funko Pop Protectors Stack Worst? 
When stacking soft protectors, you can run the risk of damaging funko pops due to the fall. For example, the funko could still become damaged if a soft pop protector falls compared to a hard case pop protector. 
While having a protector on funko pop is better than not having one, it's important to remember that soft pop protectors aren't completely invincible. 
However, soft protectors are more affordable than hard stack protectors. On average, you can get 100 soft pop protectors for $59.99, where one hard stack pop protector can cost $12.99. 
The drastic price difference explains why most collectors (like you) purchase the soft pop protectors for most of the collection and only purchase a handful of hard stack protectors for their grail pops worth $1,000 plus. 
Types of hard stack pop protectors 
Not all pop protectors are the same. Therefore, we wanted to share a compiled list of the type of pop protectors you'll find in the marketplace.
Our list shares types of only hard stack pop protectors because they have the highest level of durability when it comes to keeping your pops safe.
2-Pack Pop – Hard Stack Pop Protectors
Did you know that 2-pack hard stack pop protectors exist? We couldn't believe it either until we saw them available from a UK vendor called Akarri.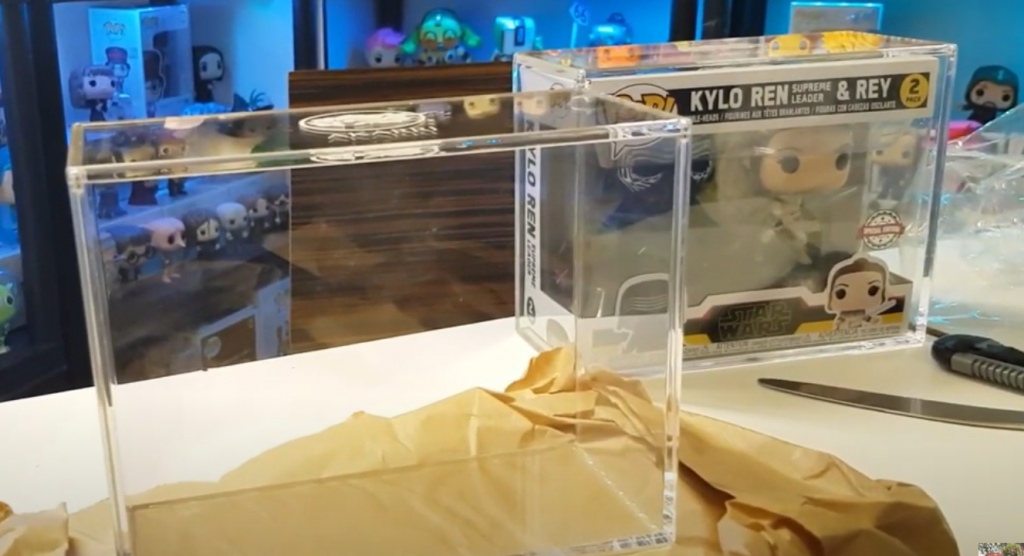 2-Pack pops are rare and exclusive! It would help if you kept them in a hard case whenever it is possible.
Watch this YouTuber (one of our faves) explain and show what they look like: 
The majority of collectors have at least one 2-pack funko pop in their collection. 2-pack funko pops are also called 'movie moment funko pops' because they bring characters together to make a scene.
For example, Batman's movie moment is with both Joker and Batman himself called Batman vs. The Joker – 80th Anniversary. 
 We wrote about some outstanding 2-pack funko pops in our  25 Best Funko Pop Movie Moments Ultimate Guide. 
Glow In The Dark & Bloody – Hard Stack Pop Protectors
Not only will a funko pop glow in the dark, but the entire hard stack case will also as well.
We believe funko will start to design its pop protectors with graphics and art to enhance the pop experience.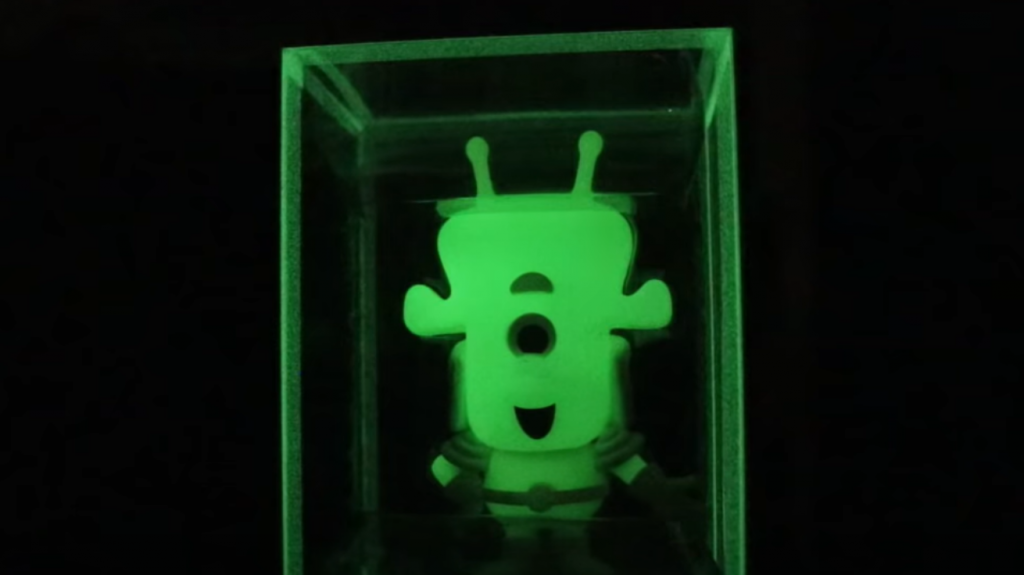 While the thickness for the bloody pop protectors comes in at .05 mm, and they aren't as thin as the glow-in-the-dark pop protectors, the additional graphic makes it especially exciting for horror fans. 
Do you have any horror funko pops you think will work perfectly in a bloody pop protector? 
Here's a great article on what a bloody pop protector looks like with grail funko pops in the inserts. Blood Splatter Protectors Are Killer For Your Funko Collection [Review] (bleedingcool.com)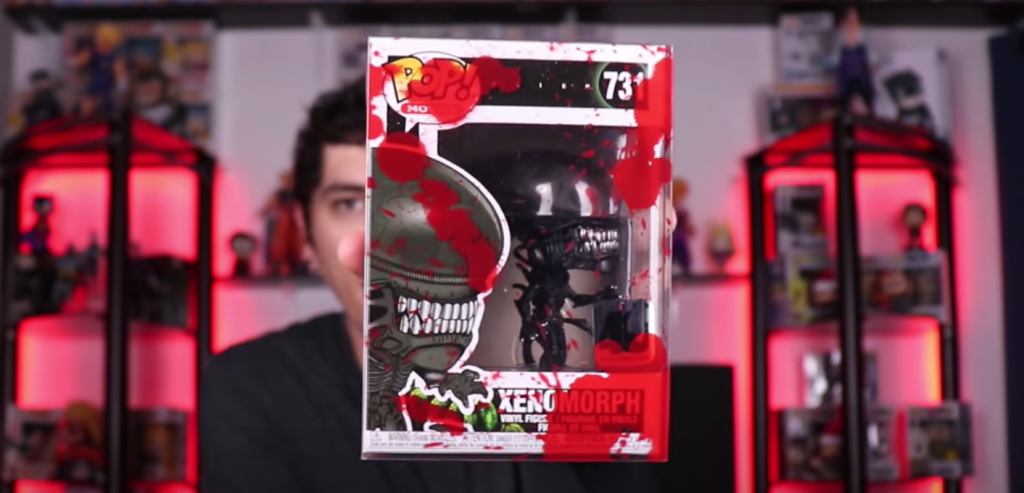 Watch this YouTube from Dr. Applesauce on the Glow in the Dark & Bloody Pop Protectors. He unboxes and reviews them, providing great commentary you'll enjoy.
Stack Funko Pops With Pop Protectors The Right Way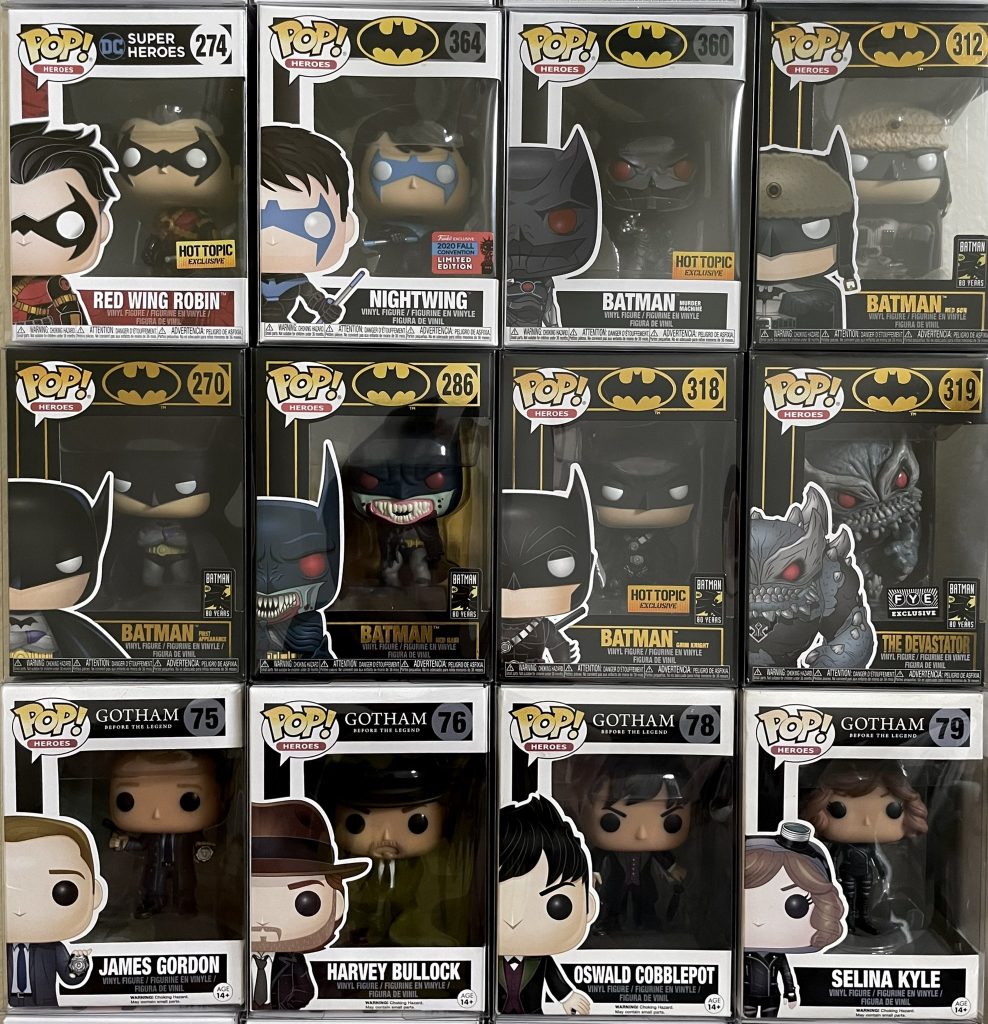 We hope this guide helped you better determine which type of pop protectors you should get and how to stack your pops properly, so they do not fall over.
No one likes when a funko pop stack falls, so keeping to an average of 5-6 pops per row works great and is safe; when you get to stacks of 8-9 pops per row, the risk increases, so be careful. 
If you enjoys this article, follow us on Twitter @PopAndFigures  for more funko pop new and memes.