Did you know you could make your own funko pop of yourself?
Funko announced the Pop! Yourself! the program, which gives collectors the ability to create a customized Funko Pop of themselves. We provide a step-by-step guide on how to Pop Yourself online without having to visit Funko's headquarters.
As many know already, collecting Funko Pops has become a global trend in the pop culture and entertainment world. Funko, an incredibly successful toy brand, has produced multiple statues based on popular characters from comics, video games, movies, TV, and other fictional characters in the entertainment world. You can also find Pops of your favorite professional athletes and celebrities.  
Why Are Customized Funko POps Popular?
Many collectors have been dreaming of having a Pop figure of themselves. Creating customized funko pops continues to excite the community more than ever before. Customized funko pops are popular due to all the characteristics someone can choose from and the fine details the pops can have. For example, you can determine your figure's hair, body type, face, and accessories.   
According to the company, the mini Pop! factories are located at the headquarters in Hollywood and Everett. These mini-factories are kiosks that display Funko pieces. You have the chance to pick the hair, pants, color, and more characteristics of the figure. When you visit these kiosks, you must fill out order forms to get your piece selections. After completing the forms, you hand them over to the POP Factory counter to be processed.
Once 'POP! Yourself' Builder finishes creating your customized figure, the company contacts you to collect your personalized figure in a tailored box. The personalized Funko Pops cost around 25 USD. However, for now, collectors can only make a Pop if they visit these kiosks. But, Funko is working to ensure that fans can do this from the comfort of their homes.
How To Make Your Own Funko Pops (Step-by-Step)

By now, you must be wondering- how can you create your own Funko Pop? Well, it is easier than you might think! You will find a handy tool on the Funko site known as "Get Popin" that makes the entire process effortless.
The Pop Yourself tool has a five-step process that you must follow to create your perfect Pop!
Here is a description of the process:
To begin the steps outlined below, you must visit Funko's Pop! Yourself official site and click on the "Create New Pop" button. It will redirect you to the "Design Your Avatar" section, where you can customize your Pop! Save your Pop once ready. However, you must have a Funko account to save your Pop.
Step 1:
 Select your preferred 
Body
 type.

The first step involves choosing a body type that best represents you. Each body type comes with different skin tones. Therefore, select your skin tone. Remember, you create a "Mini You"; therefore, make sure your choice will result in a mini you!
Step 2:
 Choose a
 Face
that best reflects your attributes.

Once you have a body type that best represents you, it's time to work on the facial appearance. There are different faces you can choose from, including those with eyebrows or facial hair. It will help to select a face type that will make the figurine look much like you.
Step 3:
 Select your signature 
Hairstyle
.

Hairstyle is a critical attribute that differentiates Pops. Do you have a signature hairstyle? Are you an Afro person, or you shave your head bald? Well, whatever your preferred hairstyle, it will be critical that your Pop reflects that. You can also choose different hair colors, including red hair, blonde hair, pink hair, and gray hair, among other variations. Deciding on which funko pop head you'd like is a big decision; make it count!
Step 4: 
Choose an
 outfit
that brings out your Pop's character.

You can choose multiple outfits, so you have to be sure what you are looking for; otherwise, you could easily be confused. For example, you can go for a casual t-shirt and jeans outfit or a more formal look with a tux. However, if you are feeling more like a superhero, you can go for a superhero costume.
Step 5:
 Select an 
Accessory
that suits your character.

Finally, you have to pick an accessory to finalize your Pop's looks. The "Pop Yourself" tool allows you to choose up to two accessories. Depending on your character you are trying to bring out on the Pop, you can choose video game controllers, coffee cups, a microphone, or a company mascot, among other accessories.
Once you complete the five steps above, your Pop is ready for manufacture. One last additional step allows you to put your figure into context by adding an appropriate background.
You can get additional tips on how to make your own Funko Pops by watching this video.
Why Pop Yourself?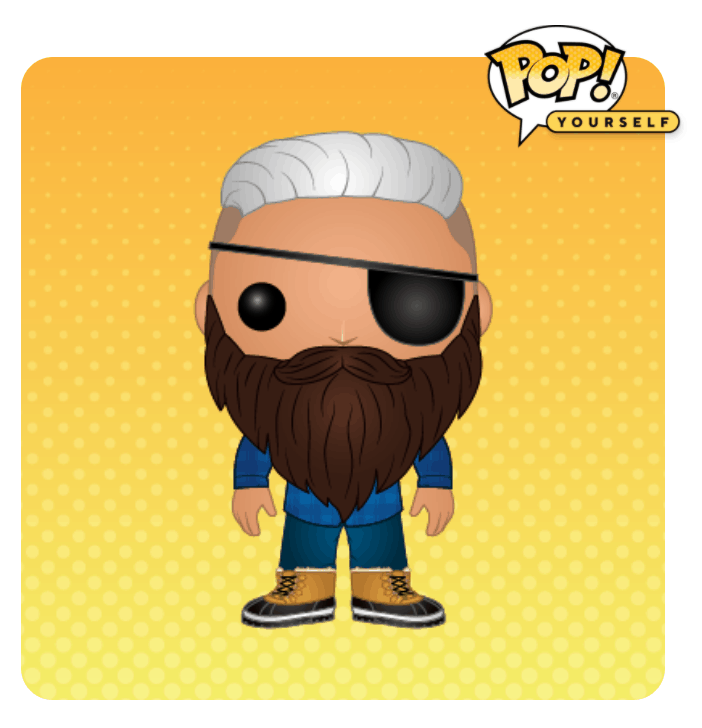 The next big question is – why create my own Funko Pop? Well, several reasons push collectors to make their own Pops. Some reasons why you should Pop yourself include:
They form an excellent gift for a loved one. If any of your loved one's birthday or special celebration like an anniversary is coming soon, you can surprise them with a customized Pop. Even though you cannot create a replica of themselves, you can incorporate certain features that point to them directly, like their hairstyle, facial hair, outfits, and accessories.
It is an excellent addition to your collection. It is fun having a Pop of all the characters you love. Get a greater sense of pride when it's next to a top-rated pop like Black Panther or something. 
It's yours for you. You can think of it as a personal exclusive, a Pop that no other collector can have in their collection.
It's economical. Pop yourself figures will cost you around 25 USD, which almost half the price of other popular Pop figurines. Moreover, there are sufficient pieces to pick from to make your Pop as customized as possible.
What You Should Know About Making Your Own Funko Pops
By now, you should be excited about creating your Pop! First, however, there are several things you should know about making your own Funko Pops. They include:
At the moment, you can only make the physical Funko Pop of yourself from the company's headquarters in Hollywood and Everett. When you get to the DIY Stores, you pick the different parts your Pop will have per the forms you fill. The company employees then assemble your Pop figurine within 10 minutes.

If you are far away from the headquarters, you can use the online "Pop Yourself" tool to create your avatar. Then, you can share your design with other collectors in your circle for their views.

According to Funko, you will be able to make an order for your own Funko Pop online.
Customized Funko Pops are Growing in Popularity
It is every collector's dream to have their Pop standing alongside other famous figures. This dream can become a reality, especially for those living near the headquarters, accessing the mini-factories.
If you live away from these stores, don't despair, Funko has promised collectors that soon you will be able to place your order online. In the meantime, you can refine your Pop using the "Get Popin" tool available on the Funko website!