We often get a question: 'are flocked funko pops rare?' and yes, indeed they are. However, a flocked funko pop can surprise you when you first lay eyes on it. 
It's still pop vinyl; however, it has a coating of 'fur' like material that covers it. It's a variant similar to glow-in-the-dark funko pops or metallic funko pops, which we've written about before. 
We all love Funko Pops, but there are many types or qualities of different Pops. 
Diamond Flocked Funko Pops 

Exclusive Funko Pops 

5000 Piece Virtual Con Funko Pops 
There are so many different kinds that it's sometimes hard to keep track of, and it's even harder to know which are rare and which aren't worth much. 
Will dig into what makes a flocked funko pop rare and which flocked funko pops you'll want to add to your collection.
First, what is a Flocked Funko Pops made from, and how? We'll explain everything that you need to know about Flocked Funko Pops below.
What are Flocked Funko Pops? 
Flocked Funko Pops have a different texture that looks fluffy since standard Funko Pops are PVC vinyl, which is essentially plastic. However, a flocked pop has an additional layer of soft and fuzzy fibers. Hence, Flocked Funko Pop use a special coating similar to wool.
Do all of the Pops have a Flocked version? No, as mentioned earlier, each Pop character has a unique look like the Cookie Monster has fur, in which case they would make a Flocked version of it. However, if you go for Vegeta or Goku, making a Flocked version of them would ruin their look.
Why is Flocked Funko Pop so expensive?
Flocked Funko Pops are expensive because:
It requires extra costs to make them look fluffy and more realistic.

Flocked Funko Pops are uncommon, and there are fewer releases of such versions.

Flocked Pops are exclusives only. You can find them as exclusives of different retailers like Amazon and others.

Some flocked Funko Pops are only Chase variants as well.
These pops have a massive difference in appearances and texture-wise when compared to their standard versions.
Are Diamond Flocked Funko Pops Real?
Diamond Funko Pops have a unique shiny look because of their different and glittery texture. Unfortunately, Diamond Funko Pops are super rare and hard to get your hands on, and that is why they are expensive. Diamond and Flocked Funko Pops are two different versions of Funko Pops, and you can identify them by the sticker on their box.
Which are New Flocked Funko Pop 2021? 
If you want to have the latest Flocked Funko Pops with the newest arrivals, then we have got you covered. Here is the list of new Flocked Funko Pops of 2021:
Disney Lilo & Stitch – Stitch Flocked Exclusive #1045

Space Jam: A New Legacy – Taz (Flocked) – Walmart Exclusive

Sonic The Hedgehog – Classic Running Hedgehog Flocked (Exclusive) #632

Godzilla vs. Kong Pop! Vinyl – Flocked Kong with Battle Axe Exclusive

Disney Raya, The Last Dragon, Flocked Ongis, Target Con 2021 Limited Edition Exclusive #1003:
Which is better – Flocked or Diamond Funko Pops? 
Flocked Funko Pops are fluffy and cute, whereas Diamond Funko Pops are shiny with glitter all over them. On average, I would go for Diamond Funko Pops because they are rare, but some Flocked versions surpass the Diamonds. Like Winne the Pooh's Flocked Funko Pop is looking way better than the Diamond version, but in the rarity part, Diamond ones are better.
List of the All-Time Favorite Flocked Funko Pops
Here is a list of the all-time favorite Flocked Funko Pops Rare Figures:
1. Dragon Ball Z – Flocked Beerus (Funimation Exclusive)
#514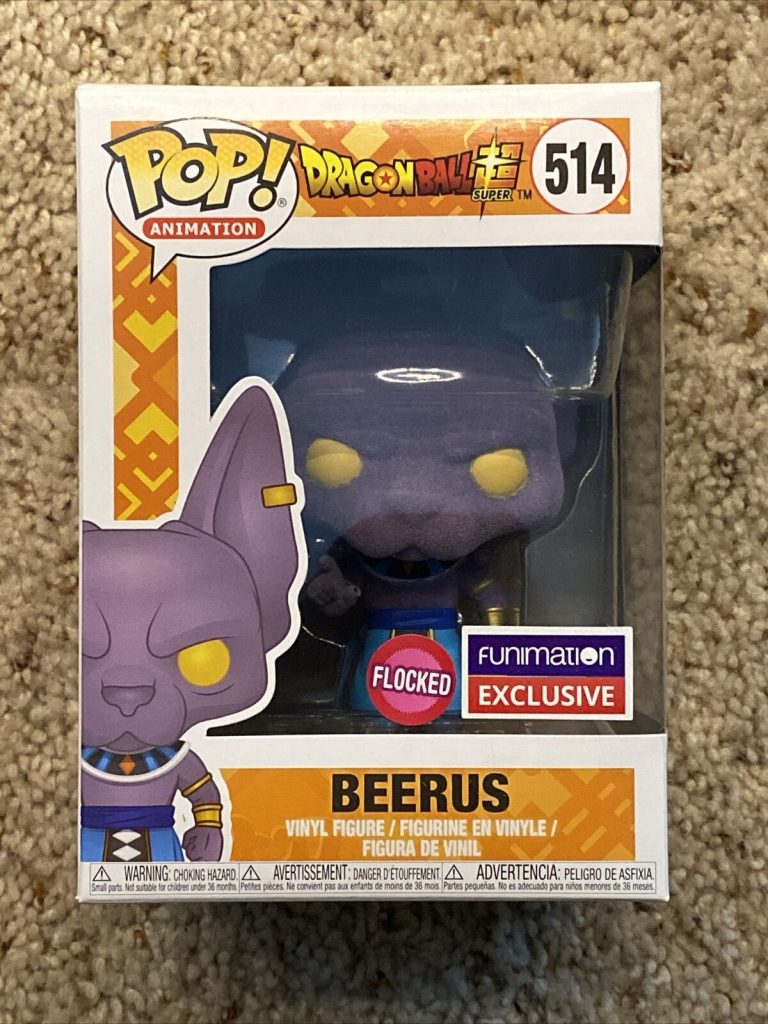 Beerus, the God of destruction, is a super-powerful character that even Goku and Vegeta could not beat together, let alone Goku himself. Beerus not only looks like a cat but also acts like one by constantly grooming himself and loves long naps. Moreover, he is hot-headed and gets angry about trivial things. When Goku powered up to Super Saiyan God to fight Beerus, they were about to destroy the whole universe, but luckily it didn't happen. But with Goku's constant determination to train and be vital to safeguard the universe, we might even see him surpass Beerus. However, even if that did happen, Beerus would be unaffected, because as he says, "Before creation… comes destruction."
2. Naruto Shippuden Kurama Flocked Exclusive #73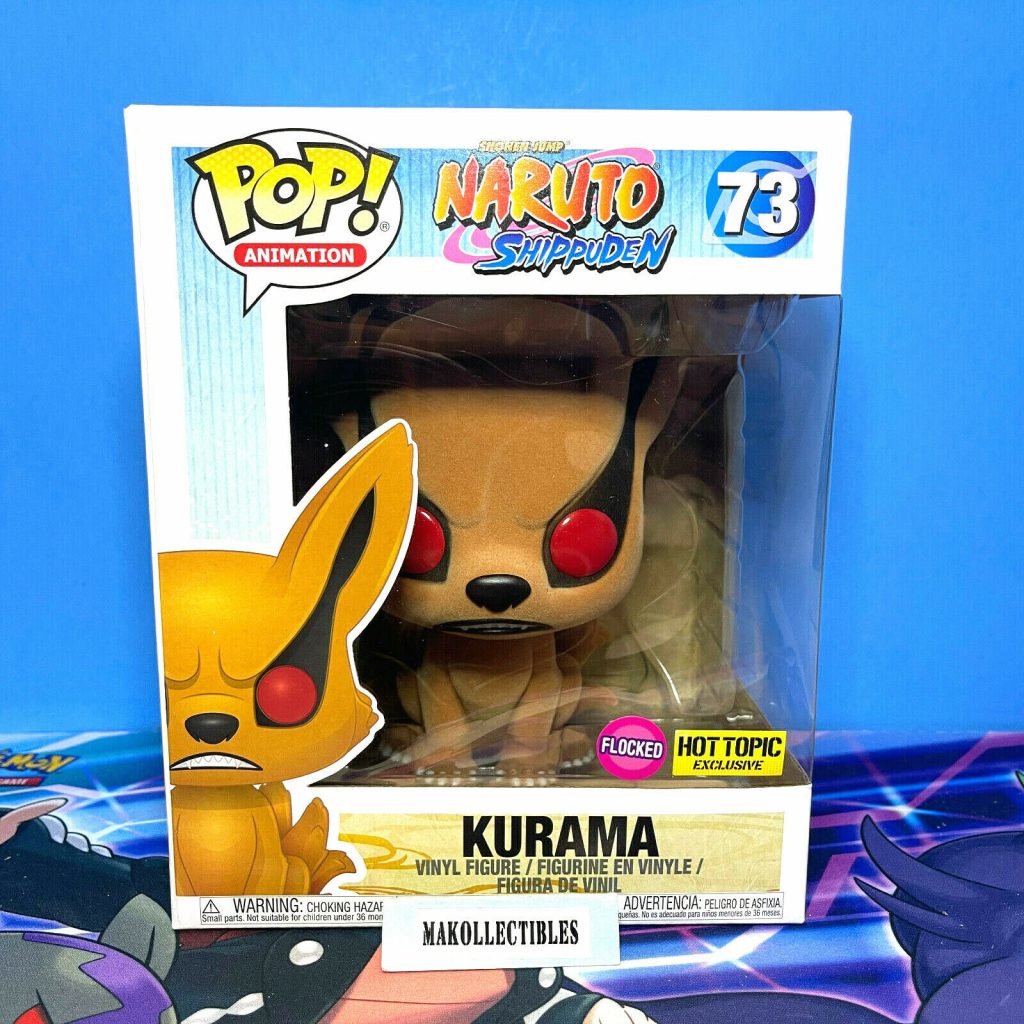 Kurama, the Nine-tailed beast, who despises humankind because they lust for power, is mighty. Many people wanted to use Kurama as a tool for war by capturing it and then controlling it. However, luckily the beast became sealed inside a few characters called Jinchūriki. Therefore, many could not control the Kurama, but Naruto's perspective and love affected it. "Destroy everything… Erase everything that hurts you… Entrust your heart to me… I will save you from your suffering." Kurama said to Naruto as Naruto proved to be a person worthy of Kurama's power.
3. Grumpy Pikachu Flocked Angry Pokemon Vinyl Figure #598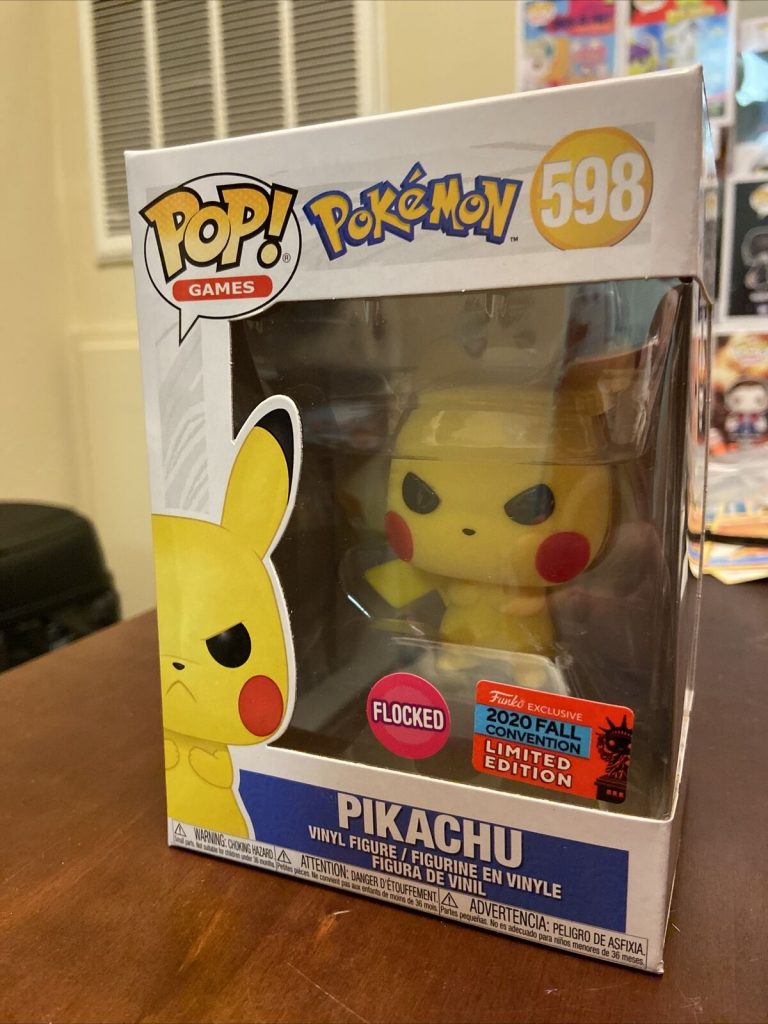 Even if you don't watch Pokemon, you must know Pikachu, some people don't even know Ash, his owner, but they know Pikachu. Pikachu is an electric-type Pokemon who later evolves into Raichu. Pikachu loves ketchup, berries, and apples. A fun fact about Pikachus is that they recharge when they sleep. Moreover, people believe that Pikachu should be free, but Pikachu doesn't want to leave Ash. In one scene, Pikachu and Ash find a group of wild Pikachu. As Ash sees that Pikachu is happy, so he releases him. But Pikachu swiftly jumps in Ash's arms, letting him know that he is already satisfied with him.
4. Dr. Suess The Grinch Who Stole Christmas – The Grinch [Flocked with Roast Beast]
– BoxLunch Exclusive!
#14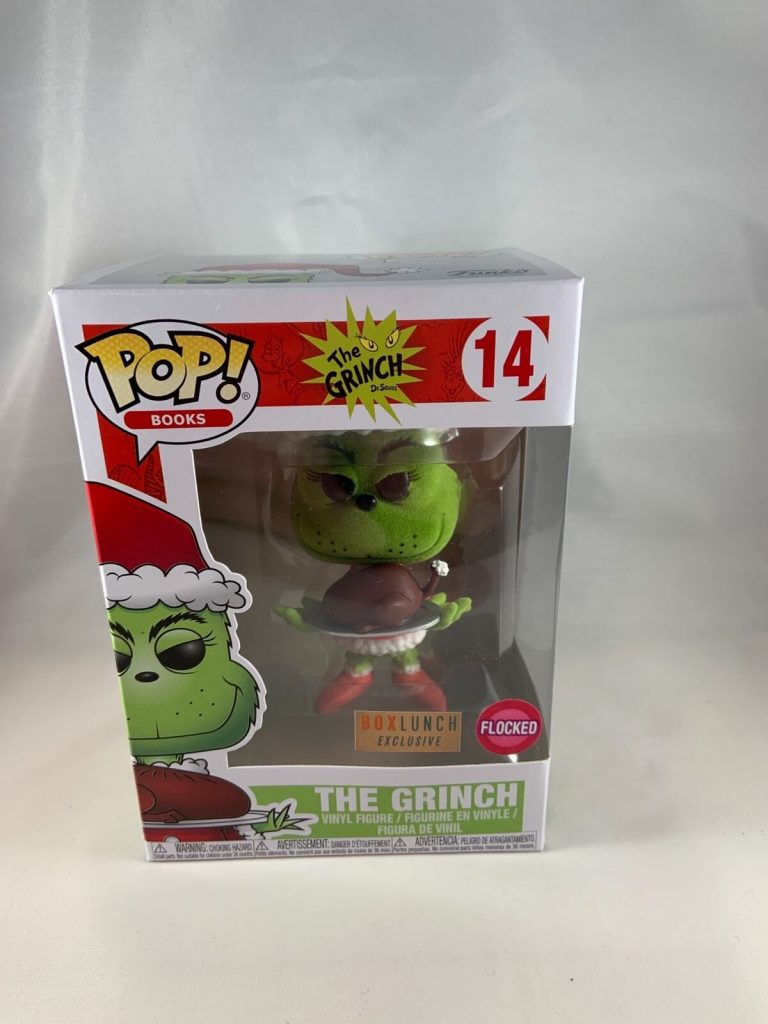 Grinch is a person who has a heart about two sizes too small who hates all. Grinch continues to terrorize Whoville and ruining their festivals. However, he doesn't hate Christmas; instead, he hates the sight of happiness in Whoville. The only companion of the Grinch is a dog named Max. Even though Grinch doesn't treat his pooch fairly and wants to parade him around like a reindeer, Max stays loyal to him. Although the Grinch is often cruel and up to no good in How the Grinch Stole Christmas, he starts to change and becomes a kind and loving person. Although the transformation is funny with dialogues like "HELP ME…I'm FEELING."
Where to buy Flocked Funko Pops? 
Flocked Funko Pops are all exclusive, and here are the places where you can get the most exclusive Funko Pops:
Conventions

Amazon

Funko Shop

Target

Books-A-Million (BAM)
Flocked Funko Pops are uncommon and exclusives, and that's why they are harder to find. However, each Pop has high resale value and is a fabulous addition to your collection. Now that you know all about Flocked pop figures, it will be less tedious for you to find the next new addition to your collection.
Also, check the value of your flocked funko pops at Pop Price Guide. For example, you can see the Flocked Naruto Kurama pop value.
Flocked Pops Increase In Value Over Time 
 As mentioned earlier, flocked funko pops are a different type of pop than usual pops. They can be hard to find and challenging to get their hands on; however, it's best to keep them for a long time when you do. 
We've seen flocked pops go from their average price of $10-$12 to $30-$45, depending on which ones you find. It's always nice when you can sell funko pops quickly and profitably. It's even better when we know that it's due to the characteristics of the figure and not just a sticker. 
Vaulted funko pops also increase over time, similar to flocked funko pops. We wrote about it in this article here: Do Vaulted Pops Increase in Value Over Time?