Does your funko pop fall over or not stand up correctly?  We understand the pain it is when funko pop stands don't work anymore or as intended. Some funko pops are tricky due to their pose or built that way. They quickly fall because of small movements, vibrations, or push when displaying them on a desk or cabinet. 
It's important to prevent harm to the figure by replacing funko pop stands when they wear out. Understanding where to find replacement stands and which funko pops come with stands is essential in fixing this problem. Glues, tapes, or blue tack are great examples of ways to apply the stand to the figure. 
Learn how to fix a funko pop:
Here we will explain all you need to know about these Funko stands in this article. So let's dive in and start with the basics: 
What are Funko Pop stands?
Funko Pop stands are platforms for your figures to stabilize their feet and secure themselves to be displayed. These stands provide the necessary support your Funko Pops need to remain still and up straight (forward-facing). Wobbly and unbalanced Pops make for a poor-quality figure display, and most collectors want to avoid that. 
Newer funko pops use stands to show off flying or jumping poses with their big heads and small bodies.
Each stand has one or two small pillars or connectors. 
These connectors get inserted into the feet of a Funko Pop. Hence, making the Funko Pop more stable and saving them from any fall damage. Although that's basically how stands function, some stands allow you to place them in any wall, which means you do not need to build a shelf. Just plug the stand into a wall and place your Funko on top of it, and voila! Now you have stable Pop on display without a shelf.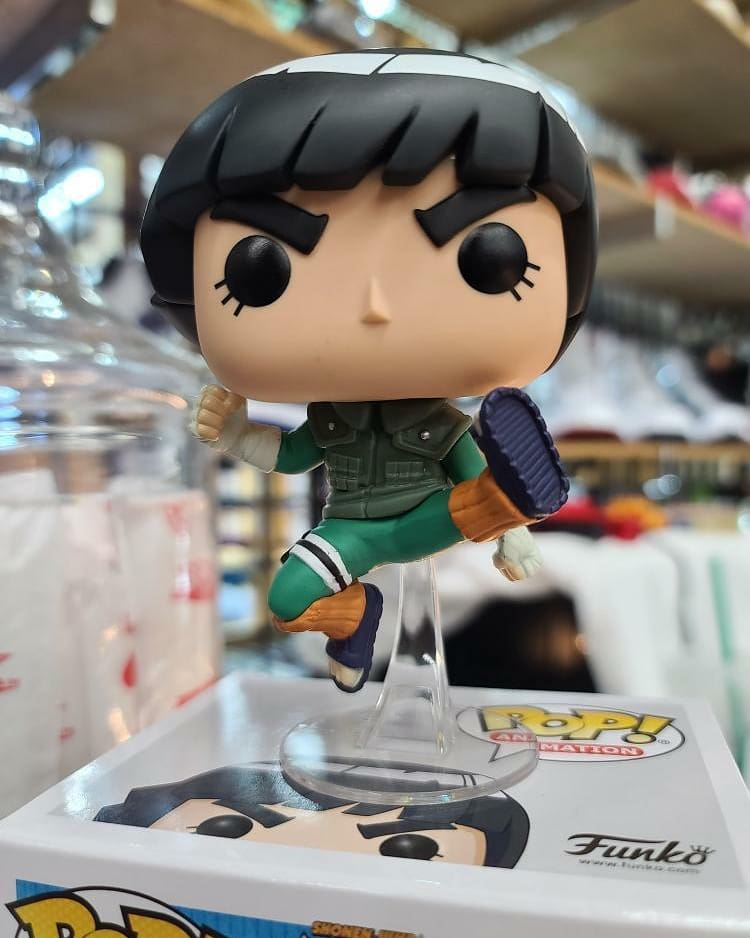 Only some Funko Pops have holes in their feet which means they need a stand or a base to be stable. These Funko Pops come with stands. However, sometimes you will find a Pop that requires a base having no holes, and those which don't need bases have holes in their feet.
Moreover, if the Funko Pop has a flying or a jumping pose, they have unique stands. These stands are attached to the back of the Funko instead of their feet.
Do All Funko Pops come with stands?
Funko Pops come with stands but only those that have clear chances of falling. Like a superman in a flying pose requires a stand. Otherwise, it will drop. So some do come with stands, but those seemingly stable Funko Pops do not. Hence, some Pops require you to buy stands.
Not all Funko pops not come with stands. Only a select few do and it is because some Pops are stable enough that they seemingly do not require assistance. However, small vibrations or even light touches will result in them falling. Hence, they need you to buy stands to help them be stable.
Why do some Already have Them?
Some Funko Pops come with stands so that you don't have to buy them. These pops are usually those that require a stand. Otherwise, they will fall. That may be because they are in a flying pose or have unbalanced bodies. These stands are enough to hold down your Pops, and usually, you will not need to buy a separate one. However, there are custom stands if you need to add a new touch to the Funkos.
How to use a base to help stand a Funko Pop with no holes for pegs?
Your Funko Pop keeps falling, and you have to lean it against the wall to prevent it from falling, and it does not have holes for the pegs present in the bases? 
Well, there are a couple of solutions to that:
1. Take a stand or base with no pegs.
2. Use any of these glues or tapes: clear museum putty, sticky putty, Blu Tack, or scotch tape.
3. Attach these to the bottom of your Funko Pop and then place them on the stand.
If you use scotch tapes, you usually want to cut them and place them in the direction in which the Funko Pop falls. If it falls backward, put it on its heels and do the opposite for the other direction. It does take a while to place enough scotch tape, but it is incredibly worth it. Moreover, it is so thin that it will not be visible. If you have a double-sided tape, it will also help your Pop stay attached to the stand.
Which Funko Pops come with stands?
Tons of Funko Pops have display stands with them. Some Funko Pops with stands are:
Bruce Lee #592 with a flying kick pose

X-Men Rogue Classic Flying Funko Pop Vinyl Figure

Superman Flying Funko Pop

Inspector Gadget Flying Funko Pop! Animation Series 3.75-Inch Vinyl Figure

The Falcon and the Winter Soldier – Captain America (Sam Wilson) Flying Vinyl Figure

Disney: Toy Story 4- Buzz Lightyear (Flying) Pop

Funko Marvel Captain Marvel – Glow in The Dark Flying Captain Marvel (Target Exclusive) #433
Where to buy Funko Pop stands online?
If you have misplaced your Funko Pop stands, then where you can buy its replacement:
Funko:

Why go to third parties when you can get it officially?  

Funko sells stand bases themselves for pretty reasonable prices.

Amazon:

 It is one of the best places to buy and sell almost anything. You can also find many Funko Pops and their accessories, including Funko Pop, stand with a peg, or simple Funko Pop stands. If you go to this website, we recommend buying from the

 LITKO store on Amazon

.

Etsy:

 Another great website with a wider variety of Funko Pop stands than any other website. Moreover, you will find a light-up wall hanging floating LED stand, Pop vinyl plastic stand, and stands for your Funko Pop boxes as well.

630laser:

 630laser is a brand which you will find on other buy and sell websites, but it is best to buy directly. This brand sells a lot of high-quality accessories related to Funko Pops, including stands.
These are our three best recommendations to buy Funko Pop stands.
Pros and Cons: What Collectors Need To Know
Advantages of having a pop stand:
LED stands for Pop figures makes them look cool.

Funko Pop stands with peg assists wobbly and unstable Pop figures to be stable.

Shelf Stands to add the bonus of not requiring a shelf to show off your collection.

Stands and bases make your Funko Pop stand out and look better. 
Enhence Your Display using Stands For Funko Pops
Overall having stands is a fun, creative, and helpful idea. They add a unique look, make your Funko Pop stand out, and stop them from falling.
However, there are a few dis-advantages of having pop stand:
Weak pegs of stands result in breakage of them. If inside a Funko Pop, they may get stuck, and hard for you to take them out.

Stands without pegs are not attached to your Pops. Hence, moving Pops and then the stand is easy but irritating.

Quality of stands matters a lot because they may wear off the color of your Pop's feet or get scratches on either themselves or the pop.
That's all there is to Funko Pop stands. So now you know what Funko Pop stands are, what they are used for, where to buy them and how to fix falling Funko Pops.