Everyone loves Spiderman, and no collection is complete without its action figures. We want to help you find cheap Spiderman action figures by looking at what funko offers since they are so affordable. Did you know? Spiderman is not just the people's favorite but also the creator Stan Lee's. 
There's a debate between fans about who's the best Spiderman actor, and Tom Holland wins due to his youthfulness. Read more about who's the best Spiderman actor. 
Hence, if you are a Spiderman fan searching for the best funko pops, you don't have to search all over the internet to find some rare and best Spiderman funko pops. 
Cheap Spiderman action figures list 
We have prepared a list of the 10 best Spiderman funko pops, which will hit you with a sense of nostalgia as soon as you lay eyes on them.  Why funko pops? Because funkos are collectibles just like action figures, and they happen to be a lot cheaper and more affordable.  
Let's dive in: 
1. Red Goblin Marvel Nycc 2020 –
#682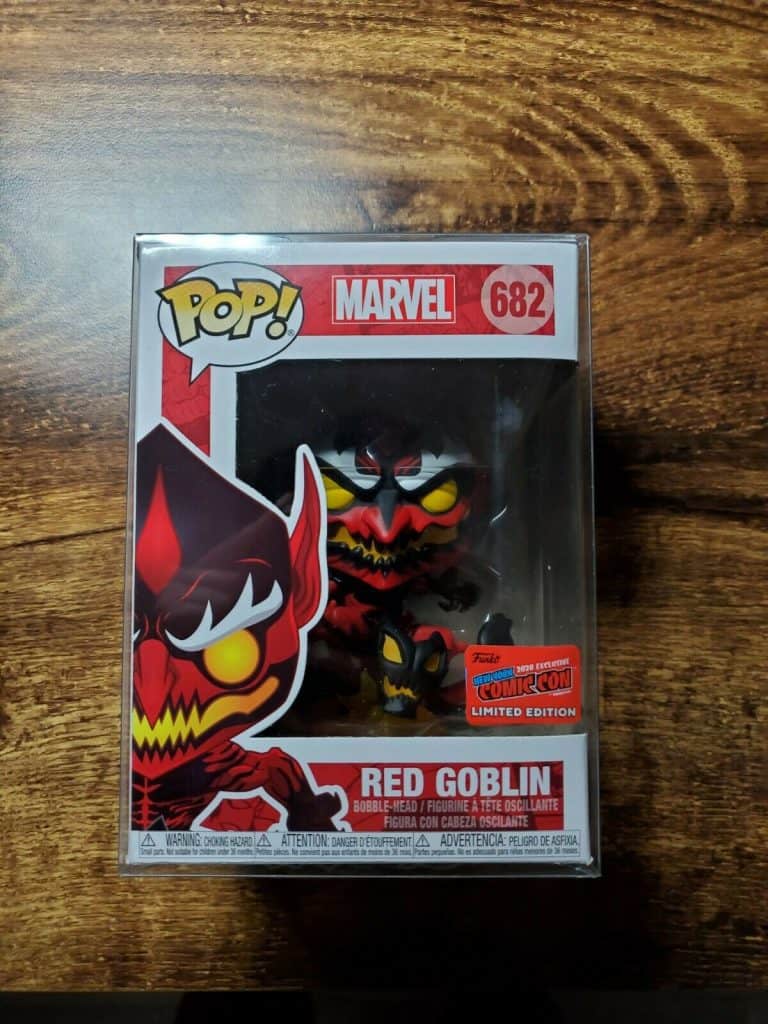 Red Goblin is the perfect way to spice up your collection of spider man funko pops. After the alliance with the carnage symbiote, this character has turned into the most frightening red Goblin that will terrorize your funko pops if you're not careful.
"No putting off to tomorrow what I can slay today." 
This famous line of Red Goblin from the Spiderman comic suits this villainous pop well.
This scary Red Goblin is an upgraded version of Goblin Formula user merged with a symbiote. Red Goblin has tons of new abilities with decreased number of weaknesses. 
One of the best upgrades is that Spider-sense no longer works on it, and Spiderman does not know where Red Goblin will attack or what he will do. 
Being 3.75 Inches, this Red Goblin has taken the world by storm. One of many cheap Spiderman action figures perfect to add to your collection to look complete—nothing like a scary-looking Red Goblin that would attract the eyes of the onlookers. 
2. Spider-Hulk 6 Inch –
#374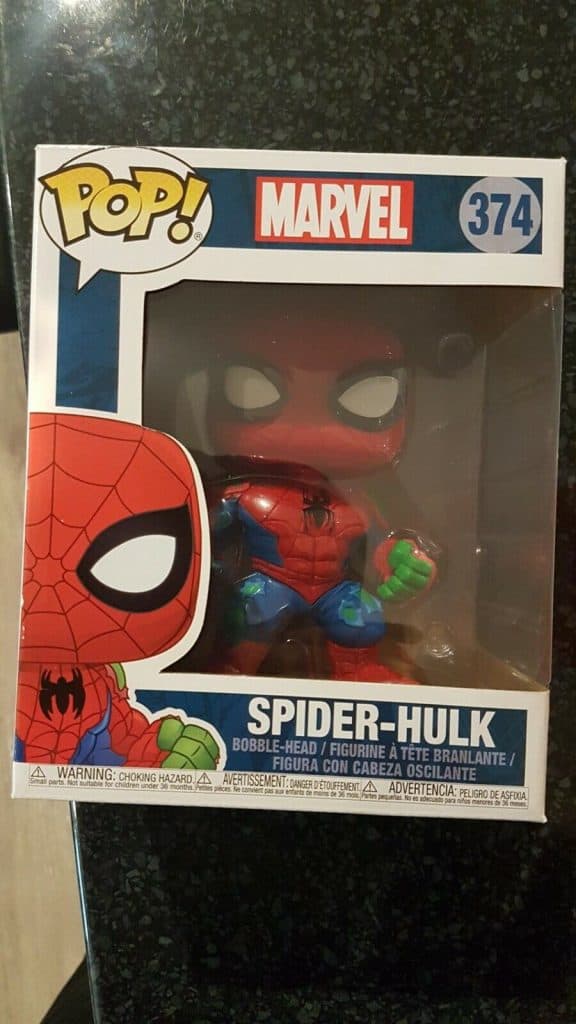 This 6-inch big Spider hulk is the best combo of marvel characters which delights the spider man and hulk fans. It is the most pleasing combo of two characters meshed together. 
It is the only time Spiderman fans will get to hear Peter Parker say "Spider Smash!" or perhaps broken English "Why puny men try to hurt Spider?" Spiderman, with his super-speed, web-shooting wrists, and super strong senses mixed with hulk's superhuman strength, stamina, and super healing ability, this character has made a place in the hearts of the collectors. Hulk Smash! 
3. Spiderman 2099 – 2021 – SPrint Convention –
#81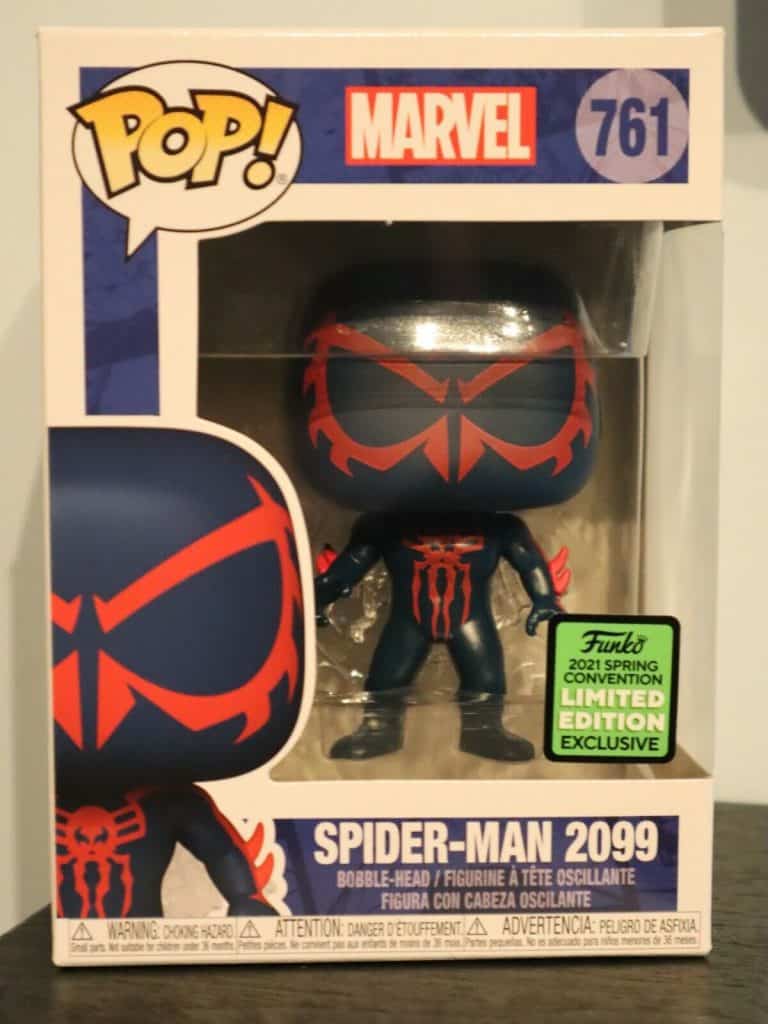 This navy blue-colored vinyl-made funko pop of spider man in window box packaging is exciting, and a lot of collectors desire to add it to their collection. It is elegant and with a unique appearance. 
This vinyl-made figure is a must-have for any collector. It has a sheer-looking invisible cape that completes its look as the most delicate pop in the world of spider funko pops. 
Miguel O'Hara, a young person with genius-level intelligence, turns into Spider-Man 2099. This superhero is by far one of the most memorable ones. 
With all the time traveling and fighting future villains, we can't give this hero enough credit to save the world.
All of which was not easy alone, and he lashed out at Peter Parker, "You left me to fight all those shocking robots so you could change COSTUMES?" 
4.  Spider-Man Homecoming New Suit – Hot Topic Exclusive –
 #221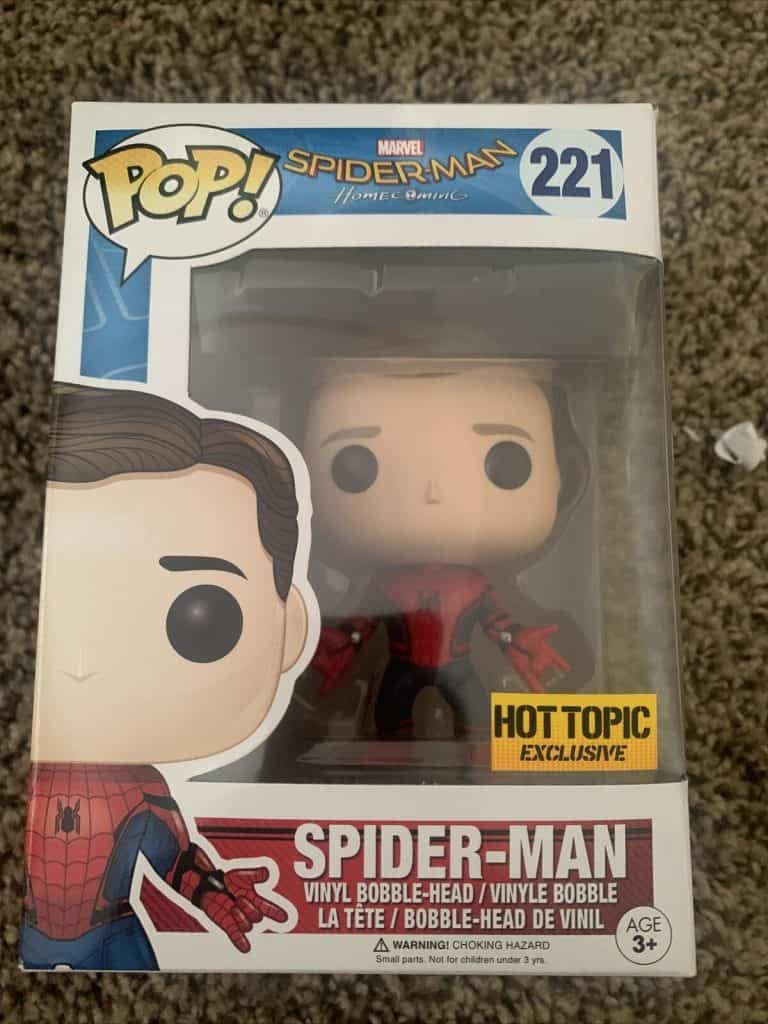 Homecoming fans have the perfect opportunity to bring this vinyl-made funko pop back home and add diversity to their collection. 
But, of course, Marvel couldn't be complete without Spiderman, and these funko pops are perfect for Spiderman fans to beautify their living space. 
Fans loved the movie as they saw spectacular character development and some heart-melting scenes.
Even though Peter wanted to join Avengers in the end, he turned Tony down to help people by saying, "Friendly neighborhood Spiderman. Somebody's got to look out for the little guy, right?"
5. Spiderman Symbiote Suit – Gitd Funko Shop Limited Edition –
#725
This glow-in-the-dark Spiderman in symbiote suit is a limited edition funko pop. Be sure to get it before it runs out of stock. It certainly is a kind of funko pop that would add jazz and glamour to your collection. 
Funko pops one thing, but glow-in-the-dark funko pops a whole different story. The spider's eyes and his suit lights up blue in the dark make it look so cool!
 Imagine walking past his blue, glowing eyes at night, and it would surely make you happy that you bought this neat piece. 
Spiderman Symbiote is super cool, but there is a dark side to this suit which Peter had to defeat. 
As Peter in the Symbiote suit said, "This city has a protector… A lethal protector," which perfectly summarizes the suit's good and bad side.
6. Iron Spider – Chrome – #440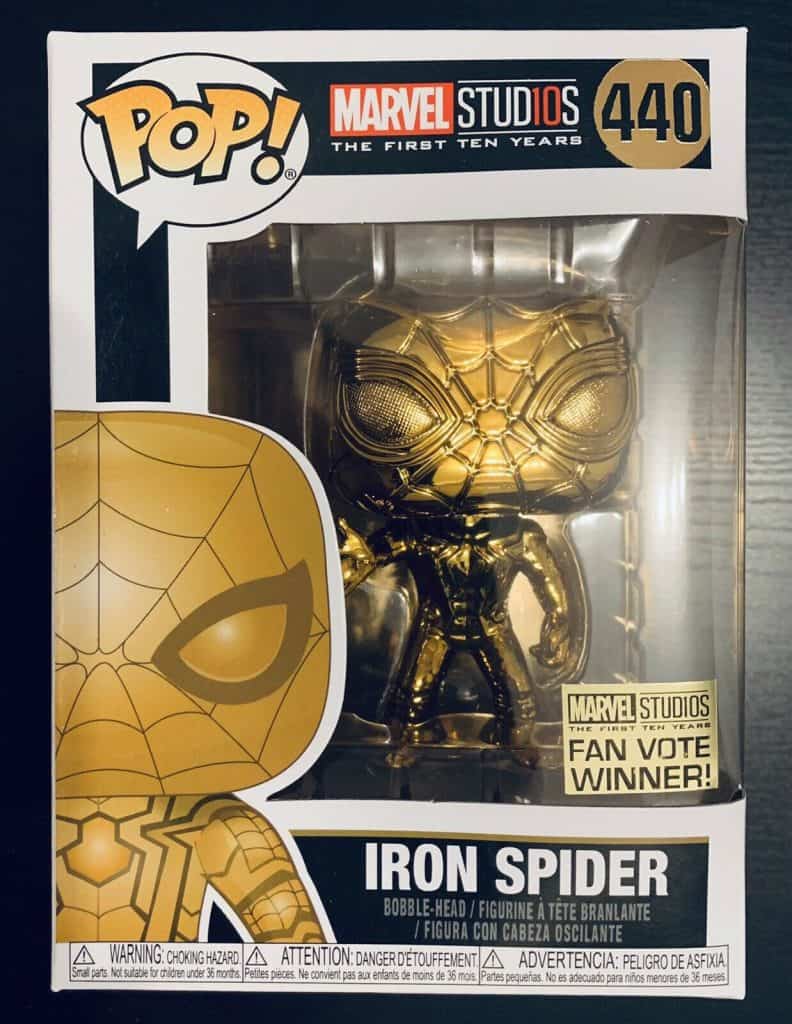 In the chrome line, this Iron Spider adds glamour and charm to the collection of funko pops. It shines with glam and makes the collection complete. 
Iron spider is new and unique, and it contributes beautifully to your collection of spider man action figures. It has that grandeur look to it which would make your space look stunning.
Iron Spider suit is one of the best suits Peter Parker has worn that grant him astonishing powers which he can use to do amazing feats. 
The spider legs built into the suit are cool but super-useful, along with the Neural-Reactive Interface. One memorable scene here is when Parker first tries the suit and exclaims, "Mr. Stark, it smells like a new car in here!"
7. Peter Parker – SPiderverse – #
404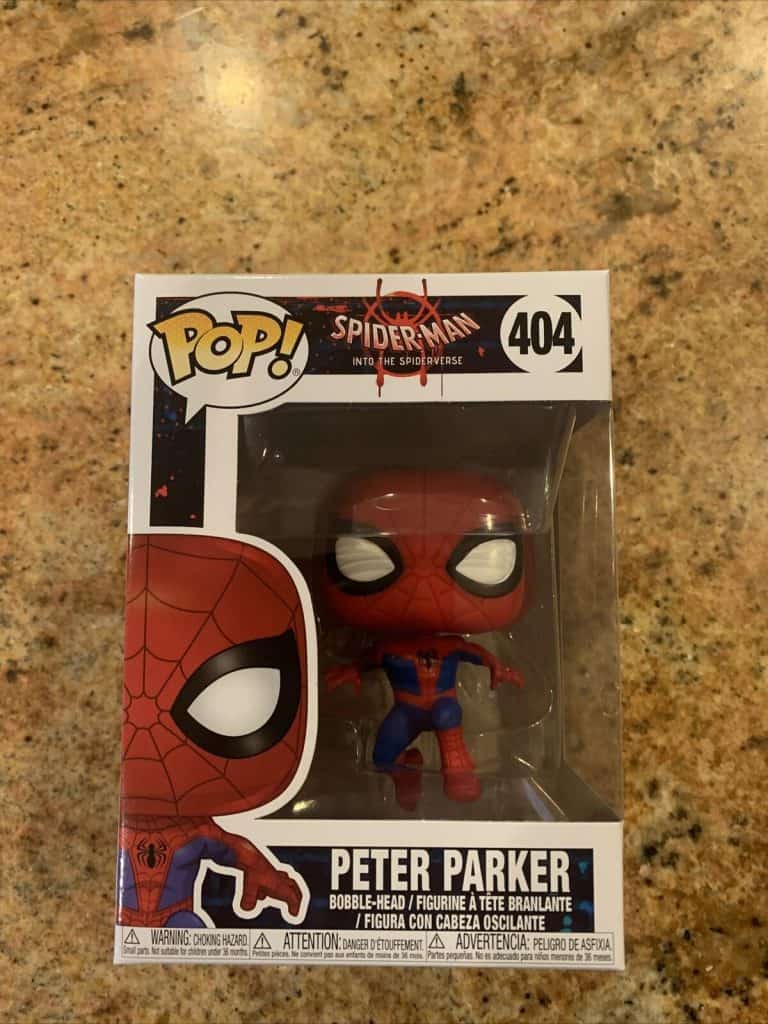 Peter Parker in this standard spider man suit is a must-have for a collector, and it should be the first pop that you should buy. This decent funko pop lays down the foundation for the others to add on. 
One of the best cheap Spiderman action figures on the market. Moreover, it one of the most renowned ones in Spiderman pops because of its original suit and design. 
The stand at the back lifts the spider off the ground, and it adds a twist to the plain pop and makes it more dynamic. This suit is a part of the Spider-Man: Into the Spider-Verse, where Miles and Peter meet. The two do not get along very well here but ultimately hit it off. 
One of the most memorable and yet funny quotes by Miles is "We're A Little Team! Me as the Teacher Who Could Still Do It. You As The Student Who Can Do It, Just Not As Good. I'm Proud of Us" apart from the last words of Aaron to his nephew Miles.
8. Arachnid-Knight – Walgreens Exclusive – Infinity Warps – #681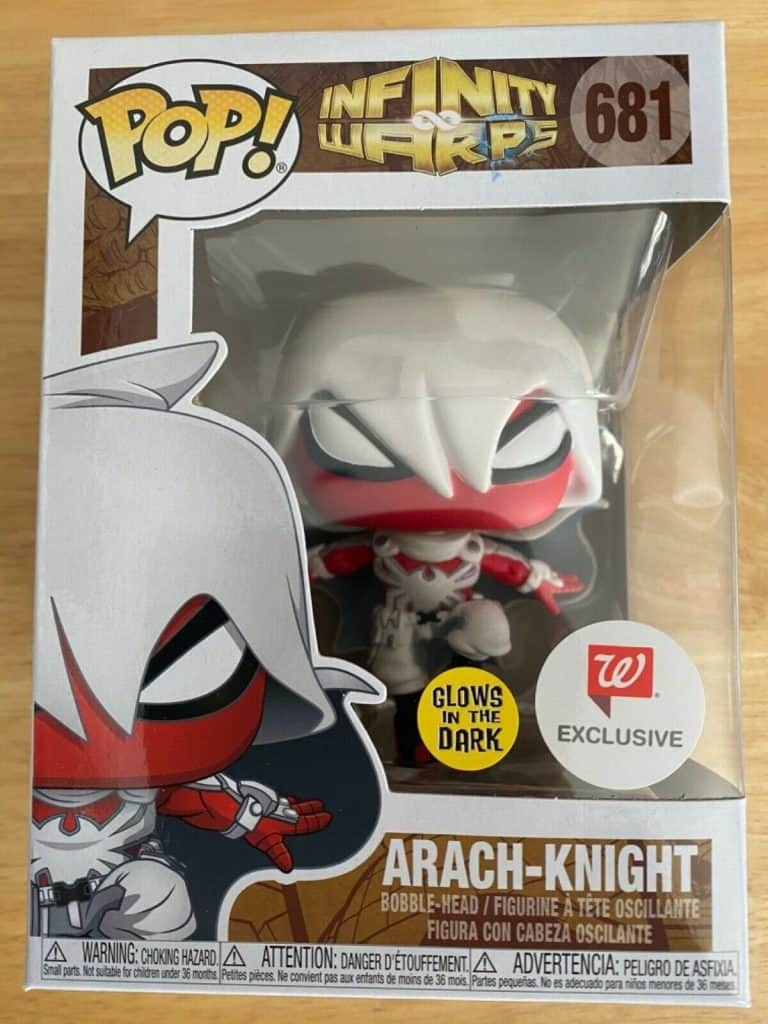 A unique pop funko released in June of 2021 is the perfect mix of marvel characters with Infinity warps pops.  Arachknight is a mix of spider man and moon knight in an ideal way. 
Arachknight has come into existence by using Infinity stones which have now created a new universe.  This funko pop is something to look at, and it has a cool-looking cape that falls between the knight's eyes and gives it a more sinister look. His suit is a mix of red, black, and primarily white.
Peter Parker's mind split into four different aspects, who of all have different personalities. 
With Peter acting as a host and the most dominant personality, he is usually light-hearted due to the Arachnid personality but aggressive because of the Knight personality.
He once stopped a vampire from stealing blood along with occasional humorous lines like "Your super authentic Vampire: The Masquerade Larp does not count as science." 
Each personality does have benefits, but this often puts Peter clashing with himself. His aggressive Knight personality once got control over him and almost killed a person. 
9. Mysterio – GItD Walmart Exclusive – #473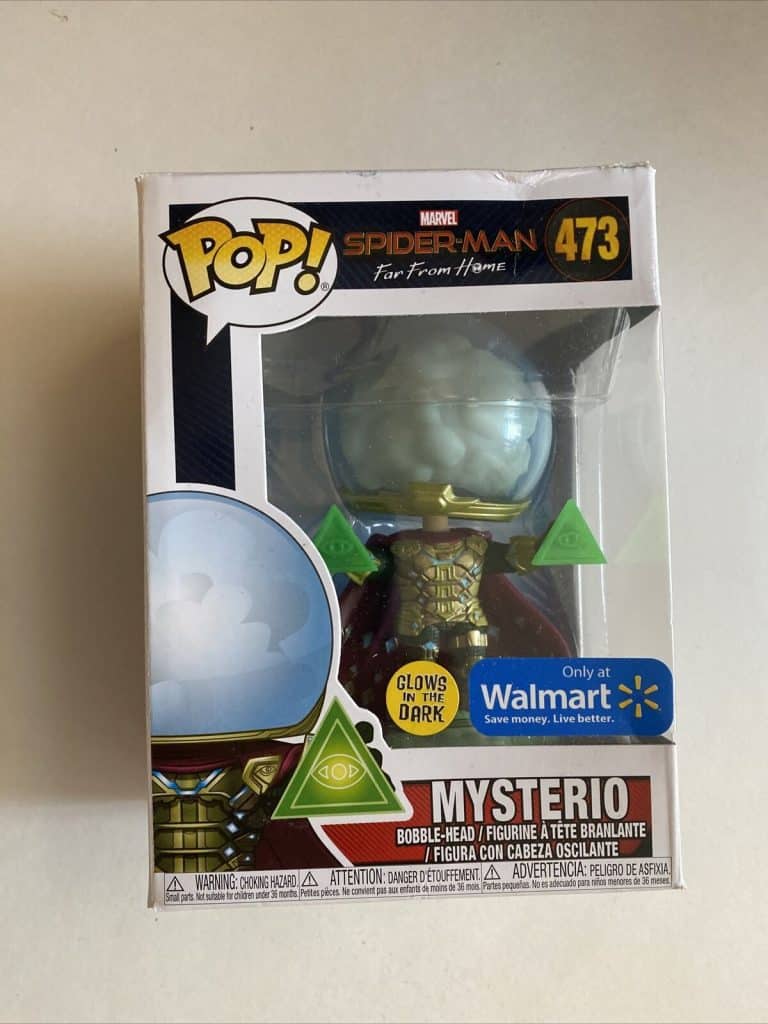 Wow, is the word that comes out of your mouth when you look at this? Correct me if I'm wrong. If you haven't already added this magnificent piece to your collection, now is the time! 
These cheap Spiderman action figures  go fast because they are exclusive glow-in-the-dark pops. 
With its mystical aura and mysterious character, we've got ourselves this impressive breath-taking funko pop.
Spider-Man Far From Home starts after Tony has passed away, where we often see everyone remembering and mourning him. Tony was one of the closest to Spiderman and as a mentor too. Here we see Spiderman become more independent and make more choices on his own. 
But Spidey does not suppress his humor and sometimes shows his immature side. "Excuse me, sir! I can help! Let me help! I'm really strong, and I'm… sticky!"
10.

Spider-Man  – Collector Corps Exclusive – #160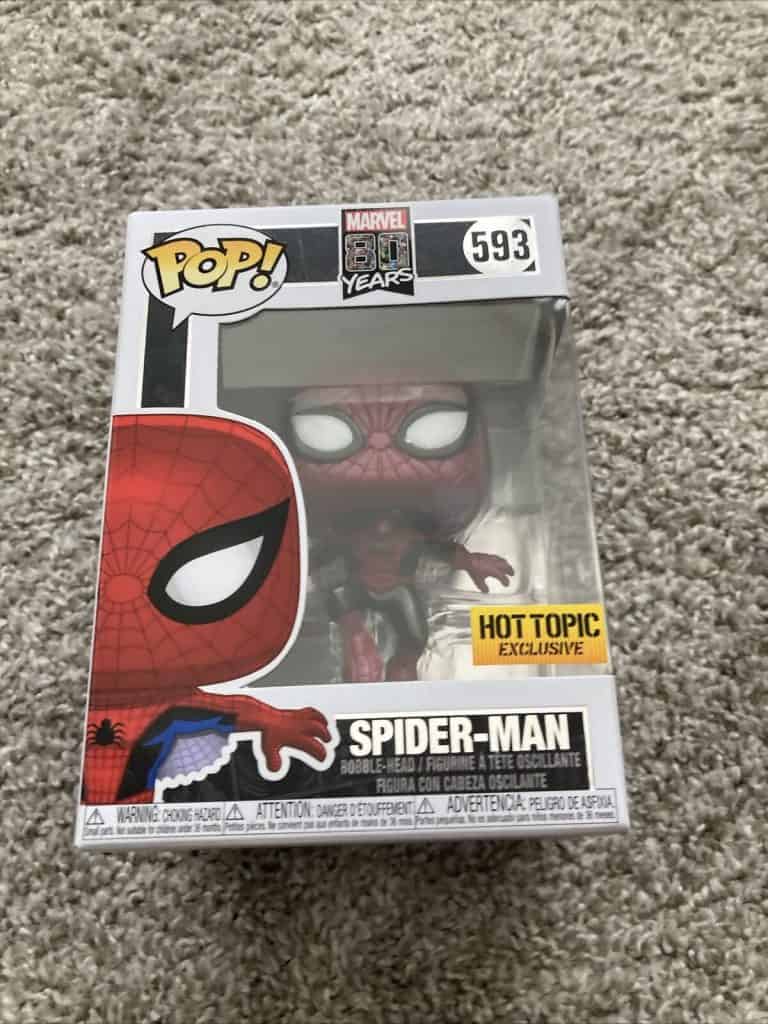 If you don't have this pop figure, are you sure that you're a spider man fan? Vinyl figures are everything any Spiderman fan would want in their home. Before this pop becomes sold out, make sure you bring it home. 
Finding Cheap Spiderman Action Figures Is Easy These Days
The best thing about these action figures is that they are cheap only in price, whereas their quality is top-notch. These prices for cheap Spiderman action figures are all that you need to complete your funko pops collection! 
Every collector tries to get their hands on these cool funko pops, so why the wait? If anyone comes to your mind who would love to have a mini Spiderman in their homes or office, you can pick any of the funko pops listed above and gift them. 
They would love your gift. We also have some collector tips about How to Pick the Best Funko Pop Gifts for Collectors    you may find interesting.
Aside from these action figures, we have added a few more to the list at the bottom. Be sure to check them out as well.