Funko Pops are collectible figurines of characters from comics, shows, and movies. Universal Monsters are fictional characters created by Universal Studios in several famous horror films.
In recent times, Universal Funko Pops have been taking the world of vinyl by storm. They have been able to generate mass appeal, and gamers can't get enough of them.
People are going crazy over these universal monsters funko pop nowadays. Some of these are super rare and very cute, and sometimes creepy. These little action figures have only increased in popularity, and there are so much joy and pride for those who buy these fantastic universal studios funko pops.
Which Exclusive universal studios funko pop Matter Most?
Fans are obsessed, as there are pops of every character you can think of and want. There are more than 8,000 different Pops, and that number never seems to stop growing. Unlike other pops, the rarest Pops can sell for hundreds or thousands of dollars.
111 Dracula – Universal Funko Pops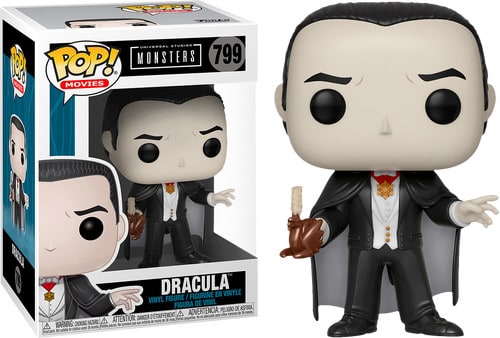 "The blood is life, and it shall be mine."
Here's everyone's favorite bloodsucker from the 1931 film Dracula. For a being who thrives on drinking the blood of others, Dracula certainly makes for an adorable Pop!
Dracula is one of the most beloved and iconic figures in all of horror. It is a must for any true horror fan!
Directed by Tod Browning and based on Hamilton Deane's 1924 Broadway adaptation of Bram Stoker's novel, Dracula tells the story of the ancient Count Dracula who arrives in England and begins to prey upon the virtuous young Mina.
113 Bride of Frankenstein GITD – Universal Funko pops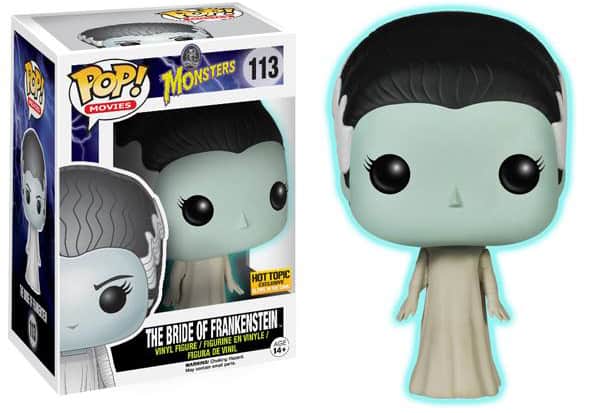 "It's a perfect night for mystery and horror. The air itself is filled with monsters."
The Universal Monsters classic character, Bride of Frankenstein, comes in her iconic white dress. This Pop! Vinyl figure makes an excellent gift for any Universal Monsters fan.
THE BRIDE OF FRANKENSTEIN is primarily considered by critics to be even better than FRANKENSTEIN. I've always preferred FRANKENSTEIN, mostly because it's scarier and more of a horror movie, but this doesn't take away my enjoyment and recognition that the BRIDE is one heck of a film.
114 The Wolf Man Flocked Toy Tokyo – Universal Funko Pops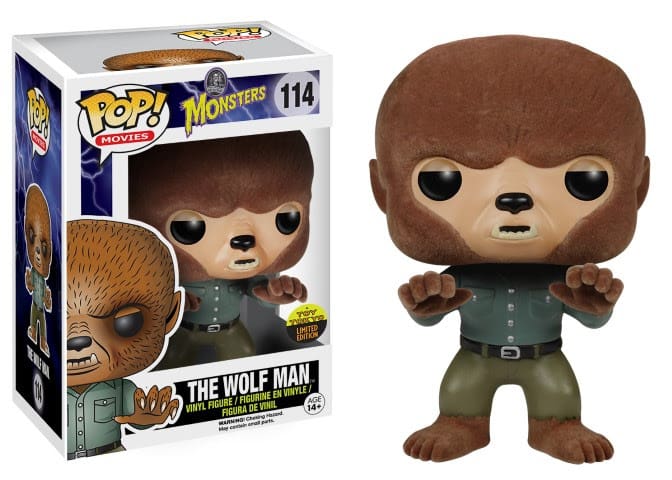 "I am what they say I am…I'm a monster."
Vinyl collection with this Universal Monsters Wolfman Pop, Featuring the stylized look of Lon Chaney Jr.'s role as the Wolfman. The Wolfman with his blue shirt, black pants, and large yellow eyes that will put fear into the hearts of men! Like the rest of the werewolves, Wolfman is fierce, stern, and a little bit abrupt. Add him to your Funko collection today!
607 Frankenstein w/ flower (Walgreens) -Universal Funko Pops

"I am malicious because I am miserable."
Frankenstein' is a 1931 horror film that follows the story of a scientist and his assistant who dig up corpses to build a man animated by electricity. Still, his assistant accidentally gives the creature an abnormal, murderer's brain.
Features Frankenstein's monster, holding the flower he receives from Little Maria. Add this rare Pop Vinyl to your staggering collection today!
608 The Invisible Man Chase (Walgreens) – Universal Funko Pops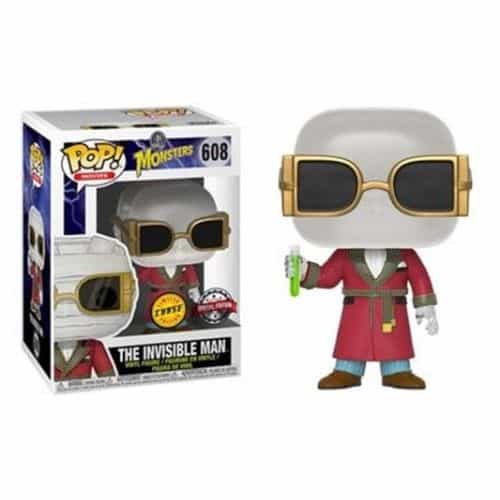 "When I discover who I am, I'll be free."
'The Invisible Man' is a 1933 science-fiction horror film that follows the story of Dr. Jack Griffin, a chemist who has discovered the secret of invisibility while conducting a series of tests involving an obscure drug called monocane.
Features The Invisible Man, complete with his iconic bandages glasses, wearing his robe and holding a test tube. One of the coolest Pop Vinyl and an absolute must for any authentic Funko collection!