A Funko Pop Mystery Box is a lottery formatted purchase because you do not know which funko pops you'll get, and they can be valued higher than what you originally bought the box for at the time. Funko pops in a mystery box are randomly selected and give collectors the chance to get grail, or rare funko pops for cheap.
Funko Pop's Mystery Mini series comprises a collection of miniature vinyl figures that stand approximately 2.5 inches tall. The figures have different widths. When you buy a Mystery Mini, they are at random. Packaging is blind and scattered. You will not know which figure's variation is in the box until you pay for the box and open it. Each box typically contains six different Funko pops.
Most Funko Pop Mystery Mini collections have 12-17 different characters/variations of a figure. Some boxes contain rarer figures with a variation of an earlier figure, like a finish that glows in the dark or a different design. Examples of Mystery Mini series themes are Five Nights at Freddy's, Avengers: Infinity War, and Teenage Mutant Ninja Turtles.
Collecting Mystery Minis is a fun but costly way of collecting Funko vinyl figures. Because you don't know what you are buying, you have to keep buying many blind boxes as you seek to complete your collection. As a result, you might end up having several duplicates. Luckily, you can sell the duplicates online or trade them for figures you don't have in your collection.
Why Mystery Funko Pops are a good deal
Buying a Mystery Funko pop box gives the collector a better deal than purchasing individual Funko pops. Some benefits of the Mystery Box include:
According to reviews online from people who have bought the box, you'll get up to two exclusives.

When you do the math, you will realize that each figure's cost in the collection is lower when bought as part of the mystery box than when purchased individually.

Getting duplicates is a blessing in disguise. You can sell them at a higher price online or trade them for a figure you don't have in your collection.

The thrill of not knowing what you are buying makes the entire experience exhilarating. Plus, it is a fun and economical way to grow your collection if you are starting.  
What is the typical size of Mystery Funko Pop Box?
Not all the Mystery Funko Pop boxes come in the same size. There are some boxes whose sizes vary slightly from the rest. Nevertheless, the most common size of the boxes listed on all credible websites is 12L X 8W X 10H. The dimensions are in inches.
Examples of Mystery Funko Pop Boxes
Funko Pop Mystery Box: Damaged/Overstock Vinyl Figures 8-Pack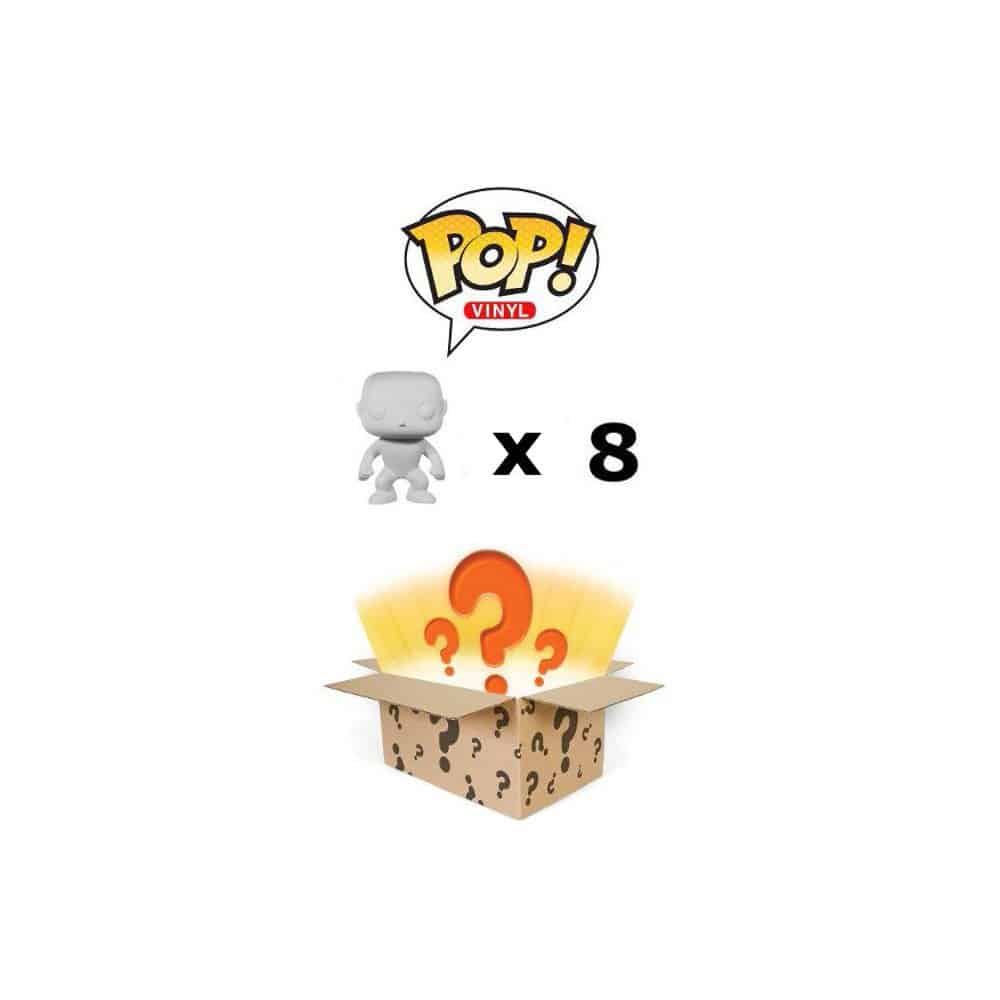 Dimension: 16 X 16 X 6 inches
Weight: 2.33 pounds
Age (recommended by the manufacturer): 14 years and above
This box does not have duplicates and contains 8 Random Funko Pops with box damage (creases, dings, or dents). It is a great bargain and is your ideal box if you are an out-of-box collector.
Funko POP Exclusive Mystery Starter Pack Set of 6
Dimension: 12 X 8 X 10 inches
Weight: 2.29 pounds
Age (Recommended by manufacturer): 14 years and above
This Funko Pop Mystery Box contains 6 Random Funko POPS. You will not find duplicates in this box. All the items in the box are in mint condition. However, if you purchase multiple boxes, there is no guarantee that you will not have duplicates in the total order.
Pop Funko Mystery 6 Pack w/1 Random Limited Edition Chase – Stylized Vinyl Figure Set New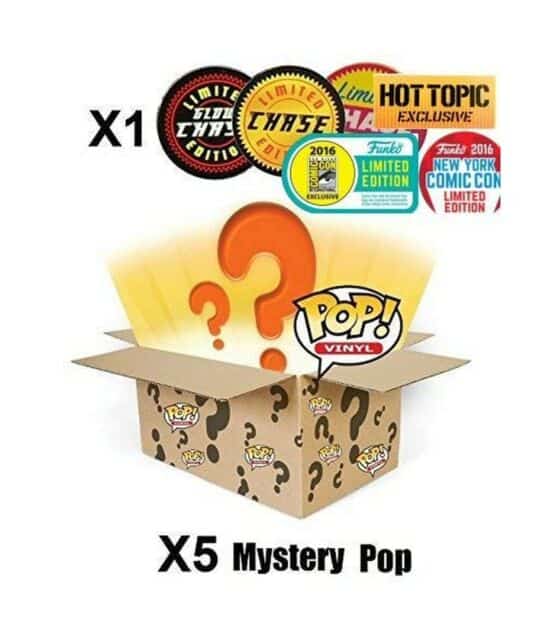 Dimension: 0.39 X 0.39 X 0.39 inches
Weight: 2 pounds
Age (Recommended by manufacturer): 14 years and above
When you buy this mystery box of 6 randomly inserted Funko POP Vinyl figures, there's a very high chance you'll find one randomly inserted Limited Edition Chase or a Store Exclusive Variant. The variants are from different lines, such as movies, games, sports, and animations.  
Each figure in the collection stands at around three ¾ inches tall. All the figures in this box are brand new. Like with the other mystery boxes, you might have duplicates if you purchase multiple boxes once. You may find some of the vaulted harry potter funko pops you've always wanted. 
Funko Mystery Box with 6 Funko Pops, No Duplicates, 2 Exclusive POPS!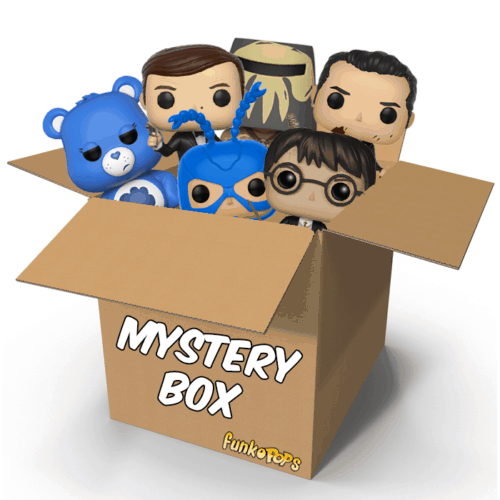 Dimension: 12 X 8 X 10 inches
Weight: 15 ounces
Age (Recommended by manufacturer): 14 years and above
When you buy this box, it will help to have reasonable expectations. There is a probability you could land a 100 USD Pop in the collection. Or you could not. Two of the pops in the box are Exclusives. Please note that "Exclusive" is not the same as "Chase." However, "Chase" is an "Exclusive," meaning you may well receive a "Chase" among the "Exclusive" pieces. Other exclusives include convention exclusives, collector box exclusives, or store exclusives.
Generally, the Pops! will be in good condition but is not a guarantee. You might find some boxes with minor defects.
Funko POP Exclusive Mystery Starter Pack Set of 10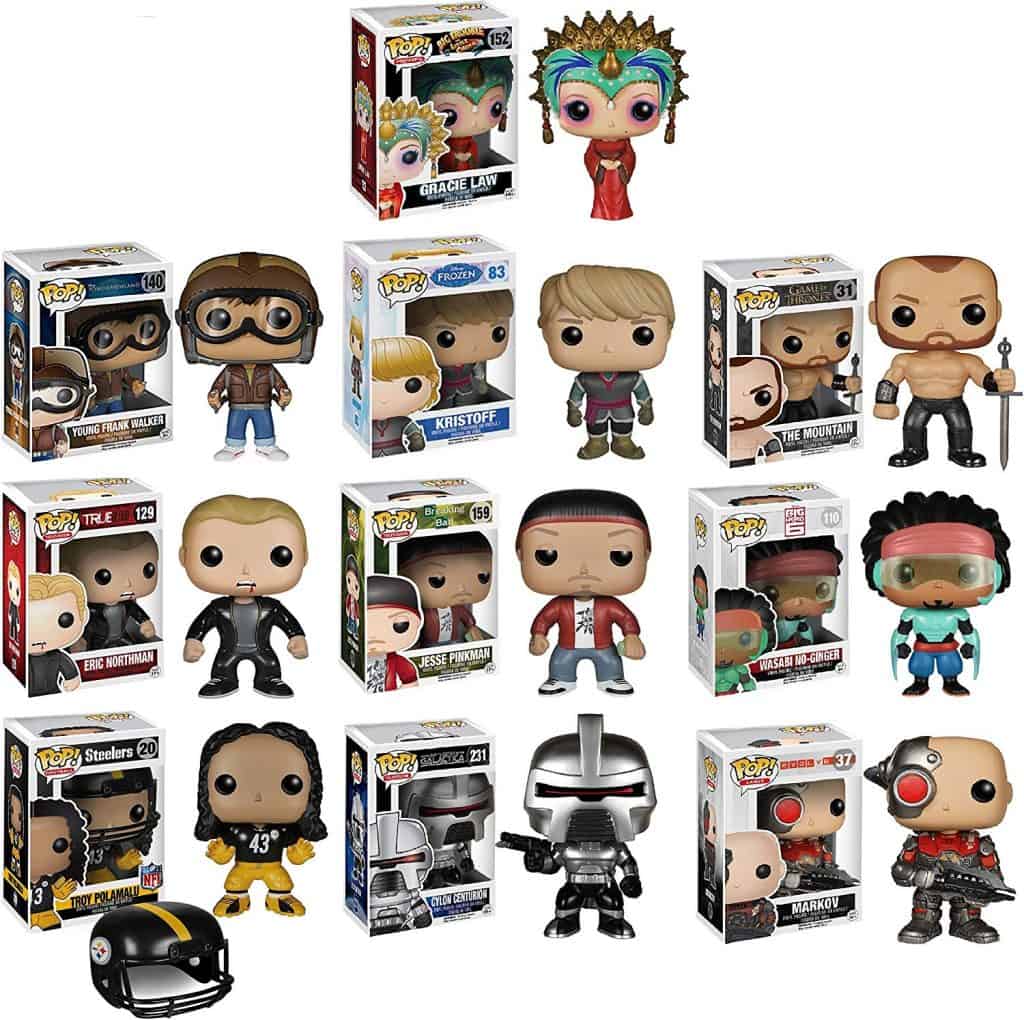 Dimension: 6 X 4 X 4 inches
Weight: 6.1 inches
Age (Recommended by manufacturer): Available from March 23, 2016
This Mystery Box contains 10 Random Funko POPS. There are no duplicates in the box. The collection will range and vary from the following titles: cartoons, TV series, movies, sports, anime, video games, and TV shows, among others. Each box is different, and you are not allowed to choose the style you want.
Suppose you are planning to start collecting Funko POPS! The ultimate starter pack. It is also an excellent pack for a veteran collector to enrich their collection. If you have a pet lover amongst your friends and family, they will love this as a gift. Don't forget that if you buy more than one box, you might find duplicates.
Here's a video of a fellow collector unboxing a mystery box!
Where can you buy Mystery Funko Pop Boxes?
You can find Mystery Funko Pop boxes from several sources. Some of the most common online stores you can find these boxes include:
Amazon
Amazon is a leading eCommerce website globally. Collectors can find most of the Funko Pops they are looking for, including Mystery Funko Pop Boxes. Buyer reviews indicate that they are reliable and their Pops are authentic.
Walmart
Walmart is another great online store where you can purchase Mystery Boxes. The store has an exciting pricing policy where they commit to offering lower prices. The approach encourages customers to tell the site operators whenever they find an item being sold at a lower price on another online retailer so that they can match it.
eBay
eBay is a popular online store known to be reliable. It is advisable to have more than one online store so that when you miss what you are looking for from the other sites, you have options. eBay also has a great collection of Funko Pop products.
Magic MadHouse
Arguably the UK's most prominent and leading online store in terms of gathering stores. It has an enormous range of single cards, accessories, and sealed products at very competitive prices. Because of their specialization, they are a great place to handle the Mystery Boxes. Moreover, their customer support system is efficient.
Pin in a Box
Pin in a Box is another excellent online store to look for a Mystery Box. The store is accessible to users from non-English speaking nations. For example, you can open it in German or Italian. Their prices are competitive, and their collection is vibrant.   
Getting Mystery Funko Pop Boxes isn't for everyone.
Depending on which mystery box you decide to buy, the results are always different. It makes hunting for funko pops even more exciting because you don't know which ones you'll get. If you're someone who doesn't like not knowing what pop you've paid for, Mystery Boxes may not be for you.