Do you have any Freddy Funko exclusive figures in your collection? Getting these rare collectibles can be quite a challenge. But what are they? And why are they so valuable?
You're proud of your collection of figures. You've gone to great lengths to get these items and ensure that they stay in mint condition. It is what has ensured the value of your collection stays high, after all.
Maybe it's your first time hearing about a Freddy Funko exclusive figure, or you've heard of them and are unclear on what makes them so expensive and valuable. 
Our article will go into everything you need to know about Freddy Funko exclusive figures and where you can find some for your collection.
What are Freddy Funko Pop Exclusives?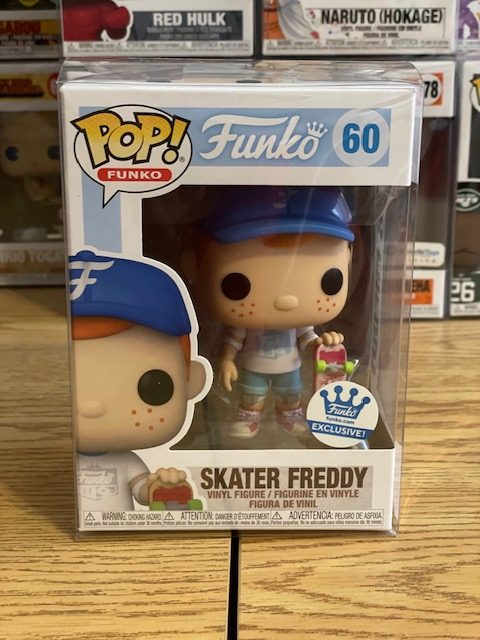 Freddy Funko is the name of the company's mascot. Funko has been making figures of him since the beginning. 
What makes one exclusive is its rarity. Many of these figures are limited editions, and this scarcity makes them highly appealing to collectors.
Each figure of Freddy puts him in a different costume. For example, he's been an ice-cream salesman and a skater—also, characters such as Jaime Lannister and Iron Man. 
Typically, when these come out, there is some unique feature to them as well. Some glow in the dark while others are metallic, for example. There are also variations made of Freddy funko as well. 
It's what sets Freddy Funko Exclusives apart from the normal funko pops you might find in a fandom merchandise store. Finding a more sought-after figure in one of these stores would be like finding a unicorn. You can rarely get these exclusive editions in ordinary stores.
When Do Exclusive Freddy Funko Pops Come Out?
While non-exclusive Funko Pops come out all the time, most exclusive Freddy Funko pops only get released for events. New exclusive Freddy Funko pops come out every year for the company's anniversary, for example. 
Figures are for sale at major conventions such as New York City's Comic-Con. The specific editions usually relate to pieces of media that are popular at the time of their release. For example, the Freddy Funko Venom figure came out just a few months after the movie was released. 
Other Freddy Funko exclusives are throwbacks. For example, for 2016's San Diego Comic-Con, they released a funko figure of Freddy dressed as the fourth iteration of The Doctor from Doctor Who. 
This version of The Doctor was the most popular when the show was running and remained the most popular from the original series.
You have to keep your ear to the ground for which new exclusive Freddy Funkos will be released from the Funko Pop store next. This way, you can be one of the lucky few to get the following highly-coveted Freddy Funko Pop figure.
How Rare are Freddy Funko Pop Exclusives?
Freddy Funko pop exclusives can range in rarity. In some cases, Funko will release as many as 480 of a Freddy Funko Exclusive figure. Others, however, might only have twelve released for the entire world.
Some of these more sought-after ones have never been seen for sale anywhere since the originals were all sold. Often, you're more likely to have lightning strike you than find the coveted Jaime Lannister Freddy Funko with blood splattered on him. 
Some of the more coveted Freddy Funko exclusives are:
The Iron Man Freddy Funko.

The Power Ranger Freddy Funko.

The Batman Freddy Funko.

The Spiderman Freddy Funko.

The Jaime Lannister Freddy Funko with blood splattered on his face.
Some of the more sought-after exclusive Freddy Funkos has only been seen a handful of times for sale over the past decade. However, these Freddy Funkos selling for thousands of dollars. For example, a Jaimie Lannister Freddy Funko with blood splattered sold for over $13,000 in 2018.
Some Freddy Funko exclusives are so valuable that it's impossible to assign them an average market value. These are the ones that are never seen for sale online at all. Collectors would never even dream of selling such a piece that's so rare.
On the other hand, Freddy Funko exclusives with a few hundred figures released are much easier to find. However, you may still have to pay a few hundred dollars to get the one you want. It is especially true if the figure is in mint condition.
How Can You Get One?
There are several ways that you might get an exclusive Freddy Funko Pop figure. It mostly depends on which one and how rare the figure you want is.
For example, these are the steps to take to get a Freddy Funko HQ exclusive:
Go to the Funko Pop HQ store.

Get there early to ensure a good spot in line.

Wait until the doors open to get your HQ exclusive.
To get one at a major convention, you would need to:
Purchase a ticket for a major convention such as Sandiego or New York City Comic-Con.

Go to that convention.

Get to the Funko Pop booth early to ensure you get the exclusive figure.
You might also consider Funko mystery boxes that they often have on sale at conventions. These will often have exclusives in them, but it's best to get your hands on as many of these as possible if you're looking for a specific one.
If you're looking for an older one that's rare, then you'll most likely have the best luck online. In this case, you should:
Remember to have patience while searching.

Check auction sites regularly.

Be the highest bidder

 when the one you want goes up for sale.
It would help if you also kept in mind that the more figures of the exclusive made, the more likely you are to find one for sale. For example, you're four hundred times more likely to find an exclusive with 480 units made than one that only had twelve units made. 
Start Your Freddy Funko Exclusive Collection Today
If you're looking to collect Freddy Funko exclusive figures, then you need to be willing to wait for a long time. It would help if you also were willing to spend some serious money on your collection.
Keep in mind that, chances are, you may never see some of the rarer exclusives at all. So the best advice would be to keep a chart of the ones that you want. This way, you can be ready to grab it when you see an opportunity.
If you enjoyed this article, be sure to check out our other articles about Funko Pop collecting.