What is a chase funko pop? Chase Pops are funko pops that have some variation to it compared to others in the same batch. It is unique and quite rare. The rarity comes from the randomly added shipments when retailers order their pops. There have been a few speculations on what ratio of standard Pops to Chase Pops sent, but it all leads to the fact they are scarce and vital to snatch up. 
Why are chase pops so important?
If you are starting out on your Pop collection journey or are a seasoned collector, you know how addicting it can be to start buying all your favorite characters. Especially just starting, you notice funko pops everywhere you go and start grabbing them as you see them. Trying to complete a collection is fun, but soon you will realize there is more to it than grabbing any and everyone you find. 
Collector Tip: Find Chase Funko Pops at retail stores by befriending the associates who work there and they can put aside the chases for you before they hit the shelves.
Retailers only produce a limited amount of funko pops of each character. These unique pops are hard to come by and that limited supply increases demand.
Also, some longtime collectors get bored with "common" Pops, and the real excitement is in the search for Chase Pops. The hunting aspect of collecting these chase pops becomes a thrill that most can not forget. 
What makes chase pops more desirable than common pops?
Something to keep in mind why these are so important for collectors, a lot of them who started a while ago are now realizing that when they want to turn some profit, that the standard Pops are hard to find buyers for, and no one will pay top dollar. You can avoid this by taking a slow and steady approach, which is essential for collecting any of value. Of course, if you enjoy a particular character, grab them, but being selective will help. Also, keep an eye out for upcoming Funko Pops that may be more popular. 
If you are starting to add some to your collection, we have featured a few that would be good ones to start your Chase Pop collection. 
1. Captain Marvel Chase Funko Pop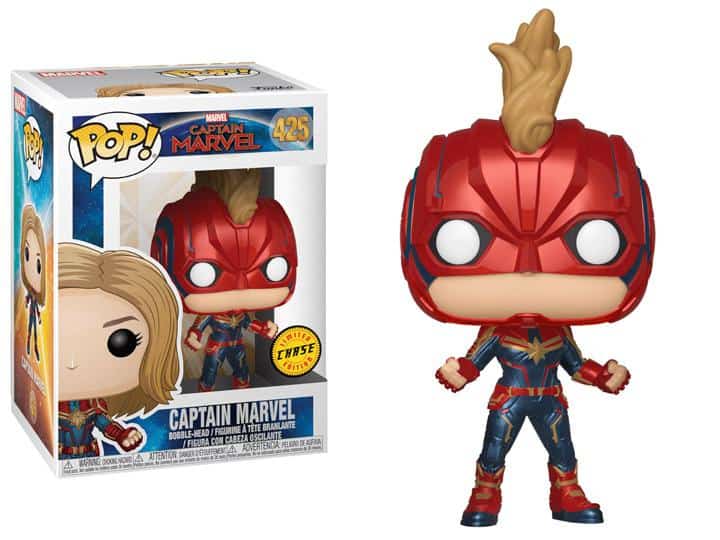 "I'm not what you think I am."
Her name is Carol Danvers, and she is an Air Force Pilot turned superhero after being exposed to the energy of the Tesseract after she destroyed a Light Speed engine. Her wit and superpowers get her out of tricky situations and help the Skrulls. This Funko Pop she's seen in her red and blue Captain Marvel suit with her blond hair down, and she is ready for a fight. The Chase Funko Pop version of Captain Marvel features her red mask that turns her hair into a sweet mohawk that sticks out the top. The funko released in 2019 and has grown quite a bit in value since then. 
2. Bloody John Wick Chase Funko Pop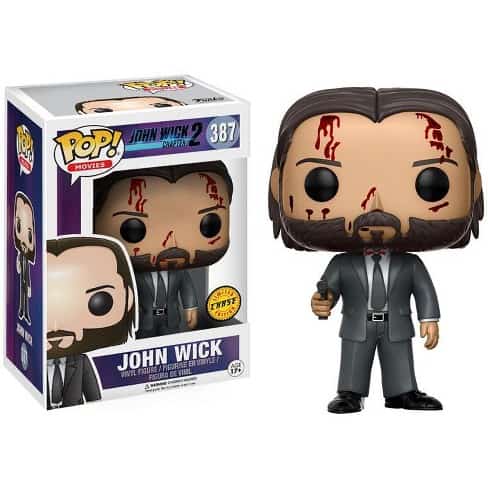 "Guns. Lots of guns."
For a retired hitman, he is awful busy taking people out. In the beginning, John wick becomes burglarized, and he vowed to kill whoever was dumb enough to steal his vintage car and kill his beloved little dog, Daisy. He then pays a debt from his past life, and he has been on the run with a hit out on him. John can get a little bloody and uses an awful lot of guns.
John Wick Chase Pop is all bloodied up after some gruesome fights, but the standard Pop is his clean-cut self. This Chase Pop was released in 2017 and has reached a pretty price tag on it that has grown over 7x the original price. Another excellent example of why it is crucial to hold out for unique Pops. 
3. Jim Halpert Chase Funko Pop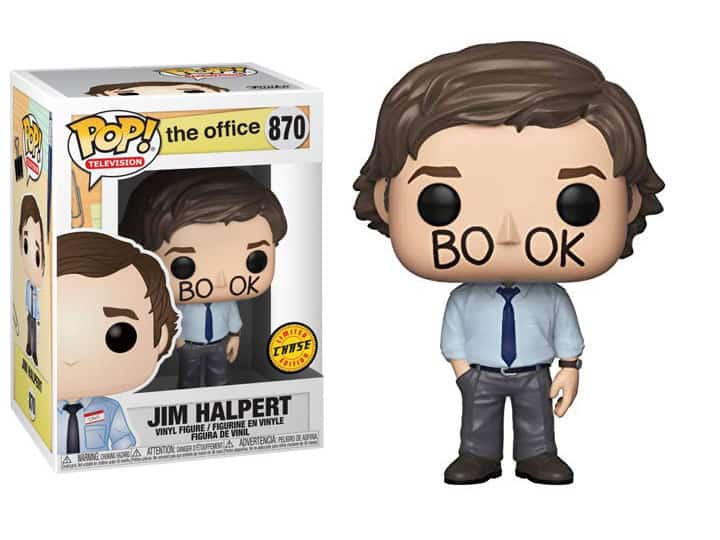 "I am about to do something bold in this job that I have never done before. Try."
Everyone's favorite slacker, Jim Halpert, is known for his on-going goal of making Dwight Schrute go insane. From putting Dwight's items in Jell-O to paying the entire office to call Dwight, Dwayne, he has little time for work and all the time in the world for his dream girl Pam. This Chase Funko Pop features Bookface, you know, the super-popular networking site. A Pop worth adding to your collection that has been steadily growing in popularity.
4. Steve Irwin (With Turtle) Chase Funko Pop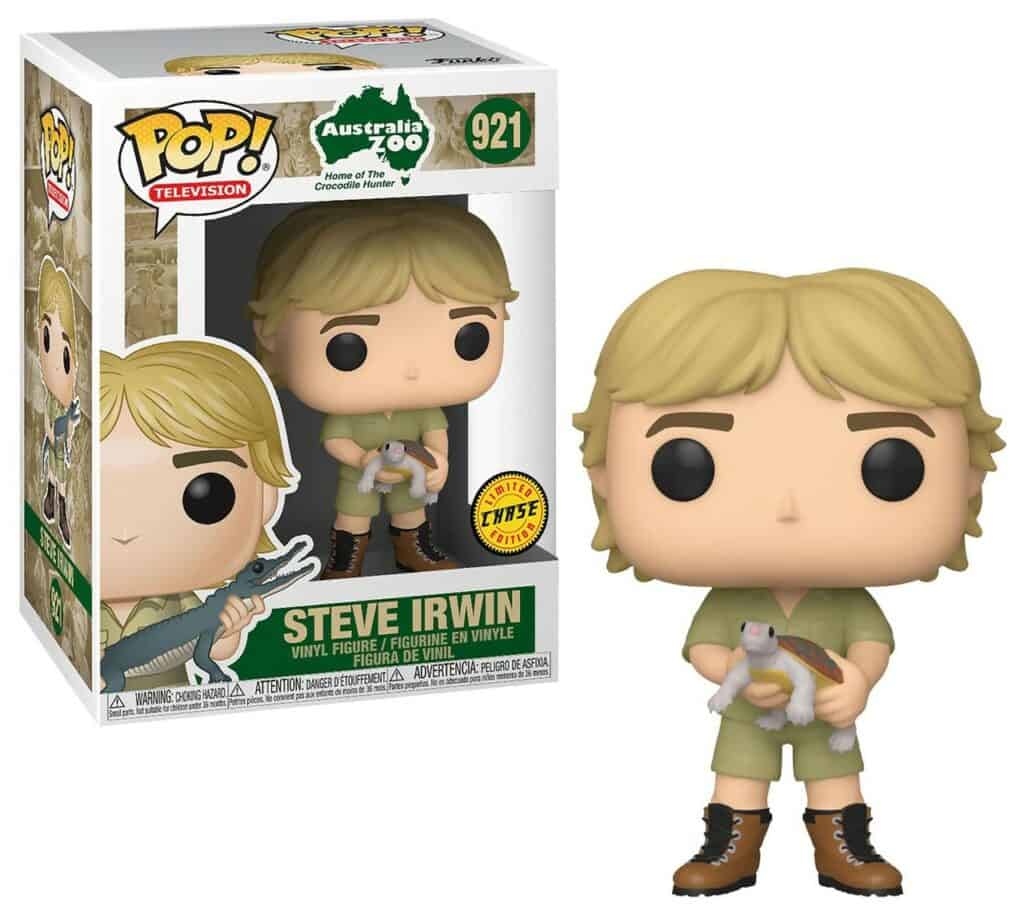 "The first crocodile I ever caught was at nine years of age, and it was a rescue."
How many nine-year-olds do you know have ever rescued a crocodile? Steve Irwin is known as "The Crocodile Hunter" for a reason. He is an all-around animal lover who saved venomous snakes, crocodiles, and anything that can kill a man in the Australian outback. Steve sadly died in 2006 but is still remembered today through his family's continued love for wildlife and conservationism. What makes this Chase Pop different from the normal ones is that he is holding a turtle instead of a crocodile. This particular pop also has a limited edition version that features a snake.
5. Aang on Airscooter (Avatar State) Funko Chase Pop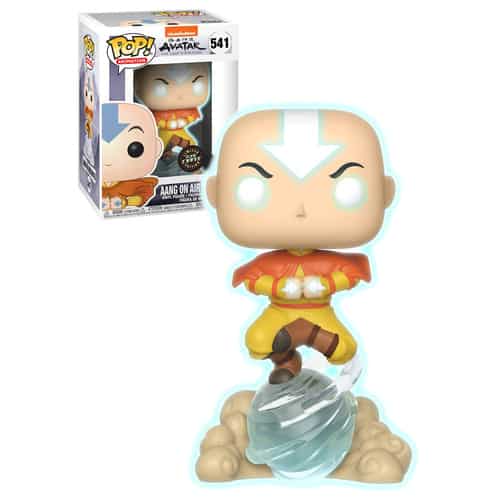 "It's easy to do nothing. It's hard to forgive." 
Aang from Avatar: The Last Airbender is a 12-year-old and last survivor of his nation, the Air Nomads. He is trying to end the Fire Nation's attacks on the rest of the world with help from his friends while learning about his new responsibilities as an Avatar. He found his Avatar state when he found out his mentor and father figure; Monk Gyatso killed during the genocide of his people by the Fire Nation. This Chase Pop features Aang in his Avatar state riding his air scooter.
This Chase Pop has completely blown up in popularity and is 4x the amount of all the Chase Pop's mentioned before! If you were lucky enough to grab this when it was released, you should continue to hold on to this Funko Chase Pop! 
How do you Get A chase pop?
Buying chase funko pops can be difficult when going to retail stores because only a select amount of chase pops come in at a time.
You have better chances of getting a chase funko pop if you buy one from Mercari. We also outline collector tips more here:  Where is the cheapest place to buy funko Pops?
If you have your eye on any Upcoming Funko Pops, be sure to get your hands on the Chase Pops and hold on to them. Even if it takes buying online, asking shop owners to hold them for you, it will be worth it in the future!