It's often challenging to remove funko pop stickers because you risk damaging the pop box. Therefore, we will explain all the different methods used to safely remove funko pop stickers without damaging the pop figure. 
If you are a Funko Pop collector, you know figures can come with funko pop exclusive stickers. However, sometimes those stickers need to be removed or swapped out with others. 
We will also explain why funko pop collectors swap exclusive stickers and all the different types of funko pop exclusive stickers available to collectors. 
For example, countless times, a retail store will put a price sticker on the figure. 
When an unwanted sticker is on your funko pop, it poses a challenge as collectors only want the Exclusive Sticker and not the discount price sticker! Right? 
Our guide to removing funko pop stickers will also describe what to do in this case as well. 
First, let's start with the basics. 
What Type of Exclusive Funko Pops Are Available?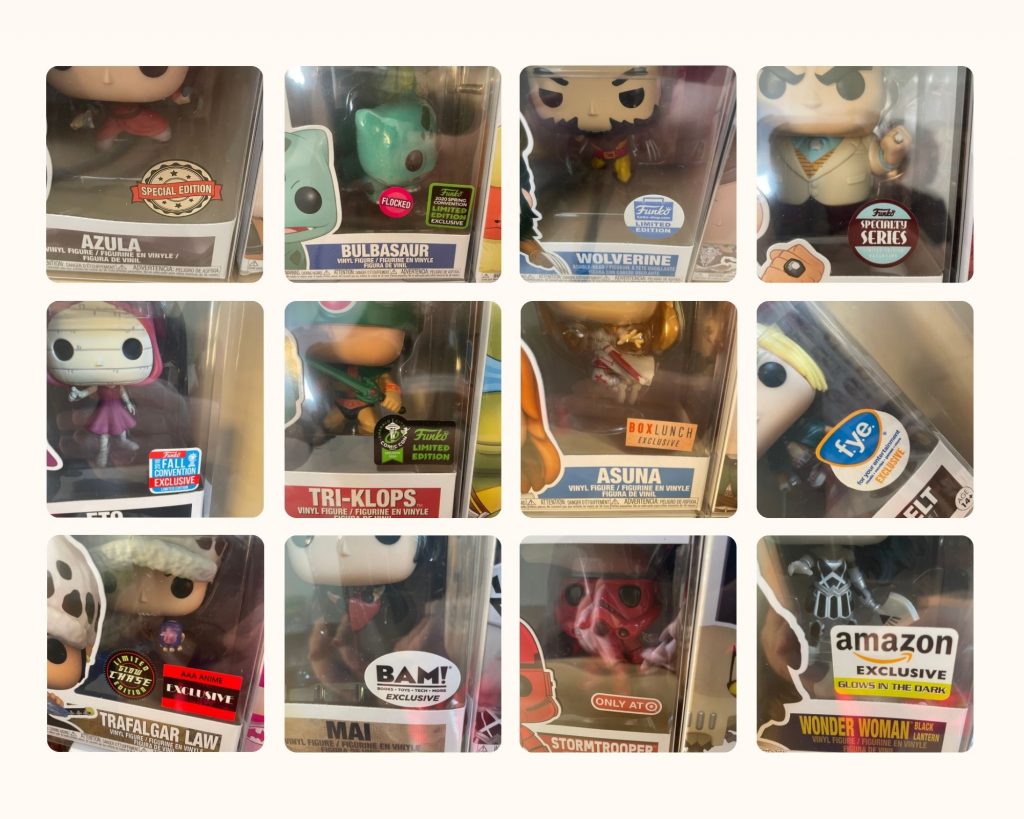 Before delving into the nitty-gritty of removing Funko Pop stickers, it's essential to understand what Exclusive Funko Pops are. 
So, Exclusives are typically items that are available from a specific vendor or through a particular event.
Funko issues Exclusive figures in multiple ways. Moreover, all Exclusives are limited productions. 
Some everyday exclusives you are likely to encounter include:
Funko Exclusives

Convention Exclusives

Retailer Exclusives

Exclusive Stickers

Shared Exclusives
Best Funko Pop Exclusive Stickers For Collectors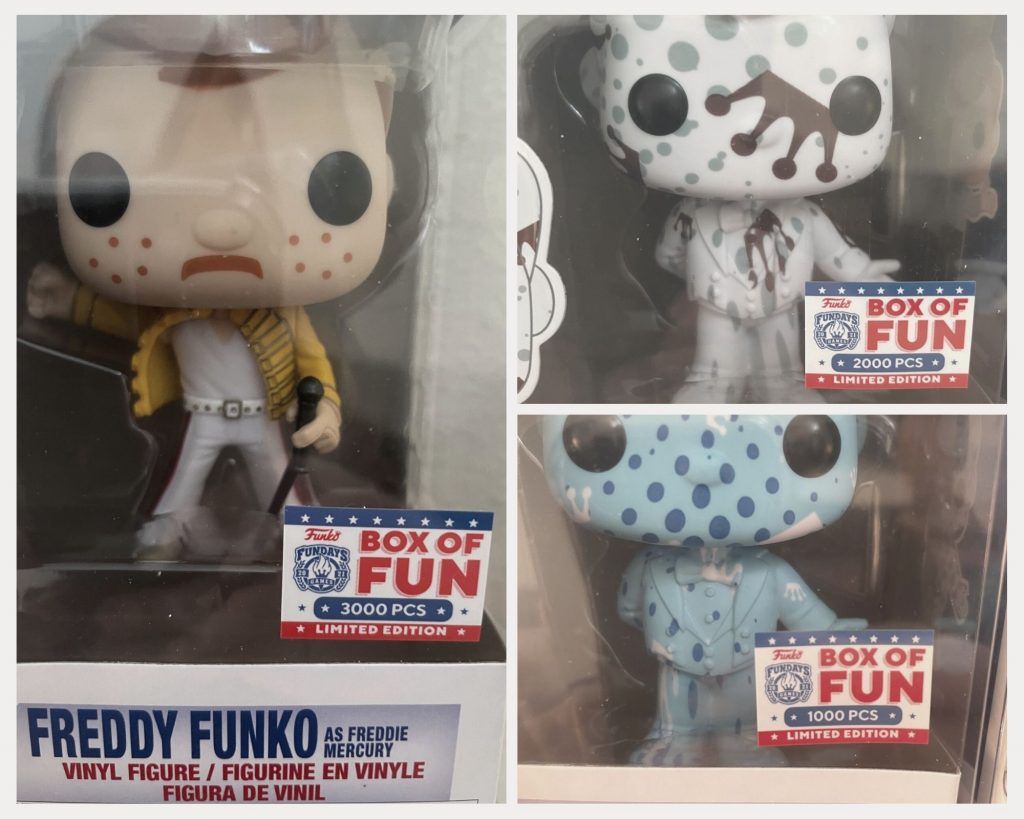 Funko Pop stickers are applied to boxes to indicate unique characteristics. 
For example, the stickers can denote a retailer exclusive. Stickers also designate variant features such as glow in the dark, flocked, and many others.
Having a suitable sticker on the box is critical for every Funko Pop collector. Below are some current versions of stickers.
List of Best Funko Pop Exclusive Stickers
Glow in the Dark Exclusive Sticker

 – A pop figure that can glow in the dark will have this sticker. It's usually a yellow sticker with the abbreviation 'GITD.' 

Glow in the Dark Limited Edition Chase Exclusive Sticker

 – A figure with this sticker is for a chase or 'rare' figures that glow in the dark. It's usually a dark black color sticker with the abbreviation 'Chase GITD.'  

Hot Topic Exclusive Sticker

 – Exclusive retailer sticker for items available at Hot Topic.

Target Exclusive Sticker

 – Is also an exclusive store sticker for Pops available on Target.

Walmart Exclusive Sticker

 – This sticker shows that the Pop Figure is only available at Walmart.

BoxLunch Exclusive Sticker

 – This sticker denotes that the figure is a BoxLunch exclusive.

Flocked Exclusive Sticker

 – This sticker is on figures that come with a soft felt covering that emulates a fabric or fur.

FYE Exclusive Sticker – 

This sticker is exclusively for "For Your Entertainment."

AAA Anime Exclusive Sticker – T

hese are Pops exclusive to AAA Anime distributors. 

Specialty Series Exclusive Sticker

 – Pops with this sticker become exclusive to locally-owned shops and smaller retail outlets.

Special Edition

 – Silver special editions are US retailer exclusives. These Pops are also available in the international market.

25th Anniversary Exclusive Sticker – 

Stickers for unique Pops released to mark the 25th anniversary. 

Funko Shop Exclusive

 – The sticker is applied to items only available for purchase on Funko Shop online or HQ. You can also find them at Hollywood Stores.

Piece Count

 – This sticker shows the number of pieces produced for that variant. Its features depend on where you buy them.

Convention Exclusive

 – The convention logo signifies that the figure was bought on-site at the Funko booth at a convention or event.

Shared Exclusive

 – These are the same product as the convention exclusive pop figures. However, collectors can purchase it at the retailer or Funko Pop.  

Chase–chase – 

Figures are a variant of the common figure. They come with a rarity of 1/6. Differences could be in the way they pose, dress, or have facial features.

Diamond Collection

 – Figures with this sticker come with sparkle and glittery texture.
Where Do You Buy Exclusive Funko Pop Stickers?
It is essential to know where you can buy exclusive Funko Pop Stickers. Thanks to technology, Funko trackers are apps that notify you about stores from which you can buy stickers you need. Here are some top places you can find the stickers:
Joom 

– Joom offers the best Funko Pop exclusive stickers at competitive prices. The stickers are available in a wide range of colors and materials.

Ascendancy Comics and Collectibles

 – this is also another reliable outlet for replacement stickers. What's more, there is a great variety, and the prices are pocket-friendly.

Red Bubble 

– Red Bubble is home to unique Funko Pop stickers. There are countless stickers for you to choose from at discounted prices if you buy more than four.

Pops Planet 

– Pops Planet is another reliable Pop Stickers shop. You can get every sticker you are looking for here.
Different Methods Used to Remove Safely Remove Stickers from Funko Pops
There are different ways. Pop collectors can use it to remove Funko Pop Exclusive stickers. 
Some of the methods you should consider:
Peel using your nails.

Use Goo Gone to remove any residue and dirt.

Apply Windex.

Scrape with the back of a credit card. 
What to Avoid When Removing Exclusive Funko Pop Stickers
Avoid using a Hair Dryer when removing funko pop stickers from a pop box. Most collectors would recommend this as a viable option; however, it causes more damage than helps.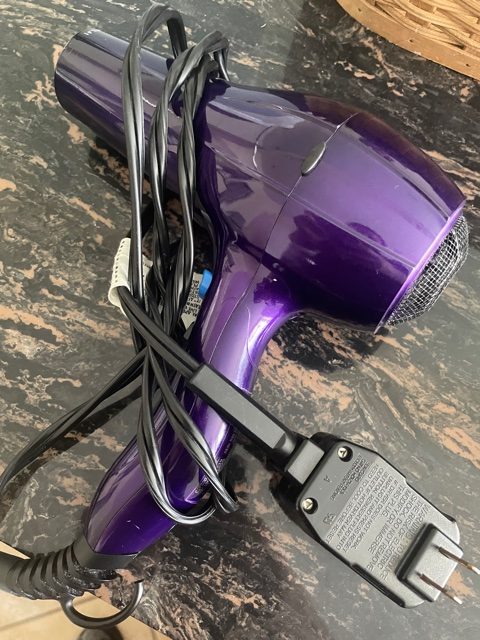 A Hair Dryer has multiple settings, from low, medium, and high. Depending on the type of Hair Dyer your low setting could still be too hot for the plastic and melt immediately. 
It's better to avoid using this method unless you are comfortable with using a Hair Dyer.  
Here's a video explaining how to effectively use a Hair Dyer to remove a funko pop sticker. 
We recommend holding against the plastic for less than 1-3 seconds on the lowest setting possible to avoid further damage. But, again, avoid using this method unless you need too as it can do more harm than good. 
Steps of Removing Funko Pop Stickers
Now that you know different removal methods, it's time to discover how to remove Funko Pop Stickers using these methods.
You must do these steps carefully because its value might go down when you damage Pop's box. You can read Funko Pop Value Guide for more on Pops value.
Step by step guide of removing Funko Pop Stickers:
Try peeling off the sticker using your fingernails. If the sticker comes off smoothly, remove it.

However, if it does not come off smoothly, don't use force as it might damage the box depending on its location.

In this case, use a back of a credit card. 

After that, peel it off with your fingers, and it will come off smoothly.

Suppose it leaves any residue on the surface use Goo Gone. Spray the affected area and leave it for a few seconds, then wipe it off with a clean piece of cloth. (Please only use the Goo Gone spray on the plastic display cover.)

If all else fails, use a hair dyer cautiously. Keep the setting low and the heat level at medium. Heat the sticker slowly, hovering the drier over it.
Risks Associated with Removing Funko Pop Stickers
Removing Funko Pop stickers comes with risks. 
The most significant risk is that when you use the wrong method to remove the sticker, you might destroy the Funko Pop box. As a result, you might end up reducing your Pop's value because of the damaged box.
Besides that, you might destroy the sticker, which you could use later if need be. Therefore, it will be helpful to be very careful when removing stickers.
Should You Keep or Remove Funko Pop Exclusive Stickers?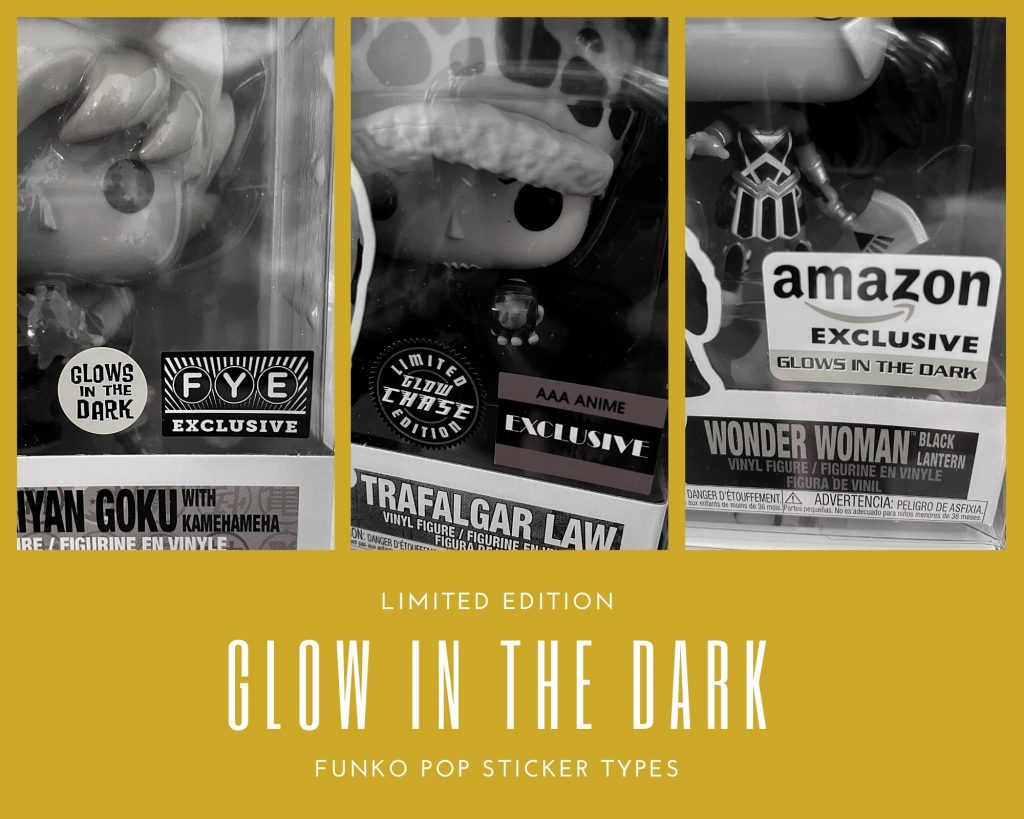 It's unethical to add exclusive stickers to non-sticker pops. Furthermore, the collecting community frowns upon swapping non-sticker pops with exclusive stickers. As you can tell, there are multiple different types of 'Glow in the Dark' funko pop stickers. It wouldn't be right to swap them for others.
Funko pops that come without an exclusive sticker should remain with them, and collectors shouldn't buy stickers on third-party websites to turn these common pops into exclusive pops. 
Sticker swapping is a practice that collectors often participate in to game the system and make their collection look better than others. 
It's another form of fake funko pops because they aren't exclusives. Funko.Inc only produces a specific number of limited edition pops, and that sticker helps identify that number. 
Pros:
You can resale the stickers in authentic markets.

If you bought the figure on a sale offer, no one needs to know. Removing it allows you to resale at the current market value as per the Funko Pop Price Check.
Cons:
The Exclusive sticker is what draws people to the Pop Figure. Removing it might not be ideal, especially if you plan to resell it.

Removing the sticker could damage the box.
Why You Can Remove Pop Stickers Easily 
Removing Funko Pop Exclusive stickers is part of a collector's life. Therefore, you must equip yourself with the necessary skills for this noble task. Remember this is a risky task, and be careful. 
Using a Hair Dryer is an option you should use as a last resort unless you are comfortable applying heat to the sticker. 
Additionally, you should know what to do with the stickers once you remove them; don't just throw them away. Finally, you need also to learn the art of swapping Exclusive stickers!