Funko Soda Pops is a new figure line that makes a lot of noise as the collector debates about switching from collecting traditional funko pops and starting fresh with these funko soda figures. 
If you are not aware of Funko Soda Pops, then you are about to be. Instead of discovering something sweet like a drink, if fans open the Funko Soda Pops, they find something even more adorable.
You get a Funko Vinyl Soda Figure inside. 
They give a unique new chance to show off your favorite fandoms, even if you obviously cannot drink these figurines. Collectors are starting to pair their funko pops with these funko soda figures as well. 
It's another line that compliments the funko experience and gives collectors something they can open instead of having to keep the pops within their box to hold their value. 
We write about the importance of keeping your funko pop figures in a box; however, with funko soda pops, they are meant to be opened.  
Let's dive into more about these new kinds of figures from funko!
What are Funko Soda Figures?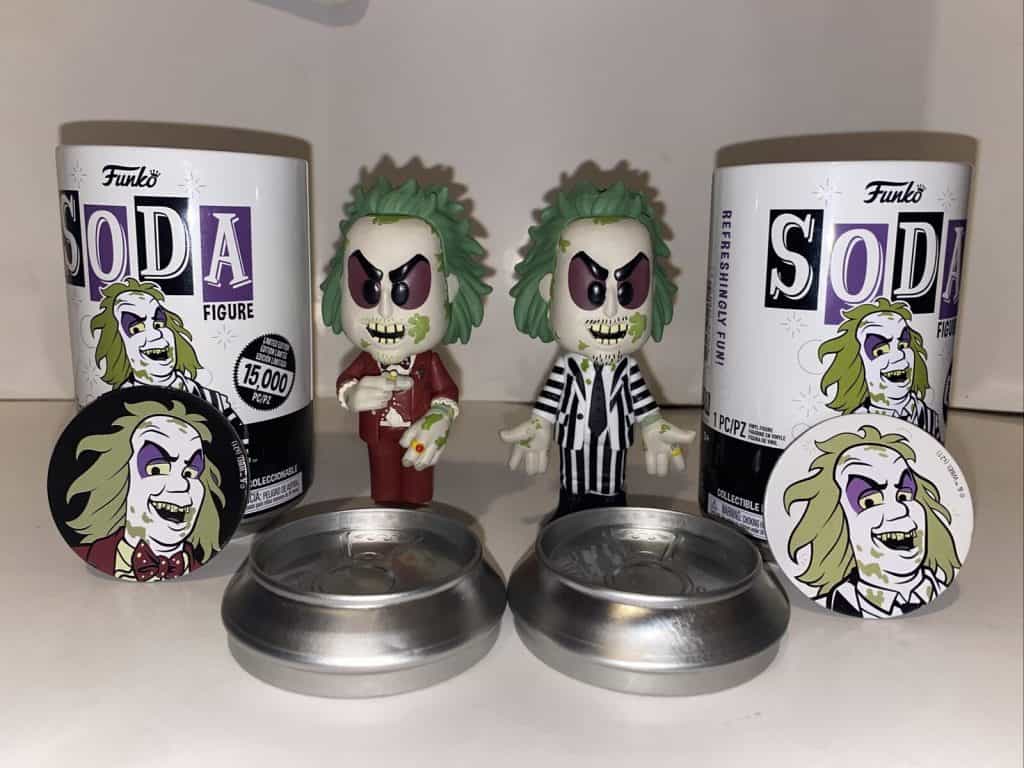 Funko Soda Figures are 4.25-inch vinyl figures that come inside Funko Soda Pops. Each Soda Figure has two versions, one is the normal one, and the other is the chase (rare) version. So you have a 1/6 chance of finding a chase figure which seems reasonable.
What makes Funko Soda Figures so popular? 
Funko Soda Figures have so much to offer, which makes them popular. Some key benefits of having Vinyl Soda Figures:
Small in size and easy to keep

Get three collectibles: The soda can, Funko Soda Figure, and the collectible disc. 

Opening the can do not decrease its value.

A fresh new line of characters launched.
How do you open Funko Soda Figures? 
If you are opening the Funko Soda Figures for the first time, it might be a little tricky. 
Here is a step-by-step guide on how to open soda funko pops:
Take off the shrink wrap present around the Soda Pop.

Hold the Soda Pop facing upwards.

Now grab the whole metal cap present on top of the can. It should pop off, revealing the Funko Soda Figure inside.

Take out the Funko Soda Figure covered in the black sheet.

Rip off the black sheet and remove the Soda Figure from the bubble wrap.

You will also find a collectible disc inside the Funko Soda Can that you can take out.
Now you know how to open Soda Funko Pops, one last thing is that you should not look inside the Funko Soda Pops when opening. That is because the collectible disc will let you know if you have got a chase or not. It will remove the fun and excitement of opening a Funko Soda Pop.
Where to Buy Funko Soda Pops
You can buy Funko Soda Pops from many places like eBay, Funko's website, or other online shops like Toywiz.
Pros of Collecting Funko Soda Pops
Here are some pros of collecting Funko Soda Pops:
1. Getting a Chase
These chases are rare and limited editions which means you might be the only few lucky people to have these. Even buying and getting a regular Soda Figure is a good thing because mostly all are limited editions.
2. You can open your soda pop can without it losing value
Without harming its value, you may open the package of your pop vinyl. The Funko Pop display cases are not sealed, unlike certain collector toys. It is an outstanding benefit for collectors because several of them like to display their collections. Some collectors display the toys in their sealed boxes, while others put the toys on shelves without the boxes. But with Soda Pops, it doesn't matter what you do and how you do; its price will not be affected.
Fans and collectors regularly purchase the freshly released Chase Pop Vinyl's. Chase Pop vinyl are variants of the regular-type versions and made in limited numbers. The series can sometimes be just as low as 10. Variations might be the minor hue of hair and glow-in-the-dark features or a metallic body. The worth of so few of these products is extremely high.
Some pop vinyl is exclusively made for promotional purposes and is exclusive to that brand or event. These are super limited editions that you will not find anywhere after the event or promotion is over. These Pop Vinyl will surely gain in value because of their scarcity. You have the most significant task to grab them before they are all sold out.
3. Limited Quantities make Soda Funko Figures Rare
The typically restricted quantity is one thing that excites collectors about having a Pop Vinyl. Along with that, the small amount highly increases the value of these. Some of them get shown during a toy show, and they are also a popular feature at a comic con where consumers can buy before the limited editions become sold out.
It may not be an enormous value leap, but your Funko Pops will improve in value. These black-eyed square-headed toys get constantly introduced in new film paraphernalia that collectors embrace.
Funko Pops are easier to find and purchase. In various shops, online shops, the Funko website, and eBay, you may find Funko Pops. If you do not buy a limited, exclusive, Chase or vaulted Funko Pop, you may get the toys for just $8 to $11 or more.
If you are new to the Funko Pop collection spree and its fandom, it might be challenging to get them all. For instance, nearly 20,000 Funko Pop creations exist separately. If you want to start a Funko Pop collection, determine what you want to collect. For example, you may like Disney; thus, you can collect several licensed Disney characters as Pop Vinyls. On the other hand, you can be a Marvel lover and seek Spiderman or Ironman Pop Vinyls.
You may concentrate on buying some pop vinyl vaults. Production of Vaulted Pops stopped. 
Cons of Collecting Funko Soda Pops
There are very few cons of getting Funko Soda Pops:
The soda can is essential when reselling the Vinyl Soda Figure. Most Pop Vinyl collectors demand the original box comes when purchasing. The box is simple to misplace as it won't decrease the worth of your item. Your Pop Vinyl can always be sold, albeit without a package, at a lower price.
The number of series is shown on the box packing, though this might be misleading as the numbers run in each series. You might wind up with two lines with the same number of toy figures. 
If the pop line stops and another line runs with the following digits in the sequence, you may also end up with a break in your number.
Pop vinyl doesn't always increase their worth. For example, if a toy is vaulted, exclusive, limited, or chase-pop-vinyl, it is recognized that the value will rise, and then the price will suddenly fall. You never know how costs are going to be.
Best Funko Soda Figures For Collectors
Here is a small list of some of the Best Soda Figures, which are popular:
1.  Soda Iron Man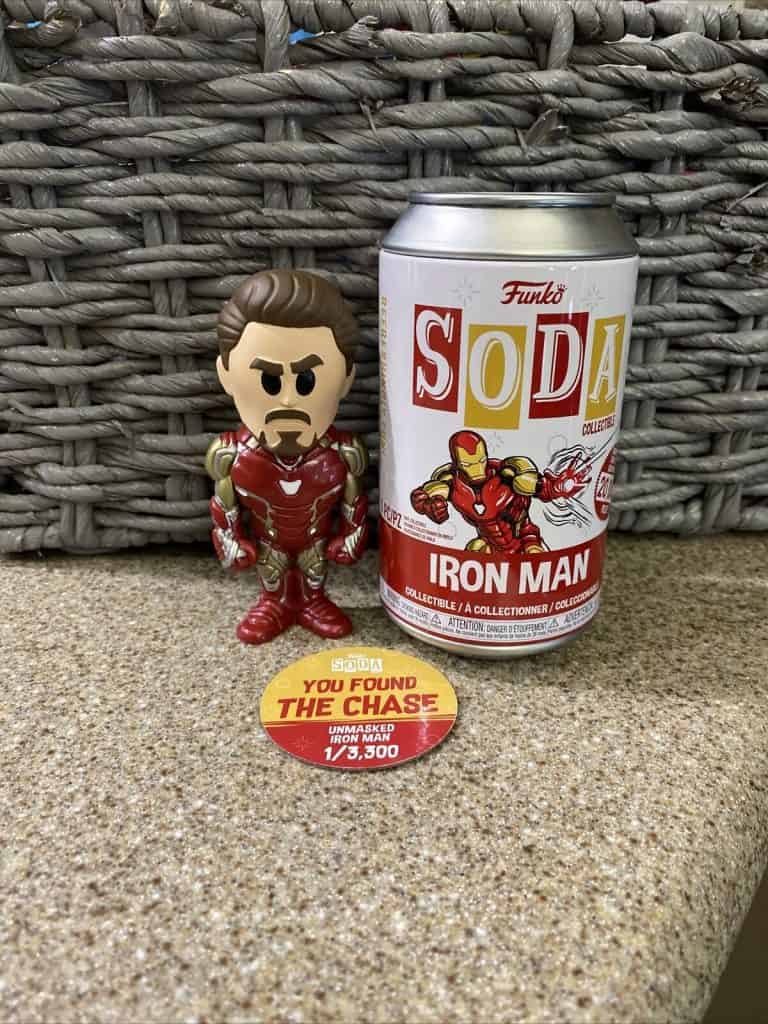 One of the most memorable characters in the marvel universe is Iron Man. You can grab the limited Endgame Iron Man Vinyl Soda Figure while they are in stock. Funko only produced 20,000 total soda iron man figures. It gives you a pretty good chance to get a chance Tony Stark, wearing the Iron Man suit without the helmet.  
2. Soda Spiderman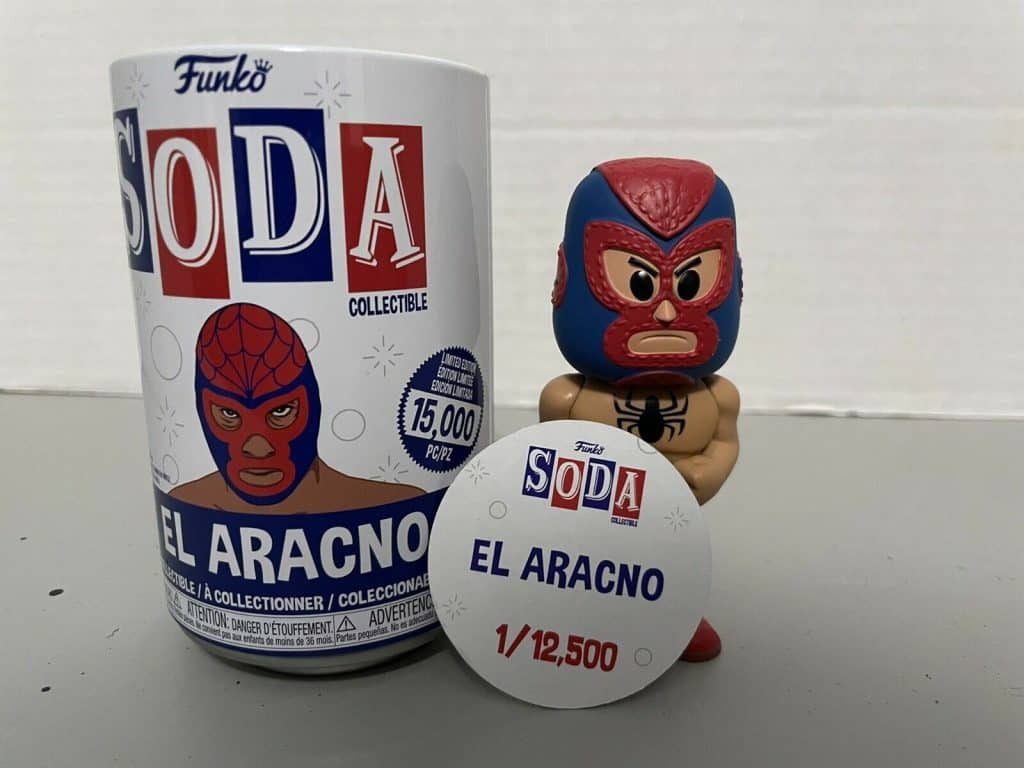 Marvel Luchadores Spider-Man El Arcano Vinyl Soda Figure gives you a unique figure of Spiderman. Funko only produced 15,000 total soda spiderman figures. Make your you get a chase when you can.
3. Soda Batman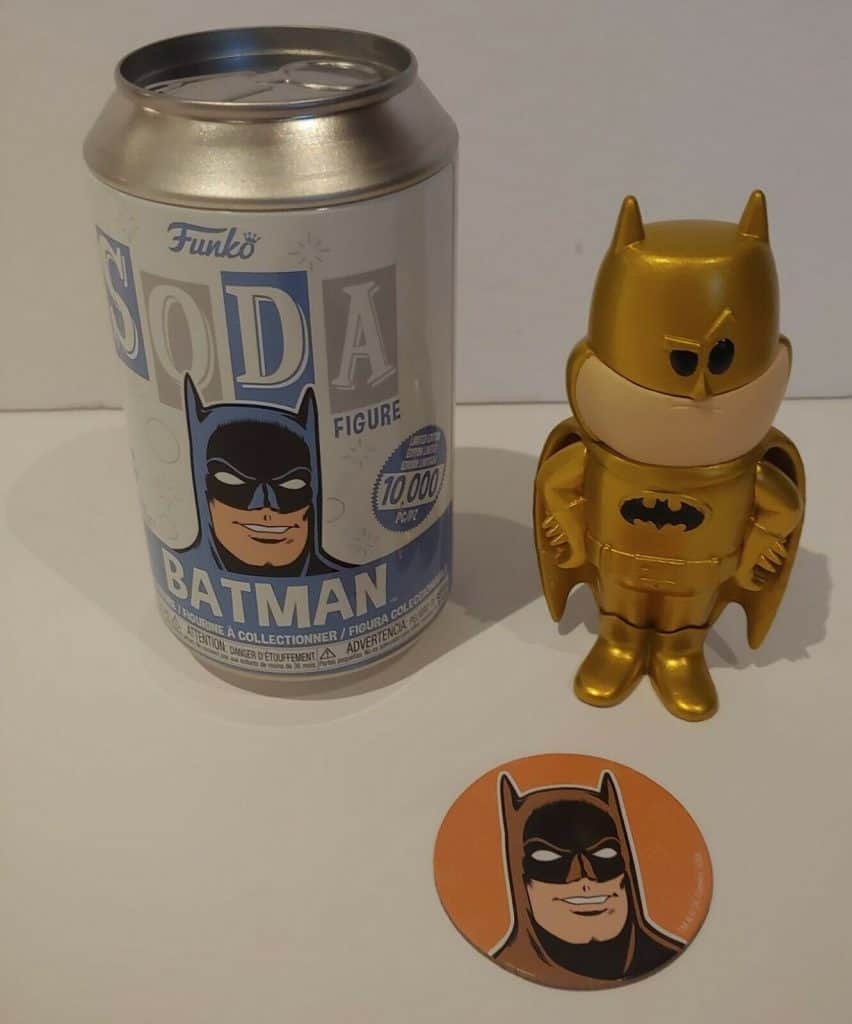 Batman is a super cool crime-fighting superhero whom everyone loves. Due to the character's popularity, three variants got launched, DC Bat-Mite, Comic-Con Exclusive Green Batman, and DC Comics Batman. Each of these has a phenomenal chase. The best one might be the chase of DC Comics Batman, which has a golden Bat Suit.
4.
Soda Robin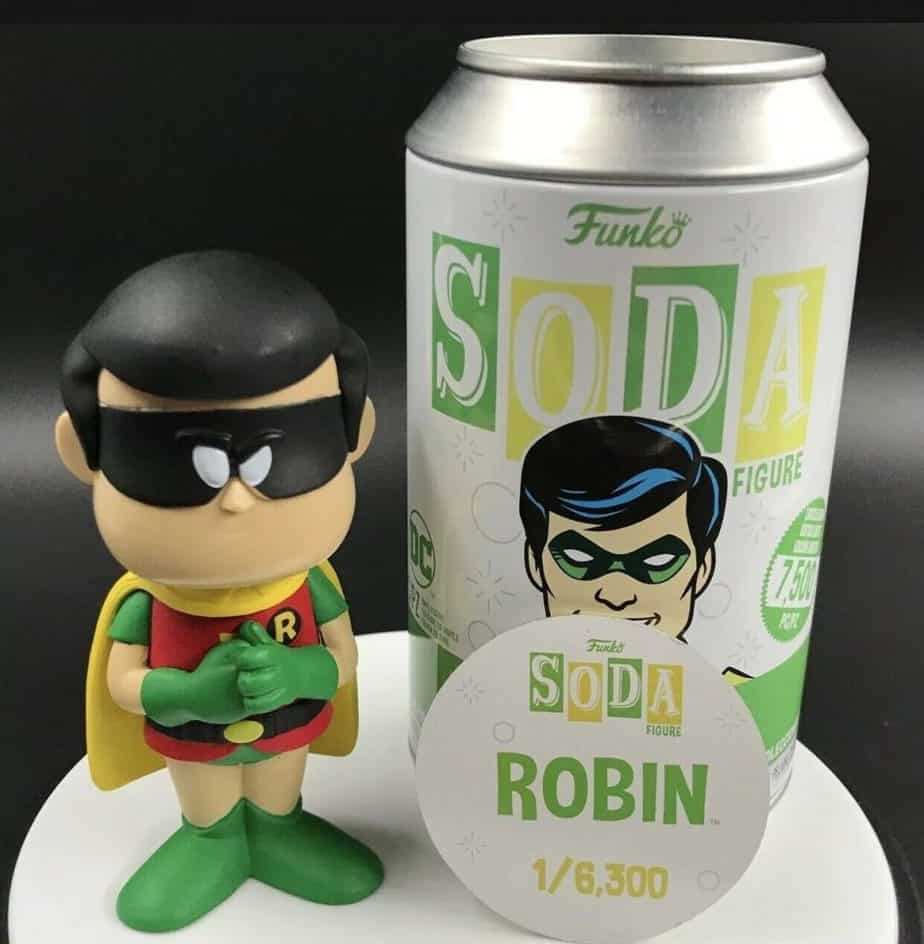 The best crime-fighting duo might be Batman and Robin. If you get the chase of Funko Soda Robin and DC Comics Batman, then it would be a spectacular pair. Both were wearing their trademark suits but in golden color.
5. Soda Sonic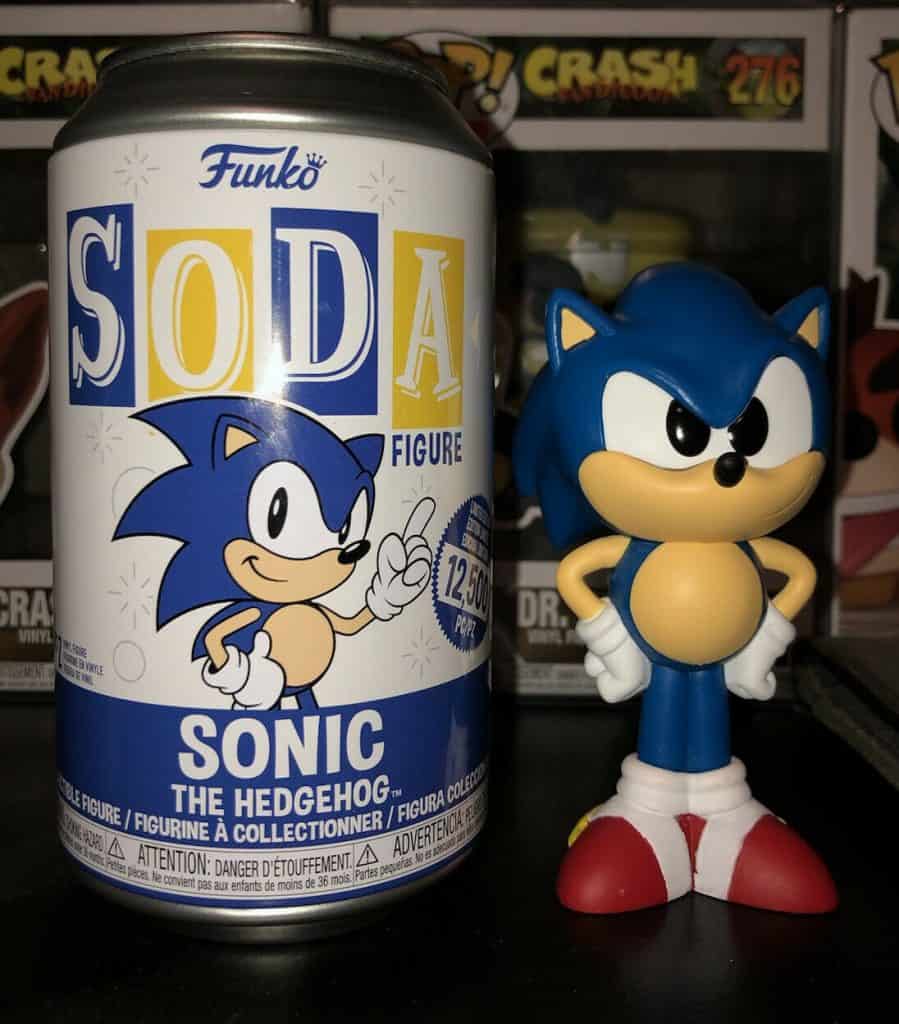 Funko adds onto their Vinyl Soda figure line with the Sonic the Hedgehog! This fan-favorite character is a limited stock of 12,500. 
6. Soda Pennywise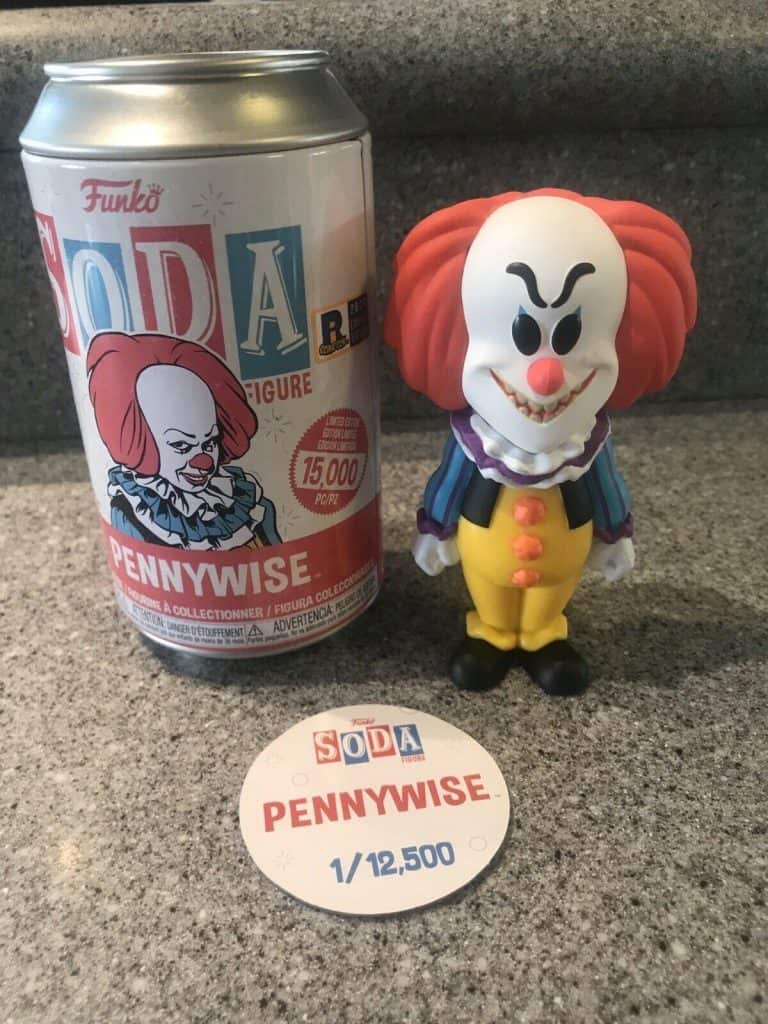 A super scary character from the IT (2017) movie, Pennywise is now available as a Funko Soda Pop Figure. There are two variants: one is the Rhode Island Comic Con Exclusive Pennywise Funko Soda, and the other is the standard Pennywise Funko Soda Figure. No matter which one you choose, both have equally scary chases.
7. Soda Joker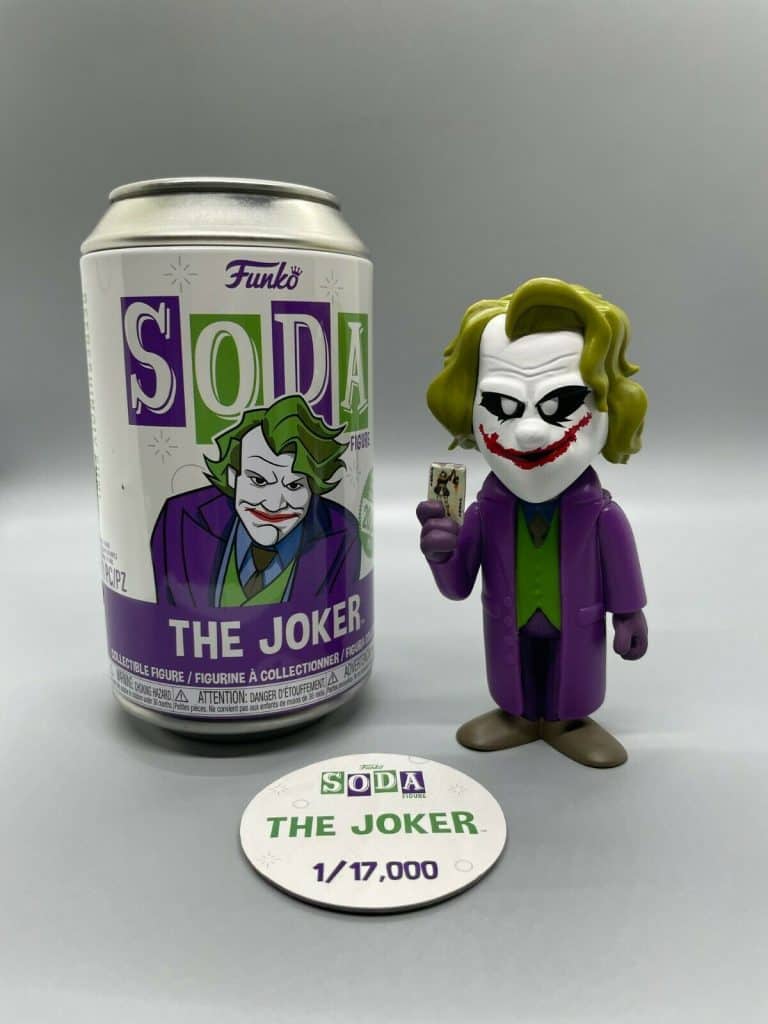 There are two variants of, The Dark Knight Vinyl Soda, The Joker, and the Vinyl Soda: Batman (1989) The Joker. One is from the latest versions, and the other is from old ones. Both Jokers have a unique style with magnificent chases. These are one of the best Funko Soda Figures you can ever have. 
8. Soda Deku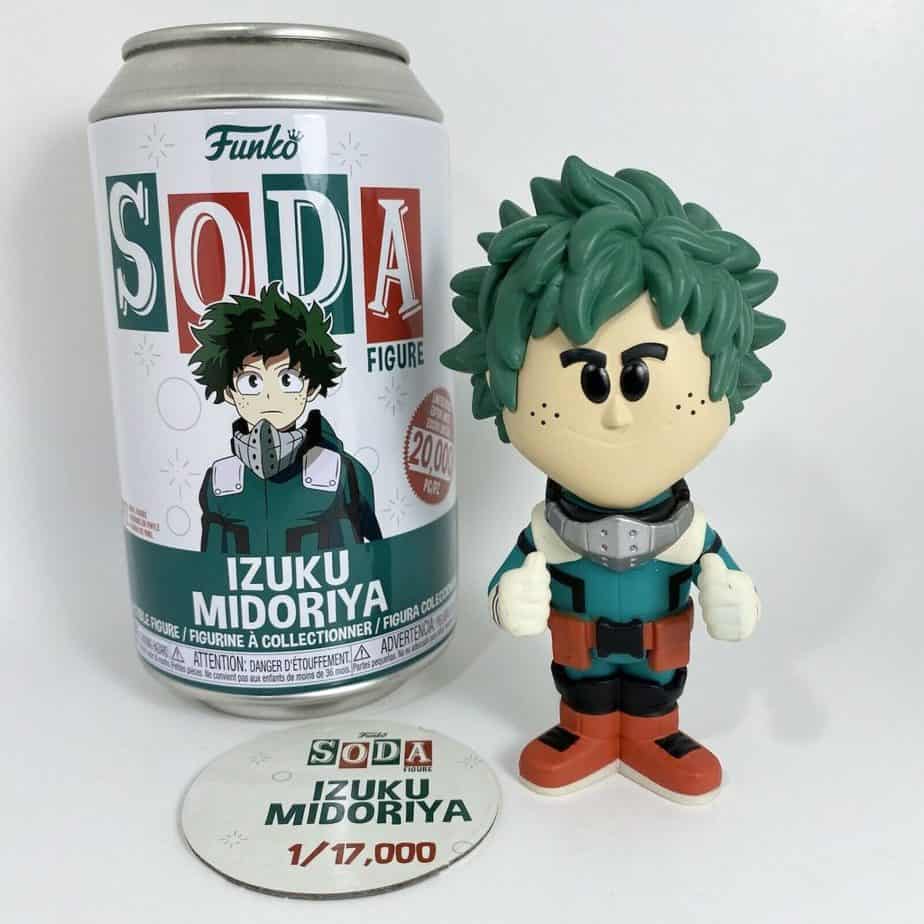 My Hero Academia Vinyl Soda Izuku Midoriya Figure. You have the chance to get the chase which is Glow-in-the-Dark. 
Funko Pops vs. Soda Pop Figures – Most Collect Both
If you are new to collecting Funko Pop figures, you should try out these magnificent Soda Figures. Funko Soda Figures have the excitement and mystery that Pop Figures cannot compete with, making them desirable. 
There are so many variants and models of characters you can choose from; it can be overwhelming. 
Moreover, the chase of each Soda Figure compliments the variants. From Teenage Mutant Turtles to Marvel, DC, and Bob Ross. There are so many to collect and show off—no wonder why many collectors have shifted to collecting Funko Soda Figures.