Should you get a funko pop tattoo? It's a big decision for someone to get a tattoo and an even more significant decision to make about funkos. However, tattoos are an expression of yourself and art, so it's an option. It's entirely up to you on what, where, and how you'll get this tattoo. 
You can take your love for Funko Pops to the next level by getting a tattoo of your favorite figure. However, getting a tattoo is not as straightforward as it seems. There are several things you ought to consider before getting a tattoo.
But, before you look at how, it is essential to look at the why. First, many collectors don't do it for money; they focus more on sentimental value. On the other hand, people usually get tattoos as a form of expression. Therefore, you can use the Funko Pop Tattoo to express yourself.
Suppose you consider Funko Pops as a physical representation of the ideas you like. For example, if you love Marvel, none of the characters exist. You can meet Chris Evans, but you would never meet Captain America. However, you can get a tattoo of Captain America to express your affection for the character.
What You Need To Know If You Want To Get A Funko Tattoo
Before you get a Funko Pop tattoo, there are certain things you ought to consider. Here are essential questions you ought to answer before you get a Funko Pop tattoo:
Steps to take when getting a tattoo
1. Find A Local Tattoo Artist
Find the best local Tattoo Designer you can get before moving forward. In your research, look through social media platforms such as Instagram, Facebook, and Twitter. Here are some top artists you should look into even though they are not exclusively Funko Pop Tattoo Designers:
Mira Mariah (

@girlknewyork

) – Mira is one of the most respected tattoo artists in the world. Her business is called 

Fleur Noire Tattoo Parlour

, based in Brooklyn, New York.

Pony Wave (@

ponywave

) – Pony was born and bred in Russia. Her unique style makes her a potential Funko Pop tattoo designer.

Bang Bang Tattoo (

@bangbangnyc

) – bang bang is another tattoo parlor based in New York. Scott McCurdy is "BangBang." He has worked for celebrities like Rihanna, Lebron James, and Miley Cyrus.
Once you find a suitable artist, check their prices to ensure that they are within your budget.
2. Find Tattoo Samples Or Ideas
After finding a professional tattoo designer, please let them know what your tattoo ideas are. So, what Funko Pop figure gets you excited most? What size would you like it to be? Do you want it to be a replica of the, or do you want to give it a personal touch?
It would help if you also were willing to listen to the tattoo artist's ideas. You don't have to make your decision instantaneously. Take your time to settle on what is best for you.  
3. Get A Sketch Done First
Once you settle on the idea, give the tattoo artist time to do a mock-up for you. When the designer presents the sketch to you, don't be afraid to speak if you need it adjusted. Remember, you will carry that artwork everywhere you go. Therefore, you must ensure it is as perfect as it can be.
4. Decide Where You Want To Put The Tattoo On Your Body
Based on the design you settle on, you can now decide where to put the tattoo on your body. Moreover, the size of the tattoo could also dictate where you will put it. For example, if it is a giant tattoo, you might have to place where there is enough space.
Based on various Funko Pop tattoo pictures on social media, the tattoos would be excellent for whatever you decide. Most people have it on their arms where it is easy to show it around. If it is your first tattoo, consider a less painful placement like the arms.
5. Get The Tattoo At a Well-Know Safe Tattoo Place
Once you get done with the preliminary stages, it's time to get your favorite figure inked on your skin. First, allow the tattoo artist to explain the procedure and how it will feel; after that, follow other tattoo preparation tips and then get your tattoo.
Why Should You Get A Funko Pop Tattoo?
There are several motivations for getting a Funko Pop tattoo. Here are some top reasons:
They are cute. As a result, they will look beautiful on your skin.

There are some exclusive figures which could be hard to find. Therefore, if you can't display it on your shelf, have it on your skin!

Tattoos are relatively permanent, and Funko Pops are here to stay too. The two for each other.

Tattoos are an expression of your affection for something, and the same applies to collecting Funko Pops.

Since the Pop figures are usually released progressively, it will give you time to heal before your next tattoo.
What Are The Potential Risks Of Getting A Funko Pop Tattoo?
As much as getting the Funko Pop tattoo could be fun, there are potential risks. Here are some potential risks you must know:
You could have an allergic reaction to the ink. If you are doing a permanent tattoo, it introduces foreign substances, leading to toxic or immunological responses.

Tattoos can affect how your body sweats. Studies show that tattooed skin releases 50% less sweat than non-linked skin.

Getting a tattoo increases your probability of getting a bacterial infection.

Studies also reveal that tattoos could lead to complications during medical procedures.  
Examples Of Great Funko Pop Tattoo Ideas
Vegito Dragon Ball Z Funko Pop Tattoo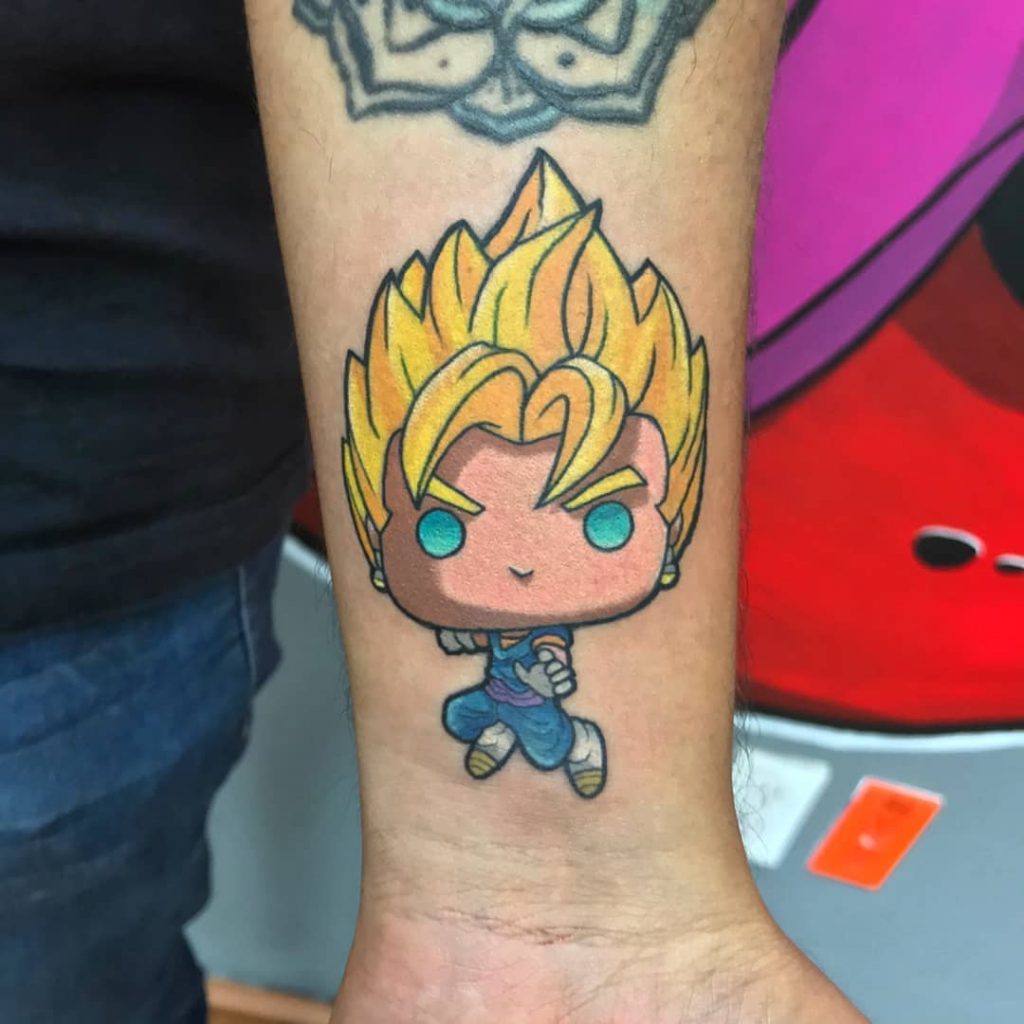 Vegito is a fusion of Goku and Vegeta. To form Vegito, Goku and Vegeta wear a Potara earring powerfully, bringing them together into a blended individual in a brilliant flash of light. Therefore, if you are a follower of both, getting this tattoo will give you memories of the two. If you are a fan of the Dragon Ball mythos, this is an excellent tattoo to get.
The fusion is permanent for Kais but lasts for only one hour for mortals.
Nightwing Funko Pop Tattoo
Nightwing is known for his acrobatic skills. He is Barman's first son and the longest superhero career of associates of Batman. Nightwing has enjoyed being a superhero in Bludhaven and Gotham City. Because of his "job," he has sustained severe injuries but has survived them all! If you love this superhero, he is worth a spot on your canvas!
Nightwing is one of the best hand-to-hand fighters and acrobats globally.
Batman Funko Pop Tattoo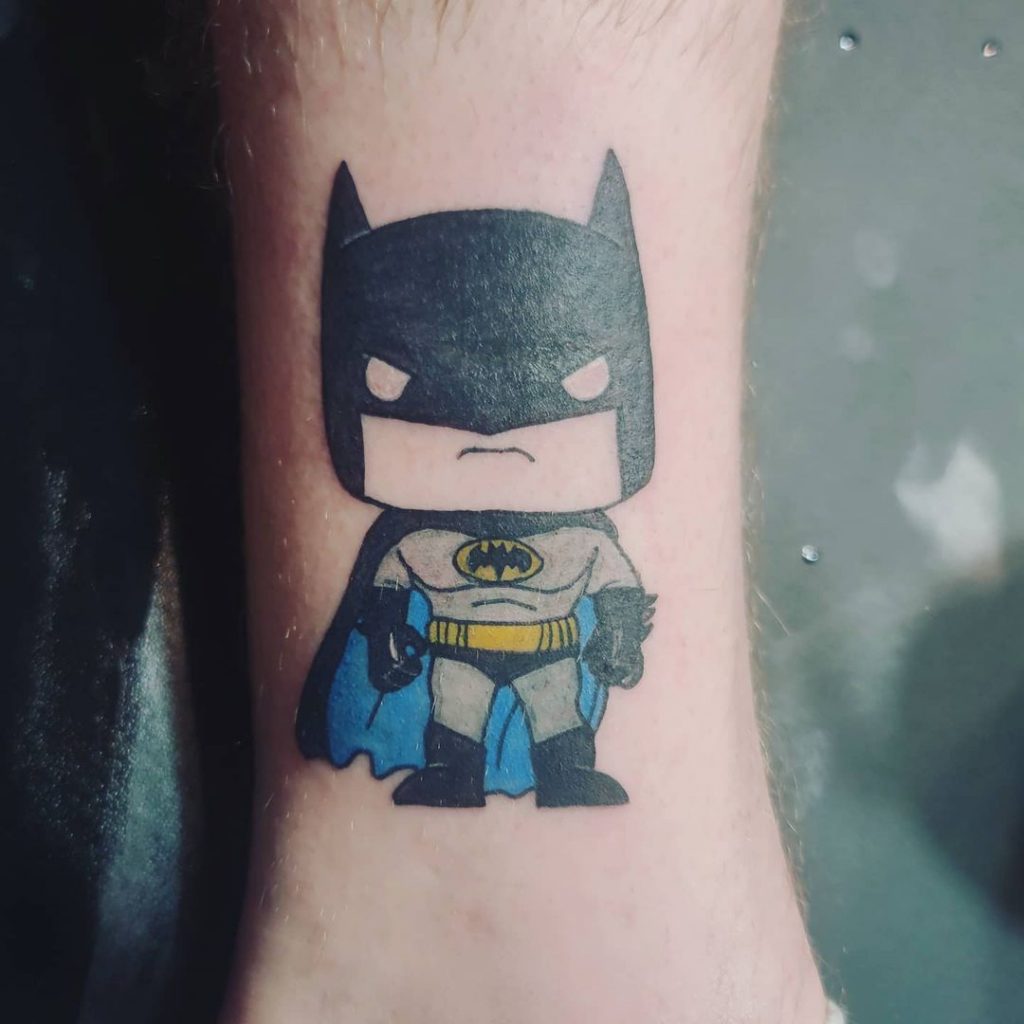 Are you a Batman fan? Or are you lost in the argument of who is the strongest in the Batman vs. Superman duel? Well, if you prefer the astuteness, affluence, and authority of Batman, you should get the Batman Funko Pop Tattoo.
Batman's power lies in his armor. It makes him invincible and robust enough to deal with anyone trying to kill him.
Guardians of the Galaxy Rocket Raccoon Funko Pop Tattoos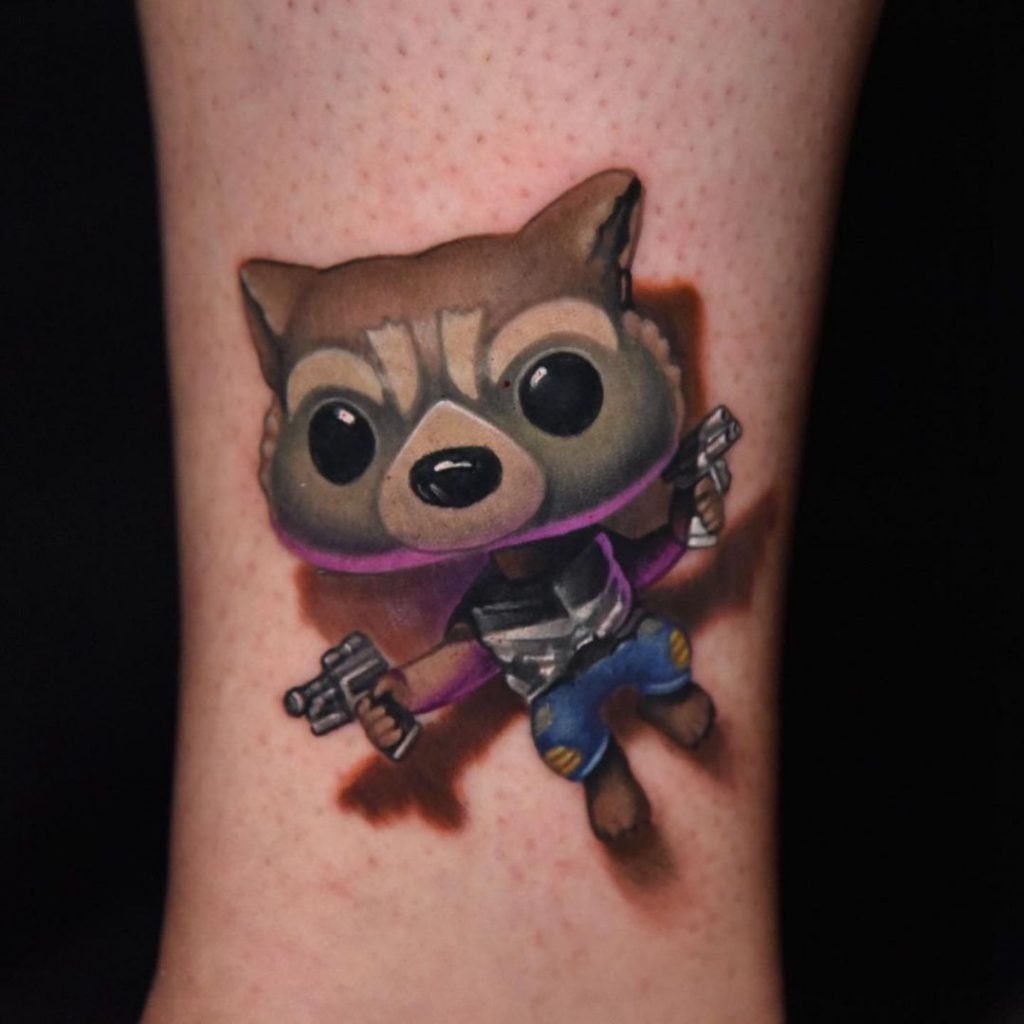 If you are a Marvel fan, this is one Funko Pop tattoo you should seriously consider. Rocket Racoon is also known as 89P13. He is a genetically improved member of the Guardians of the Galaxy. He has traveled the Galaxy with Groot, his partner and friend. Together they committed crimes picked up bounties.
Rocket Racoon was genetically modified to be more intelligent at Halfworld Planet. But, he developed a vain and chaotic personality after years of abuse and repetitive genetic rewriting. That is how he ended up as a mercenary.
Deadpool Funko Pop Tattoo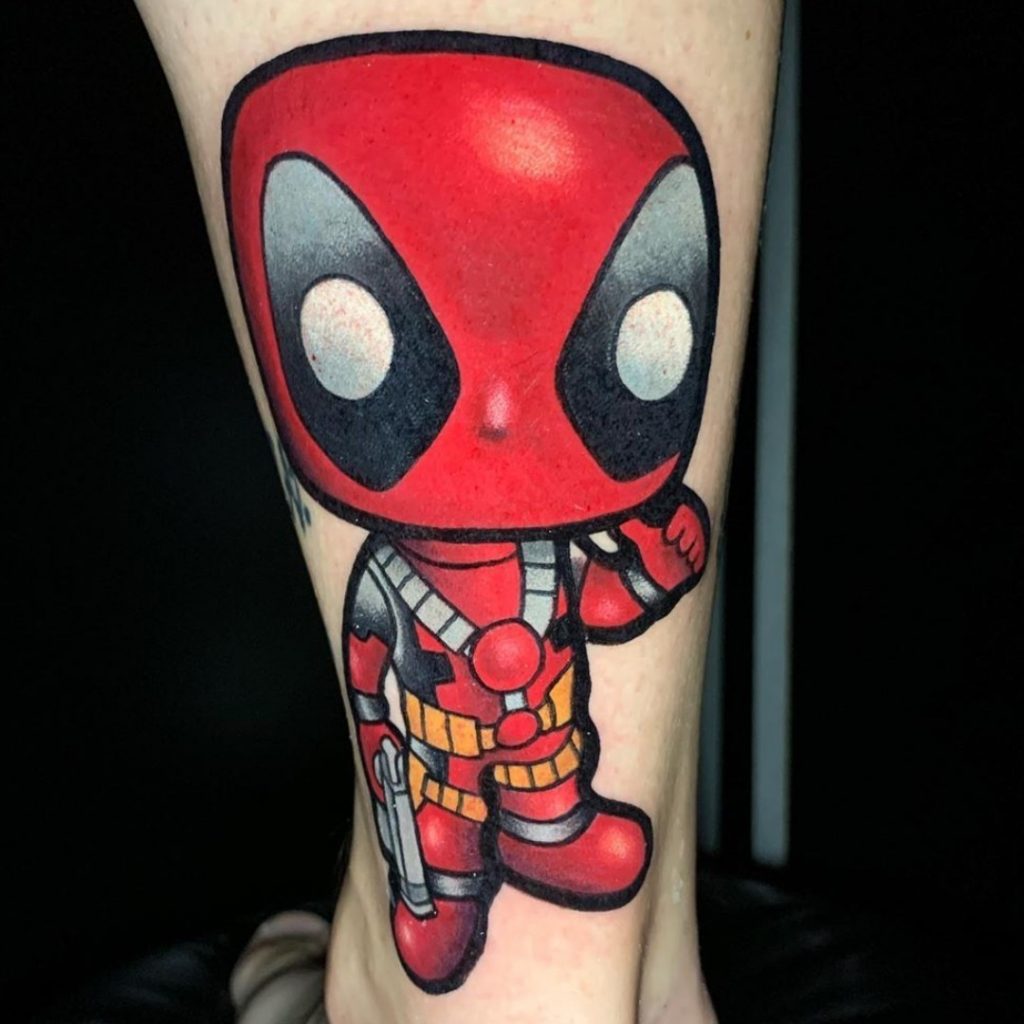 Another excellent Funko Pop tattoo idea for Marvel fans. Deadpool: Samurai is one of the most significant expeditions by Marvel. It is the closest thing to a crossover between the Marvel Universe and the heroes of My Hero Academia. The popularity of the character and its Funko Pop figure makes it a perfect tattoo idea. Moreover, with the recent release of a lineup of Deadpool Pop figurines, you can choose the one you love most.
Have you seen the 5 Best 7-Eleven Exclusive Funko Pops for Collectors which includes the Deadpool 7-Eleven exclusive?  You can get a tattoo of that pop figure as well. 
Funko released a lineup of Pop figurines to mark the 30th anniversary of Deadpool. They include Merc with a Mouth as a hipster barista and flamenco dancer.
Funko Pop Tattoos Will Grow in Popularity
Tattoo fans and Funko Pop collectors go together great! The result is fantastic. How would you feel about walking around displaying your favorite Funko Pop figure as a tattoo? Amazing, right? If you are interested in getting your Funko Pop Tattoo, you now have enough details to get started.